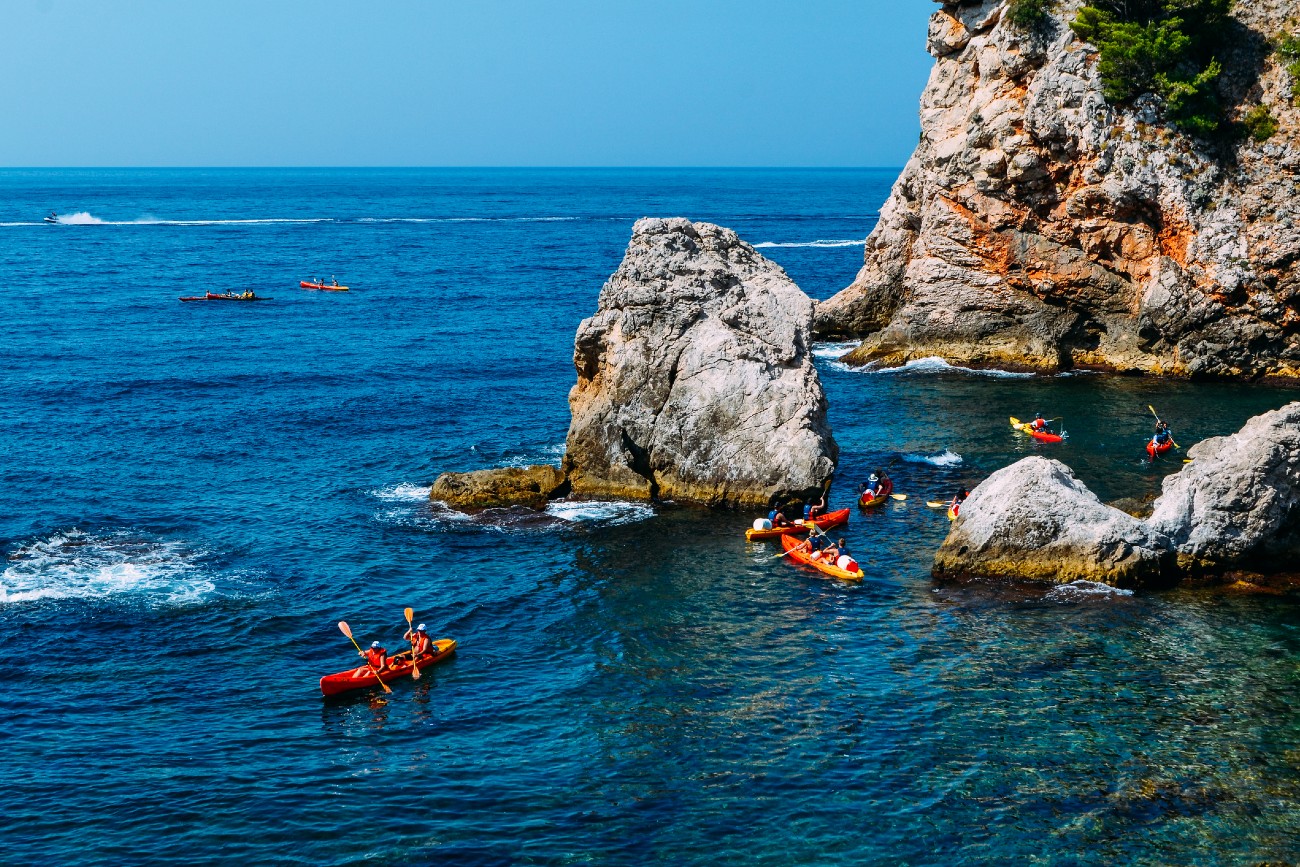 The gorgeous coastline of Guernsey is often one of the highlights for anyone visiting the island, and for many who live there permanently, it never fails to amaze. Undoubtedly the best way to explore the sights the coast has to offer is to take to the waters in a kayak. There is much to see right around Guernsey, with some exciting wildlife, wonderful beaches and an incredible range of historic landmarks such as loophole towers and castles.
Kayaks can be hired from companies such as Outdoor Guernsey, who provide guided tours to a variety of places in Guernsey. They also operate around neighbouring Herm – a tiny island with a lot to offer. Here are some of the best kayaking spots in the region.
Seeking Seclusion
Guernsey is famous for its award-winning beaches and there is certainly no lack of options to choose from if you're interested in exploring them by kayak. While the popular tourist spots often draw crowds, the smaller, secluded bays are usually quieter and this can make for a more laid back and interesting experience. Southern Guernsey is a great place to find these types of bays, with the coastline here being rockier and more remote.
Head for my favorite pristine sands of Petit Bot Bay, where the sheltered waters are a great place to begin a kayak adventure. From here, you can head out of the bay, enjoying views of St. Clair's Battery, before turning east and skirting the rugged cliffs until you reach the tiny Le Jaonnet Bay. After this, a headland with some impressive rock formations lies between you and Saint's Bay – another enclosed beach where you can grab something to eat from the beachside kiosk.
Another excellent spot for kayaking lies near the island's south-eastern corner. Here, the Pleinmont Headland is truly spectacular and curves around to form Portelet Bay. The beach here is one of the most picturesque in Guernsey.
The Scenic North Coast
While the coastline of southern Guernsey is wild and rocky, the north coast in comparison is a place of sweeping sandy beaches and grassy headlands. These areas can be just as interesting to explore by kayak and the areas surrounding L'Ancresse Common are some of the best places to go. Pembroke Bay in particular is a hotspot for kayaking and other water sports such as paddle boarding, with the gently sloping beach making it a great spot for beginners.
Rounding the small headland which separates Pembroke Bay from L'Ancresse Bay will provide you with views of the tiny yet intriguing Fort Pembroke, and you can set out eastwards to see the larger Fort Le Marchant at the other end of L'Ancresse Bay. The beach itself at L'Ancresse is a popular one and can be a great place to stop for a spot of sunbathing or a tasty snack from the small kiosk.
The Wonders of Herm
The Channel Island of Herm lies a few kilometres to the east of Guernsey and is a spectacular kayaking spot. Although it is possible to reach the island by kayaking from Guernsey, it is recommended that you are experienced enough to deal with crossing open water before attempting such a journey.
Alternatively, Outdoor Guernsey offer a range of kayak activities on Herm, including kayak hire and a number of tours. Popular tours around Herm such as the Puffin Patrol and the Herm Humps Seal Patrol run seasonally and look to provide you with great views of the island's charming wildlife, as well as the scenery.
The Puffin Patrol begins at the beautiful Shell Beach and involves a short trip southwards, passing Belvoir Bay and ending, unsurprisingly, at Puffin Bay. Here, the charismatic birds gather during the spring and summer and the expert puffin watcher who accompanies the tour will do their best to locate them. Along with being able to see wildlife, kayaking around Herm can give you great views of the neighbouring Channel Islands, as well as a few of Herm's intriguing sights such as a silver mine and the Humps Archipelago.
Learn more about the splendid island of Herm in the following article: An Outdoor's Lovers Guide To Adventures In The Island Of Herm