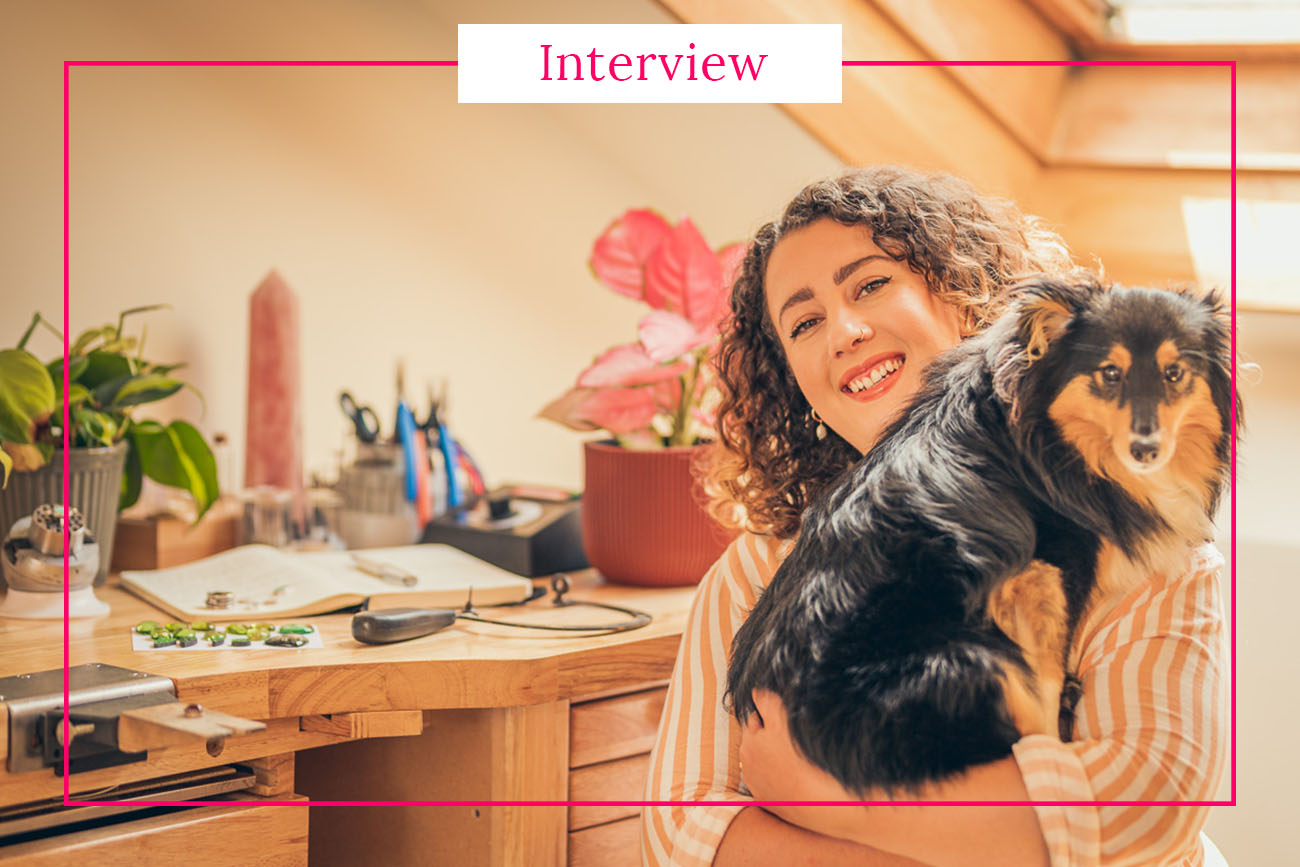 Interview with Monica Camara – Jewellery designer from Guernsey
M
onica Camara is 29 and was born and raised here in Guernsey. She loves island life and is a dog mama to two beautiful Shelties. Monica is also a crystal lover and Reiki 1 attuned.
Monica is not only a talented jewellery designer but also the founder of Magpie's Nest Jewellery.
Throughout our conversation, we explored her sources of inspiration for the creative process, her most cherished piece of jewellery, and her favorite spots on the island. Monica has a delightful surprise waiting for you at the end of this article.
Please, can you tell us about your journey as an artisan jewellery maker? How did you develop an interest in this craft, and what led you to pursue it professionally?
I've always been creative and particularly enjoyed art & photography at school; but after working in finance for a few years I found myself burnt out and needed a creative outlet to help manage stress & anxiety. I began by making beaded bracelets for friends and family as Christmas presents and enjoyed it so much that I started exploring other forms of jewellery making such as wire-wrapping and silversmithing.
I purchased my first set of basic tools and started silversmithing at the dressing table in my bedroom when I was 22; and quickly fell in love with the process and flexibility of the craft. I taught myself mainly from YouTube videos, reading online tutorials and a whole load of trial and error. As I started making more and improving my skills I was encouraged by some of those closest to me to start sharing and selling my work, and so The Magpie's Nest was born!
What inspires your jewellery designs? Are there specific themes, materials, or techniques that influence your creative process?
My inspirations and designs are varied because they are a personal creative expression that reflects whatever I have an interest in at the time. They are ever evolving and changing because so am I. I find my deepest inspiration in ancient cultures, symbolism, folklore & mythology, the natural world, astrology & spirituality.
Recently I was inspired to create a bridal range of jewellery. My Grandmother used to have a bridal business here in Guernsey before she retired. Some of my fondest childhood memories are being in her shop, trying on oversized heels and tiaras; watching the excitement from brides-to-be when they came to pick their dresses.
At her dining room table where she did most of the dress alterations, I would watch her as she so carefully and skilfully tailored the dresses to make them just right. With the bridal jewellery I have created, everything can be customised or tailored to the bride's taste including offering bespoke design consultations for bridesmaids and mother of the bride. I wanted to offer a service that like my grandmother did, creates something truly unique & magical to make the bride feel her best for her special day.
Can you briefly share with us the typical process you follow in creating your jewellery, from initial concept to the finished piece?
Usually from an initial inspiration of the theme for a design, I'll mind map out some keywords, feelings or specifics that come to mind and then carefully pick through my gemstone stash until a specific stone type or combination stands out.
From there I'm usually pretty impatient and don't sketch a design first, I'll just start with the stone and play around with different design ideas at my bench until something feels right. Often the design idea evolves as I'm working on it until I'm happy with it. Other times it's the gemstones themselves that spark an inspiration and things just flow from there!
What would your response be to the question: "Why should women wear jewellery?"
Jewellery can be a form of self-expression, allowing women to showcase their personality, style, and taste through the pieces they choose to wear.
We are also curious to know which piece of jewellery you consider your go-to daily accessory?
I always feel naked without my Moonstone ring! It's my birthstone and has flashes of blue, red, orange, yellow and green that are really captivating against the buttery 18k yellow gold.
Are there any specific types of materials and gemstones that you prefer to work with?
I love working with recycled sterling silver and high carat gold. I have a huge selection of gemstones so picking a favourite would be impossible! I'm always on the look-out for rare and unique gemstones to add to my collection; recently I'm sourcing some opals direct from a small team of miners in Queensland, Australia that I'm hoping to make into a small fine jewellery collection.
What piece of advice would you offer to someone who is interested in starting their journey in jewellery making?
Don't let perfectionism get in the way. Allow yourself time to make things that are really awful, you don't have to show anyone and everyone has to start somewhere. Experiment as much as you can and the results may surprise you!
Where in Guernsey can one find or view your products for purchase?
Either by appointment at my home studio in town, or on my social media & new website Magpie's Nest Jewellery. I also have some bridal jewellery available to view at Pretty Woman Bridal.
When you need to unwind in Guernsey, where do you go? What are your favourite spots on the island?
I love that we are never far from a beach, sea swimming relaxes & resets me when I'm looking to recharge my batteries. I also love walking around the coastal woodlands near the fairy ring.
How would you describe the character or personality of Guernsey and what sets it apart from other places?
We are a small community but there is so much talent and creativity here; including lots of fabulous small businesses, many of whom I've had the pleasure of meeting by doing various markets over the years. I find that people are really supportive of each other and that helps our little Island thrive.
Monica, thank you for the interview. Is there anything else you would like to share with us? 
I have recently launched a bridal collection which is available to view & order now along with lots of other jewellery for all occasions on my brand new website! To celebrate the launch of my website I'm happy to offer your readers 15% off anything on my website until 31st August. Just use code VB15 Thank you!
If you are searching for a new piece of jewellery, whether for yourself or your loved ones, do not hesitate to visit Monica's website www.magpiesnestjewellery.com, her Facebook or Instagram accounts.