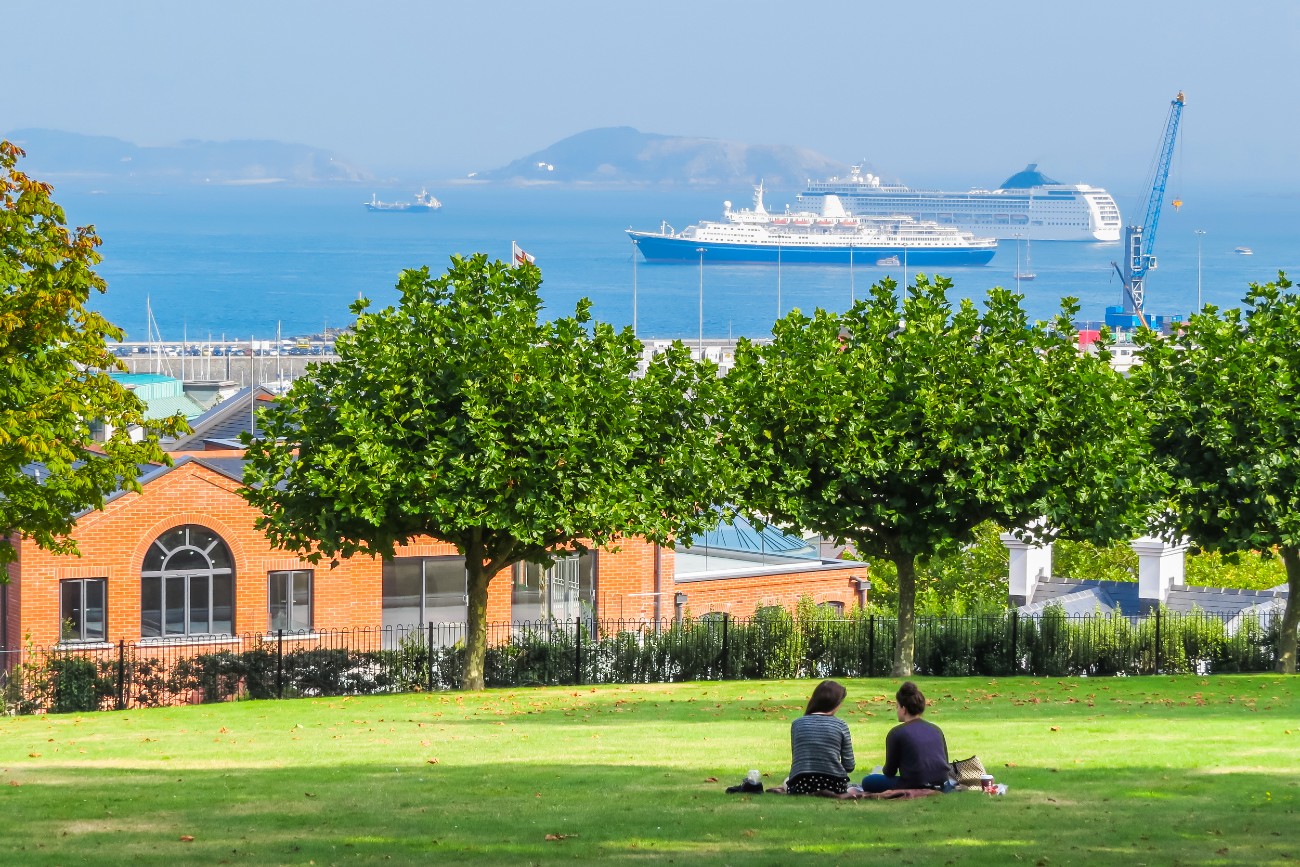 Many people in the UK are confused about how the Channel Islands and the Isle of Man fit into the scheme of the UK. Well, the quick answer is… actually, they don't!
The islands of Jersey, Isle of Man and Guernsey are all Bailiwicks. According to the Ministry of Justice, Guernsey includes the separate jurisdictions of Alderney and Sark and the islands of Herm, Jethou and Lihou, with Brecqhou being part of Sark. They are not part of the UK; rather they are self-governing crown dependencies that are not represented in the UK parliament. The Queen is head of state, and each island's Lieutenant-Governor is the personal representative of the Queen.
So Let's Explore Guernsey
At 65 square kilometres (26 square miles), Guernsey is a small island that takes about an hour and twenty minutes to drive around in a car, as long as you don't spend too much time travelling backwards along the narrow lanes that are frequently not wide enough for two cars to pass, that is.
To anyone planning a trip to Guernsey, it's probably best to leave the car at home, the buses are frequent and reasonably priced, and there are a lot of lovely views that you'd miss from a car. So go on foot as much as possible if you can.
The geography is of dark stone cliffs on one side and beaches on the other including some that offer lovely, picturesque and romantic sandy and sweeping bays. Guernsey can best be described as roughly triangle-shaped, and to the south, the island rises in a plateau, it's this side of the island where most of the dairy farming is done, where the milk from the famous brown or brown and white Guernsey cows comes from. Agriculture on the north side of the island tends to be grapes and greenhouses for tomatoes and flowers with a high quantity being exported to England. The island enjoys a temperate marine climate and being small, surrounded by sea, snow, and hard frosts are very rare.
By the 20th Century tourism became an important part of the economy. According to Theodora.com Guernsey exports tomatoes, flowers and ferns, eggplants, sweet peppers and other vegetables, agriculture accounts for roughly 3% of the GDP. The other main industry after tourism is banking which offers about 21% of the employment.
St Peter Port
St Peter Port is the capital of the island and has a lively, bustling vibe. Cruise ships and the ferry come in here, and it's the main port of the Channel Islands. If you choose to travel by ferry crossing, it's also the first part of Guernsey you will set foot on.
A sentinel to the harbour is Castle Cornet, an 800-year-old castle that has five museums and four period gardens and is only a short walk from the harbour. It's a great place to enjoy a picnic and stunning views back towards St Peter Port or out to sea. Admission charges apply, but an annual pass is very reasonable and is in the shape of the Discovery Pass that also covers the Guernsey Museum in Candie Gardens, Fort Grey and the German Naval HQ. So, is well worth purchasing if you are staying on the island for more than a couple of days and gives great value access for holders who live there.
The narrow pedestrian shopping areas are home to a number of cafes and boutique shops and an outdoor market on Friday's. The Cornish bakery is a surprise, (well, it would be if I wasn't telling you!) go to the back of the café and the view over the port is stunning. Residents and visitors enjoy a thriving nightlife; there are plenty of bars and clubs.
Eating out is a popular pastime in Guernsey; St Peter Port offers many excellent restaurants offering various cuisine styles. There is a scheme called "Tennerfest" very popular with everyone living here. The scheme is used to eat out for a tenner; these days it sees restaurants offering options around the £10 often something like two desserts for a tenner or a meal for £15 meaning you get a tenner off.
Famous Residents:
Guernsey has been home to a number of famous people. The most famous is probably the author Victor Hugo who lived there from 1855 to 1870. His house in St Peter Port is now a museum, and there is a statue of the French writer in Candie Gardens.
Other famous people who do or have lived there in alphabetical order:
John Bishop, the Liverpudlian comedian, lived in Guernsey during the 1980s and said that his time living there changed his life.
The Formula 1 racing driver Jenson Button moved from Monaco to Guernsey in 2010 and is quoted as being very happy on the island.
Television presenter and writer Dawn O'Porter grew up in Guernsey with her aunt and uncle, and her husband proposed to her on the Havelet sea wall in St Peter Port that overlooks Castle Cornet and La Vallette.
Oliver Reed, the actor who was as famous for his boozy lifestyle as his acting in his early days, settled down with his beautiful wife Josephine on the island and they spent over twenty years there.
Comedy duo Janette and Ian Tough best known for their double act the Krankies lived in Guernsey for several years having fallen in love with the island when performing there during the 1970s.
Julie Andrews and Elisabeth Beresford both lived on the smaller island of Alderney, which we will cover separately.
Visitors to Guernsey are spoilt for choice regarding water sports; sailing, kayaking, paddle boarding, canoeing and swimming are all popular sports. A lot of the residents are frequently in and out of the sea; many swim every day regardless of the weather.
Explore on Foot:
The island has a network of footpaths, and it is always possible to walk to a destination. So, walking both for transport and pleasure is a major activity. If you don't fancy walking, then horse riding is another option for getting about and enjoying the views. The advantage of being on horseback is that you can often see more from the higher vantage point.
Because the island is known for its relaxing vibe, it's not surprising that yoga and meditation are readily available with yoga, in particular, being offered by hotels. Of course, Yogi's know that you don't need a class to enjoy yoga. I can confirm that there are some fantastic locations that you can stretch and flex and breathe away the cares of the world and be in the moment on such a relaxing island.
Sailing
Sailing into any new port is always exciting and St Peter Port, Guernsey is no exception. It's dubbed one of the prettiest in Europe. The waters between Alderney and France can be quite turbulent and stormy; the sail from Alderney to St Peter Port is usually a pleasant, easy short hop.
Before anyone can go ashore at Guernsey, the Guernsey Border Agency customs declaration must be completed, and they must be placed into a special yellow box or returned to an official.
The tides are quite changeable, and the area is known for the enormous tidal ranges. For those with a deeper draught, it's advisable to enter the harbour at +/- 3 hours of high tide. Low tide can see vessels being grounded. There are three marinas within the port all offering great facilities and easy access to the town. Part of the Victoria marina has a 1.8m maximum draught if you want to keep your boat afloat, check your draught is not more than 1.8m.
For sailors who don't want the hustle and bustle of St Peter Port, there is the small and peaceful privately owned Beaucette Marina on the northeast corner of the island that means you don't have to compete with the commercial water traffic and cruise ship crowds. The marina takes advantage of a small natural harbour and offers a more natural and peaceful environment. They offer electric hookup, gas bottles, internet and Wi-Fi, a shower and laundry block a boatyard with lift-out facilities, car hire and a bus stop nearby. It's quite possible to base yourself there for remote working. Sailing to Guernsey's metropolis St Peter Port is easy to enjoy a few hours of bustle and return to the tranquillity of Beaucette's is a realistic option for sailors.
Historical Landmarks
St Peter Port offers several historical landmarks, and one of the best is Candie Gardens; the stunning, colourful gardens were once part of a private estate and offer stunning views of the harbour and across to the islands of Sark, Herm and Jethou. The heated glass-house is the oldest known in the British Isles and dates back to the late eighteenth century; the garden is restored to its glory as a 19th-century public flower garden and alongside the flowers are fish ponds and lawns. Candie Gardens is where the statues to Queen Victoria and Victor Hugo are situated. There are a café, a museum and an art gallery within the gardens.
Close by is the Victoria Tower, built-in 1848 to commemorate the visit by Queen Victoria and Prince Albert to the island in 1946. It is possible to collect a key and climb the tower. The top of the town is where you find the beautiful old wealthy merchants houses with their spectacular views across the top of the lower town and harbour area.
The island is awash with historical buildings and landmarks; evidence of human habitation can be found back to Palaeolithic times due to artefacts and burial mounds. There are Neolithic sites that are free to visit; a must-visit is Dehus Dolmen an impressive and atmospheric site that also has standing stones nearby. At the highest point of L'Ancresse common is another Neolithic site La Varde and there are others you could visit too.
Another must-visit place is the Little Chapel; it's really worth the effort. The chapel holds a maximum of eight people and is made of seashells and glass mosaic with some broken china pieces and is incredibly beautiful. The multicoloured walls are interspersed with mini stained glass windows. It is said to have been inspired by the grotto at Lourdes.
World War Scars
However, it is the two world wars that have really left their marks on Guernsey, and the island was brutally occupied by Nazi forces during World War II, and it's this occupation that leaves most of a mark on Guernsey today. There is no escaping the fact; many of the defences and fortifications still dominate the coast, there are lots of concrete bunkers, seemingly at times at every turn, they act as cruel reminders of the painful time in the history of the island.
Witches
In the west of Guernsey, a lot of the cottages and houses have a witch's seat on the roof. Folklore has it that on Friday nights when there is a low tide witches gather on the sands at Grande Greve to dance. The "seat" is actually a stone that forms a little ledge net to the chimney, and the idea is that witches who are tired can take a rest there before continuing her journey. Failing to provide a suitable seat could lead to a tired witch flying down the chimney and taking up residence in the house, thus causing havoc.
Life Style
Living there, you can enjoy a cosmopolitan lifestyle; indeed, the prices for eating out and clubbing are as in to London. The cost of living is similar to much of the UK. The difference is that you are never far from the coast or the countryside. Guernsey makes a great work from home location; especially if you are into or plan to get into water sports. Many residents are avid water sports participants, and a lot of people swim every day, even in winter. The population is around 63,000, and yet those who live at Guernsey say that there is a real village atmosphere with it being almost imposable to go out without seeing someone you know. It's a friendly place with a village vibe.
There are regular low priced ferries to and from Poole and Portsmouth, and the airport has flights to several small airports it's a convenient base for remote working.
There is broadband and Wi-Fi at Guernsey with continuing improvements being made, the speeds are now pretty good, and they do have their eye on the ball regarding ensuring remote working facilities. The mobile phone signal using 4G is good over much of the island with very few poor signal areas.
It's a place that frequently pleasantly surprises people, and most visitors want to return.
One of my favourite spots on the Guernsey island are the beaches. Learn more in the following article: The Very Best Beaches On Guernsey Island