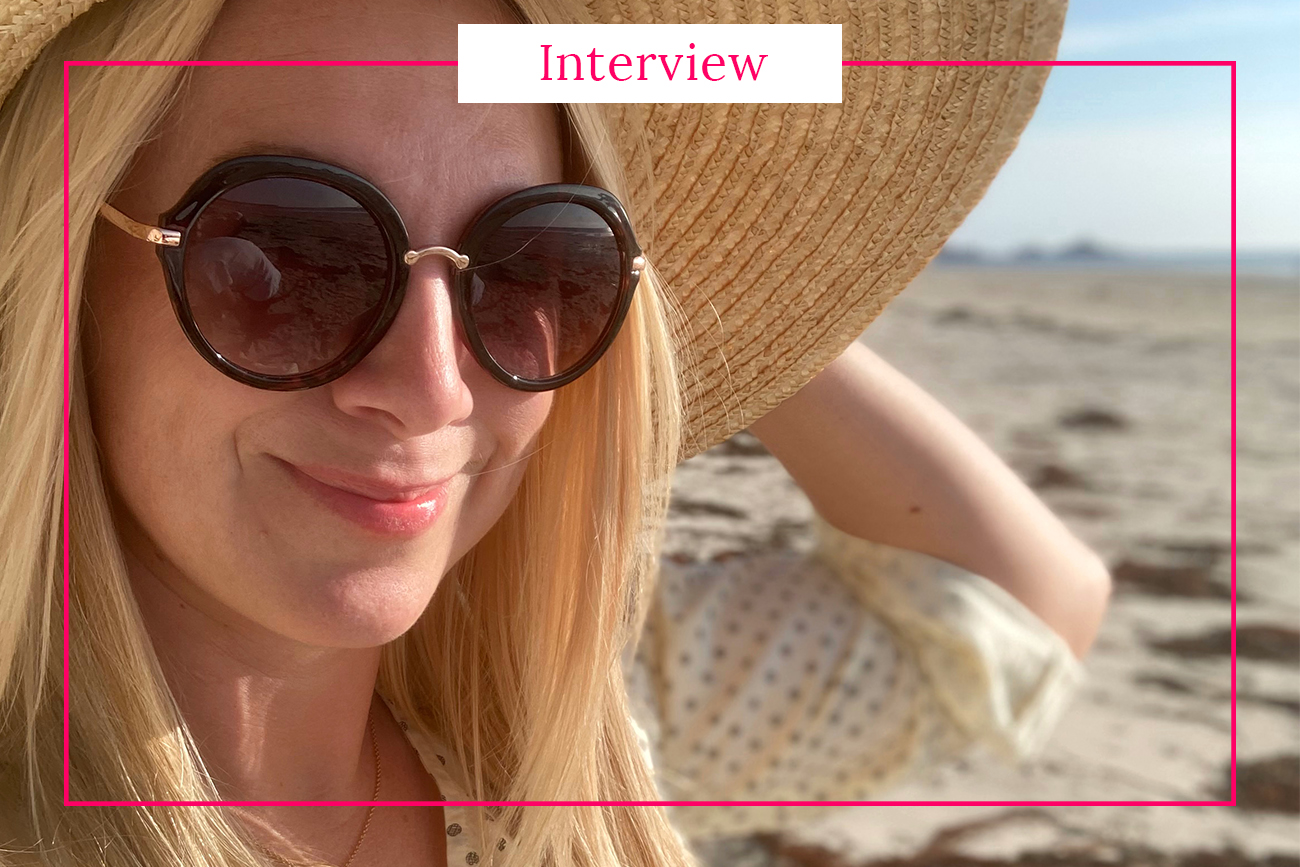 Laura is a Jersey-born blogger who runs Nineby5. This originally started as a way of exploring the capabilities to achieve big city dreams on a small island and to embrace local creativity and talent.
Laura writes a lot of feature pieces about fashion. The blog was her platform as she looked to change careers at a later stage in her life, coming out of finance and doing writing and content work which was much more her passion! She loves stories and finding unique ways of conveying these.
In this interview we asked Laura more about her work and also for some fashion advice.
Laura, please can tell us about what you do for living?
I work as a Digital and Marketing Manager, using one day off a week to do styling work, shopping experiences and ad hoc social content and training.
What made you decide to become a content creator and start your own blog about lifestyle and fashion?
Sorry, probably answered that above! But it was a wonderful chance to own something creatively that I had full control over. I wanted it to become a portfolio of my skills to showcase for future employment and it allowed me to connect with a lot of different individuals on the island. Essentially it's been a great living CV! Fashion has always been an interest of mine since studying at University and then a small stint as a fashion journalist. I remain interested in how we consume fashion on a small island and how we can adopt more environmentally friendly shopping habits.
In your opinion, how can a blogger stand out?
Having an individual and authentic voice and plenty of commitment! Blogging takes a lot of time with multiple platforms and the changing pace of the digital market. We've moved from FB to Instagram to TikTok at such a fast pace that isn't slowing down anytime soon.
If I didn't love what I do I would have stopped long ago! Even now my commitment ebbs and flows with other personal commitments, but that's ok as you are your own boss. I think if you work hard and give people a regular commitment you will find engagement, and if you are honest with your posts and content then this will naturally grow.
What does your typical working day look like?
With my blogging hat on, I like to visit local stores and shops on a regular basis, checking out new brands that land and also understanding their businesses better. In the past I have hosted fashion events, social media classes and styling sessions so it's important to network to recognise opportunities. I also regularly shoot fashion content for my Instagram and write blogs when possible. I work closely with charity shops to promote the purchase of secondhand and have recently launched a series of Preloved sale events.
How do you motivate yourself to keep the blog and your social media up and running?
Money can be a great motivator – but I think there has to be a love of what you do as this isn't a guarantee. Connecting with others and the chance to meet like minded people from all over the world keeps me going and I've learnt to switch off from fluctuating engagement levels and negativity. First and foremost if it makes me happy – that's all I need.
What are the biggest challenges of your work?
The speed at which digital and social platforms change. Instagram is evolving to become more video and reel based, which in itself is a challenge as I prefer to hide behind photos. Keeping up to date with all these changes can be tough unless you work in this environment everyday. I always thought I'd be short of things to blog about but that has never happened yet – finding time to commit to it all is the difficulty!
Your Instagram account is full of beautiful outfits. How would you describe your style and what are your inspirations?
I would say my style is eclectic and quite feminine. For me there has been a big transition to my style as I've got older and my body shape has changed, so it's about how I can still enjoy the expression of fashion as I age. I enjoy following people who are bold in their choices and are clever at styling, making fashion more accessible to all. I get most excited about converting secondhand pieces into surprise treasures or reworking old items lost in the back of my closet. Iris Apfel is a great example of ageing well with bold passion in her style, and I swear by 99% of the advice Trinny Woodall imparts!!
What would you say are the essential items every woman should have in her wardrobe?
I think it's more important than ever to have pieces that will stand the test of time and work hard for your money in a number of ways. Things which aren't trend driven and can be incorporated throughout the year. For me, this would include a good quality white shirt, a button fronted midi dress, a lightweight trench, a nautical striped t-shirt and a great fitting pair of jeans. Oh and don't forget some neutral heels that are comfy to walk in!
Photo credit: Laura Morel
Photo credit: Laura Morel – Nineby5 at Harriet & Rose shop
What is a fashion rule you never break?
I think there's scope to break them all, and actually our fashion 'mistakes' are an important part of experimenting.
Where in Jersey do you go when you want to unwind?
I like to unwind with yoga and so I go to my regular Shala with Ashtanga Jersey or enjoy a good outdoor practice in the summer months. I'm also a movie buff, so a good foreign film at the Arts Centre is always a real treat!
What are your favourite places to eat and drink in Jersey?
Kyoto is currently our regular restaurant of choice – the sushi is just delicious and pizza for the kids is a winning combo. Beach cafes like Portelet and El Tico are hard to beat as well, as I like a relaxed setting. I recently discovered the Porters Store and don't think it can be beaten for ambience and style, style is always important!!
If you are looking for some fashion inspiration, styling or personal shopping services, then don't hesitate to check out Laura's website Nineby5 or her Instagram account.