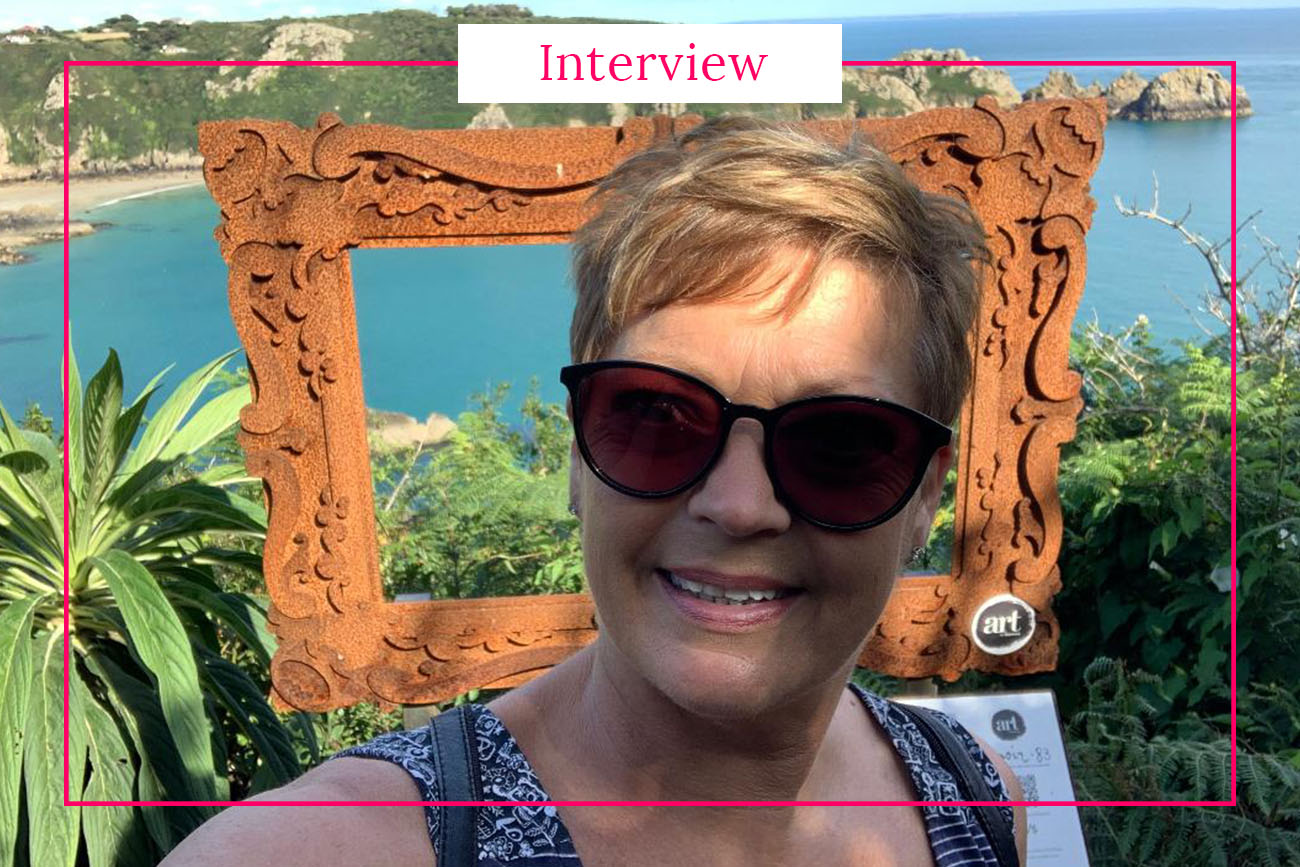 We are delighted to introduce you to our new blog series – Isle Tales – where we interview people living and working in the Channel Islands. In today's interview we posed a few questions Jackie Ward – a lovely and experienced tour guide from Guernsey.
Jackie is Guernsey born with European ancestry. She married a Scotsman and, after her career in the Finance Industry, she retrained as both an Accredited Tour Guide and also a Civil Celebrant.
2022 will see her tenth year as a Tour Guide and her fifth year as a Celebrant. She developed into roles that enable her to talk for a living whilst meeting new friends to show around her beloved Islands of Guernsey.
Can you please tell us a bit more about your business and the services you provide?
I also have a Public Service Vehicle (PSV) licence for the purpose of private hire for Tour Guiding. This gives me the flexibility to merge a walking tour with a drive to out of town locations and attractions. So whether you want to amble around the Town, or hike a cliff section followed by an out of town museum, Neolithic passage grave, The Little Chapel or any other landmark or attraction, I pride myself on the flexibility that this allows.
Although I will deliver a suggested itinerary, this can be changed at any time in accordance with last minute requests. I have delivered tours in Guernsey, Sark and Herm, and these islands together with Alderney form the Bailiwick of Guernsey.
What made you choose to become a business owner?
It was once my children were independent adults that I felt I had the freedom to leave the corporate world behind and embrace the flexibility of working in a self-employed capacity. After trying Reflexologist Therapist I found my niche in Tour Guiding. However, at this stage in my life/career, this wasn't a year round option.
I was invited to join an established company, Whitedove as a Celebrant 5 years ago. I liked and admired the values of the company and the format of each ceremony…whilst also giving flexibility to each couple to create the ceremony of their choice. Whitedove became incorporated in 2021, just as the Marriage laws changed in the Bailiwick, and I became a shareholder. Whitedove Ceremonies Ltd offers 3 types of Wedding ceremony, Affirmations, Namings and also Funerals.
Can you please in few sentences describe the process of starting a company / business in the Channel Islands?
My businesses are different, in that the Tour Guiding is just self-employment/sole trader so there is little to do officially, but marketing is key to any business development. What is your USP over your competitors? Be prepared to change and evolve to find your place in the market. Whereas Whitedove is now a Limited Company the founder of the company is the driving force with the accountancy background. However we are 3 Director owners and I see the skills sets that we bring together is what drives it forward. I suppose Team work is the answer.
What piece of advice would you give to someone considering starting a business in the Channel lslands?
I have tended to overlap my work life and any business that I have started. This gave me financial security, but it takes energy to juggle 2-3 jobs at a time. But if you are really passionate about it, you won't notice. The mantra of any new business/self-employment is to never say No.
What does your typical day look like?
My days are not necessarily typical. Today for instance I am drafting an agenda for a Director meeting this month with my fellow Directors of Whitedove Ceremonies. I am also reviewing and updating my Tour Guide website, making sure my photos and testimonials are current. Later I will be answering email enquiries regarding future tours.
In addition I am scheduling an initial meeting with a couple over coffee, for their forthcoming Wedding ceremony later this year. If this were in a few months time, I might be getting ready for a Wedding Ceremony and reading the script through. Or I might be pulling on my hiking boots and packing my rucksack (first aid kit, notes) for a guided tour.
What is a local dish you can't live without?
Fish and Seafood. Guernsey has amazing local seafood and restaurants. We have just booked a table for lunch later this month at one of our favourite restaurants and I know I will start with the Lobster Bisque followed by the Scallops.
What's your favourite place on the Channel Islands?
That's a difficult one, I live on the West coast of Guernsey, so Cobo sunsets are hard to beat. But then I spent the first year of my life on Sark, so this will always hold a place in my heart. In fact, what we love most about Guernsey is the Island hopping…Herm is just 20 minutes away and this makes for a great off island experience even if just for a few hours.
How would you describe the islands to somebody who has never been?
Paradise. The Islands are all different, all special. Clean, safe and friendly. Once you've enjoyed our hospitality you will want to return and explore more.
Imagine a first time visitor to the Channel Islands asks you for recommendation of what to do. What places or activities would you recommend?
I'd have to recommend walking a section of our cliffs or coastal paths. These always look different depending on the season, weather and tide. A visit to The Little Chapel is a must, The Little Chapel was a work of art and labour of love built by Brother Déodat, his plan was to create a miniature version of the famous grotto and basilica at Lourdes in France.
Island hopping is our USP…20 minutes to Herm and 45 minutes to Sark, no visit is complete without also visiting Herm & Sark.
If you are planning trip to the Channel Islands and are looking for an experienced tour guide, contact Jackie via her website.