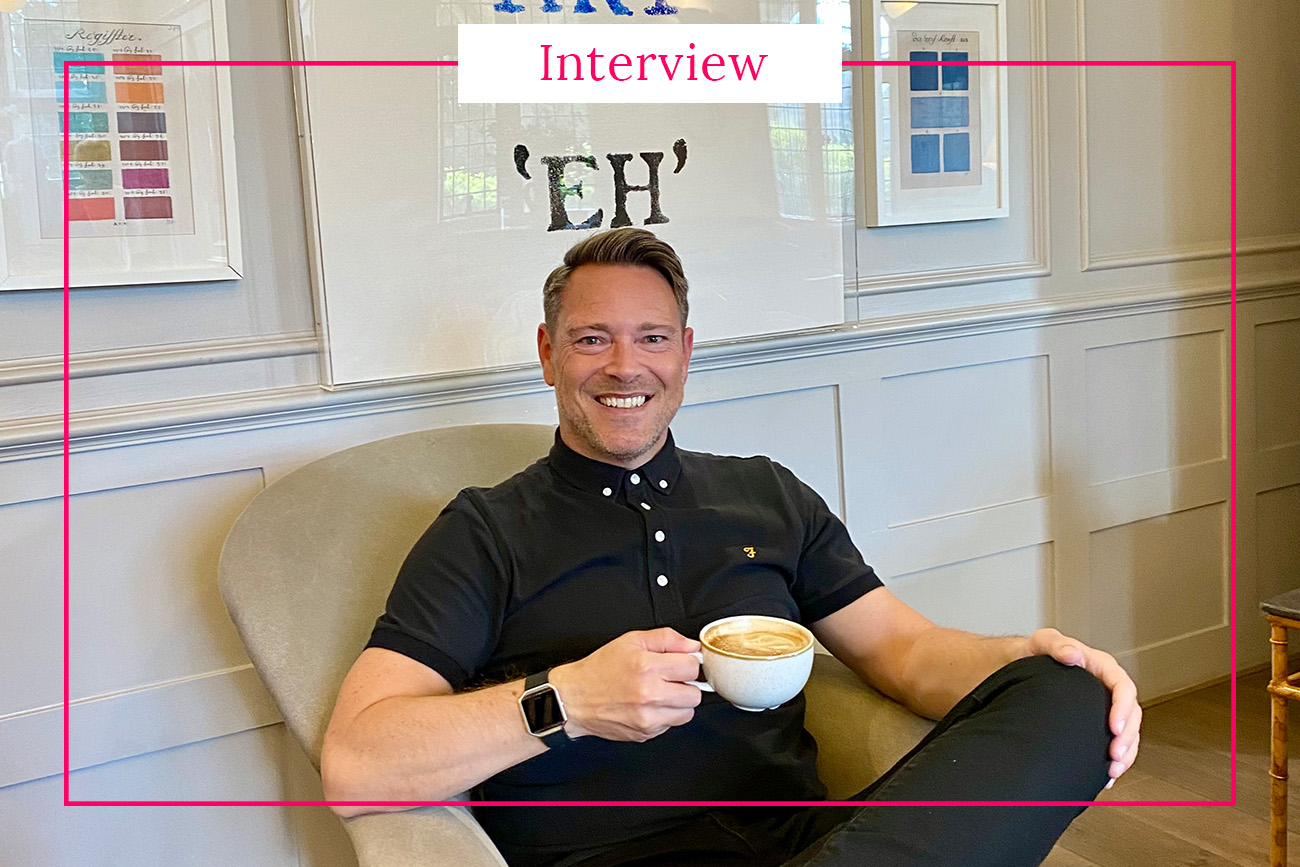 Chris Griffiths is a 49-year-old illustrator and graphic designer who, along with his brother Marc, owns Two Degrees North, a Design & Advertising Studio that they've run for the past 19 years. Chris resides with his wife Michelle near Bordeaux Harbour in Guernsey, having moved to the island when he was around 7 years old. He was born in Eastleigh, UK, but has lived in Guernsey for most of his life.
To gain insight into Chris's remarkable illustrations, we asked him several questions, such as how he defines success as an artist and his techniques for overcoming creative blocks.
Chris, please can you share your story with us? What led you to become an artist and a graphic designer?
I went to school at Capelles Junior School and had a brilliant art teacher and can distinctly remember enjoying art lessons the most (along with anything to do with sport). I then went to the Grammar School and again had some great art teachers that developed and nurtured my growing interest in art as well as helping me to improve my knowledge and skills.
I eventually went on to study for 4 years at Exeter College of Art and Design (a part of Plymouth University), studying everything from photography and typography to life drawing and 3D design, ultimately gaining a degree in Graphic Design. I came very close to majoring in Illustration as I loved the drawing and painting aspects of that side of the course, but somehow my head was turned.
Your main focus is stunning landscapes that are very colourful and look almost photographic.Could you please explain what kind of technique you use?
I have always loved being outside, exploring the landscape and the nature that surround us. As a couple, Michelle and I love taking long walks around Guernsey and observing the stunning landscape and a natural part of this has included taking photos along the way.
The fairly recent landscape paintings that I have undertaken have been inspired by some of the photos that have appealed to me the most. I enjoy the drawing process and have always loved just working in pencil, however acrylic painting on canvas is my go to technique when it comes to wanting to the finished paintings.
I've worked at many different scales, from 40cm up to 100cm and bigger. I predominantly work with landscapes but have also done some portraiture and even pet portraiture. I love working with vibrant colours and I think there is probably a bit of a graphic style and a certain accuracy to my recent paintings where the style has just kind of evolved.
Where do you find inspiration for your creative work?
I find inspiration from looking at other artists work, famous ones and not so famous ones. I also find inspiration from observing the natural world, looking at architecture, watching films, photography, advertising, the list is pretty endless.
What would be the only piece of advice you would give to an aspiring graphic designer / illustrator?
Do what you love the most, if you love drawing fantastical beasts in biro or enjoy creating abstract art using huge canvases with a mop. The most important thing is not to feel you should create something just because of a certain trend or expectation, that way you will find the most joy and create something that is more original and that represents you.
Please can you share with us the biggest challenges of your work?
My day job is totally different as that is obviously how I earn a living, running my own business and the pressures are completely different, but I guess I would say on the design and advertising front that the biggest challenge is constantly trying to think of original ideas, which is where the list of inspiration I mentioned earlier comes into play.
With the painting and art, which unless commissioned is totally self fulfilling, I guess the biggest challenge is finding the subject matter to really inspire you so that you know you will enjoy painting it.
What does your typical working day look like?
I am still very hands on with the graphic design side of the work, so I am normally working hard on the Mac designing anything from advertising posters and product packaging to social media graphics and websites. I normally paint in the evenings or on the weekends, this can be quite intensive if I have a commission or an exhibition coming up.
How do you define success as an artist?
Being successful as an artist for me comes down to if I have enjoyed the process of creating the artwork and how satisfied I am with the end result. Obviously if you have been commissioned for a piece, you want the client to love what you have done, otherwise it's satisfying if you can sell a piece as you know that somebody else has seen something in your work that maybe inspired you to paint it in the first place.
Please can you tell us about your techniques for overcoming creative blocks? 
I often find ideas come to me when I am just having a bath, riding my bike, taking a walk in the fresh air, reading a book, travelling or just being with my mates. I think creative blocks can happen because you feel forced into a corner, so I try to do my best to not think about it and see what happens!
Where in Guernsey can people see and purchase your art? Are there any ongoing exhibitions or any upcoming ones that you're planning?
I don't currently have any exhibitions planned as I have quite a few commissions on the go. Prints (and some originals) can be found on the walls of both the CMC clinics in Guernsey, Cadeaux in St Peter Port, The Herm Gift Shop in Herm and on occasion some original artwork will be on sale at Sula Gallery at L'Islet. You can also contact me to purchase prints and originals from my website Chrisgriffithsart.myportfolio
What is the local food you can't live without?
Given the chance (and a bigger budget) I would eat Guernsey Crab every day, but it's probably got to be Guernsey Milk, I can't get enough of the stuff!
If your friend was visiting Guernsey for the first time, what food / drink / coffee spots would you recommend? 
I would recommend getting a Woodies Coffee at Bordeaux with a bacon roll, for an early breakfast with a sunrise over Herm and Jethou; for lunch I'd maybe send them for a steak sandwich at the Fermain Beach Cafe; and in the evening, if the weather is nice, I'd tell them to head across to Cobo on the west coast for a lovely meal with an unbeatable sunset!
What is the local food you can't live without?
Given the chance (and a bigger budget) I would eat Guernsey Crab every day, but it's probably got to be Guernsey Milk, I can't get enough of the stuff!
Are you in search of a new artwork to adorn your home? Look no further than Chris Griffiths' website – chrisgriffithsart. There, you'll find a stunning collection of his work as well as his contact details. Take a moment to explore his website and discover the perfect piece for your home.