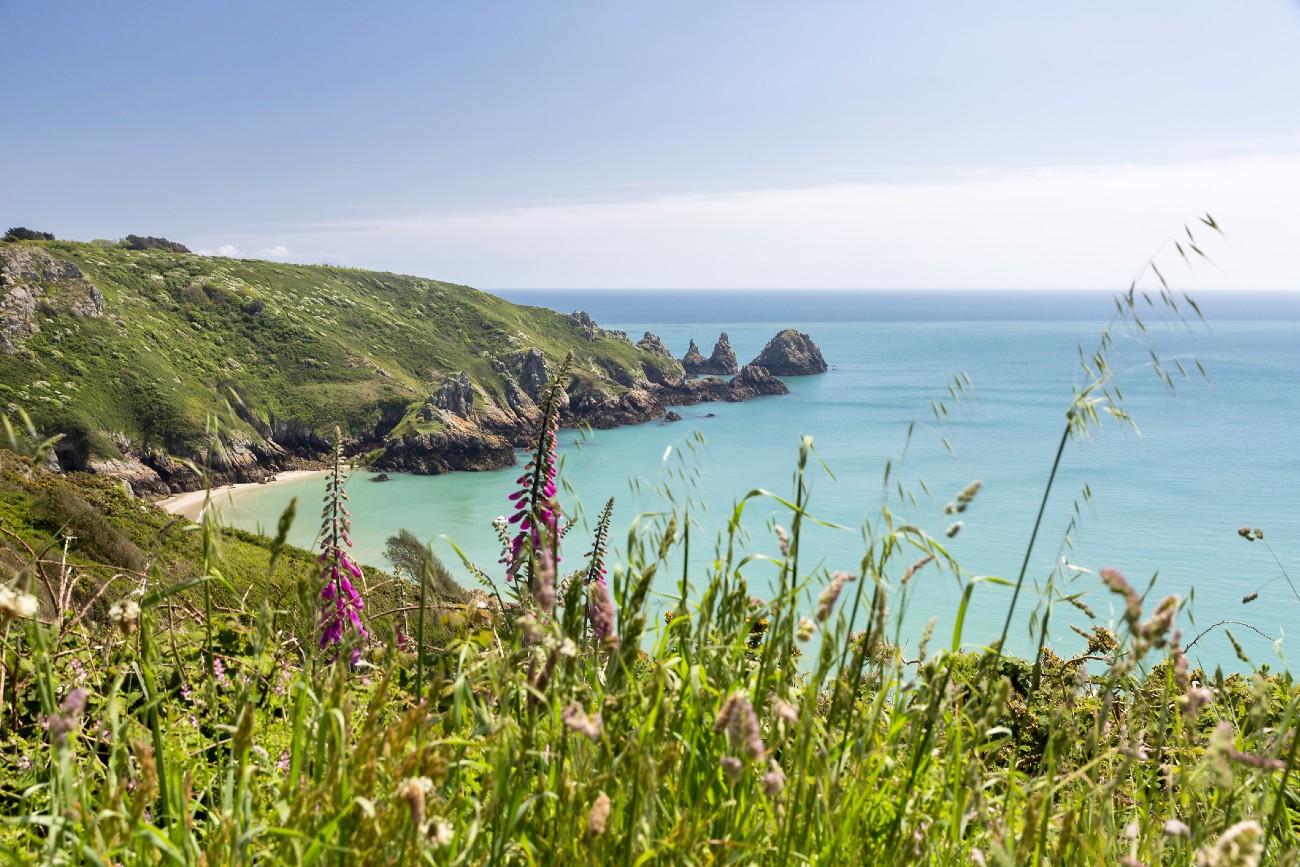 The Channel Islands have been described as one of the natural wonders of Europe. If you're living and working remotely on the Channel Islands and looking for new land to explore, there are more than enough hikes here to keep your mind and body energized.
The Guernsey and Jersey islands hiking trails offer stunning views from high up on cliffs or below on beaches. I want to share some hikes that have made me feel connected with this place so far.
Hikes in Guernsey
Bordeaux Harbor and Vale Castle
This two-hour walk around Bordeaux in northeast Guernsey has a mix of historical monuments and coastal scenery. From Castle Road, you can see views of the smaller Channel Islands: Herm, Sark, and Alderney. Explore the Vale Castle on the hillside with its six round towers and square gatehouse. Here you can spot Bordeaux Harbour, a natural horseshoe-shaped harbour filled with sailboats if you continue along the coast.
Once you pass the islet of Hommet Paradis, turn inland to Dehus Dolmen – an old Neolithic burial mound. Inside, the passage goes low and opens into a little room with carvings of people, recognized as guardians who protect the site with bows and arrows. Once you find yourself at this monument, pay your respects or explore its mysteries further – that is, if you are into such things like me. Finally, come back through the streets of Bordeaux to the sea.
The Northwest Coast
Venture through the northwest coast to view the beautiful bays and beaches.
The coastal route begins in Cobo Bay, where the Guernsey flag is raised on a rocky outcropping offshore on the Grosse Rocque on Liberation Day. Finish your two-hour seaside stroll at Port Soif Nature Reserve with a walk along the white scalloped strands of Grandes Rocques. And if you're feeling hungry after this captivating coastal hike, be sure to stop by one of the many restaurants, cafes, fish bars, and beach kiosks.
Guernsey's South-East Coast
I love taking this walk to Fermain Bay from the shingle beach's shoreline café. If you keep walking, you will eventually get to Marble Bay, southeast of the island, where you will see tidal pools.
Climb the steps and cross the bridge to Guernsey's most south-easterly point, where the foghorn sounds on foggy days. There are about 200 stairs up to Jerbourg Point, so get ready for a break at the kiosk before going up more stairs.
Walk along the western side of Jerbourg Point back to your starting point at Fermain Bay. This three to four-hour trek trail can be difficult. You can see wild headlands, deep-cut coves, and island views on the way.
Woodland Gardens and Saumarez Nature Trails
Start your stroll at Saumarez Park, where you will find a café, a Folk & Costume Museum, a Victorian walled kitchen garden, and bamboo plantations.
Follow the country lanes northwest to the wooded Le Guet, which has breath-taking views of Cobo Bay. Follow the seaside road north, then turn east into Ruette de la Tour to join Saumarez Nature Trail. Return via the shady pathways back to Saumarez Park.
The Island of Lihou
Lihou is accessed by a low-tide causeway of cobbled stones from L'Erée Headland on Guernsey's west coast.
The two-mile circular walk around the little island is a relaxing stroll skirting shingle beaches, islets, rocky outcrops, and inter-tidal pools. Exploring St. Mary's Priory's medieval ruins and plunging into the deep natural rockpool at Venus Pool is next on my list for when I'm feeling brave enough!
Saint Andrew's
The parish of Saint Andrew in Guernsey's countryside offers serenity and several historical sights. The three-hour walk passes through valleys, woodlands, and meadows to an ancient watermill.
Follow the Ron Short Walk to magnificent sea views over Talbot Valley before heading south to the Little Chapel at Les Vauxbelets. The Little Chapel is a tiny chapel located in the hamlet of Les Vauxbelets near Le Preel. It's a chapel inspired by the Basilica at Lourdes, encrusted inside and out with shells, colourful glass, and fine china.
Hikes in Jersey
South Coast Paths
Unlike the wild, windy cliffs of the north, the south coast of Jersey is calm and protected. St. Helier, the island's capital, and stunning St. Aubin's Bay are both located here.
There are several options for walking along the southern coast of Jersey. A pleasant afternoon out can be had by walking from St Helier to St Aubin on the opposite side of the bay. Or you may go all the way to La Corbiere Lighthouse on the southwestern corner of the island. The lighthouse is perched on a headland that submerges during high tide, so be sure to plan this hike accordingly (I certainly did not the first time!).
Val de La Mare Reservoir
This is a pleasant, easy walk to get acquainted with the island and its natural environment, circling the Val de la Mare Reservoir. This three-mile route begins near Jersey Airport and encircles the reservoir. As long as the sky is clear, this pathway offers stunning views of the island's west coast at sunset!
My favourite time to visit Val de La Mare is in the fall when the trees turn colours and transform the forest into a stunning spectacle. Tree enthusiasts should also pay a visit to the Forgotten Forest Arboretum, which houses rare tree specimens from all around the world.
North Coast Cliff Path
If you're seeking spectacular scenery, the North Coast cliff path is a perfect hike for you. Here, red cliffs plummet down to inaccessible coves and beaches. It's also a fantastic spot for birdwatchers, where seagulls and skylarks are often spotted.
The cliff path between Rozel and Greve de Lecq, which is about 12 miles (17 kilometres) long, can be hiked in a single day if you plan for it. Alternatively, you might continue a bit farther to see Plemont Beach. It's set against the backdrop of underground caverns and a cascade, and many people recommend it as the finest beach in Jersey – including me!
Seabed Walk to Icho Tower
Jersey's spectacular tides are one of the most distinctive aspects of the island: the difference in shoreline between high and low tide may be up to two miles. It's possible to explore the intertidal zone, which becomes submerged when the high tide reverses. You'll encounter aquatic plants and animals while strolling along the seabed that are usually only seen underwater.
The historic St. Helier Lighthouse and the Jersey Shore Battery overlooking the harbour are my favourite highlights of visiting St. Helier. The defence towers on the outskirts of Jersey Island were built in the 18th century to defend it against French invasions. Icho Tower is the farthest one from the shore, and only a few days each month has low tide enough to walk all the way there. As you travel in and out of the shallow water along the way there, you'll pass by plenty of barnacle-topped rocks and oyster beds.
Full Moon Walk to Seymour Tower
Another of Jersey's offshore towers is Seymour. It's simpler to get to than Icho, which has made it a popular destination for a seabed stroll. But what sets Seymour apart is that it may be visited at low tide at night.
If you're in for a fascinating yet eerie experience, I highly recommend taking a full moon walk with local guides, where you will encounter vibrant, bioluminescent plankton shining in the moonlight!
Would you like to learn more about the food from Channel Islands? Read the following article: Eating at the Channel Islands: The best of two worlds