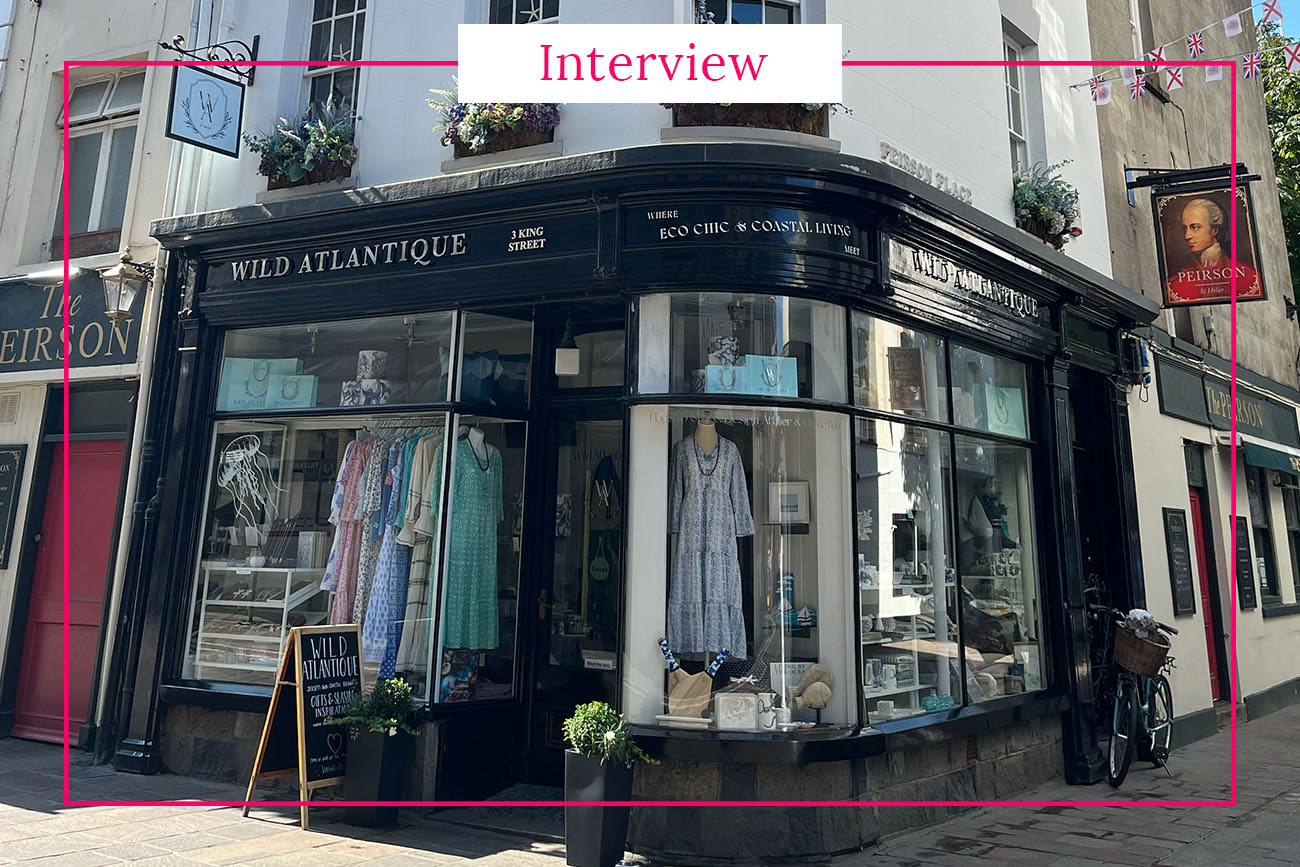 Interview with Karen Mackay – Founder of the sustainable store – Wild Atlantique
K
aren Mackay was born and raised in Upstate New York, by her American (Scarsdale, NY) father, Scottish (Thurso, Cathiness) mother and was schooled in Ireland & the USA.
She is fortunate to have tri-citizenship and have worked in several different sectors. Banking as an analyst, fashion as a promotional merchandiser for J.Crew Group, then as a qualified interior designer, residential project management, product sales and real estate consulting.
Karen has university degrees in International Business & Finance, an MBA and a degree in Interior Design with a prior LEED certification. She has always been fascinated with eco-friendly, sustainable and affordable luxury in both products and design. She has  a particular affinity for the coast and its environs and have spent all of her adult life living in a close proximity to the sea. By creating her own Eco & Coastal lifestyle brand, she was able to bring all these facets of her experience and passionate interest together.
During our conversation with Karen, we delved into the story of how she founded her brand in Jersey, her favorite design style, and the local dish she can't live without.
Karen, please, can you tell us what inspired you to start a coastal living lifestyle brand Wild Atlantique?
I was in Ireland during the pandemic and had time to really research the best fit for opening Wild Atlantique's first flagship store, design atelier & online hub. For a number of reasons St Helier, Jersey floated to the top of the list.
It had the perfect island vibe that matched our branding, a clean and special environment with roots in both English and French heritage, much like the brand.
I applied (which took quite some time) and was granted a license to headquarter the business here. I had never even been able to visit Jersey due to Covid restrictions until I had already incorporated and moved here so it was certainly a leap of faith. I love a challenge though and creating a unique St Helier based, Eco + Chic + Coastal Lifestyle brand has been a passionate mission!
Can you tell us about your business and the products and services you provide? 
We opened on 19th April 2022 at 3 King Street St Helier. We sell only eco & sustainable: clothing, home decor, accessories, footwear, bath & body products, throws, cushions, jewellery, belts, rugs, cards, lighting, custom furniture, our own scented & soap range and so much more!
We buy and make small batch quantities of unique items, we do special orders and we offer Interior Design Services too! In fact, if you visit our website, do take our Coastal Design Personality Quiz and take a look at our Atlantic Coastal Design Guides! We also sell a number of unique art pieces from Jersey based artists!
How would you define the essence of the coastal living lifestyle?
Our particular Coastal style is inspired by both sides of the Atlantic Ocean and its environs. If you go to our website you'll see our Atlantic Coastal Design Style Guides. They span British Colonial, French Seaside, Mediterranean, Modern & Minimal Beach Style, Nantucket & New England, Sophisticated Hamptons, Palm Beach & the Keys, South African Beach.
You can find out which style you are by taking our quick and easy Coastal Style Personality Quiz then seeing the details of incorporating that style in your own home and all the things we sell that make it a reality.
To define the idea of 'Coastal' I would say easy and relaxed in the way we dress, decorate, cook, eat, exercise and have fun. In interiors, its lots of painted white wood, marble, natural wood, brushed floors, sea grass and jute in woven textures and linen and cotton fabrics. Our particular brand is entirely Eco friendly and sustainable too! We care about the Ocean and we care about you!
On your website, readers can find a wealth of interior design guides. I'm curious to know which one is your favorite and why?
Hmm that's tough as an Interior Designer I have done lots of looks but I would have to say 'Nantucket & New England' would be my style of choice. I lived in Coastal Connecticut for nearly 3 decades and loved the change of seasons, the authenticate heritage style of cedar shake clapboard 'sea farers' shacks, painted Victorian 'Captain's cottages' and the Grand mansions of the coastline there.
How do you incorporate sustainability and eco-conscious practices into your coastal living brand?
Every brand, artist or product we carry or make is sustainable! In the materials used and in the place, practices and pay of the people who make it.
All of which fall within our remit of sourcing from both sides of the Atlantic Ocean. All of our packaging is also eco friendly and made from recycled materials. Eco Chic is in our brand DNA and we love promoting our products and brands because we have put so much effort into finding and sourcing ones that meet our high environmental standards.
The standards we stick to so our customers can feel good about what they purchase through us!
What does your typical working day look like?
Generally the day starts with the shop opening at 10am and goes to 5pm. We open a little earlier on a Saturday and a little later on a Monday and Thursday so I have time to meet with design clients those two mornings. Thursday evenings we stay open a little later for the after work crowd looking to buy a hostess gift or other for the weekend. Sundays we are now open in summer and the run up to Christmas from 11am to 2pm. We will shut down from Christmas Eve to the week after New Years.
Can you share with us your personal favorite spots on the island for lunch and a cup of coffee? 
Yes, I love Portelet Bay and either the Inn at the top of the hill or the pizza place down near the beach are great. I also love the Driftwood Cafe at Archirondel Beach by far the best lobster roll I have ever had and that is saying something for a New Englander! In town I like Famosa for Pizza and Samphire or Rigatoni for the food and special service! A quick lunch in town is the R-Fresh on New Street!
What is a local dish you can't live without?
The fresh seafood from Jades Fisheries Van (St Aubins on a Saturday or St Ouen's on a Sunday). Hands down the best picked crab, scallops and lobsters!
Imagine a first time visitor to the Channel Islands asks you for recommendation of what to do. What places or activities would you recommend?
Portelet Bay for a day at the beach; rent an EVIE bike in St Helier and ride first to St Aubins and then the railway trail to La Corbiere for an ice cream and back to St Aubins for dinner at the Salt Dog Cafe; definitely The Yard & the Jersey Heritage Museum on a rainy day in town.
What is the most rewarding aspect of running a coastal living lifestyle brand, and do you have any exciting plans for the future?
Well, the exciting hurdle this year has been the recent trademarking of the brand! Very proud of that and of our branding overall. Future plans are possibly a Confectionary Cafe, a larger on island shop and franchising to other places regionally, Guernsey, UK, Ireland and France to start.
Karen, is there anything else you would like to share with us? 
Please visit our website www.wildatlantique.com or email us on info@wildatlantique.com. If you are interested in getting involved with growing the brand then please reach out to karen@wildatlantique.com