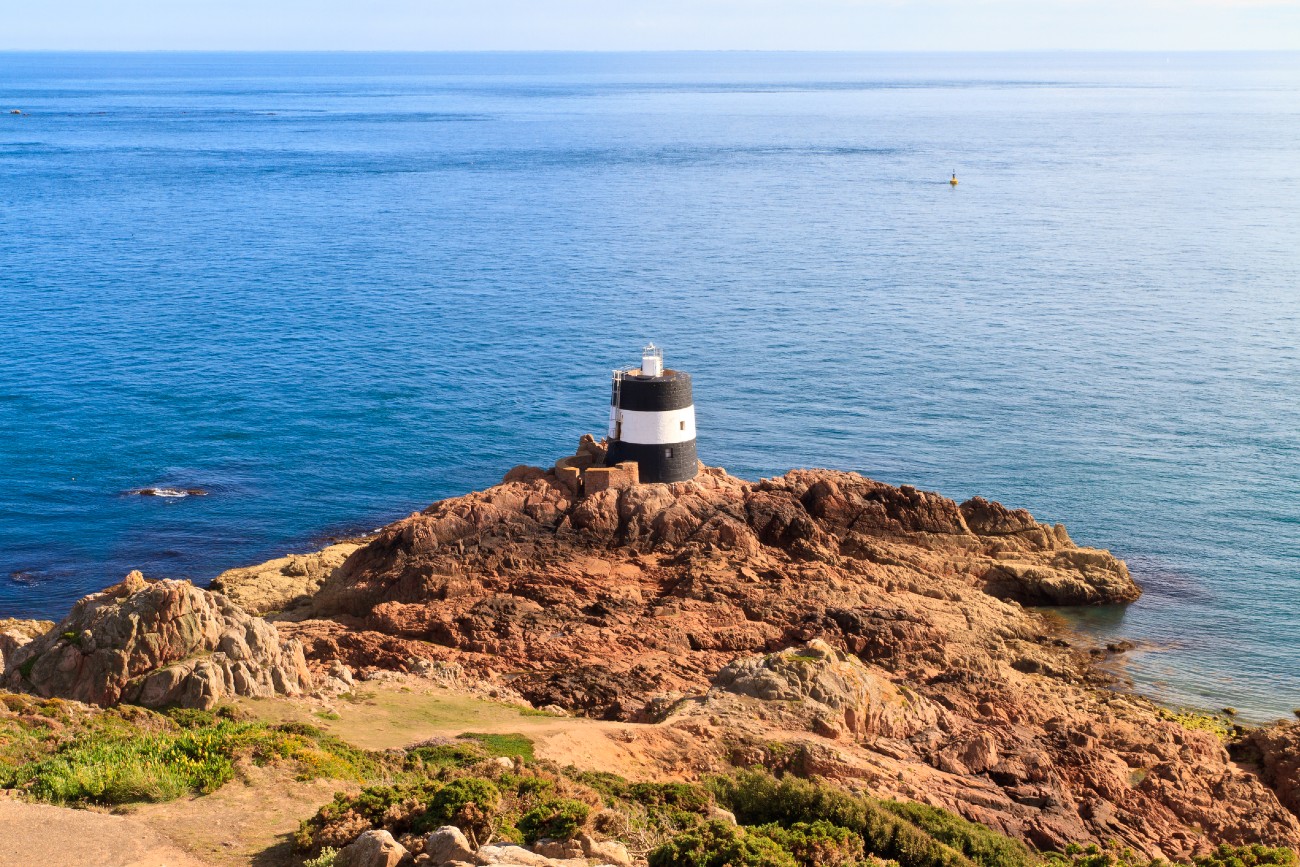 Just to the west of Jersey's capital, St. Helier, the main road out of town hugs the shores of St. Aubin's Bay and speeds along the seafront of Victoria Avenue. It continues unabated for several kilometres, side-skirting the coastal settlements dotted along this part of the coast.
In doing so, the road misses out on some wonderful destinations, including the small, sprawling settlement of First Tower. With its close proximity to the main town, First Tower is a thriving community, with a great selection of shops, restaurants and guest houses.
The settlement gets its name from the first defensive round tower to be built beyond the main area of St. Helier. The tower stands at a large cross-roads within the settlement, overlooking St. Aubin's Bay. It was built in the 1780's, during the Napoleonic Wars, and was initially crowned with a small windmill. The windmill has since disappeared, however the tower is still an interesting sight to see.
In the 19th century, First Tower was one of the most important areas in Jersey for shipbuilding, with over a hundred vessels being launched from the shipyards beneath Victoria Avenue. The remnants of this industrial period can still be seen in First Tower today, and there are several other points of interest within the settlement.
A Historic Discovery
For a taste of Jersey's ancient history, stop by the site of Ville-es-Nouaux, located just outside St. Andrew's Church. This monument consists of one of the island's surviving gallery graves, together with a small stone circle. The gallery grave dates from Neolithic times and is thought to be around 5,000 years old. It has been well preserved however, and is formed of a rectangular chamber set within a boundary of upright stones. The site was excavated on two occasions, with artefacts such as beakers and Jersey bowls being recovered. Although the central tomb was designed as a burial chamber, no human remains were ever found within.
Adjacent to the gallery grave is a small ring of rocks, commonly referred to as a cist-in-circle. A number of urns with cremated human remains were uncovered near this area, thought to date from the late Bronze Age. Ville-es-Nouaux is free to view and lies at the southern edge of First Tower Park. This large expanse of grass is perfect for relaxing when the weather is nice, and is my favourite picnic spot. There are toilet facilities on-site and there is also a playground area, where children can be kept entertained. The park is used for sports activities by the local school, however it it is usually relatively quiet.
With St. Andrew's Church being located in the near vicinity, why not pay it a visit while you're there. It is a beautiful church building and is attached to the local community centre, where various events take place throughout the year.
Dining On The Promenade
First Tower is located right on the doorstep to St. Aubin's Bay, and it can therefore be a great idea to spend some time at the beach, especially on a warm, sunny day. A flat promenade runs behind the beach and is frequented by all manners of runners, cyclists and walkers.
It is even home to Jersey's very own 'Petit Train', which runs between St. Helier and St. Aubin during the tourist season. The beach is sheltered from the wind and receives the sun through much of the day, making it an ideal spot for sunbathing. It is good for swimming too, with the waters generally remaining safe, shallow and without any dangerous currents. Several car parks can be found behind the beach, or you can take advantage of the excellent bus services.
In addition, there is no chance of going hungry while visiting St. Aubin's bay, with an incredible array of dining opportunities along its fringes. In the First Tower area, one of the best places to go is The Lookout Beach Cafe & Restaurant. Offering great quality food and stunning panoramic views, is a favourite spot among the locals (myself included) and has an excellent reputation. It is open all day and has both indoor and outdoor seating, meaning you can dine alfresco, for the authentic seaside experience.
Boasting a range of sights and activities to enjoy, First Tower is a great coastal destination. With its proximity to the centre of St. Helier, it is very accessible for day trips and can be an excellent place for the whole family to enjoy.
Explore more of Jersey! Find out more in this article: The Jersey Marshes – A Conservation Success Story