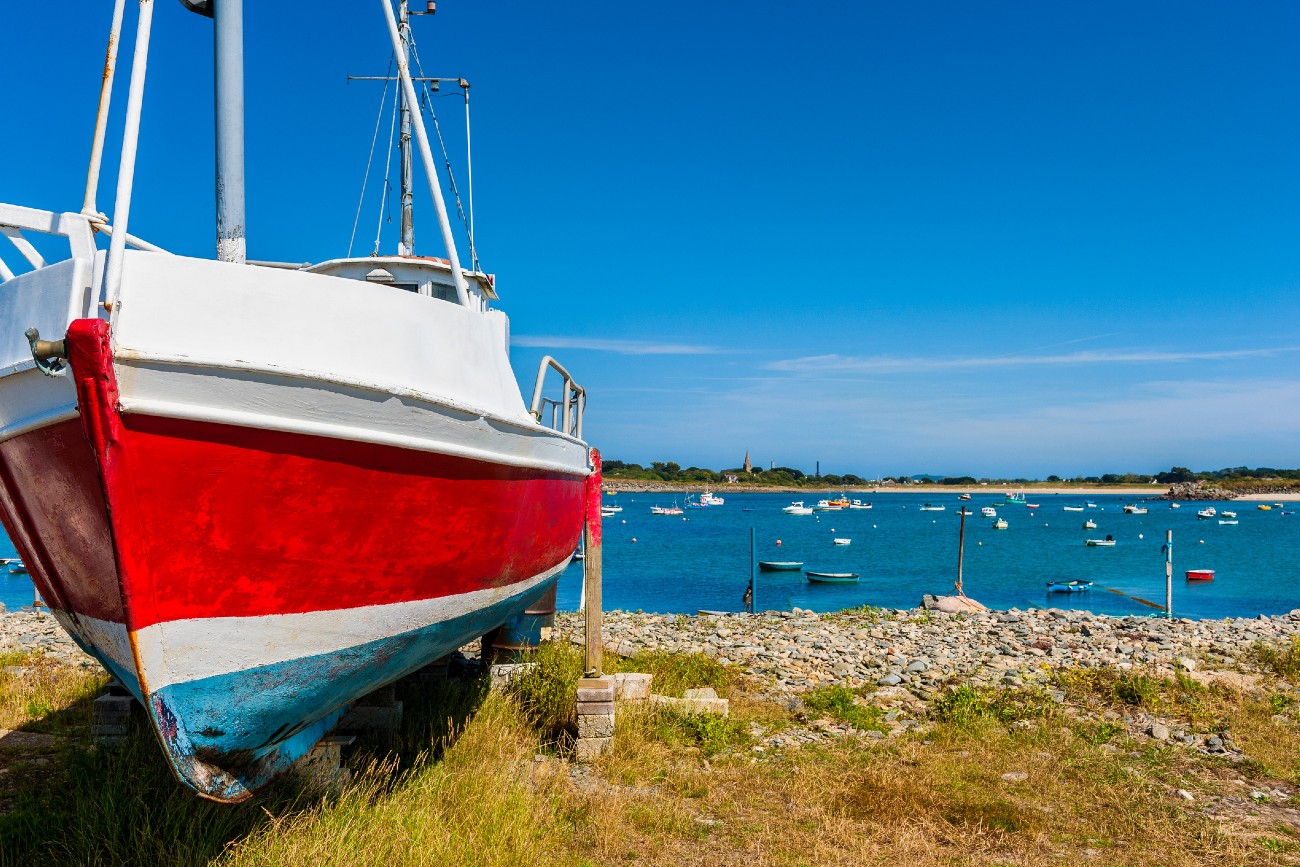 If you have been considering boating in the Channel Islands, but don't know where to start, then you have come to the right place!
If you are fortunate enough to have the opportunity to boat or sail in the Channel Islands, then reach out and grab it with both hands because, without a doubt, the Channel Islands are one of the most spectacular locations in the world. If you are lucky enough to visit, live, or work in the Channel Islands, you truly are fortunate indeed.
The Channel Islands are made up of a large group of smaller islands, with Jersey Island, Guernsey Island, Alderney Islands, Sark Island, and Herm Island being the largest and most popular. Lying about 80 miles south of the United Kingdom and 16 miles from France, you truly have a lot of boating opportunities if you are lucky enough to own a boat or make it here for a visit.
Before you start loading the boat up for a trip to the Channel Islands, keep reading to learn more about the different islands which make up the group, as well as some fantastic boating tips for anyone that hasn't made the trip yet.
Boating Tips for the Channel Islands
Once you have navigated the English Channel, you would have safely arrived in the Channel Islands and most likely landed on the larger of the islands, Jersey Island. Jersey Island has been fortunate enough to be blessed by some of the world's most stunning beaches and bays. As if sandy beaches and rocky coastline weren't enough, you also have large reefs, rocky shoals, and sandbars that are teeming with life and offer some fantastic swimming and diving.
If it's nature that you want to see, then you won't find a better spot close to the United Kingdom that has more seals and bottlenose dolphins. One thing that we will point out is the massive tidal surges and movement, particularly around Jersey Island. Some spring tides have been known to reach as high as 40-feet, and the size of Jersey Island itself can almost double between low tide and high tide.
The Western Side of the Channel Islands
For many of the locals, the western side of Jersey Island is one of the most popular locations to explore. That's not to say that other areas of the Channel Islands aren't also spectacular, but the western side is definitely one of the most widely visited.
St. Brelade's Bay
The bay of St. Brelade is located on the southwest coast of Jersey Island and includes a beautiful harbour and large pier. One of the popular local pastimes is jumping off the pier, and it's not uncommon to see large groups of adults and children testing their nerves by diving off the old pier. If you drop anchor to the east of the inner jetty, you'll be lucky enough to experience an amazing sandy beach that's rimmed by beautiful green palm trees. In 2019, this beach was voted as one of the top three beaches in the United Kingdom, and once you visit it, you'll know why!
Another added bonus is that there are also some fantastic dining options onshore if you don't want to eat on your boat. From fine dining restaurants through to small cafes, there is something to be found for everyone onshore.
Portelet Bay
Another wildly popular anchorage is Portelet Bay. This stunning and beautiful small bay is overlooked by the Martello Tower that was built in 1808. Known to the locals of Jersey Island as Janvin's Tomb, it's rumored that a local fisherman who died of the plague was buried deep beneath the tower to help protect the remaining population from catching the lethal plague.
If you are entering Portelet Bay from the sea, much care must be taken to avoid the multiple rocks which are only covered by high tide. If you follow the locals and keep to the western side of Portelet Bay, you should be fine. However, it's important to remember the tidal conditions and be prepared to pull your anchor and seek safer water as the tide begins to fall. While you're anchored in Portelet Bay, why not climb the steep and windy stone steps and grab yourself a local wood-fired pizza for lunch or dinner.
St. Aubin's Bay
Easily the island's largest and easiest bay to navigate, St. Aubin's Bay stretches from St. Helier from the east to the village of St. Aubin in the west. So if you have been sailing around the Channel Islands and looking for the ideal location for sundowners, then look no further than St. Aubin's Bay.
The harbour surrounding St. Aubin's Bay is jampacked full of restaurants boasting delicious local foods and some truly amazing local bars. If you have time to stay in the Channel Islands for several days, then St. Aubin's Bay is one location that we recommend spending the night in. While you're there, be sure to stop in for dinner at the Royal Channel Islands Yacht Club. They are happy to welcome sailors from all walks of life.
There is also the famous St. Aubin's fort which is located on a small tidal island and was built in the 16th century. Pack yourself a picnic lunch before setting out for the fort, and while you're there, it's highly recommended that you explore the local fort and the surrounding area. Again, when mooring, especially at the pier, pay close attention to the tides as many a boat owner has been caught unprepared and returned to find their boat in a precarious position.
If you prefer to spend your day lying in the sun onboard your boat and you're looking for a safe anchorage away from the easterly winds, then head over to Belcroute, which is just a few miles south of St. Aubin's fort.
St. Helier
If you are entering St. Helier, then you must tune your radio to Channel 14 and maintain a listening watch as the main harbour is designated commercial. In addition, you'll need to listen to port traffic signals as you approach the Victoria Pierhead. Once you make it through this busy little commercial area, turn your vessel to port and then head in a northerly direction until you reach the large marina.
The marina is open three hours on both sides of the high watermark, and the visitor berths are usually located on Piers, A, D, E, and also F. You need to be prepared to raft your vessel at peak times, especially over summer, as the marina and the Channel Islands can become extremely busy. As of the time of writing, St. Helier Marina is the only official port of entry, but it's worth the time to visit!
What was once a very quaint fishing village is now a bustling town that boasts world-famous Michelin Star restaurants, fantastic shopping, nightclubs, bars, and much more. However, before you leave your boat for the night, also ensure that your mooring lines are secure and tidy, as messing with your lines after a few beers, wines, or cocktails can be a recipe for disaster!
Gorey Harbour
Driving to the far eastern tip of Jersey Island only takes about ten minutes, but by sea, it's a completely different story. Some of the most treacherous reefs in the Channel Islands lie in this body of water, and it's going to take some very cautious and challenging navigation to make it there safely.
Overlooking the harbour at Gorey is the Mont Orgeuil Castle. This iconic landmark sits proudly over the harbour and is well worth the cautious sailing voyage to reach the area. Along with the castle, there are also amazing restaurants and bars in the area. So, if you are hungry, head ashore to grab something delicious to eat or re-provision your supplies.
There are protected moorings available inside the harbour, as well as several visitor's buoys on the southwestern edge. During the peak summer holiday season, there are also beach moorings available, but these can be in high demand, so don't rely on them being freely available.
However, if you are planning to head offshore to one of the many reefs for diving, swimming, fishing, or snorkelling, then Gorey Harbour is a great base of operations to depart from. It's also just a short trip to the French mainland if you are planning on heading that way to visit France.
Channel Islands Reefs and Smaller Islands
We have spoken a lot about the harbours and bays that are spread throughout the Channel Islands, particularly the larger island of Jersey. Still, you can't visit the Channel Islands without taking the time to visit the many spectacular offshore reefs and smaller islands.
There are some truly spectacular offshore reefs surrounding the larger island of Jersey. These beautiful reefs are increasingly becoming one of the most visited locations in the Channel Islands, and once you visit them for yourself, you'll understand why.
Due to the increased amount of traffic, several local regulations in place determine how many boats visit the area, where you can moor your boat, and there are also designated 5-knot speed limits in place. As in any unique natural environment, particularly reefs that are sensitive to damage, always use common sense when mooring your vessel and how you interact with local sea life and animals. By limiting your impact on the local wildlife and reefs, you can help to preserve the area for future generations to enjoy the reefs and shoals like you were lucky enough to do.
Les Ecrehous
Les Ecrehous is an amazingly beautiful chain of islands that is located just six miles from the island of Jersey. The islands themselves belong to the parish of St. Martin, even with their close proximity to Jersey Island. You will be able to see a small number of tiny houses on the islands, but no one permanently lives on these islands.
The chain of islands features beautiful sandbanks made up of golden sand, crystal clear waters teeming with marine life and coral, and also the most amazing sunsets on the planet. It's not unusual to see large rays, basking sharks, seals, and dolphins in the area. The Les Ecrehous islands is also a paradise for a variety of different bird species and a favorite location for bird watchers from around the world.
The safest way to approach the small island chain is from the southeast. There are some fantastic local charts of the area that it's recommended you purchase as they clearly display most of the hazards as well as safe passages, which will help you navigate the waters safely. As with anywhere in the Channel Islands, tidal waters can fluctuate wildly, so ensure that you are moored in a safe location if you are leaving your vessel or going to sleep. If your boat or vessel is capable of dying out, then be aware that some of the sandy bottoms can be wildly uneven at low tide.
Les Minquiers
Les Minquiers is protected by the Ramsar Convention and the laws of Jersey, just like the Les Ecrehous chain of islands. This offshore reef is made up of large sections of jagged rocks which jut out of the ocean like the sharp fangs of a wild animal. There are also sandbars and natural pools at the low watermark, making the world's most beautiful natural swimming pools.
Interestingly, the rocky shoals around Les Minquiers have a larger surface area at low tide than that of the island of Jersey. So, it's definitely one area in the Channel Islands that you can't afford to miss if you are cruising in the area.
Like the Ecrehous, there are several small houses on the main island, but these two are uninhabited. However, on the Maitresse Isle, there is a famous public toilet which is renowned for being the southernmost building in the British Islands! What an amazing place to go to the loo!
We aren't even going to begin giving you pilot advice about how to navigate these dangerous and treacherous waters. The one piece of advice we will give you is that if you're a nervous sailor, then it's probably a good idea to avoid these waters altogether and give them a wide berth. However, if you don't correctly use navigation charts and follow recommendations in this hazardous area, you could also find yourself one of the many shipwrecks that dot the area.
For first-time visitors to the area, a calm day and slow and cautious speeds are highly recommended by most locals and professional sailors. A bow lookout is also a good idea to avoid any of those sneaky rocks that aren't listed on the charts. Also, if you arrive on a large spring tide, there isn't a whole lot to see above the surface, so time your trip to the area accordingly, or you may be disappointed.
When you do arrive, you'll discover that all the local moorings are privately owned, so if you do choose to use one, be prepared to move on if the owner arrives at the mooring too. Experts recommend an anchor watch for two hours on each side of high tide if you are anchoring your vessel. There are some fantastic natural swimming rock pools that are perfect for smaller children, and it's also a great location for kayaking and diving.
If you arrive at this location on a warm, calm summer's day, you will be rewarded with easily one of your most memorable boating trips of all time.
Chausey
Chausey is located right next to Minquiers and close to the French port of Granville. Chausey is the only French Channel Island. It features amazing restaurants and bars and is the perfect location to get a special meal and is well worth the time to visit if you are sailing in the Channel Islands.
Everything You Need To Know About Boating In the Channel Islands! – Conclusion
As you can see, the Channel Islands are a fantastic location to experience some of the most beautiful islands and reefs in the world, and they're only a short trip away from both France and the United Kingdom.
The Channel Islands and the reefs and bays surrounding them can present a challenge to some boat owners, so always take the time to do some research and secure local navigational charts before heading for a visit.
As well as boating, there are several other amazing activities that you can take part in while visiting the Channel Islands, including boating, swimming, snorkelling, scuba diving, kayaking, and bird watching. If you're looking for a wild night out, there are also world-famous bars and restaurants on the Channel Islands.
If you have any questions about boating or sailing around the Channel Islands or want to learn more, please don't hesitate to reach out and contact us directly. Our friendly and professional team will be only too happy to assist you.
And if you would rather explore the islands on a motorcycle, then you should not miss the following article: How to see the Channel Islands by motorcycle