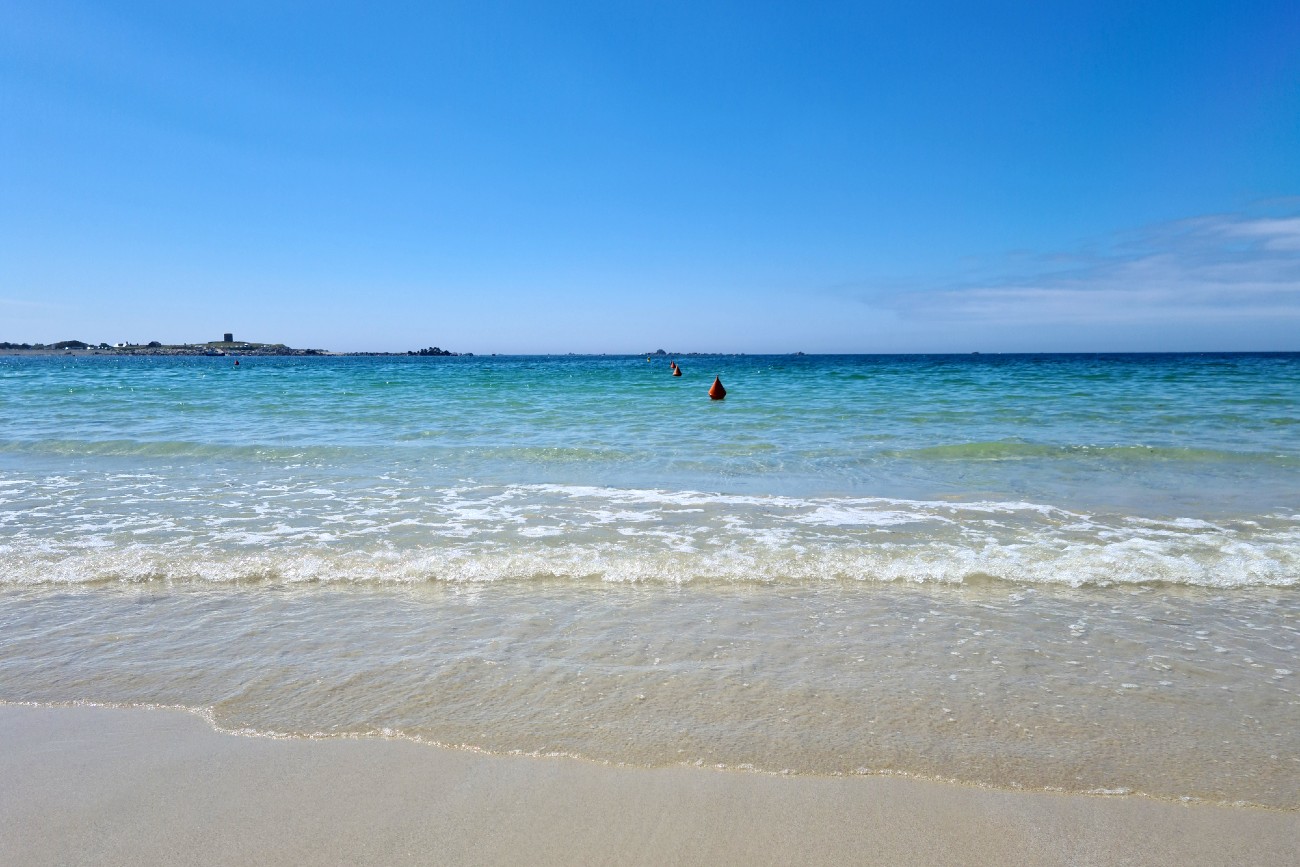 Ilove the water. To me, there's nothing more relaxing than sitting by the sea and listening to waves crashing in the distance. I'm happiest when I feel like my toes are gripping the wet sand, and it's too cold to swim but not too cold for a long walk on the shoreline. Although, it wasn't always this way for me.
I first began exploring the Channel Islands more when I knew I needed more time in nature to break up long work weeks. All it took was one day-long excursion to one of the bays of Jersey – where most of the below beaches are – and I was hooked. The more I returned and cast my worries out to the sea, the more I noticed a significant difference in my focus and overall wellbeing.
The bays and the beaches here on the Channel Islands provide ample opportunities to exercise, unwind, and connect with nature. From adventures by water like kayaking, paddleboarding, windsurfing, or excursions by foot, each island has its amazing beaches where you can drink in the beauty and breathe in the fresh air. If you are living and working remotely on the Channel Islands and still getting a feel for the area, here are a few incredible places to start.
St. Ouen's Bay
St. Ouen's (pronounced "wands") Bay on Jersey island is the best beach for surfing. Surfers flock here because it's the most consistent in the swell that rolls in from the Atlantic.
Don't worry if you're still feeling new to town or surfing. It's a great place for beginners and skilled surfers alike, who have formed a lovely community here. You can also book lessons or rent surfboards when you arrive. It's a popular spot for windsurfers as well.
St. Ouen's Bay is also quite large, as it spans the whole length of the west coast of this island. This is nice because even though it's so popular, it never feels overcrowded.
Even if you don't surf, you can still come to take some nice walks at the common opposite Ouen's bay, La Miele du Morville. Or come to park your car and look out across the ocean. This is my favorite place to come for the incredible sunsets.
St. Brelade's Bay
St. Brelades is the finest beach on Jersey for watersports, with banana rides, jet skis, kayaks, standup paddleboards, and even sailing dinghies available.
This bay is also popular for how accessible it is. Older people and families will come to spend time here, bringing deck chairs with them. There is also an easy ramp to enable sea access for cars towing boats.
One of my favourite things to do at St. Brelade's is paddleboarding. You can start here and paddle to another small bay around the corner, arriving at a completely secluded beach – it feels like you have a secret beach all to yourself!
It's also easy to hire kayaks here, and you can participate in kayak tours any day of the week – just be sure to pick a sunny day!
Beauport Beach
Beauport is, without a doubt, one of the most beautiful Jersey Islands beaches. Because it's off the beaten track, it has no amenities, unlike St. Brelade's. It also isn't particularly accessible due to its numerous stairwells, although it's great for exercise and quite peaceful for that reason.
Beauport is one of the best beaches on Jersey to see at high tide – an ideal time to hire a standup paddleboard or kayak and paddle around. At high tide, this beach becomes a tiny, virtually isolated beach.
I try to kayak around Beauport as much as possible but always check the wind and tide conditions first. If you have arrived at the Beauport by kayak, it's a wonderful spot to then sunbathe and unwind! Particularly because it provides some shade from the wind. You can also reach this beach by parking at the top of the cliff and descending the steps.
This is one of my favourite beaches because it is smaller and more secluded. That said, it's a great opportunity to bring a picnic if you plan to stay awhile.
Portelet Bay
The gorgeous Portelet Bay is another one of my favorite beaches on the island, and it's also one of Jersey's greatest beaches. The picturesque, sheltered cove and the Portelet Inn, a lovely restaurant to visit for lunch and dinner, are two reasons why this bay is so frequented.
The walk down (or rather back up) to this bay may be difficult for some since it is a long way down, but it's so worth it. It's always so peaceful and beautiful here because you have to descend over one hundred steps to get to it.
Portelet Bay, which includes the iconic Martello tower, is a fantastic location to explore. This protected cove is the finest beach in Jersey for snorkeling, free swimming, and kayaking. At high tide or low tide, you can swim out or walk out. I love kayaking here from Ouaisne Beach.
Ouaisne Beach
Ouaisne is possibly the finest beach in Jersey, UK, known for its long stretch of empty, golden sands.
Unlike St. Brelades, which connects to Ouaisne at low tide, this beach is less crowded and better suited for walking than watersports. That said, it's the perfect place to bring your dogs or children.
If you want a place that's uncharted and safe for swimming, visit Ouaisne beach. You can walk along to the end of the sea wall and follow the path to a lovely bench on the point that separates Ouaisne beach from St Brelades. It's the ideal beach to visit – perfect on a windy summer's day.
Rozel Bay
Rozel Bay is a tiny bay with a handful of small boats. It's an excellent location to build sandcastles and is quite peaceful.
Rozel Bay is a very family-friendly area and one of the many places in Jersey for a coastal walk. You can park up the road from Rozel Bay and walk up to L'Etaqueral Fort before arriving at White Rock, where you can see the whole coast on either side. You see nothing but fields on one side and the sea on the other as you continue. It isn't a difficult walk, though it has its slopes, and it's stunning.
Guernsey
While Jersey island has almost 50 miles of coastal walks to explore, there are just as many incredible sights to see in Guernsey. So, I'll leave you with one last bay – my favorite one to visit in Guernsey.
Fermain Bay
Take the route along the rock path from St. Peter Port to Fermain Bay for a pleasant stroll. It takes around an hour and provides spectacular views of the Herm and Sark islands.
The walk begins at St. Peter Port and proceeds to the La Vallette Underground Military Museum, passing bathing pools on the way. Take the steps up to Clarence Battery, a late 18th-century military fortification. After that, you'll be able to see St. Peter Port from quite a distance away.
Follow the footpath markers to Fermain Bay, and you'll arrive at some steep steps that will take you down to the bottom of the cliff.
My next plan to visit Fermain Bay includes a stop at Fermain Beach Café for a drink or one of its famous local crab sandwiches! Yum!
Explore other beachy parts of Jersey! Read more about: A beach fit for adventure – Plemont Bay, Jersey