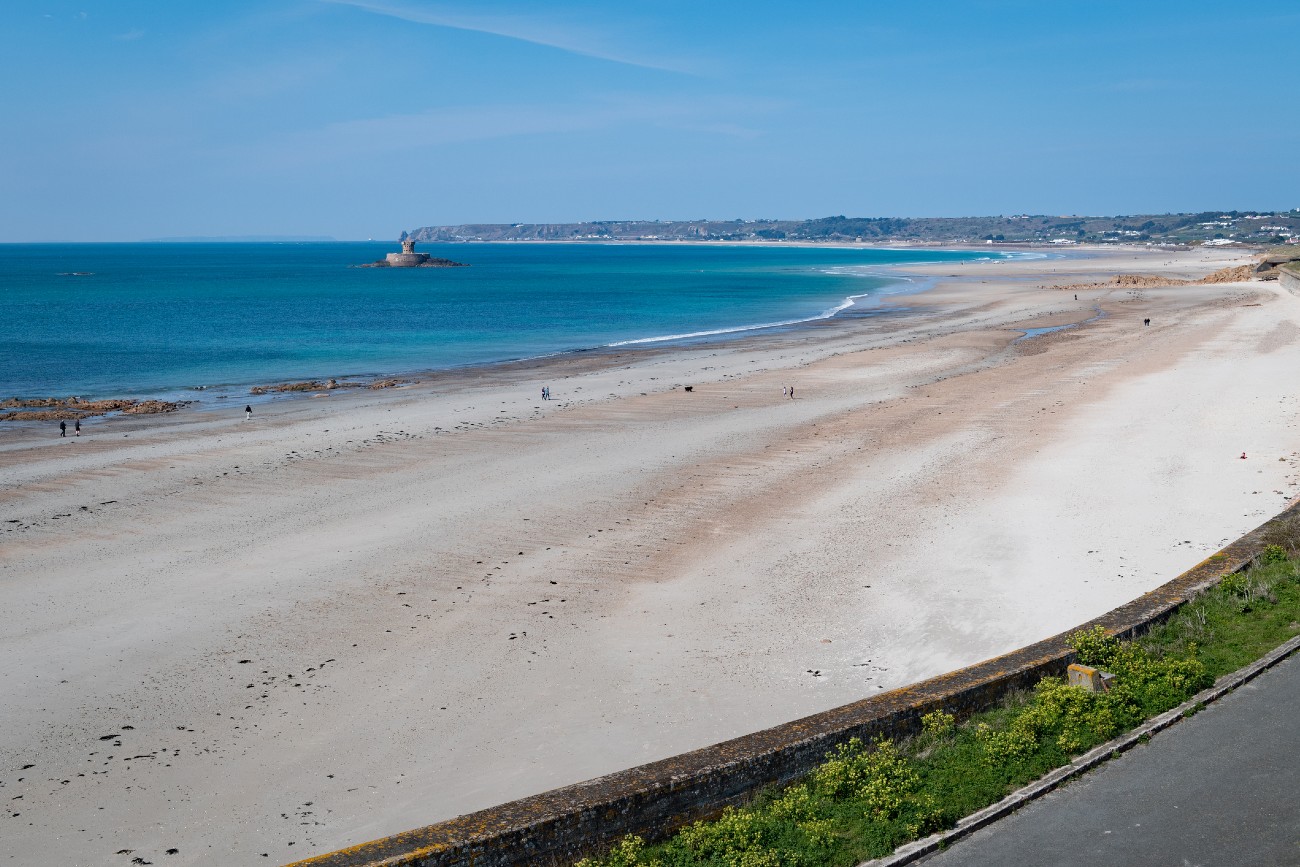 Jersey's western coast stretches for just over 5 miles, making it a relatively short coastline in comparison to many. Despite this, an incredible amount of scenery is packed into such a small area, with more than half of the coast being covered in golden sand.
The area is popular among visitors and is a favourite spot for surfers, who come to make the most of the waves that roll in with the prevailing wind. Most of the western coast is made up of St Ouen's Bay – a sweeping feature of the landscape that stretches from La Pulente to La Porte. The bay is easily the longest beach in Jersey and is known locally as 'the five mile road'. This is my go to beach on warm sunny days.
The beach is ideal for swimmers, sunbathers or those simply looking for a lovely walk in the sea air. During the summer months, the warmer days can give St Ouen's Bay a real holiday destination feel. At the rear of the beach, the golden sands form a complex sand dune system that is rich in vegetation. Over 400 plant species have been recorded growing in the dunes, particularly in the older areas that are a little further inland. If you follow the dunes in this direction, you'll soon find yourself in a mosaic of habitats that forms La Mielle de Morville Nature Reserve.
Situated close to the National Trust for Jersey Wetland Centre, the nature reserve is an important area for wildlife and many rare plants and animals can be found. The Wetland Centre is open to the public and can be a great place to learn more about some of Jersey's natural wonders.
A Splash of Colour
North of the Wetland Centre, the dunes of St Ouen's Bay merge into areas of damp meadow – a very unusual habitat on the island. The two largest meadows are known as Le Noir Pre and Le Clos du Seigneur, which jointly offer some of most fantastic opportunities to see wildflowers in the entire Channel Islands region.
Peak flowering season usually occurs during May and June. Often these are the best times to visit and you can expect to see a variety of colourful species such as orchids.
These delicate flowers are one of the best-loved plants among botanists and over 60,000 can be seen growing in the meadows of La Mielle de Morville.
Due to its ecological importance, the area is carefully managed by the National Trust for Jersey, who open the meadows to the public for a few weeks during peak flowering season. Visitors can walk through a specially prepared pathway and take in the sights and smells of the orchid fields.
Many different species can be found, with some of the most notable examples being the Southern Marsh, Pyramidal and Heath Spotted Orchids.
The highlight, however, is likely to be the Jersey Orchid, a very rare species that only grows in a few select habitats on the island. It's native to Guernsey as well, but is not present in the UK and so is a very special addition to Jersey's ecosystem.
Along with the orchids, the meadows behind St Ouen's Bay are home to many other flowering plants. Buttercups, Dandelions and Cuckoo Flowers can all be found dotted around the area during spring and summer, helping to make the meadows incredibly colourful. The flowers in turn attract a variety of insect species, including butterflies. Species such as the Orange Tip Butterfly tend to be particularly common during warm weather.
Sunbathing Lizards
Another creature that St Ouen's Bay and La Mielle de Morville Nature Reserve is important for is the Western Green Lizard. A large species, these reptiles can reach lengths of around 40 cm and their bright green skin can make them a beautiful animal to see.
Traditionally a species of Continental Europe, the Western Green Lizard is only found locally in a handful of areas in the UK. In the Channel Islands, it is a native species, having managed to cross the short stretch of water from mainland Europe. Jersey is the best place to see it, although the species has been successfully introduced to Guernsey in recent years.
Western Green Lizards favour scrubby grassland and sand dune systems, which is one of the reasons they do so well in St Ouen's Bay. Being a reptile, and therefore cold-blooded, they rely on warm temperatures and usually hibernate in their burrows over winter. They appear in the spring months and are especially prevalent on warm days in summer, when they can be seen basking in the sun.
It can be tricky to spot these lizards, as they are quite fearful of humans and will usually scurry into the undergrowth if disturbed. However, if you keep still for a moment while out on a walk, you might be lucky enough to enjoy their iridescent colours.
St Ouen's Bay is therefore well worth a visit and has a huge range of activities to take part in, especially for lovers of the outdoors. With large sections making up La Mielle de Morville Nature Reserve, it's also great for wildlife and is one of the best natural areas on Jersey.
To learn more about Jersey, read this article: Planning Your Jersey, Channel Island Adventure!