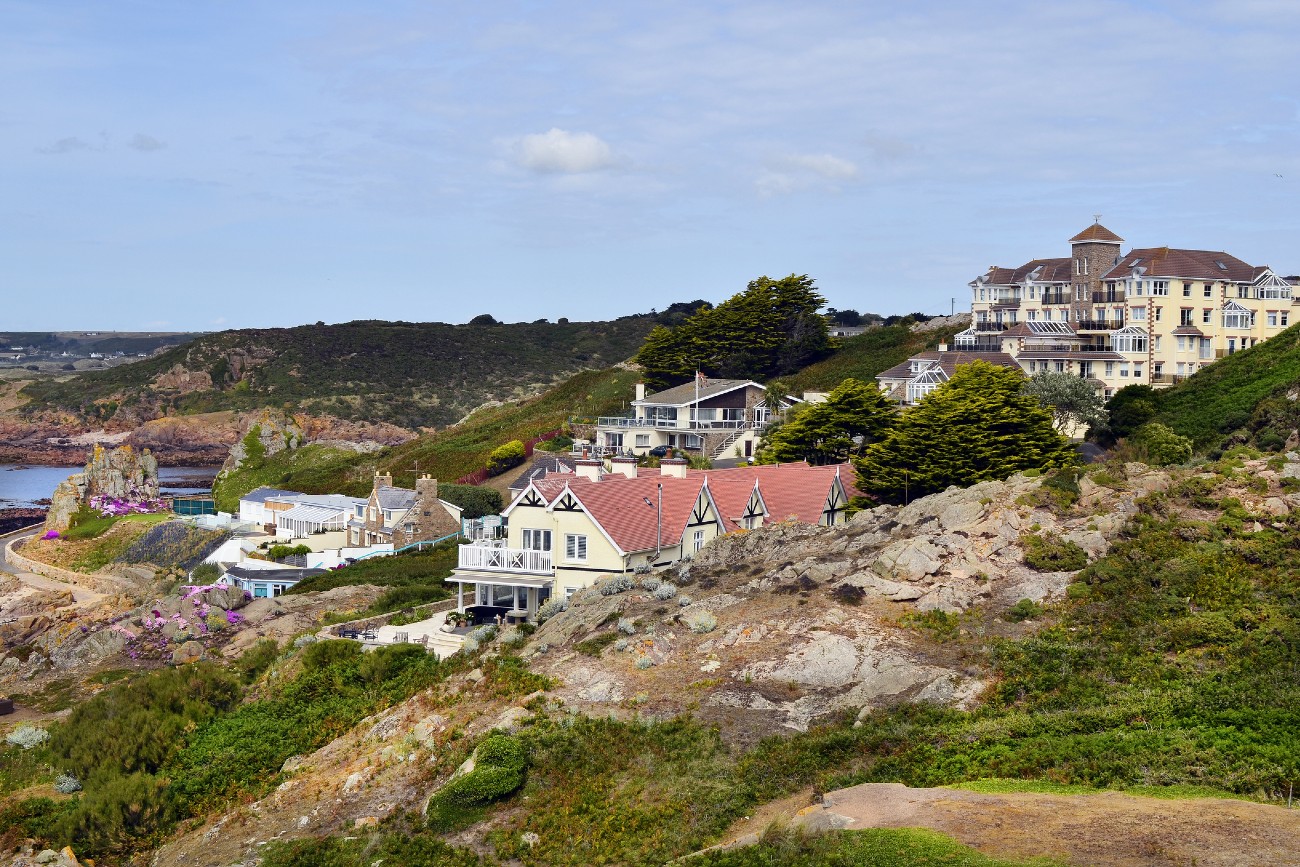 Venture to the south-western corner of Jersey and you will find yourself in the parish of Saint Brelade. This is the second largest parish on the island, covering around 7,000 vergées (12.5 km2) of land. A significant portion of this area is made up of suburban development, with large residential areas such as the main town of St Brelade. In fact, this rather sprawling settlement is second only in size to St. Helier, with many locals using St. Brelade as a commuter hub for the island's capital.
But don't let this fool you. St. Brelade has a great many things to offer in its own right, especially as it is located along one of the most spectacular regions of coastline in Jersey. The wonderful Portelet Bay and its surrounding headlands are in easy striking distance from St. Brelade, along with the sands of St. Ouen's Bay in the west. For this reason, it can be the perfect base for exploring the south-west of the island. The town is certainly not short of amenities either, making it a very suitable place for both visiting and staying.
A Treat For The Eyes, And For The Nose
Although St. Brelade may be a large, mainly suburban area, it is blessed with a healthy selection of parks and areas of natural beauty nearby. If you wish to get away from the town's busy, bubbling atmosphere, all you have to do is take a few strides east, into the blissful paradise of Pont Marquet Country Park. Here, a network of paths criss-cross the landscape, disappearing in and out of native woodland. This is one of the best places on the island to see red squirrels. The park also hosts a section of the Railway Walk – a trail which follows the old railway line that used to connect both sides of the island.
I always combine visit to Pont Marquet Country Park with a trip to the nearby Lavender Farm. As the name suggests, this working farm specialises in growing lavender, primarily used in perfume distilling. You are free to stroll amongst the fields, taking in the fantastic colours and smells, and you can also take part in a distillery talk, which provides an intriguing insight into lavender and its various uses. Consider stopping by the cafe and gift shop too, where you can find unique gifts or try a delicious lavender scone.
If you happen to be visiting with children, they'll be sure to love Reg's Garden, located right in the vicinity of Pont Marquet Country Park. Created by Reg Langlois, this lovingly tended area of land on the outskirts of St. Brelade includes an alpine garden, aviary, fairy garden and large koi pond, along with a small amphitheatre. It's a beautiful place to explore and there a thousands of interesting plants to view. The gardens are free to visit and are open daily until 5 p.m., with donations helping to raise money for charity.
Beachside Paradise
Despite its many attractions, St. Brelade is best-known for one destination above all others – St. Brelade's Bay. Not only is the beach here one of the most popular in Jersey, it was also voted in 2019 as the third best beach in the whole of the British Isles by TripAdvisor users. This is quite an accolade, although it isn't difficult to see why the beach receives so much attention. With soft white sand, clear blue waters and a backdrop of palm trees, St. Brelade's Beach is nothing short of a tropical haven. I recommend visiting on a warm summer's day and you might think for a moment that you've stumbled into the Caribbean.
The sea is safe for swimming and the bay is south-facing, meaning it receives sunshine throughout much of the day. Several car parks are located along the back of the beach, and bus trips are available to and from the centre of town. The car parks and the beach itself can get busy on hot days, so it's a good idea to visit early if you wish to avoid the crowds. Alternatively, you can rent out kayaks or paddle boards, and escape from the hubbub of the beach into the more remote parts of the bay.
If the beach activities leave you feeling a little peckish, there are a great selection of eating opportunities nearby, including the very popular Jersey Crab Shack. This beach-side restaurant combines glorious views with an excellent range of food.
St. Brelade excels as a visitor destination, while also being a popular place among local residents. With its many green spaces and its proximity to one of the best beaches in the British Isles, a trip here is sure to delight at any time of year.
Have you fallen in love with Jersey? Are you thinking about relocating to the Channel Islands? Then you should not miss the following article: 5 Reasons to Move to Jersey, Channel Islands