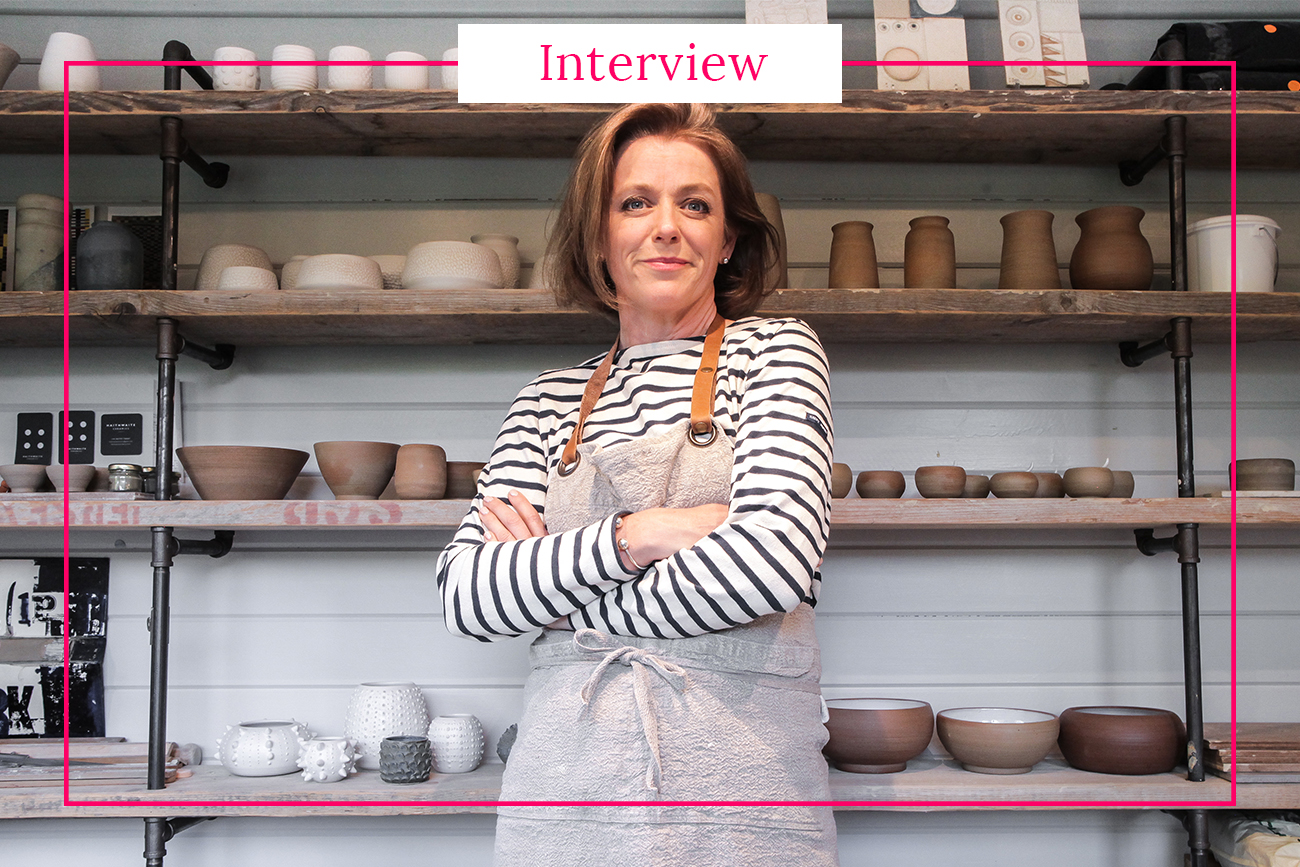 Claire Haithwaite was born in Jersey and, at the age of 18, moved to London to pursue a career in design, publishing and retail design.
Eventually she moved to Amsterdam where, together with her husband, she renovated a number of Dutch canal houses in the centre of the city. It was during this period that her love of interior design flourished and her appreciation for design, function and the character of everyday objects developed into a passion that continues today.
Currently back in Jersey, Claire is creating objects that people can both display and use around the home, making the everyday beautiful.
Claire, please can you tell us about your business and the products you sell?
Haithwaite ceramics is a small business run from my shed in my garden. I make three different types of ceramics: 1. Jersey clay pots made from clay that I gather on Grouville beach, 2. sculptural ceramic urchins and 3. ceramic panels which are pieces of abstract modern art.
What made you decide to work with ceramics? Are you self-taught or have you learned it from someone else?
I was given a pottery taster lesson at Highlands five years ago, I fell in love with pottery instantly. I am mostly self taught but do go to pottery lessons once a week.
How would you define the style of your work and how did it develop?
My work is high-end one off pieces, I like simple lines and minimalist in style.
Where do you find inspiration for your work?
Everywhere, I'm a magpie always looking for things to inspire me from Japanese tea ware to Sea Urchins and Globe artichokes.
You gather clay at low tides from the shores around Jersey. Is this the only place from where you source your clay? How often do you undergo this process?
For my Jersey clay products yes I get my clay from Grouville Bay but I would love to branch out and collect clay from other parishes. My Urchins and panels use just ordinary clay as I use glazes to colour those works so there is no point in using my lovely, time consuming to make Jersey Clay.
What advice would you give to potters / ceramics makers who are starting out in their careers?
You will never be a millionaire, but if you love what you do like I do, it's a sacrifice worth giving.
Where in Jersey can people purchase your ceramics?
I sell my pots at the Seahorse Coffee Shop at Gorey, Lise Le Brocq's jewellery shop in St Aubins and of course people can come and see me where I have a lot of my work in my shed (studio) in Grouville.
You studied in Cornwall, lived in London and Amsterdam. After 25 years of being away you moved back to Jersey. How would you compare life in big cities to life on an island?
It is like chalk and cheese, we did pros and cons for leaving Amsterdam and coming back to Jersey, we were unsure, they came out equal. Ok, Jersey doesn't have the cosmopolitan life and museums on your doorstep like Amsterdam has, but Amsterdam doesn't have the beautiful beaches and countryside that we have here in Jersey. We decided to have a different lifestyle, it's no worse or better than Holland, just different.
What does your typical working day look like?
No two days are the same, ever! Because I work in three areas, when I get bored of one I move onto the next. Tableware, sculptural urchins or modern art. Luckily, my studio is at the bottom of my garden so I don't have much of a commute or far to go for lunch.
Please can you share with us the biggest challenges of your work?
Finding the right target audience. As my work is very modern, bespoke and time consuming, it is a high-end product, not everyone in Jersey understands or 'gets' my work. Is it a piece of art if it's not a traditional painting, painted with watercolours or oils, my art is made with ceramics, some people find it hard to compute. When people understand my work, normally they love it.
Where in Jersey do you go when you want to unwind?
I normally take my dog Betty for a walk round the beautiful country lanes of Grouville where we live. Also, I am lucky enough to have a brother, James, who has a RIB boat in Gorey. We often all zoom off to Les Ecrehos for a glass of wine, the wind in our hair, looking for dolphins and travelling at a million miles an hour, pure freedom!
What are your favourite places to eat out and drink in Jersey?
I love the pizza restaurant at Portelet.
Would you like to check out Claire's work? Head to her website Haithwaiteceramics. She also has a static window display at 14 Gorey Pier where you can see all the types of work that she does.