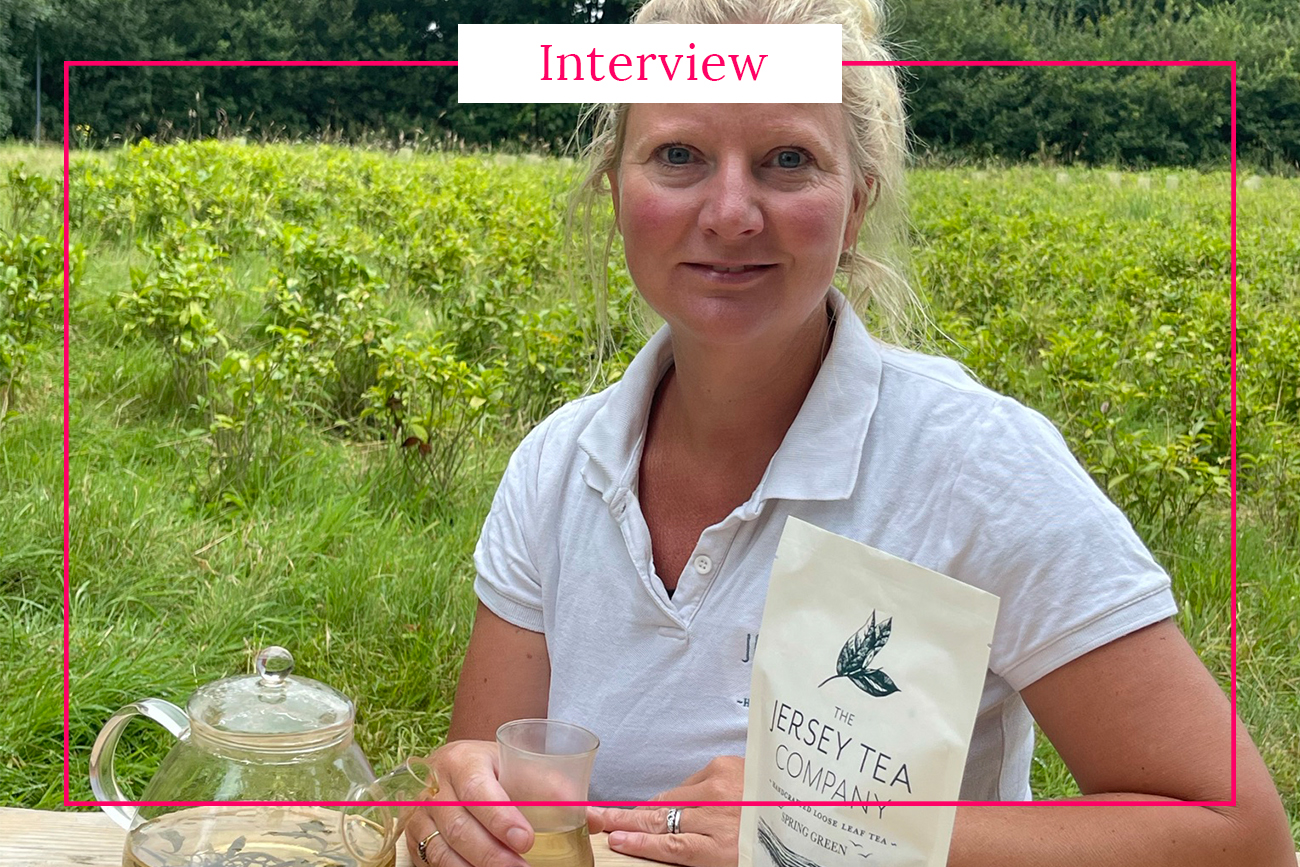 Do you love a nice cup of tea? Then read further! In this article we asked Katherine Boucher a few questions about growing tea in Jersey.
Katherine works as a tea farmer and a Clinical Psychologist. Together with her husband and another couple they run The Jersey Tea Company. 
Katherine has lived in Jersey since she was 3 years old. Her father was a Guernsey man, and his grandparents were from Sark. So at heart she feels like a Channel Islander if not a Jersey bean! She left Jersey to train and work in the NHS as a Psychologist and returned back with her young family 8 years ago.
Katherine, please can you tell us what made you to start a tea company?
Many different reasons. My husband, who is also a Psychologist, and I have for a long time worked in mental health and recognised that however enjoyable this work is it would also be good for us to invest in another occupation that was completely different and ideally less stressful! We wanted to work outdoors, to invest in the improving the quality of the Jersey land, and to do something that felt tangible.
I have always been a tea addict and when we heard on the radio that they grew tea successfully in Scotland we were interested to see if this was a viable option in Jersey. At the same time the Government of Jersey was also discussing the importance of diversity in Jersey farming, and we saw an opportunity to try something new!
How much time passed from your initial idea of growing tea in Jersey until you made your first sale? I imagine you had to do some research, find the right land for growing the tea and much more…
About two years. We started with tea plants in our garden and researching the Ph of soil, hours of sunshine and amount of annual rainfall in Jersey. We were keen from the start to farm organically and after asking around found some land at Warwick Farm where the Jersey Hemp Company were also starting a new venture organically.
We then invested in planting out two fields of tea plants. We needed them to mature enough for us to be able to pick the finest tea leaves and used this time to train and to experiment with our processing techniques.
What is the peak season for harvesting tea in this region? What are the months you plant seeds and harvest?
Our tea season is between the end of April and mid October. The tea plants are dormant over winter. We harvest the tea nuts in October/November time and germinate the seeds. When they are about a year old we are able to plant them outside.
What type of tea is your favourite and how and when do you drink it?
Our Spring Green Tea. I drink it throughout the day. One pot with 2g of tea can be reused about four times during the day. In the summer I make a cold brew with it.
What are the main benefits of drinking a tea?
Tea is full of antioxidants and initial research indicates that tea has many potential health benefits including: being anti-carcinogenic; counterbalancing against ageing and cognitive decline; reducing cholesterol and improving blood pressure; assisting weight loss; and improving skin quality.
Tea also includes many nutrients and a slow release caffeine which helps with cognitive performance. Tea breaks are also shown to have psychological benefits – giving us time to pause and reflect as well as in work environments helping with team dynamics and productivity.
How would you explain to an absolute layman a difference between organically grown tea and the cheapest tea bags you can find on the shelves in the supermarket?
It is all about quality. We pick only the finest and most tender top two leaves and the tea bud. The tea leaves are not cut up but are whole leaf which reduces bitterness and astringency and also has more health benefits. A tea bag of tea usually contains the lower quality leaves that have been cut into small fragments.
This tea is often bitter resulting in us adding milk and sugar to it to make it palatable. An organically grown tea also produces a tea that is free from any artificial fertilisers or chemicals. We do not use any herbicides or pesticides and we use regenerative farming techniques.
Tea bags also often contain micro plastics. So there are ethical, health, environmental and taste reasons for switching to a loose whole leaf tea that is grown organically. This is reflected in the price as this fine high quality organic tea is labour intensive. We hand pick and hand process our teas. To summarise they are two different drinks!
What does a typical day in your tea business look like?
It varies a lot depending on the time of year. Most days are very different. As a small family business we consist of two couples who all pitch in with everything. My main role includes picking, processing, some trimming and weeding; and then squeezing in social media, PR and sales. One part that I enjoy the most is having school children to visit and discussing the benefits of organic regenerative farming, ethical local business, and choosing a job that you enjoy.
What piece of advice would you give to someone considering starting a business in the Channel lslands?
Get to know other people passionate about Jersey and who have started their own business. Take advice and support. Don't be worried to get it wrong and to try again.
Where do you go in Jersey when you need to unwind and why?
Beauport or St Ouen's beach for a swim or dog walk. I love the ocean and feeling the expansiveness of the sea. Makes me feel free!
What are your absolute favourite spots in the Channel Islands?
Beauport beach, the tea fields, and the sand dunes.
What is the local dish / drink you can't live without?
Crab and of course Jersey Tea!
If you would like to try some organically grown tea from the Channel Island, then head directly to The Jersey Tea Company to get some!