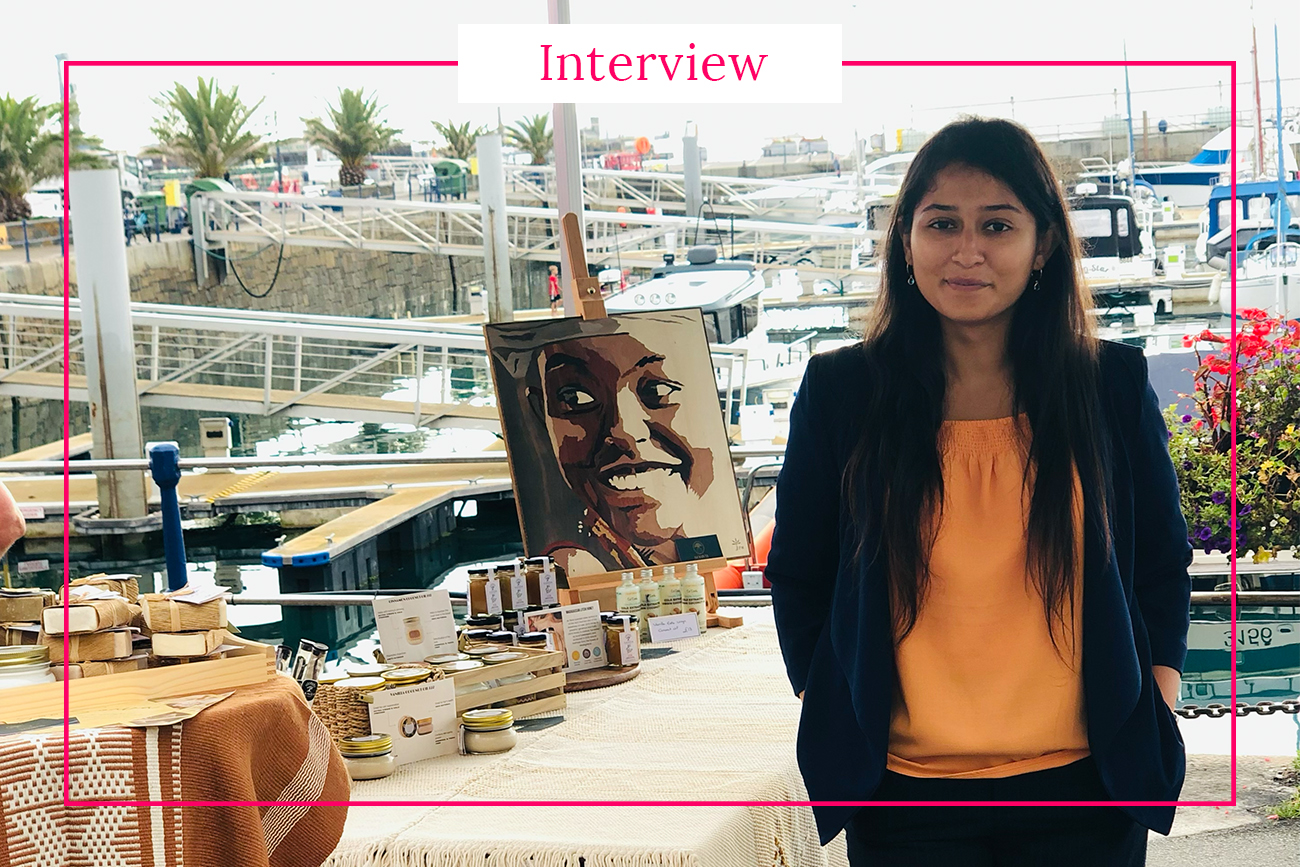 In this interview we asked Madvi Harchad – founder of Soava Boutique a few questions about her business and life in Guernsey. Madvi is a Malagasy woman who has been living in the Channel Islands for almost 2 years.
She is of Indian origin but her heart belongs to Madagascar. She was born in Antananarivo and called Madagascar her home for over two decades. When she moved to Guernsey she decided to start her own business that had a link to the country and communities she had grown up in. She wanted to introduce a little of the rich culture, heritage and craftsmanship that is omnipresent in Madagascar to her new home in Guernsey.
Hello Madvi, Can you please tell us about your business and products you sell?
As an honorary 'Zanatany', a child of the land, I created Soava to give to Guernsey an insight into the lives of artisan makers in Madagascar. From one island community to another, I'm giving the opportunity to trace products back to their origins and offering an insight into the lives of the men and women at the heart of the brand, from the stay at home mum who is a pioneer in the world of coconut oil to the Beekeeper of Madagascar.
What motivated you to start selling products made in Madagascar?
As I grew up in Madagascar, the difficulties of life omnipresent in certain corners of the island had my thinking; thinking on how I could contribute to the history of my homeland keeping humanism in the centre and that's how Soava was born. I wanted to contribute to the economies of local communities by shining a spotlight on Malagasy culture.
Can you please tell us what Soava means?
Soava means 'to do good' and 'to be well', and with Soava, I intend on taking Guernsey & the Channel Islands on a journey that is beautiful and honest.
What is the process of sourcing and choosing the Malagasy producers?
Soava sources from suppliers who share the belief of responsible production: every product is made with an environment-first attitude. I didn't want the producers to just end up being another name when you go through the products, rather, I wanted you to know them, their story, what inspired them to make the product and how they're managing to do that responsibly.
I personally know each one of them and I've been using their products for years now. All the products that are sourced by our suppliers are made responsibly to ensure zero-wastage. This ideology ties up with the values that Soava stands for (supporting conservation, sourcing ethically, creating local jobs, zero-waste).
Why did you choose to move to the Channel Islands?
I chose to move to Guernsey for… love! My husband (who is also from Madagascar) lives here for almost 4 years now. Working in finance, it was impossible for him to come back to Madagascar. So I decided to join him. I enjoy small island living and Guernsey is one of those places that leaves me wanting more, it offers a great work-life balance and there is something here for everyone.
What are the biggest challenges related to living in the Channel Islands?
The biggest challenge for me was the language. I'm a French native speaker so to start a new life & a new career in a completely different language was a huge challenge for me. It's not always easy to share my thoughts and ideas with the Guernsey community but I have to say that Guernsey people are just adorable. They have been so patient and kind with me, it's almost unbelievable sometimes. Other than that, I guess the weather is a serious problem in Guernsey (we're on an island and the sun is missing lol). 🙂
Imagine someone who is starting their own business in the Channel Islands. What would be the most important piece of advice you would give to them?
"Surround yourself with good people and start working on what you always wanted to do." That would be my advice! When I came to Guernsey, I directly contacted the Digital Greenhouse. They provide free & amazing support for new businesses and entrepreneurs. As they say "It is a combination of online services, face to face support and accelerator programmes, all designed to provide entrepreneurs with a one-stop-shop to connect them with the rich and diverse expertise of Guernsey innovation ecosystem." They helped me a lot to create Soava and I'm so grateful to be a part of this community.
Is there something that the islands of Guernsey and Madagascar have in common?
The kindness! As I said previously, Guernsey people are just unbelievably kind. Always here to help, support and welcome. Specially as an expat, it's not always easy to feel home wherever I go, but I can definitely say that Guernsey makes me feel home (even though I miss my families & close friends sometimes). And you can find this same kindness in Madagascar. Malagasy people are friendly and welcoming, humble and warm. This is why I don't feel out of place in Guernsey 🙂
Where do you go in Guernsey when you need to unwind?
The Moulin Huet Tearooms. This hidden gem is a short climb up from Moulin Huet Bay and offer a spectacular view of the Bay that is well worth the walk. The café is a not-to-be-missed place where you can have the best scones with the best view. This place is definitely the one where I like to go whenever I need to unwind (and whenever the weather allows me too).
If I told you I'd like to buy one product from your online store, which one would you recommend and why?
A marquetry artwork! Marquetry is the art of applying pieces of veneer to a structure to form decorative patterns, designs or pictures. We work with artisans who are some of the finest Malagasy specialist craftspeople I have ever met. They live in a small village 6 hours from the capital of Madagascar. Their work is more than just beautiful – it makes you feel alive and connected to the story behind each artwork.
Every marquetry creation reflects hundreds of hours of design, passion, and craft, informed by years of heritage and artisanship of the Malagasy people. It's definitely the best product anyone can buy from Soava 🙂
What do you like the most about living in the Channel Islands?
The ocean. For most people the beach is somewhere to go on vacation, or for an occasional day out. But for us, living in the Channel Islands rhymes with living near the ocean. You know that there is no sound in the world better than the lapping of waves on the beach and you respect the power of the ocean. I think that's also one of the most important thing that Guernsey & Madagascar have in common (the ocean).
What activities would you recommend to your friends who are visiting the islands for the first time?
The cliff walks! The cliff walks in Guernsey are perfect for anyone who wants to visit Guernsey for the first time. You will see some fantastic views across to the neighbouring islands as well as being able to stop off at some of Guernsey's most beautiful beaches.
If you would like to learn more about Madvi's business and purchase Soava's products, check out the Soava Boutique website.