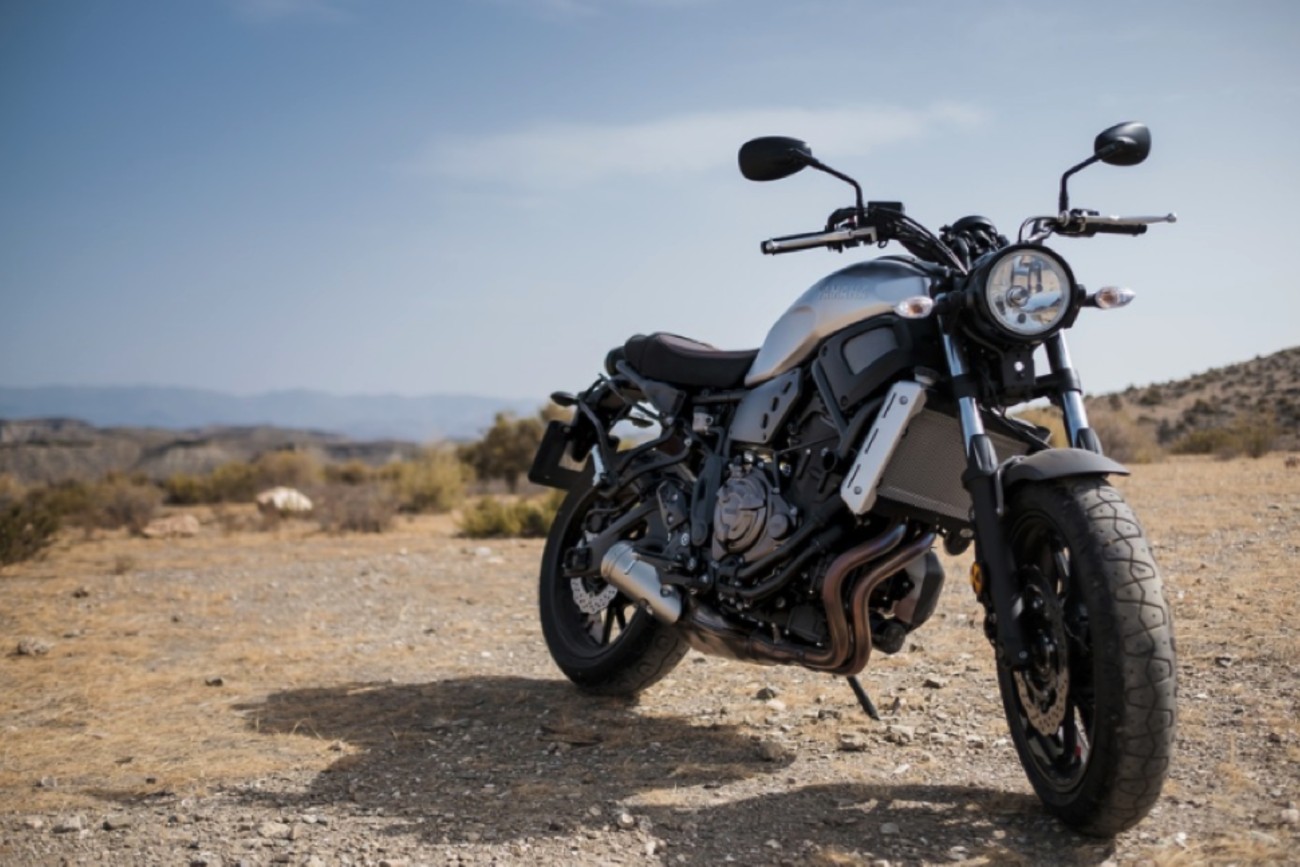 The Channel Islands have been a favorite vacation destination for travelers from the UK and abroad for decades. Exploring the islands by motorcycle is one of the best ways to do it when the weather's right.
I've put together all the info you need to see the Channel Islands by motorcycle the right way: You will find out when to go, how to get there, and (most importantly) how to get your hands on a motorbike. I've also listed some popular routes on each of the big islands for a full day on two wheels, and a few points of interest on each worth checking out.
Getting There
If you're looking to explore the Channel Islands by motorcycle, you face an obvious logistical challenge: Namely about 100 miles of deep water that isn't recommended for motorcyclists of any skill level.
There are two ways to do it (by ferry or by air), and both have their pros and cons. Here are some quick considerations to help you plan your Channel Islands motorcycle trip:
Travel By Ferry
If you live in the UK and want to bring your own bike (or you're traveling there and have already rented one), the Channel Island ferries allow you to ride your bike right onto the boat for a small fee.
Condor Ferries offer regular crossings to both Guernsey and Jersey islands throughout the week. If you're starting in England, you can catch a ferry from Poole or from Portsmouth.
If you're starting your journey from France, most travelers ferry over from the port city of St Malo.
Ferry tickets tend to cost more than airfare, but they come with some extra perks, too. You won't be confined to a single seat, for one, and can roam about the cabin and deck as you wish to dine, shop, or even gamble on some ships
Travel By Air
If you're looking to get to the Channel Islands as efficiently as possible, flying in is your best bet.
All major airports in the UK fly into both islands, as do most major airports throughout the EU, although you might have to hop on a connecting flight somewhere along the way.
You'll have to plan on renting a motorcycle when you arrive in either Jersey or Guernsey, but you'll save a good deal of time and money getting from A to B. That means you'll have plenty of cash left over to have your pick of rental options on either island.
The total number of rental bikes on a given island is considerably limited though. Every bike on the island could be booked during the busy seasons, so we recommend making a few phone calls and reserving your bike of choice as early as possible.
When Is Motorcycle Riding Season In the Channel Islands?
Unless you fancy riding in near-freezing temperatures, most motorcyclists should plan their visit to the Channel Islands between late May and early October.
The hottest (and driest) months on the islands are July, August, and September. If you can plan around that time of year, you'll be able to maximize those warm and sunny days.
The later in the year you push your trip, the colder and wetter it's going to get, so while the islands are pleasant to visit all year around, we can't recommend planning to drive anything with fewer than four wheels outside of that window.
Ok, enough talk about weather. On to the island of Jersey…
Motorcycling In Jersey
The two main islands you'll be riding on are Jersey and Guernsey, so we'll start with Jersey as it's the larger of the two.
Of course, large is a relative term when talking about the Channel Islands considering the entire island of Jersey measures a scant forty-six square miles and spans just nine miles across at its widest point.
Now, before you start figuring out how to turn the fastest lap around the island, we should probably discuss Jersey's speed limits.
With the island being such a small place, it should come as no surprise that all of Jersey shares a 40 mph speed limit.
Populated areas are even lower than that, and you should be especially mindful of the island's Green Lanes. All Green Lanes share the same 15 mph speed limit, and were built to encourage travel by bicycle, which they do in considerable numbers, so watch out.
Where To Rent Or Hire A Motorcycle In Jersey
Offshore Bike Bits
If you're looking to rent a motorcycle on the isle of Jersey, Offshore Bike Bits is pretty much the only game in town.
They rent smaller displacement bikes and scooters up to 300cc for around 40 GBP a day, and offer much lower daily prices for week or month-long hires.
Where To Ride Your Motorcycle In Jersey
Outside of the busier metropolitan areas on the island, just about every road you'll find is as quiet and scenic as the next.
Whether you're exploring rural parishes in the hills or cruising along unobstructed miles of coast, there's plenty to see and do on two wheels in Jersey.
While no single road stretches longer than a few miles, here are some of our favorite routes to check out on the big island:
Les Mielles Nature Reserve Loop
Distance: 20 km
Time: 2-3 hours
This Channel Islands motorcycle trip starts at the southwestern corner of the island in La Pulente.
You'll set out with views of the pristine ocean and La Rocco tower to your left and rolling green countryside to your right as you work your way north up the coast.
Stop for breakfast with a view at the Jersey Pearl Cafe before heading inland into Saint Ouen's village. Hang a right in the St. Ouen parish onto route A12 and head back down south on more charming roads through the Jersey countryside.
Eventually you'll run into the south shore (you're never too far from a shoreline here) in Beaumont, where you'll loop back west, following route A13 until the loop ends back in La Pulente.
If you time it right, you'll have a chance to walk out on the La Corbiere Islet (assuming the tide is out and the path is exposed) to catch a breathtaking sunset and get an up-close look at the iconic cement lighthouse.
WWII History Ride
Distance: 20 km
Time: 2-3 hours
During the second world war, the isle of Jersey was occupied by German forces from 1940 until 1945.
During that time, the Germans built numerous bunkers and fortifications along the island's southern coast, all of which are available for the public to explore without reservations.
So whether you're a history buff or just want an excuse to spend a day cruising the beautiful southern shoreline, we recommend starting your trip at Petit Port Beach (where you'll find the first German bunker of the trip), and heading west along the coast from there.
Here are sights to see in order of appearance if you're interested in trying this route:
Slipway Bunker, Petit Port Beach
MP2 German Naval Tower (below Strong Point)
Le Chemin des Signaux Bunker
Le Coleron Battery
Battery Lothringen
Fort Regent
In addition to its storied past, Fort Regent is a great place to end your tour as a spot to relax. Take a self-guided history tour, hike up to the top for some of the best views on the island, and then head down to the cafe for a well-deserved treat.
Motorcycling In Guernsey
If you didn't like the sound of Jersey's 40 mph speed limits, you're going to love Guernsey.
At just twenty-five total square miles, the isle of Guernsey is nearly half the size of its big brother and carries an even stricter speed limit of just 35 miles an hour throughout the island.
Just like Jersey, you'll find plenty of sections much slower than that (especially in more populated areas) which are strictly enforced.
Ultimately, you're on island time here in Guernsey. Cruising is the only kind of riding you should plan on doing during your stay anyway. Just relax and enjoy the ride.
Where To Rent Or Hire A Motorcycle In Guernsey
Millard & Co.
Millards is a family-owned motorcycle shop that's been in business for over a century in one capacity or another.
They rent out a surprising variety of scooters and motorcycles ranging from 50cc all the up to full-sized 750cc machines.
What's even better: They're walking distance from the ferry or bus (more so than usual for an island this size), and their rates start at under fifty pounds a day.
If you'll be visiting for a while or are considering spending the entire riding reason on the island, Millards also offers monthly rentals for just a few pounds a day.
Where To Ride Your Motorcycle In Guernsey
As you might expect on an island composed of less than 30 total square miles, it won't take you long to explore every public street on Guernsey.
Still, there are a few stretches of road that deserve your attention more than others, and a few stops we think you should consider along the way…
The Western Coast Route
Distance: 17 km
Time: 30 minutes
Starting out alongside the picturesque Portelet Beach at the western tip of the island, this route snakes along the coast all the way up to the northernmost district of La Fontenelle.
There are a few popular beaches along the way like L'Eree Beach or L'Islet Beach you'll want to stop and see, but this route is much more than sand and sun.
That's because you'll also find several important geological and historical sights along the western coast worth stopping to take a closer look at.
Fort Grey Shipwreck Museum, for one, is an old military tower that's been converted into a collection of treasures and artifacts found on sunken ships in the area.
Le Creux Es Faies is another worth stopping for. This prehistoric burial chamber dates as far back as 3500 BC. The name translates to Mound of the Fairies and local folklore claims the site to be a magic gateway to a fairy kingdom.
All Along The Watchtowers Motorcycle Tour
Distance: 20 km
Time: 4+ hours
This historical Channel Islands motorcycle tour starts right where the west coast route leaves off at the northern terminus of the island.
Beginning at Rousse Tower adjacent to L'Islet beach, you'll ride your way around the eastern coast of the island, stopping to explore its numerous military outposts, lookouts, and watch towers.
Exactly how you choose to run this route is up to you, but here are the standout stops (in order of appearance) that we recommend checking out as you work your way around the island:
Rousse Tower
Tower No. 9/ Jaonneuse Bay
Tower No. 5/ L'Ancresse
Fort Le Marchant
Fort Doyle
Vale Castle
Mont Crevelt
Castle Cornet
Clarence Battery
Optional: La Vallette Underground Military Museum
The Ozanne Steps
What About The Other Channel Islands?
We didn't forget about the smaller Channel Islands, but we aren't recommending them either for a few different reasons:
Alderney
Truth be told, there's not a lot of riding to be done on Alderney. A full loop around the entire island is less than 9 miles, and speed limits are about what you'd expect them to be.
There is, however, something special on this island for motorcyclists to consider. Alderney is home to the Alderney Hill Climb, a motorsports competition that's been running for three decades where cars and motorcycles compete on the fastest sections of the island for the best time.
Similar to the infamous Isle Of Man TT races, the island shuts down these public roads from Thursday to Saturday so residents and visitors alike can come out to watch racers push their luck around the turns.
If you're planning your trip anytime around September, consider cruising over to Alderney to catch at least one day of this event.
Sark
Thinking about touring the rural island of Sark on your favorite two-wheeler? Think again.
Sark is one of the few remaining places in the world where motor vehicles of all kinds are banned from public roads.
Horsepower is still measured in actual horses on this island, and the only vehicles you'll see on the road are either horse-drawn buggies or farming equipment like tractors.
Final Thoughts On Motorcycling The Channel Islands
The Channel Islands are a beautiful respite from the hustle and bustle of everyday life.
Both the speed limits and the locals move a little slower here, and some of that low-stress outlook goes back home with everyone who visits.
Motorcycling the Channel Islands is a great way to experience everything from quaint country roads to expansive views of coastal cliffs and beaches.
Whether you come by ferry or by plane, ride your own or rent one locally, there's no better way to experience these unique places than by motorcycle.
Are you planning on traveling alone? Find out more details in the following article: Adventurous Solo Traveling to the English Channel Islands