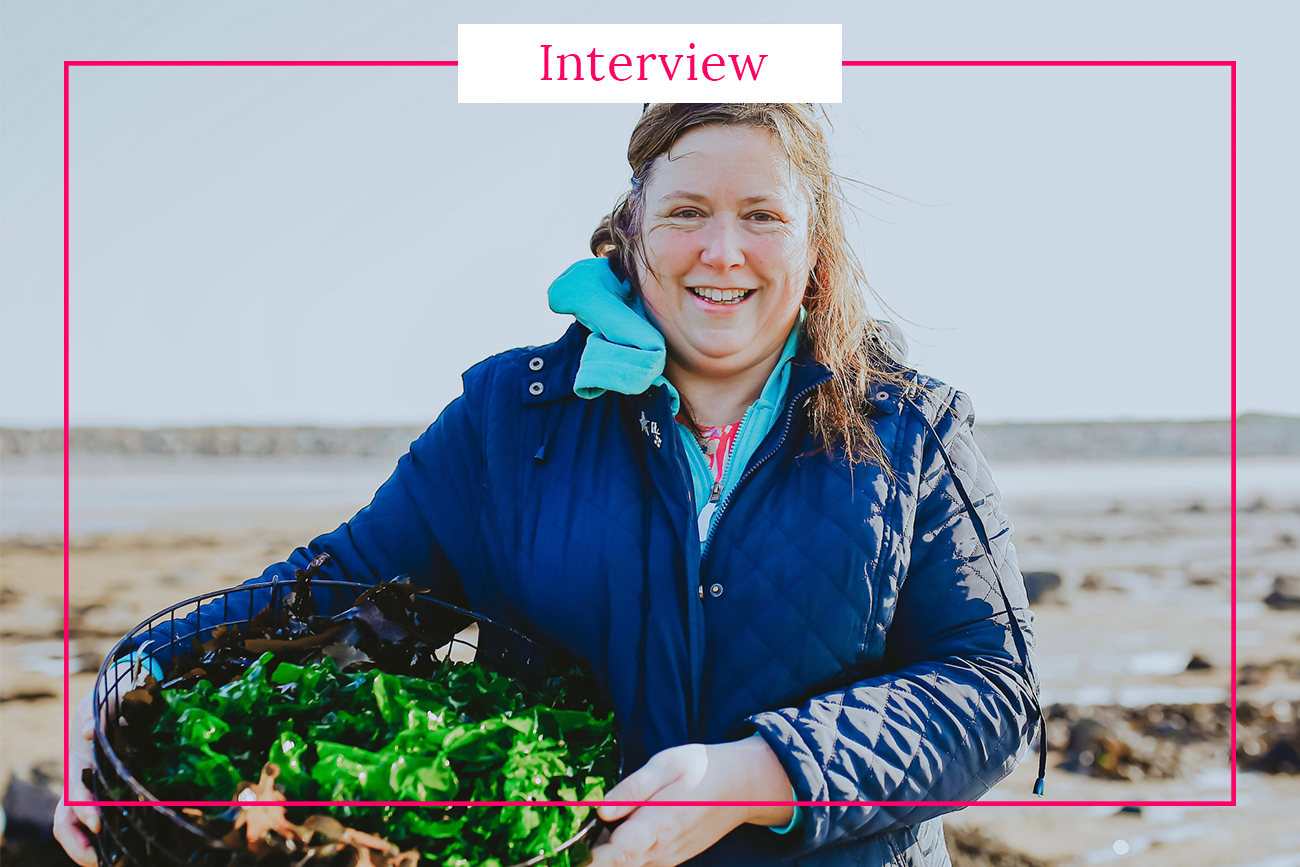 Naomi was born in Guernsey and lives there to this day. She is married to Ben and has two daughters. She works part time as an administrator and also runs her own business – The Seaweed Food Co.
In this interview we asked about her seaweed business and her life in Guernsey.
Naomi, please can you tell us about what your business does and who your customers are?
The Seaweed Food Co. makes food seasonings from seaweed which we hand pick from local beaches here in Guernsey. We have a lot of local customers – we are fortunate to have local retailers who have supported us by stocking our products. We also sell at markets, fairs and Seafront Sunday events. Having a website also means that people off island are able to purchase our products too.
What led you to start a seaweed company?
My husband started his business, Guernsey Seaweed in 2018, focussing at that time on making fertiliser from seaweed. We started to look at the history of seaweed use in Guernsey over the centuries and also what else we might be able to do with this abundant resource which is all around our island.
I bought a small dehydrator and started to experiment with drying seaweed and grinding it to make food seasonings – we tried different combinations of seaweed and also mixed it with a variety of other ingredients and came up with our best three which we launched with in August 2020.
What would you say are the main disadvantages / difficulties of running your own business?
Running your own business is hard work, especially when you are producing the products you are selling. Making sure you have enough stock, managing cash flow, keeping up with the paperwork and reaching new customers are some of the challenges.
Please can you give us a little insight into the process of preparing seaweed for your customers? From picking it up to packaging it – what are the steps in between?
Different seaweeds grow a various levels on the beach so we have to consider the tides when we go to collect. Some varieties can only be found on the very low tides which occur once a month or so, others are more readily available further up the beach.
We cut seaweed rather than collecting the drift as we need to ensure it is a fresh as possible (the drift is perfect for your garden!!). Sustainability is key – we only cut a small part of a plant so that there is enough to allow re-growth and so there will be more the next time we want some.
Once we have collected, it is washed in fresh water and then we dry it. Seaweed is mostly water so the dried product is around 10 – 15% of the original weight.
We then grind the seaweed into flakes and mix different varieties together along with other ingredients depending on which seasoning we are making. This is then weighed into tins, sealed and batched ready for sale.
What's the process behind selecting "the right" seaweed? Does the plant have to fulfil certain criteria in terms of colour, length etc.?
There are around 750 different seaweeds around our coastline, however we use about 5 or 6 of those in our seasonings. All seaweed is edible, but some do taste nicer than others. We have tested quite a few! We use brown, red and green seaweeds – this is both for the variety of flavour and the colours in the final products.
What are the main advantages of seaweed for the human body?
Seaweed is full of vitamins and minerals – it is a good source of magnesium, calcium and iron. It is low in carbohydrates and fat and high in protein. Seaweed provides nutrients not often found in other plants such as iodine, B12 and vitamin D.
How would you advise to incorporate seaweed into a diet?
Our food seasonings are a great way to incorporate seaweed into a diet – a spoonful of mixed seaweed flakes in a stew or bolognese will give a boost of vitamins and add a depth of flavour in a healthy, natural way. Using our seaweed salt means you can use less than regular salt, yet have all the flavour salt provides.
We make a seaweed tapenade which is great stirred through pasta or served on crackers – just a little seaweed a few times a week will be beneficial for health and for the flavour it adds to your meals.
What piece of advice would you give to someone considering starting a business in the Channel lslands?
Create a business you believe in and not something that everyone else is doing. Get involved with the local Chamber of Commerce, build a network of support and get advice on the island nuances – there will be some depending on what type of business you start.
What is your favourite place for lunch and an afternoon coffee in Guernsey?
That's a difficult question! We are spoilt with many great places for food and drink. I think my favourite lunch choice would be Fat Rascal or Cobo Tea Rooms and for coffee….Coco (with breakfast) or later in the day, Jerbourg Hotel (with their amazing cakes) !!
What place in the Channel Islands do you visit when you need to unwind?
The short ferry ride to Herm Island, with a walk and lunch at the Mermaid or a picnic on the beach is the perfect way to unwind! When time doesn't allow for a few hours away then a walk along one of Guernsey's beautiful beaches will do the trick – a natter with my husband or my sister with the sound of water on the shore and fresh sea air is a real tonic.
If you would like to order some of Naomi and Ben's seaweed products, please go directly to their website The Seaweed Food Company and Guernsey Seaweed.