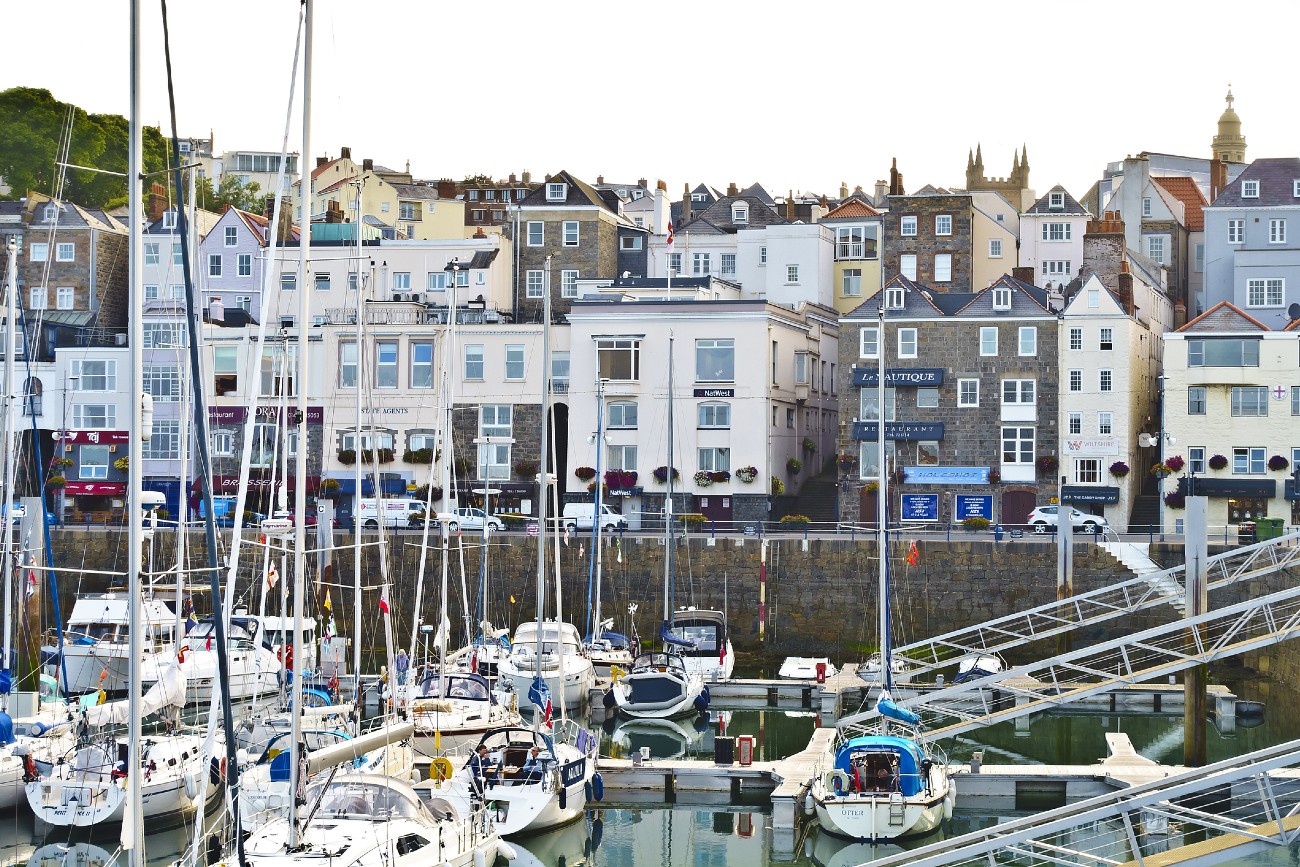 Guernsey and Herm together make up part of the Bailiwick of Guernsey. Both islands represent ideal boating territory, with some lovely little harbours and sandy bays. Combined with the warm summer climate, the islands can take on an enviable tropical feel, with sparkling blue waters and offshore reefs. As with some of the other Channel Islands, they also provide a unique sailing challenge in that the tidal range in the region can reach a mighty 10 m.
Whether you plan on sailing around the islands in your own boat or chartering one locally, the experience is sure to be a memorable one. Several companies in Guernsey offer boat charters, as well as boat trips and tours. The best known is Guernsey Boat Charter, who will provide an experienced skipper and crew to accompany you on your voyage.
St. Peter Port and Beaucette Marina
There are five marinas in Guernsey, but only two are available for visitors. Of these, Beaucette Marina on the north-eastern tip of the island is certainly not a place to miss. Originally a quarry, the marina was created by blasted through an area of granite rock nearest to the sea, allowing the water inside. The result is a spectacular, sheltered marina which offers a tranquil rural setting, on a region of coastline which is great for walking and very close to L'Ancresse Common. The entrance to the marina is tight and can be daunting during rough conditions, but once inside it is well worth it.
Further south, the coastline slowly morphs into suburbia as you approach the capital of St. Peter Port. Here your eyes will be rewarded with views of colourful old town houses, cobbled streets and a vibrant seafront in which there are many delightful cafes and restaurants to be found.
The town has the island's main harbour and is the best place in terms of ease of access, although entrance to the marina is slightly restricted by a sill, meaning access is only available a few hours either side of high tide. Taking the time to explore the town can be an intriguing experience and be sure to admire the impressive structure of Castle Cornet at the harbour entrance.
Guernsey's South Coast Bays
Once you've had a taste of Guernsey's bustling urban community, it can be a nice change of pace to head south, where the landscape turns rockier and more remote. Consider making a stop at Fermain Bay along the way – one of the few pebble beaches in Guernsey. Its sheltered waters and backdrop of lush vegetation make it a popular tourist spot but it is usually a peaceful place to visit by boat, with a conveniently-placed cafe and takeaway right next to a slipway.
Continuing on around the coast, you can round the spectacular Jerbourg Headland and marvel at the towering rock pinnacles known as the Pea Stacks, before coming upon a short stretch of coastline where there are several secluded bays. These areas make for perfect anchorages when the wind is from the north or east.
The most well-known of these is Petit Port Bay, which has an unspoilt beach that is at its best when the tide is low. To the west, you can also find great places to stop at Moulin Huet Bay and Saint's Bay respectively.
Herm
With Herm Island situated so close to Guernsey, it seems a shame to miss it out from the region's best boating destinations. The 'Caribbean of the Channel Islands' covers just a few square miles and is completely surrounded by a white, sandy beach at its northern end. There is a small harbour on the island's western side, which is often busy due to the comings and goings of the Trident ferry from Guernsey. However, there are a few visitor buoys outside the harbour and the sandy seabed is a good place to anchor as an alternative.
Once ashore, you don't want to miss a visit to Shell Beach if the weather is nice, as this is one of the most popular places on the island. Made up of millions of tiny shells, the beach stretches for almost a mile to Alderney Point at the north end, which is often the place to go to avoid any crowds. There is a handy beach kiosk on the beach where you can get refreshments, but Herm is also home to the famous Mermaid Tavern, where I always like to stop by. A tour round the island's southern tip can also be a great idea, with some beautiful scenery and a chance to spot puffins and other marine wildlife.
Learn more about Guernsey in following article: Guernsey – A place people fall in love with and return to