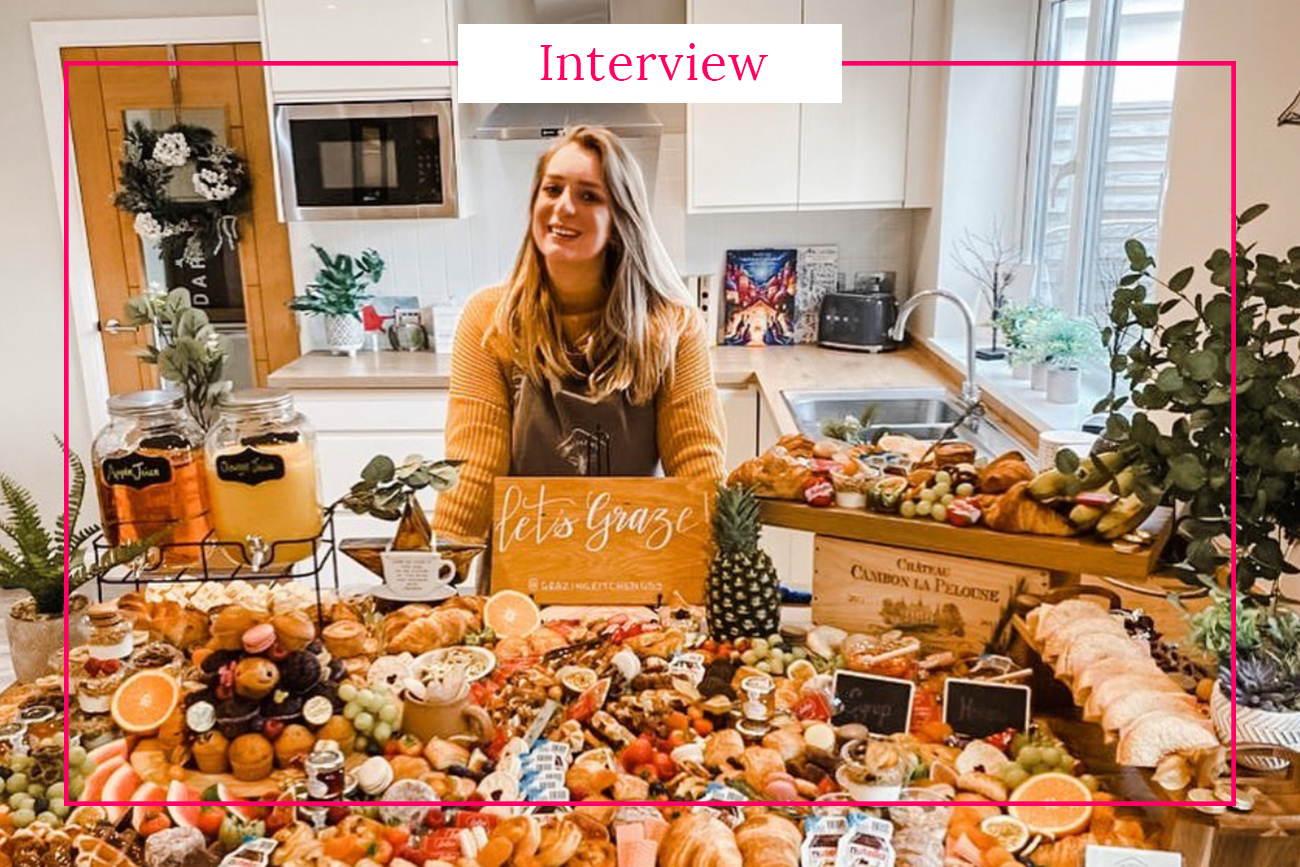 In this interview we asked Cassie Arlotte – founder of The Grazing Kitchen –  a few questions about her business and her favourite places in Guernsey.
Cassie runs The Grazing Kitchen alongside her husband, Sam. By way of background, she was bought up in Jersey and then attended Plymouth University. She relocated to Guernsey to be with her other half who is Guernsey born & bred. As well as running the Grazing Kitchen, she works for a local recruitment firm.
She loves this job as she gets to engage with clients and candidates on a day to day basis, helping them find their dream job! She also finds there is a crossover between The Grazing Kitchen and the recruitment world as she tends to liaise with the same contacts at companies for both matters so it builds a great rapport.
Cassie, please can you tell us about your business and the services you offer?
The 'graze craze' as I like to call it (!) originated in Australia around 5 years ago and has been sweeping the events world ever since, and I can see why! Whether it's a wedding, engagement party, corporate event or a casual shindig, feeding your guests is an essential part of any get together.
Grazing platters and boxes give guests the flexibility to pick and choose – a foodies dream! We offer boxes, platters and tables to suit all clients, from cheese and charcuterie, brunch and sweet treats boxes, we have something that will appeal to everyone.
Our platters have been enjoyed on beautiful shell beach in Herm, in the stunning, converted Fermain Tower and even on a private jet! Having studied Environmental Science at University, sustainability plays a big part in our Company ethos. We use eco-friendly 'Vegware' packaging which is completely compostable and take all measures possible to ensure the business is as environmentally friendly as possible.
What led you to start a grazing company?
Our 2020 wedding in the UK was postponed due to COVID so we had a celebration in Guernsey with all our friends and family on our planned wedding day instead. I have always been a foodie and find cooking extremely relaxing. I had seen Grazing Companies in the UK and thought this would be a great idea for the party spread.
After hunting, I couldn't find a company in Guernsey who does this so put together my own for the event, using my previous cooking and presentation knowledge as inspiration. After lots of practising, undertaking the necessary food hygiene courses and developing the brand, The Grazing Kitchen was established in November 2020…
Thankfully we were able to get married in August 2021 and enjoyed a much needed honeymoon break in October 2021! We are so thankful to all islanders for their orders and continued support with our small business. I have now been able to reduce my working hours in my other job to accommodate more orders and also have more time to develop further products. We have lots of exciting things in the pipeline, including a new website being launched soon with an integrated order platform.
What would you say are the main disadvantages / difficulties of running your own business?
My mind never switches off! When we launched The Grazing Kitchen, other small business owners were warning me of the constant planning and thinking about 'what can i do next'. It is so true! At the start this was very overwhelming but I now have a rule that at 8pm, my mobile goes on silent and I don't look at emails. This has really helped.
It is so so important to have at least a couple of hours a day for YOU. Another struggle is juggling two jobs, you constantly have to be on your game, organised and prioritising certain items. My husband has always been a list writer but before The Grazing Kitchen, I always thought it was odd as I was able to remember most things, or just 'wing it'! Boy, was I in for a shock!
I now write everything down and plan my day accordingly. I find getting things onto paper and out of your mind really helps. Now that I am more used to the multi-faceted, fast paced lifestyle of having a small business, I wouldn't change a thing. It is so rewarding and receiving feedback from customers makes it all worth it. Plus, when you get a lie in once in a blue moon … you REALLY appreciate it! It also helps being married to an Accountant who is able to take control of that side of the business!
Please can you give us a little insight into the preparation of a grazing table for a client? Do you prepare all the food at the location? What do you prepare before arriving at the client's location?
Our Grazing Table offering is a bespoke service for clients and in the first instance when an enquiry is received, I like to have a call with them to discuss their enquiry further. The purpose of this is to find out more about the event, for example; how many people will be attending and whether they would like full meal portions or nibbles.
We offer brunch, cheese and charcuterie and sweet treats tables, or a combination of these to suit the client. We then discuss their preference regarding what is included and whether they would like a flat lay table or props included as part of the display. We love a bit of dimension on our tables and use cake stands, wine crates and other items to add height. There is also an option to add foliage or flowers to the display to add the extra 'wow factor'.
Depending on the event, we can work with other small businesses to bring their theme to life, for example, including toppers or themed biscuits for a baby shower. The possibilities are endless and our primary aim is to create the perfect graze for you! The day of the event, we prepare all of the food in our kitchen ie: washing the fruit & chopping the cheese and then transport this to the venue. We then lay this out so that the spread is ready when the guests arrive. Later on that day or the next day we then come to pick up our props used.
How did you learn to arrange food in such an eye-catching way?
At first, it was a lot of YouTube and seeking guidance from those already in the industry. Myself and Laura from The Jersey Grazing Company have a great relationship and support each other with any hints and tips. We have met up in Jersey and it is so lovely to chat to someone who knows exactly what you are talking about!
Even if it's a few WhatsApp messages when we are both up at 5am on a Sunday morning preparing boxes, the support really helps!! I have also completed courses specialising in Grazing and food artistry to develop my skills in this area. It has given me so many exciting things to develop in the future and I can't wait to expand on my skillset. Oh and practise, practise, practise! I look back on my grazes when starting the business and it is amazing how things change, over time the business has developed its own, rustic style which we love.
What piece of advice would you give to someone considering starting a business in the Channel lslands?
Go for it! There is always room for more small businesses in Guernsey. It will be tough and there will be times that are difficult with things not going to plan but it will all be worth it in the end. It is important to have a good support network of people to chat too. No matter what happens, don't give up on your inspiration and dream, if you are passionate about launching a business, you will do everything in your means to succeed and enjoy the ride at the same time!
What is your favourite place for Sunday lunch and an afternoon coffee in Guernsey?
Myself and Sam love The Douvres up in St Martins. They do an amazing Sunday Roast and the atmosphere is so relaxed. We enjoy a walk on the cliff paths (sometimes braving the 270 steps down to Petit Port beach!) then settling in for a long, well earned, lazy lunch. An added benefit is that they are dog friendly so our black Labrador, Molly, can also come. If she's been a good girl, she is sometimes treated to a bit of my roast beef … spoilt dog!
What would your perfect day in the Channel Islands look like?
We love to unwind on a sunny day taking our kayaks out. Leaving the house in the morning, taking the kayaks to the beautiful Saints Harbour then paddling round to Fermain for a well earned steak ciabatta (if you haven't tried this, I highly recommend…you are in for a treat!) A few drinks in the sun then paddling back, via all the coves. There is something special about seeing our beautiful island from the water, it is beautiful.
Whether you are planning a party or just would like to treat your loved ones with a tasty grazing box, don't hesitate to head to Cassie and Sam's website – The Grazing Kitchen – and order something!