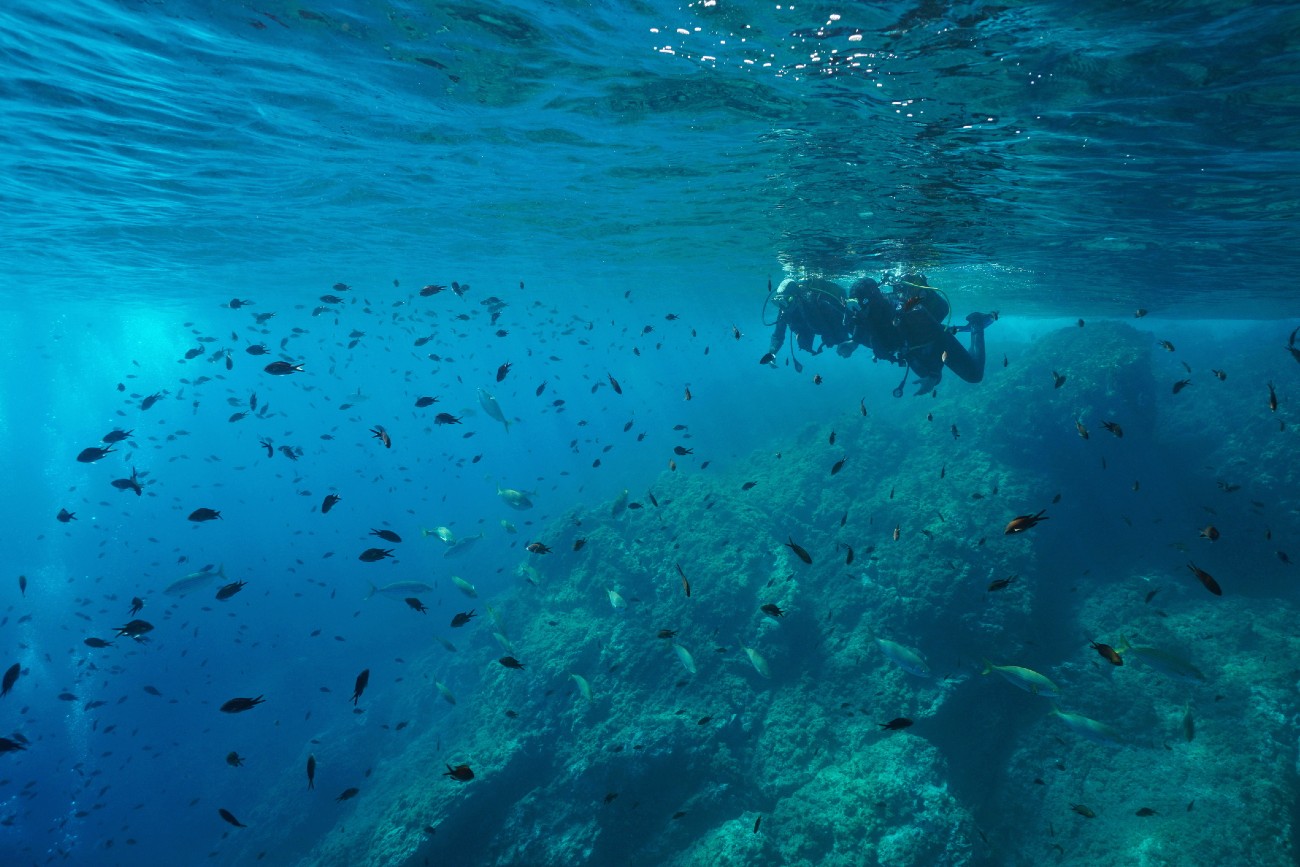 The two smallest islands within the Bailiwick of Guernsey – Herm and Sark – should not be overlooked when it comes to diving. The waters surrounding the two islands are often cleaner and have better visibility than in the larger Channel Islands, and this combined with warm summer sea temperatures make the diving very pleasant.
Diving companies based on Guernsey or Jersey, such as Dive Guernsey, offer boat trips out to the diving sites on both islands. Each island has something different to offer. Herm's sweeping sandy beaches on the northern coast have some good diving sites with opportunities to see dolphins and seals, while Sark's sheer granite walls encrusted with marine life make for exhilarating experiences.
In addition, the tidal flows around Sark mean the majority of sites are easily accessible. There are also a number of wrecks in the region, meaning diving trips can be as varied as you like.
Riding the Walls
Sark offers some of the best wall dives in the Channel Islands, with the coastline a mixture of rock stacks and submerged pinnacles. The warm waters attract some unique creatures and the sheer walls around the island are great places to see fan corals wafting in the current or jewel anemones glowing in the dingy light.
An ideal site is the Ecrillais Wall, which is made up of steep rocks and gullies which descend to between 16 and 50 m below the surface. The canyon walls here teem with life, with chances to see lobsters, sea squirts and an incredible range of fish.
Off the eastern coast of the island, Les Vingt Clos Wall is another excellent dive site. Formed of a sloping rock wall, it is bordered by reefs and gullies, making for an interesting and varied dive. There are many soft corals and other marine invertebrates to be found and the visibility is usually good. Diving depths at Les Vingt Clos are best between 10 and 40 m.
Wreck Diving
With the Channel Islands being a haven for smuggling during the 18th century, the remote bays of Sark and Herm offered valuable hideouts. More recently, the region was troubled during the World Wars. As a result, many wrecks can be found around both islands for those interested in more exploratory dives.
One of the most famous diving wrecks – the SS Forth – can be found off the north coast of Herm. Sunk in 1906 after getting into difficulty near the rocks, the wreckage of this ship sits at about 18 m deep, making it great for first wreck dives. Although the ship has broken up through the decades, it is still recognisable and is great for exploring.
Another shipping casualty is that of the Minesweeper M483, which is noted as being one of the best wreck dives in the entire Channel Islands. Stricken during WWII, it lies between 48 and 52 m below the surface and is fully intact, with guns and props still in place. Many creatures use the ship to shelter in and you can expect to find a variety of fish such as bream and conger eels. Visibility is often very good and the wreck is located to the east of Sark.
Reef Diving
A multitude of reefs are located around Herm and Sark, filled with colourful corals and marine animals which make for incredible diving opportunities, certainly on a par with more tropical climes.
To the south of the tiny island of Jethou, next to Herm, there is a reef known as Parfonde. This sheltered reef is situated in shallow waters and has a maximum depth of 30 m. It's an excellent place for beginner or intermediate divers and the currents tend to be gentle due to the waters being protected by the reef itself. Granite boulders form overhangs and swim-throughs which are perfect for finding fish such as cuckoo wrasse, tompot blennies and conger eels.
Neighbouring Sark also has its fair share of reefs, with one of the best located at the southern end. L'Etac Reef is considered a favourite by many local divers and usually has superb visibility, making for excellent photo opportunities. It is well worth a visit but the currents tend to be strong and it has depths of up to 50 m, so it's always important to be cautious.
If you would like to explore the island of Herm further, then don't miss this article: An outdoors lover's guide to adventures in the island of Herm