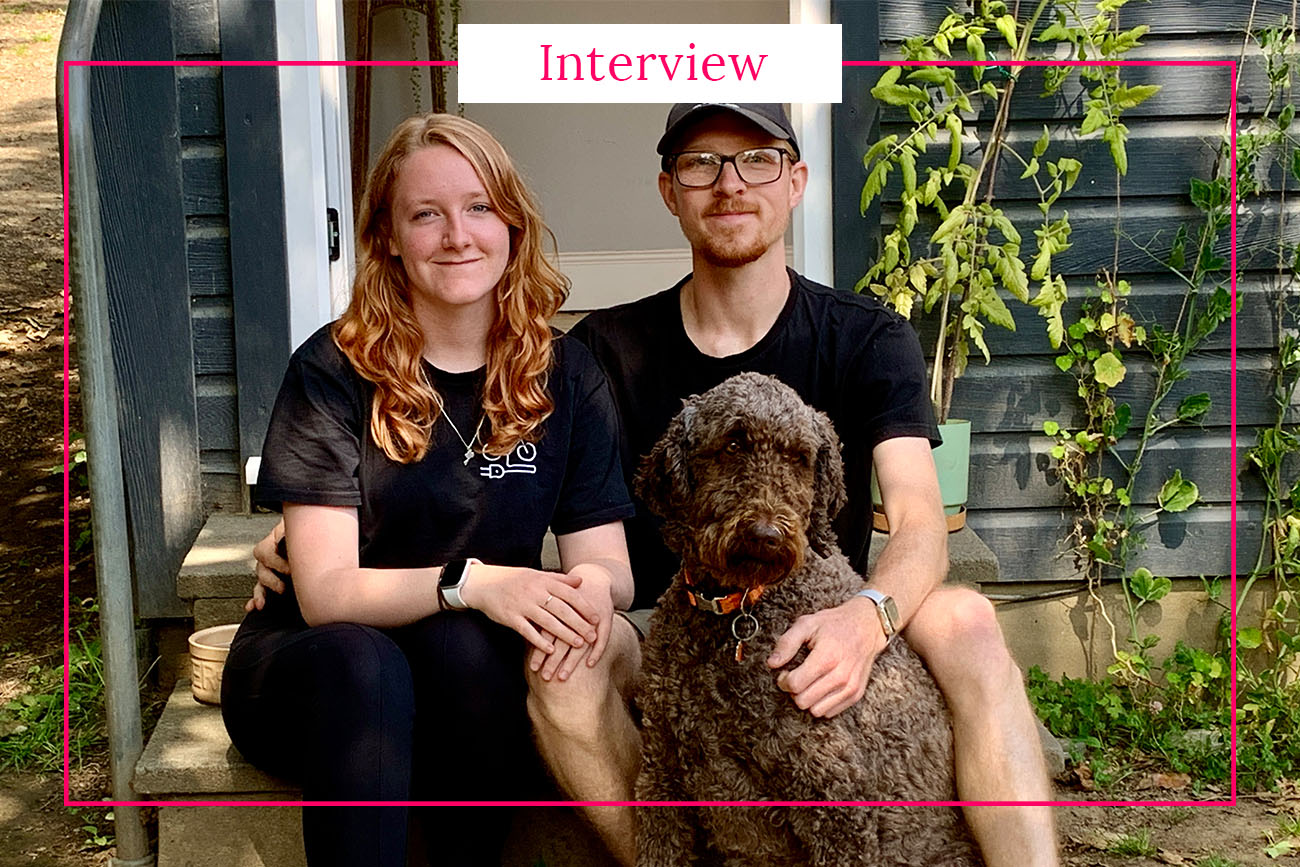 Interview with Bam and Stephen – Owners of Bam's Bikes rental shop in Sark
B
am's Bikes is owned and operated by Alabama "Bam" Westle and Stephen Dewe, who are a young local couple. Cycling every day is a way of life here on car-free Sark.
Stephen is a born and bred Sarkee and has worked in bike shops since he was 9, whereas Bam was born in Lincoln, England and moved to Sark with her family 18 years ago when she was two. They grew up together on Sark but didn't really know each other until they worked together at a bicycle rental shop before starting their own, last year.
During our conversation with Bam and Stephen, we discussed why Sark is the perfect place to cycle, what their typical workday looks like, and they also shared their favorite spots on the island.
Please, can you tell us what inspired you to start all electric bicycle hire shop in Sark?
Stephen has been a bike mechanic locally since he was a schoolboy, they met when Bam worked on the front desk, during summer holidays and noticed that E-bikes were largely ignored.
We believed there was an opportunity to start a specialised all-electric bicycle rental business which had never been done before. As there were only 2 bike shops on the island at the time, and with the recent legalisation permitting electric bicycles on Sark, we saw a gap in the market and jumped at the chance to start our own business.
We have both wanted to work for ourselves at some point and with each of our skills and knowledge of the bicycle rental trade on Sark, we thought that Bam's Bikes would be a great way to do this.
Can you tell us about your business and the services you provide? 
Bam's Bikes rents the highest quality electric bicycles which are serviced after every rental to ensure that our customers get the best experience on Sark. We also pride ourselves on our customer service and focus on ensuring each rider fully understands how to use our bikes by providing a thorough demonstration.
We love to keep things as simple as possible, so we have a fleet of 20 identical Volt Bikes all with a low-step frame. Each bike is adjusted to suit every rider and we're able to fit a wide range of rider heights.
The low-step frame also makes it easier for everyone to step over the bike, we have a fair number of older riders or people who have had knee or hip surgeries which this is especially ideal for.
Even though bicycle rental is our main focus at Bam's Bikes, we also have a repair service for locals with both manual and electric bikes, operated by Stephen. We are also Volt Bike dealers for Sark and have sold a handful of their top-quality, UK-manufactured electric bikes to locals.
In your opinion, why should one choose an electric bicycle over a non-electric one when exploring Sark?
Naturally, we're very biased! However, electric bikes rapidly and effortlessly whisk riders all around our beautiful Island in less time allowing them to see so much more no matter how long they spend here.
We have had so much feedback from our riders saying that they would never have been able to see so much of the island if they didn't have an E-bike. As we like to say "Go Further (and Faster!)" Electric bicycles enable riders to conserve energy so exploring even the most remote and isolated parts of the island feels like a breeze.
Since electric bicycles have become legal for anyone to own and ride (you used to need doctor's note!) you see more and more locals with them, they are a real game changer on Sark.
Why do you think Sark makes a great destination for cycling?
Due to its size, Sark has no cars so the main transport options are by foot, bicycle, tractor and horse. Unfortunately, not everyone can drive a tractor (myself included but Stephen can!) and horse riding isn't always the most practical choice. So, most people opt for a bicycle as it's a lot faster and easier than walking everywhere.
Sark is the ideal place for bikes as it's made up of small, winding, dirt and stone roads and nowhere is over 15 minutes away on our E-bikes. No traffic jams, traffic lights or frustrated motorised here, a quick 'ting' on the bike's bell and you're on your way.
If there is a first-time visitor to Sark who prefers cycling with a guide, do you provide any organized cycling tours on the island?
No, not yet anyway, but it's something we are considering for the future. Right now we're focussed on perfecting what we know best – quality E-bike rentals, repairs and sales.
Which cycling routes or trails on Sark are considered must-see and shouldn't be missed?
There aren't any set cycling routes or trails on Sark, which means riders can just roam freely. However, I would recommend a trip down to Little Sark via La Coupe, and then head all the way to the north of the island to L'Eperquerie via La Seigneurie Gardens. You can't get too lost on Sark either as you'll eventually meet the sea.
Please can you recommend any scenic viewpoints or lookout spots that are worth visiting by bike on Sark?
Everyone loves to see La Coupe, it's very dramatic, but I would also recommend taking trips off the beaten track and heading over to the Pilcher Monument on the west coast with it's superb views across the sea to Brechou, Herm and Guernsey.
Are there any specific rules or regulations that renters should be aware of?
Local laws prohibit cycling down the very steep Harbour Hill or across La Coupe (but you can push your bike). We rent bikes to anyone over 18 – so far the oldest rider has been 85 and he loved it!
What does your typical working day look like?
It's really important that each bike is in tip-top condition before every rental and also fitted with a freshly charged battery. We like to get to the shop early and do the final preparations before the first rider arrives. Riders visit to pick-up or return bikes throughout the day, so there's always something to do and people to meet and greet.
When we're not dealing with rentals we are servicing bikes until early evening. Each returned bike is cleaned and serviced before they are put to bed each evening. In summer, it's pretty flat out all day and we prefer it that way.
Can you share with us your personal favorite spots on the island for lunch and a cup of coffee? (preferably those that are easily accessible by bike)
Well, it seems there's more to choose from each year. There's so much to choice on The Avenue – Hatters, Nova's Bistro, Time and Tide, Sark Yard and Fleur du Garden with Nicole's close by.
We tend to visit Scooby's near The Bel Air Inn as it's opposite our shop, we can sit outside in the sunshine – they make a great cup of coffee.
Further afield there's the recently reopened Hugo's at the Dixcart Hotel, we've eaten there a few times this year and the food is delightful.
If you go to Little Sark, try the secluded Snack Shack for a refreshing drink and a quick bite. There's really so much choice on Sark during the summertime, too many to list, but my tip would be to just keep coming and keep trying new places.
How would you describe the character or personality of Sark and what sets it apart from the other Channel Islands?
I call Sark "The 4th World" because there's nowhere else quite like it on earth. Beautiful, quirky, spectacular at times, relaxing, peaceful, laid back and yet so full of life too. It's unique, no other Channel Island can match that eclectic mix.
Is there anything else you would like to share with us? Also please let us know of any links or other information that you would like us to include with the interview. Thank you!
If you have never been to Sark before, get on the boat, you won't regret it. If you've been before, it's time you came again, Sark loves visitors.
If you're planning a trip to Sark and want to explore the island on an electric bike, don't hesitate to get in touch with Bam and Stephen or visit their website for more information. They will be more than happy to assist you with your cycling adventure on the island.