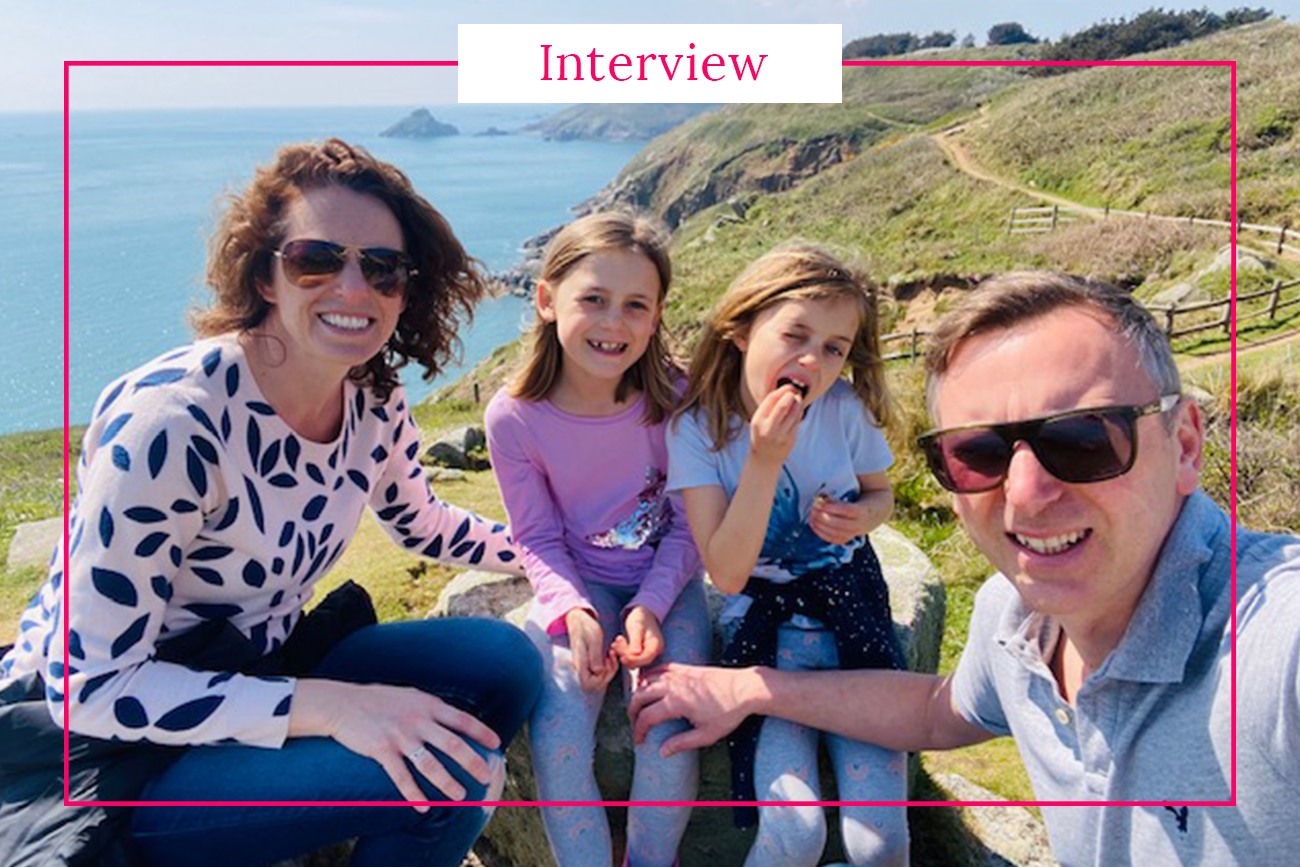 Antonia Rainbow is from the UK and moved to Guernsey with her husband and their two children 4 years ago, and they've never looked back!
As Antonia says, they were desperate to leave the London commute behind. Her husband's commute was up to 4 hours a day, slightly different to the 10 minutes each way he does now in Guernsey! Since moving to Guernsey, Antonia has surprised herself and become a dog person. She loves nothing more than a good walk on the cliffs with Chloe, their King Charles Spaniel and she still can't believe how beautiful the views are.
Antonia is a blogger and the founder of the Guernsey With Kids blog where she shares and writes about various activities to do with kids in Guernsey. We asked her a few questions about her blog, favourite spots and why she thinks Guernsey is a great place for raising kids.
Antonia, please can you tell us the story behind your blog Guernsey With Kids and when you set that up?
When we moved to Guernsey, I found it really hard to know what to do with my girls. I searched online and found pictures of beaches etc. but not a lot of info. We live near Fermain Bay and I had no idea how to actually get there, was it suitable for a 5-year-old to walk too?
It led to me having more questions: Where are the parks? Where are the best walks for kids? Where can we entertain the kids in bad weather? I started writing a blog about our adventures, but soon realised there was a need for something more than that, which is when I decided to create a website that had all the information parents / carers need in one place.
Before moving to Guernsey I read quite a lot of negativity online about entertaining kids in Guernsey (there's nothing to do, no Primark, no big cinema) and after moving here I was surprised just how much there is for children. I think it's more a case that people don't know what is on offer, and that's what also motivated me to make guernseywithkids.com a place to inspire families to get the best out of the island.
How did you get the blog off the ground?
I developed the website myself when it was just a blog however, I knew that my 'WordPress For Beginners' book wouldn't cut it if I wanted to make the website include a lot more information, including a What's On Calendar and Business Directory, so I took the plunge and briefed a web developer and launched the new site 2 years ago.
It was great to watch it grow very quickly as word spread about the content on the site, especially the events calendar, which has always been a highly visited area of the site.
I continue to write blogs, the most popular being the Kids Holiday Club Guides, Dip 'n' Dine Guide and the What's On in Dec Guide. I have started developing the business side and have enjoyed working with companies to help them reach families, and my girls love it when they get to do cool stuff so I can write about it!
Why do you think Guernsey is a great place for raising kids? What makes it special in this sense?
I genuinely think Guernsey is an amazing place to raise children, and I feel very lucky that my girls are growing up here. I might appreciate it so much because my girls lived their first 5 years in the UK, and I was constantly aware of keeping them safe, but they have a much greater sense of freedom in Guernsey.
We get a lot of pleasure out of doing simple things in Guernsey which isn't about money, and that for me is one of the main benefits of bringing up children here. For example, we love cliff walks, beaches (Grandes Rocques and Port Soif in particular), rock climbing at Pembroke at low tide (on the headland to the left of Pembroke beach), the Les Vardes Quarry Nature Trail, Le Guet, Lihou, exploring the forts (Fort Hommet and Fort Le Marchant are our favourites) and the list could go on and on!
The ability to get to places without sitting for hours in a car means we get so much more done in a day here than we ever did when we lived in the UK. For us to visit the beach it used to be a 2-hour round trip, and then we'd spend £20 to park in Brighton!
On your blog and social media you share a weekly list of kid's activities. Are you working with the organisers or do you organise any of the kid's events by yourself?
I don't organise any of the events, I am simply pulling together the information about family-friendly events and inputting them into the What's On calendar on the site. Every Thursday our Weekender mailer goes out which includes details of all the family-friendly events taking place that weekend and I get a lot of feedback from parents that this helps people decide what to do for the weekend, which is great to hear.
You have two lovely daughters, what would they say if we asked them about their top two activities in Guernsey island?
So I asked them and Lottie said Guernsey Candles (I keep telling her there is a limit to how many candles one person needs!) and The Little Chapel. My girls both really love visiting the Little Chapel because they see it as some fairy castle made for kids!
Tilly's favourite thing by far is pottery painting at Iris & Dora and she is already set to work there when she is older! Tilly was tied when it came to her second favourite, between Oaty & Joey's and taking the dog for a walk on the cliffs at Jerbourg which probably has a lot to do with the fact she loves Unicorn Hot chocolates from Hotel Jerbourg afterwards!
What do you like the most about blogging?
I really love writing, and the great thing about blogging is that you get to write about lots of different things. The majority of my blogs are about our personal experiences of something, or somewhere we have been, and I can get into those very quickly, but I have had some blogs that have been more challenging.
I recently wrote a blog about the need for foster carers in Guernsey and after meeting with a social worker and an amazing lady that fostered children in Guernsey, I put a lot of pressure on myself to do the blog justice, and it was different not writing from my own personal perspective. However, it was really rewarding when they were happy with the blog.
What is a local dish you and your daughters can't live without?
Fish and chips from Cobo. Sitting on Grandes Roques eating fish and chips out the bag makes me think every time, we can't ever move from here!
Please can you share with us your favourite places for dinner and coffee in Guernsey?
We recently discovered Thai Too in St Peter Port and had the most delicious meal, so that's a new favourite. I also love dinner with a sea view, so we always end up going back to Rockmount and The Imperial. During the summer, Moulin Huet Tearoom is my absolute fave for a cuppa (usually a cream tea!), the views from there are something else.
Where do you go when you need to unwind? 
Being on the cliffs is an instant unwind for me, I still haven't got used to the views at places like Icart Point and feel instantly refreshed once I've had a stroll.
Imagine your friends (with their kids) are visiting the Channel Islands for the first time, what activities would you recommend to them?
I would suggest beach time at Port Soif and an ice cream (in summer), the walk from Portelet to the Fairy Ring, a visit to Victoria Tower and The Little Chapel and of course a day trip to Herm (the Herm gift shop being a must for kids)!
Did you just move to Guernsey with your little ones or are you planning a holiday here? Then don't forget to check out Antonia's blog Guernsey With Kids, her Facebook page or subscribe to her Weekender mailer to get the weekend's events emailed directly to you.