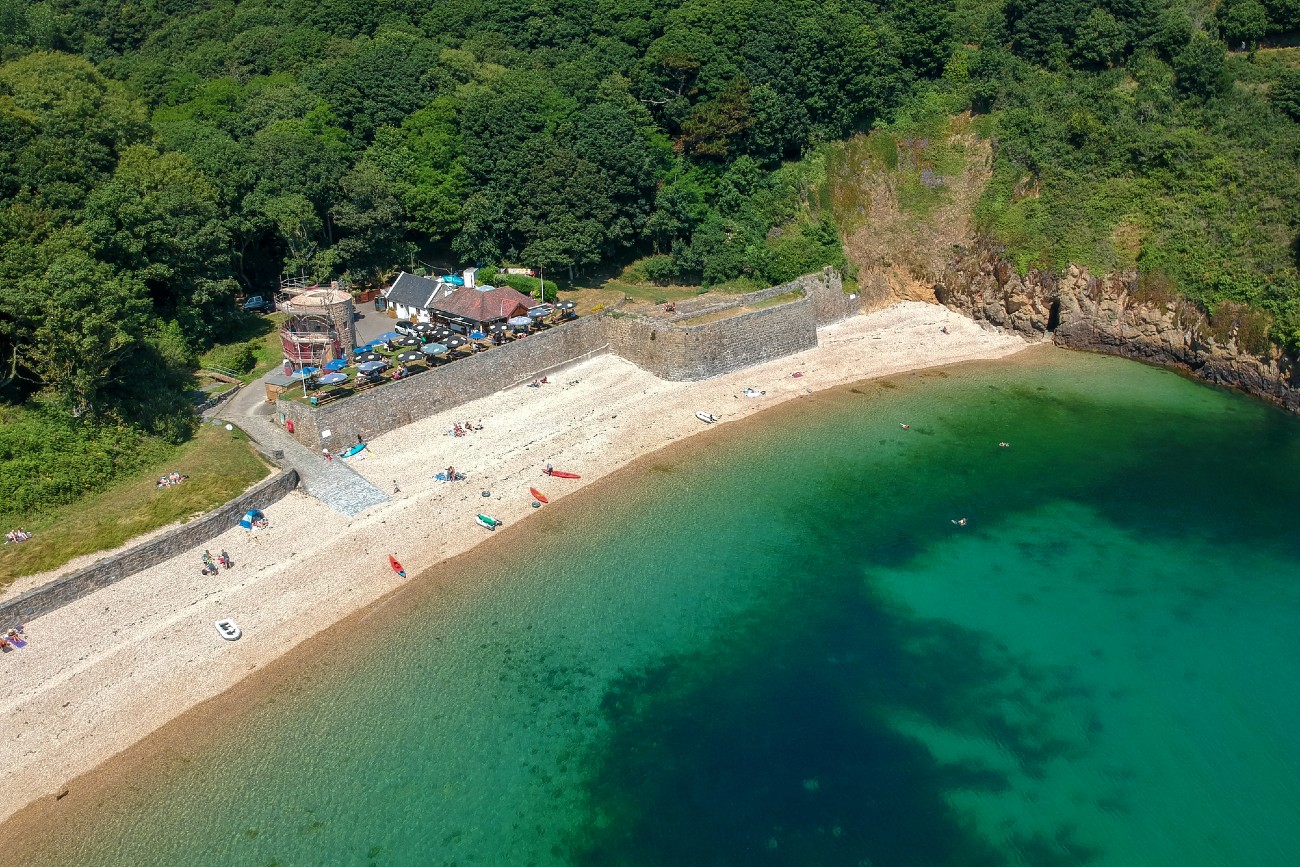 Guernsey's 29 miles of coastline arguably contain some of the best beaches around, with visitors flocking from all over the world to enjoy some quality time by the seaside. In comparison to the bays on the south coast of the island – which tend to be rocky and secluded – the beaches of Guernsey's north-west take the form of picture-perfect stretches of white sand. They're some of the most popular destinations on summer days, particularly amongst families, with a wealth of natural scenery on offer to add to the activities available. During the warm summer weekends you can usually find me on one of these.
Vazon Bay is the largest beach in this region of the island, consisting of a curved bay which is sandwiched between the headlands of Richmond and Fort Hommet. The beach here is a favourite spot among wind-surfers and kite-surfers, being a hub for a range of water sport activities. It's also home to Guernsey's surf school, making it the perfect place to try your hand at the sport for the first time. Further north are the beaches of Cobo Bay and Grandes Rocques. With both of these beaches offering great views out towards the west, they provide perfect vantage points to watch the blazing sunsets which often grace Guernsey's skies.
Swimming in the clear waters here can be a wholly tranquil experience, with both bays being shallow and safe enough for children.
Perhaps one of the most picturesque beaches in the north-west is the delightful natural harbour of Port Soif. While I was there I spotted white sands surrounding the bay in an almost perfect horse-shoe shape, with the falling tide revealing a network of rock pools which are ideal for exploring. Many intriguing sea creatures can be found in these aquatic habitats, including sea urchins, hermit crabs and starfish.
Beach-Side Nature
Guernsey's north-west beaches have far more to offer than might be expected. If you find yourself tiring of the sand between your toes, there are several nature reserves in the area which provide a haven for local plants and animals.
The rear of Port Soif beach is gifted by having some pristine sand dunes, with the area just to the north leading to a small common which is designated as a conservation area. The common is dominated by grassy terrain, but there is a small pond and an area of marshland which can be a great place to spot wading birds and frogs.
Keep an eye out for rare plants such as the Jersey cudweed and the tall fescue. The walk around Port Soif Nature Reserve is gentle enough for those of all abilities and you may also be able to find remnants of Neolithic and Bronze Age settlements dotted around the area.
Another important conservation area lies at the north end of Vazon Bay, encompassing the small headland at Fort Hommet. Here, you can walk amongst the remains of a Victorian fortification which was originally constructed to protect the region from a French invasion.
The headland is perfect for walks at any time of year, and as the path weaves through Fort Hommet Nature Reserve, you are guaranteed to see your fair share of natural beauty. The reserve is made up of a mosaic of habitats including mature sand dunes, wet meadows and heathland. In the summer months, these areas are rife with butterflies and nectar-seeking insects, making them great for wildlife watching.
A Graceful Fisher
One animal to look out for in the nature reserves around Guernsey's north-west beaches is the Little Egret. A small member of the heron family, this bird is one of the best-dressed avian species, with beautiful white plumage and smart black legs. In the breeding season, Little Egrets add to their look even further with the growth of two feathery plumes on the backs of their necks.
These plumes were highly prized once upon a time, being smuggled into Europe during the 19th century and sold for prices higher than that of gold. Sadly, populations of Little Egrets suffered drastically as a result and the species declined in many parts of its range. Since then, the species has been protected and populations have faired well in recent decades, recovering to the point where they are now considered a common bird in many areas.
In Guernsey, Little Egrets can now be found year-round, despite being absent from the island for many decades. Their numbers begin to increase from July onwards, when birds drift across the ocean from breeding sites in France. They tend to stay for the winter and migrate southwards in February or March, however a few individuals have been known to breed in Guernsey.
With their striking plumage, Little Egrets are usually quite easy to spot and can be found in wetland areas and similar habitats. Often, they will be seen standing in shallow water, using their patience and eyesight to hunt for fish.
For the perfect Guernsey beach experience, the north-west coast is one of the best places on the island to visit. And while visitors often come for the sun, sea and sand, they often leave having found there is even more to discover in this fantastic region.
Explore also other parts of the Guernsey island! Read this article: 5 things You Didn't Know About Guernsey, Channel Islands