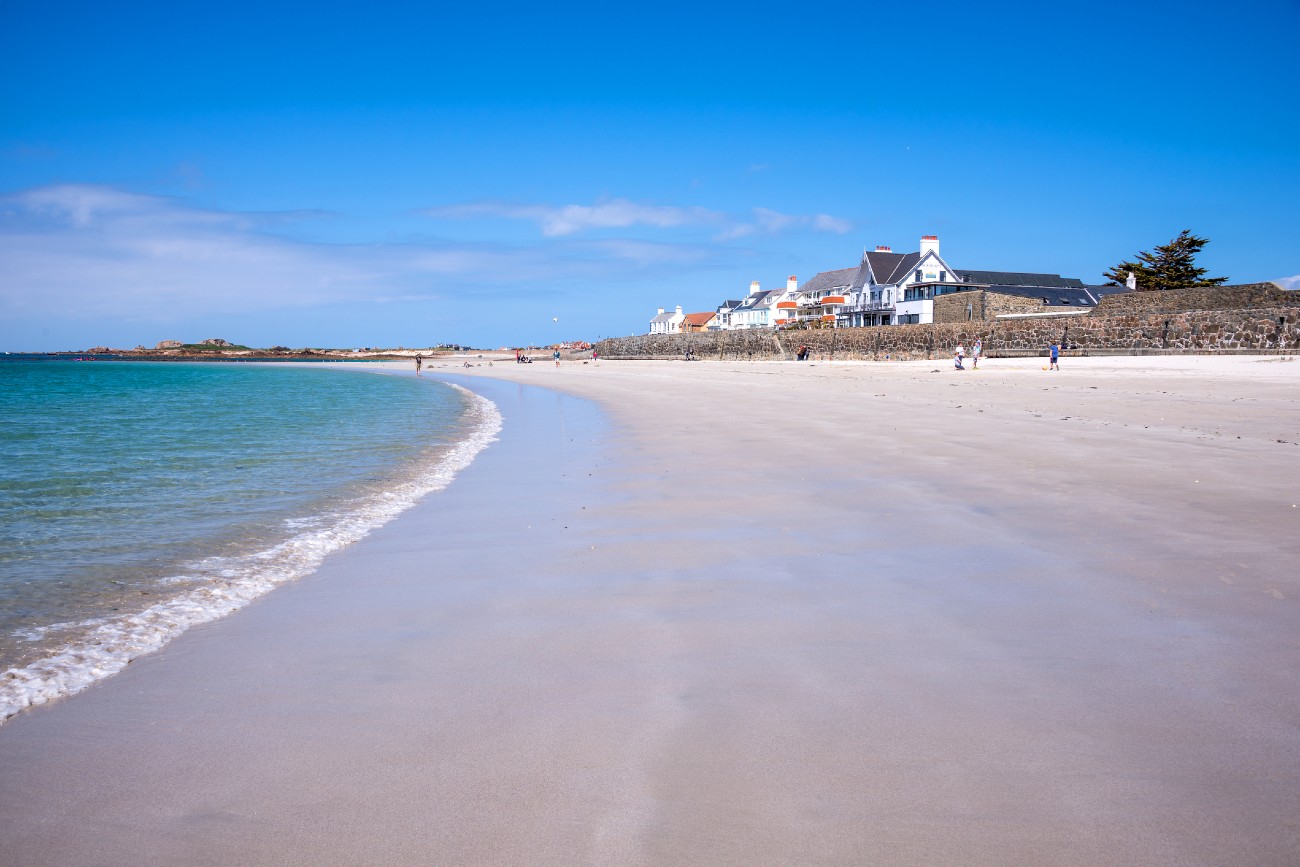 The parish of Castel is the largest in Guernsey, covering an area of just over 10 square kilometres in the central and western part of the island. It boasts one of the most attractive stretches of coastline in the Channel Islands, with a series of excellent beaches. There are many villages to visit within the parish's bounds, but one of the very best is that of Cobo. Cobo village lies 3 miles west of the capital, St. Peter Port, and is situated at the centre of Cobo Bay, which stretches from Fort Hommet to Grand Rocques.
Cobo is a small seaside community with a number of local amenities. It is a very popular destination for tourists and it caters well to its visitors, offering several high-quality bars, restaurants and cafes. Its proximity to the sea is by far the biggest draw, with families and couples visiting to experience the joys of coastal living. Although usually a peaceful area, Cobo can get busy during peak tourist season, giving it a charming buzz that is indicative of a thriving seaside village.
A Taste Of The Sea
Cobo Bay is one of the most popular destinations in the whole of Guernsey. Its sparklingly clear waters and white sand are very reminiscent of the Caribbean, with warm, summer days making it equally as desirable. The beach stretches for several hundred metres, meaning there is ample room even on the busiest of days. Sunbathing and sandcastle building are two great ways to spend your time here, especially when visiting with children. I always enjoy swimming here, as the sea is usually calm and the waters remain warm for much of the summer period.
There is plenty of parking, while the beach is accessible via slipways at each end, as well as a few stairways that lead down from the sea wall. If you are a nature lover like me, then you should know that there are great opportunities for snorkelling and rockpooling, and you should be able to find some of Guernsey's intriguing marine creatures without too much difficulty.
A day at the beach wouldn't be complete without a tasty bite to eat, and Cobo Bay has certainly got that covered. One of the island's favourite fish and chip shops – the Cobo Fish Bar – is set just behind the beach, close enough that you don't even have to change out of your flip-flops. It serves up a variety of classic fish-shop treats, perfect for getting the full seaside experience.
The very popular Cobo Tearoom is another great culinary option and is ideal for light lunches and a good coffee. This establishment is well-known for its home-made food and friendly atmosphere. If neither of these take your fancy, you can also head to The Rockmount – Cobo's very own gastropub. Here, a fine selection of ales and ciders await visitors, as well as a menu chock full of hearty pub food.
Fantastic Scenery
Cobo is far more than just a beach destination. Just to the south of the bay, a small hill rises up above the landscape, veiled in a healthy copse of pine trees. A steep pathway winds its way upwards, eventually leading to an intriguing old building at the summit. This structure is known as Le Guet – a name which derives from the French word "guetter", meaning to watch. This provides a clue as to the purpose of the building, and indeed it is an example of one of Guernsey's watchhouses – buildings designed as part of a chain of signalling and observation points on the island. Le Guet Watchhouse dates back to the Napoleonic Era, with construction occurring in 1780. It easily has one of the best views of Cobo Bay and is a gorgeous spot to visit to appreciate the true beauty of the area.
There are many other places to explore in the surrounds of Cobo Village, both inland and along the coast. If you wish to stay here for an extended period (and many visitors do), the Cobo Bay Hotel should cater to all your needs. Situated right on the beach-front, many of its rooms have balconies with sea-views, perfect for enjoying a drink while watching the sunset dance across the ocean sky. The hotel also has its very own award-winning restaurant, with a choice of exciting menus that offer both fine dining experiences, as well as more casual options.
The village of Cobo is one that punches well above its weight, with everything you need for a trip to the seaside, all packed into a quaint little settlement. Whether you come for the beach, the food or the scenery, you're unlikely to leave disappointed.
Would you like to learn more about Guernsey? Read the following article: The Quirky And Interesting Island Of Guernsey