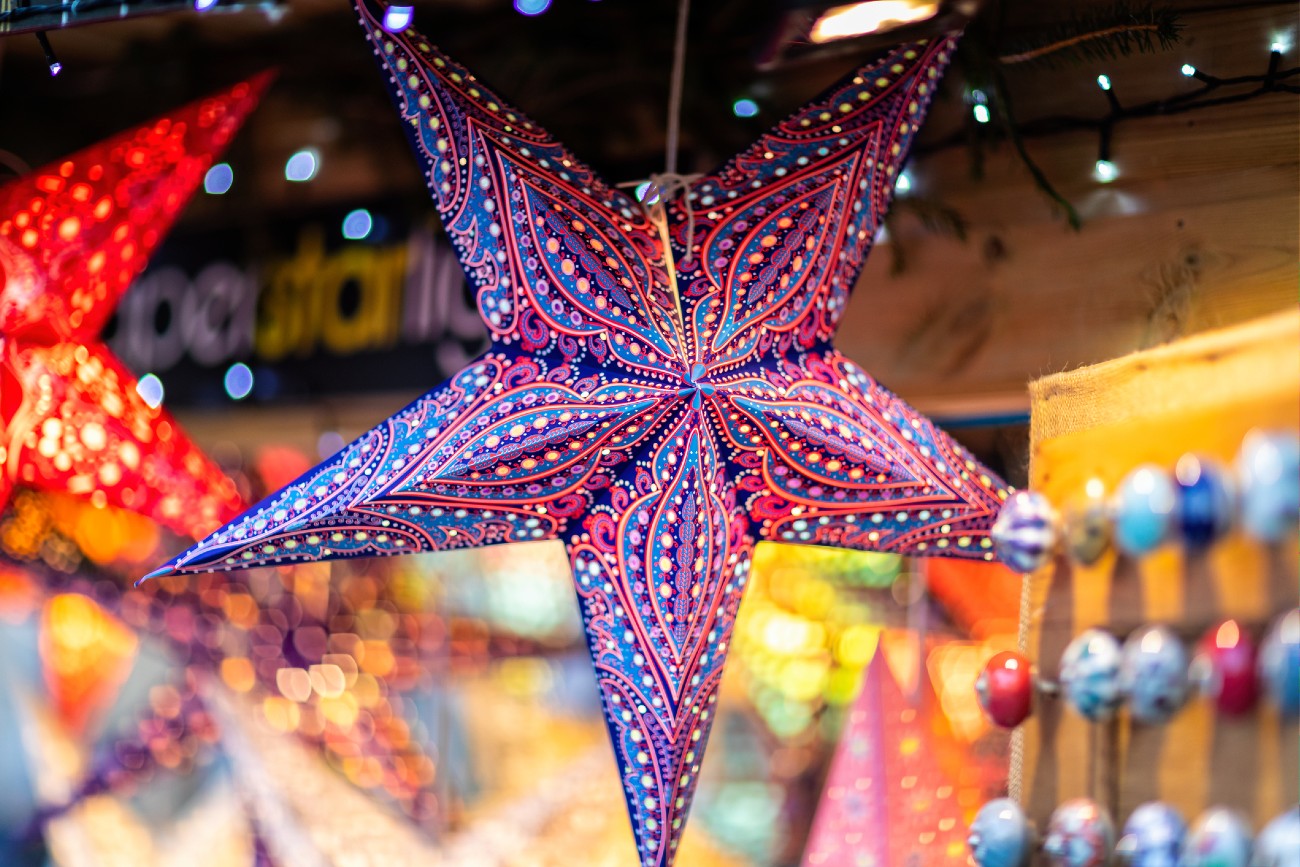 The Channel Islands are a fantastic place to spend Christmas and New Year.
In today's blog, we bring you the best events and recommendations for travelling to the Channel Islands for Christmas and New Year 2023.
From Christmas shopping to New Years Parties – we've got it all covered!
Christmas Shopping in Alderney
If it's Christmas shopping that you are looking for then Victoria Street in Alderney is where it's at!
The street looks extremely festive and many of the independent shops offer Christmas nibbles and mulled wine to their customers.
Jersey's Christmas Parade
The battle of the flowers Jersey Christmas parade is not to be missed and is fun for all the family.
Sparkling festive themed floats make their way through the centre of St Helier with dance, music and festive cheer. In 2022 it will take place on 11th December. Make sure you follow the festival on this Facebook page. 
Guernsey's Christmas Markets
Guernsey's Magical Christmas Markets will take place on Market Square in Guernsey during late November and December. They are open Saturdays, Sundays and Thursdays throughout December.
You can discover local artisan makers and purchase independent and unique gifts from the stalls in festive wooden huts around the square.
There is also a Museum Christmas Shop in Saumarez Park which has Christmas gifts and mince pies on a Friday!
Guernsey Christmas Fayre
The Guernsey Christmas Fayre is held at Saint Pierre Park. It will take place from 11-5pm on 27th November 2022. Check out the festive stalls, crafts and fundraisers.
Step Into Christmas – The Big Band Collective!
The best Christmas music event of the Channel Islands is happening this year on 1st December 2022 (7.30pm).
At 'Step into Christmas' the Big Band Collective will be entertaining you with all you favourite Christmas songs! Their 25 piece Big Band, singers and choir will definitely get you in the Christmas mood! Book your tickets in advance on Event Brite.
Meet Father Christmas
This year you can meet Father Christmas at 16 New Street Georgian House on Saturday 10th of December between 10-4pm. It is restricted to pre-bookings and members of the National Trust only, so if you would like to attend and support the trust, you can join here and then you can pre-book your ticket to see Santa on Event Brite.
Dick Whittington Panto
Christmas and New Year celebrations always need a good Pantomime! This year it will be Dick Whittington held at the Jersey Radisson on 29th December at 11am. Book your tickets here.
New Year's Eve Party
There is a New Year's Eve party being held at the Grand Jersey Hotel and Spa. Countdown to 2023 in style with a delicious 4 course meal and party in the Grand Suite. Tickets are £125 per adult and you can find out more here.
New Year's Fireworks
Both Jersey and Guernsey will see New Year's Firework displays to bring in 2023. Watch the local news and Facebook announcements for updates on this nearer the time.
Pubs in Alderney
The pubs in Alderney are traditionally allowed to open until the following morning on New Year's Eve!
New Year's Day then see the fire service host a 'squirt and dip' at Marais Square, where any children (or sometimes even adults!) will get squirted with fire hoses if they come near! What a way to sober up after an all nighter!
Whatever you decide to do, Christmas and New Year 2023 will certainly be fantastic in the Channel Islands. Enjoy!
Would you like to learn more about local wine? Then don't miss the following article: Wineries and vineyards in Jersey