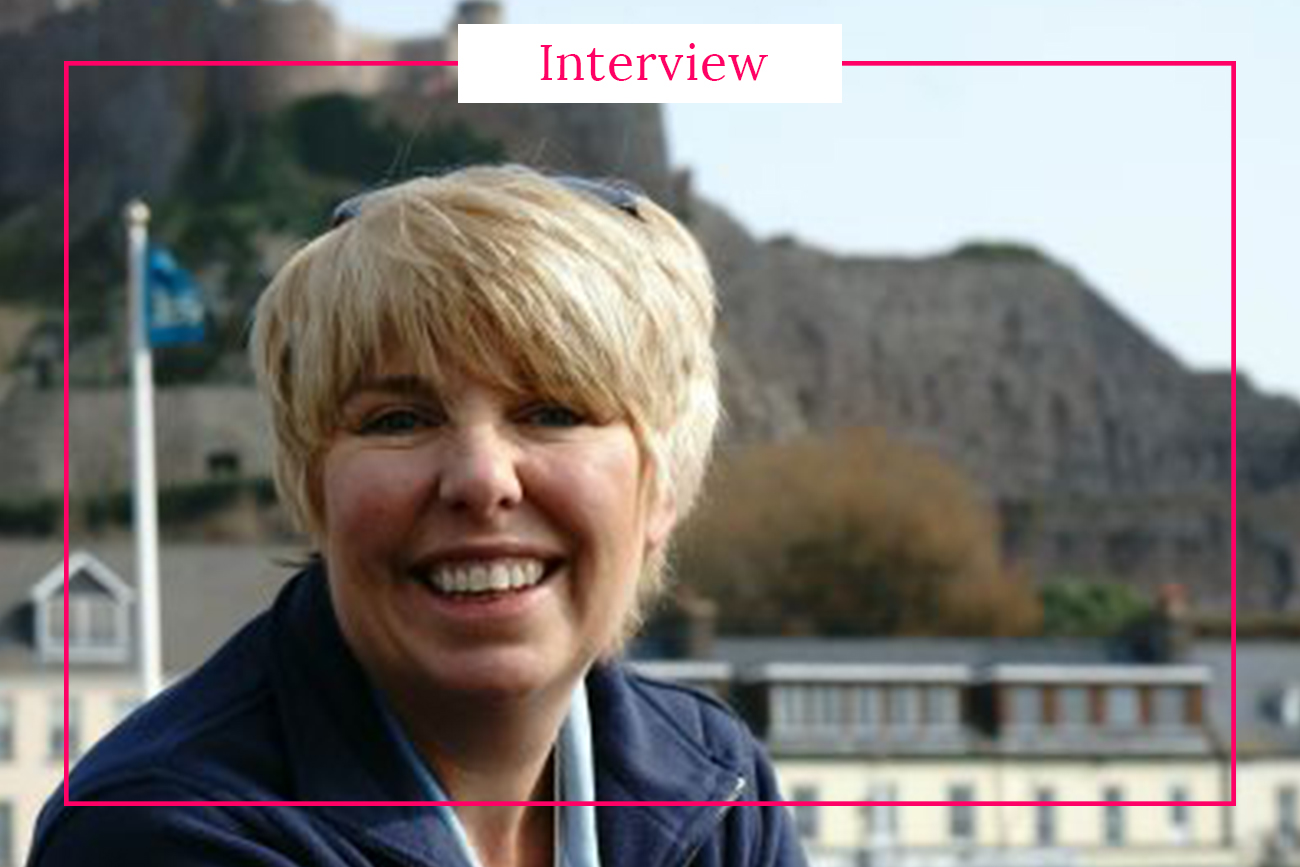 As a writer and former dance teacher with a passion for history and a gift for story-telling, Kary's love of her Island home inspired her to qualify as a Blue Badge Tourist Guide, and to become a site guide for Jersey Heritage.
Kary's  family arrived in the Island from France during the early 1900's, and Kary, who also speaks French, grew up listening to her maternal grandmother's tales of Jersey. She spent much of her childhood exploring the beaches and hidden pathways of the Island, and today can take you along forgotten lanes, show you secret beaches, winding cliff paths, and historical residences, intriguing you with the tales of adventures past and present.
Kary works as a Blue Badge Tourist Guide with Jersey Uncovered, a team of professional, registered Tourist Guides who have undergone stringent and comprehensive training together with written and practical examinations to achieve the nationally recognized symbol of tourist guiding excellence, the Blue Badge. Jersey Uncovered guides have a wide range of specialist knowledge and expertise, and are passionate about the Island in which they live.
The Blue Badge qualification is awarded by the Institute of Tourist Guiding, which is the officially recognised standard-setting and awarding body for tourist guiding in England, Northern Ireland, the Channel Islands and Isle of Man.
When asked about her typical working day Kary explained that there is never a typical working day for a Blue Badge Guide as each day varies greatly, depending on bookings and itineraries.
One day you can be in the office organising itineraries, or out walking new routes, or in the archives researching island stories; on another day you can be guiding for visiting government dignatories around the Island, or cliff path walking with John and Deborah from London, or exploring the mysteries and histories of the ancient dolmens with archeologists.
Whether you are guiding a young couple on their first Island Panoramic Tour, to a family returning for their grandparents' anniversary celebrations, or a large group of French or English students around the town, or through Gorey Castle, each day provides unexpected adventure and some wonderful learning experiences for all concerned, including the guide.
To be a great guide you really need many skills, but the top three Kary offered from her point of view were:
The ability to speak to everyone and communicate your stories clearly and in an entertaining manner, with a great sense of humour;
Have a head for information and an interest in learning, not only history, but world events, nature, geology, geography, and science to name a few;
Be able to manage small and large groups; present well to your audience, keep them entertained, and prevent them from wandering off and "going rogue". You don't want to lose sight of someone in an 800 year old castle with high parapets and steep staircases.
Insofar as the biggest challenge to tourist guiding, Kary would say that is the weather. You have to be prepared for any eventuality, and there will be times when you are out on a distant headland, and the thunder will come rolling over, or the fog will come swirling in. Making sure that your backpack is well stocked with all the necessary items to ensure the comfort and safety of your entire group is essential.
Kary confirms that the best part about the job is the people. Working with all the lovely clients to produce the best itineraries for them, and also then delivering on those promises, with an entertaining tour, or week of tours. It is a real treat to take a local out on a tour, and to show them something in the Island that they have never seen, or been aware of. Their smiles are genuine. Even on the town tour there is something that the Jersey Uncovered guide can generally unmask for a local.
When asked about Jersey's hidden gems, Kary admits that it is hard to pick a favourite. From the peat beds and hidden forest at l'Etacq, to secret picnic spots around the island, or 17th century graffiti hidden in a castle, or the seigneur's footpath from manor to church, which is little known, there are so many. But to learn more about these you really need to join one of the Jersey Uncovered Guides on one of their many adventures.
And finally,  what would you do if you only had one day and one night. Well, Kary is adamant, one day and night in the island is certainly not enough, and there are many who will say the West is best, or that you can't find anything better than the East, so Kary's answer would have to very much depend on what YOUR interests are.
For Kary, it would be an overnight stay at Seymour Tower to watch the sunrise on Gorey Castle, and enjoy the feeling of being surrounded by water, cut off from the rest of the island. When the tide recedes, with your guide explore the intertidal zone, forage for oysters, and then enjoy a guided tour of the East of the Island, not forgetting the fabulous 13th century Gorey Castle, Le Vier Chaté.
Favourite places to eat and drink in Jersey – well Kary is a girl of history and of the east so she will always recommend the fabulous restaurants in Gorey Village and Harbour. There is something there for everyone, so nobody will be disappointed.
From ancient standing stones to medieval castles Jersey is a place of history. Please do find the time to join Kary or another member of the Jersey Uncovered Team, and allow them to share with you their extensive knowledge of this enchanting Island, providing you with picture perfect memories of an unforgettable visit.
Visit Jersey Uncovered for more information about their guides, and the walks and tours that they offer.