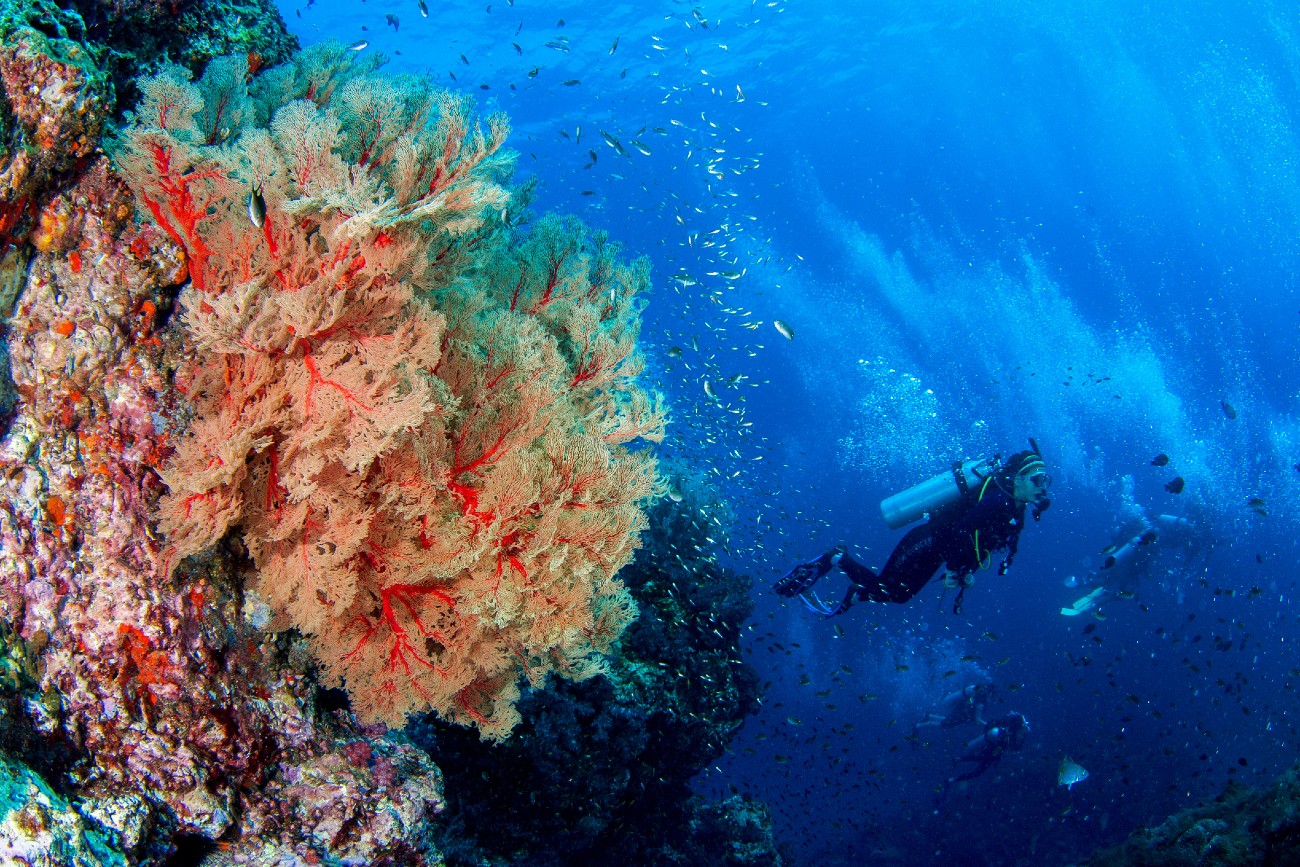 The coastline of Jersey offers some great scuba diving opportunities, with some wonderful marine creatures waiting to be discovered beneath the waves.
Along with the wildlife, there are many shipwrecks dotted around the island and there are also a few temperate reefs, with both of these making for interesting dive sites. Deep wreck sites are generally more suited to experienced divers, but Jersey also has a range of dive sites close to shore, which are ideal for beginners. The Bouley Bay Dive Centre is the main company on the island that provides PADI courses and escorted dives, as well as providing equipment rental for experienced divers.
One of the bonuses of diving in jersey is the water temperature. Although certainly not tropical, the temperatures around the island are generally warmer than in the UK, due to Jersey's southern location. The average water temperature from April until September is between 15 and 20°C, while from October to March it drops slightly to between 6 and 15°C.
Shore Diving
Jersey has plenty of good shore dive spots to choose from on its many miles of scenic coastline. Top of the list is Bouley Bay, located on the north coast close to Jersey Zoo. Not only is Bouley Bay the site of some of the highest cliffs in Jersey, it is also home to the island's only dive centre. The bay itself is pebbly and is usually a peaceful spot to visit, as it's tucked away down a winding road.
Bouley Bay offers some of the most consistent diving opportunities in Jersey and is often a sheltered spot no matter the time of year. Being just in front of the dive centre, it is the perfect place for beginners and the waters range between 5 and 15 m deep. Many interesting creatures can be found here, including sea anemones, lobsters, pipefish, nudibranch and rays.
Another excellent spot to try is the bay at Archierondel, located on Jersey's north-eastern corner just to the north of Gorey. The bay here is very secluded and few people know about it, as it's difficult to see from the shore. The shallow seabed ranges between 5 and 8 m deep and is covered in seagrass beds, kelp and some interesting rock formations. Wildlife such as catsharks, rays and nudibranch can all be found.
Stricken Ships
The jagged rocks peppering Jersey's coastline have been the downfall of many vessels over the years, especially during the two World Wars. As a result, wrecks can be found right around the island and they come in all shapes and sizes, providing endless opportunities for exploration. The majority of Jersey's wrecks are found below 20 m, meaning they are more suited to experienced divers than beginners.
Despite this, new divers who are becoming more confidant should consider a visit to La Mauve – a 65 foot long wreck that was originally a States of Jersey barge. La Mauve was sunk deliberately to create an artificial reef in 1993, which lies about half a mile from Bouley Bay on some rocky seabed. The ship is about 22 – 34 m down and attracts a range of marine life such as crabs, lobsters and large shoals of pollack and pouting.
Another interesting site to explore off the north coast is the Dakota Plane Wreck – an American air force C-47 transport plane which was shot down in 1944, en route from Paris to Cherbourg. The plane went down relatively intact but has since broken up, although it still makes for some great exploring and there is a strong chance of seeing conger eels and rays in the vicinity. It can be found between 15 and 18 m below the surface.
Temperate Reefs
While artificial reefs are excellent places to find marine life, natural reefs are always beautiful places to dive too. Reefs around Jersey can be found both close to shore and several miles out, but one which is certainly up there among the most popular is the reef surrounding Les Ecrehous.
Les Ecrehous are a group of islets located about 6 miles north-east of Jersey, accessible by boat trip. There are several different dive sites in the region and all of them offer great opportunities to see wildlife such as catsharks, lobsters and sea cucumbers. Seals and dolphins are also common sights. The reef here extends from about 5 to 18 m below the surface and features encrusted rock faces and kelp beds.
Closer to shore, the Shamrock Bank near Bonne Nuit on the north coast is teeming with fish and invertebrates. Located about 20 m below the surface, the reef here forms small gullies and pinnacles which are ideal for exploring.
Learn more about the island of Jersey in the following article: Everything you need to know about Jersey