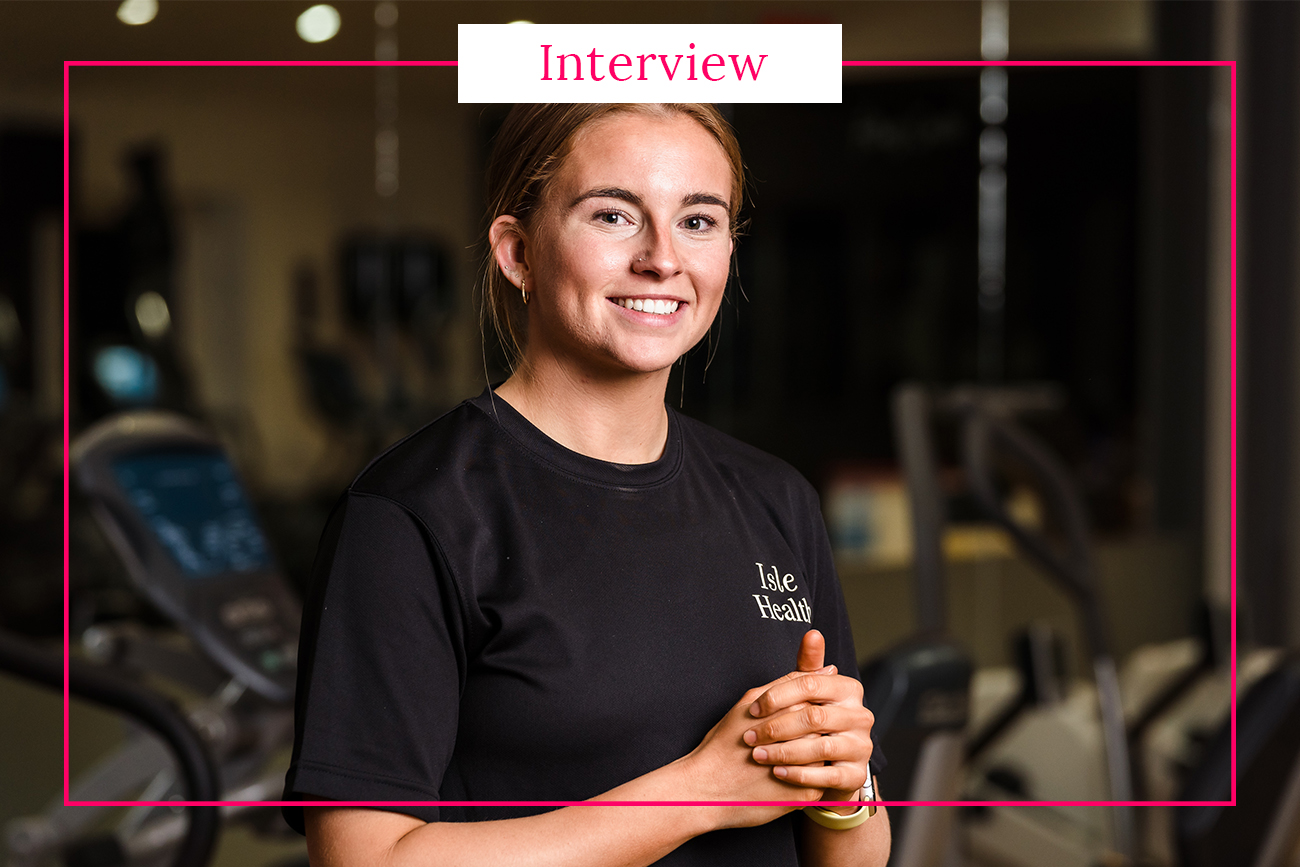 Megan Seward is a personal coach and founder of Isle Health, a company that offers a variety of bespoke exercise programs for clients that have medical barriers to exercise. Megan is originally from the South Coast of England, but found herself in Guernsey after completing her undergraduate degree and qualifying as a Physical Education Teacher!
We asked Megan a few questions about her journey towards becoming a personal health coach and about the services Isle Health offers.
Megan, please can you share your story with us? What led you to become a personal coach? 
I have always had a passion for sports, physical activity and exercise. I have always been involved in sports almost every day of the week since I can remember. Then when I was at University, although 'healthy', my heart was not quite working as it should be, causing me to collapse regularly.
I was trying to play sport to a good level through the university, complete my studies and be a normal and successful student but would regularly end up in hospital, due to a heart episode of some kind, including long pauses.
During this time I was studying an undergraduate BSc(Hons) in Sports and Exercise Science – focusing on physical activity for health where I completed my Exercise Referral Qualifications due to a personal interest in the effects physical activity(PA), movement and sport has on your body specifically when your body is working differently or not 'normally'.
This is where I discovered my absolute passion about helping individuals who have medical barriers to participating in PA to improve their health and get more out of life!
Please can you tell us about Isle Health? Who founded it, who runs it, what are its values and goals? 
Isle Health is a startup business that began out of the second lockdown in Guernsey due to the Covid Pandemic. Isle Health became a limited company in March of this year (2022). I (Megan Seward) founded Isle Health, I was sat on qualifications to help people with medical barriers participate in physical activity yet I wasn't using them and people were and continue to be in need of support… so why wouldn't I help them if I can?
So low and behold Isle Health was born! The name comes from 'I'll… Isle" "help… health" if you say is enough times back to back you'll get my reasoning behind the name, and in relation to being on an Island and working around health, it just worked!
I run Isle Health with endless support from Jon Edsall, who is qualified in small business management and has a passion for helping small, founder-led startups develop and grow.
As we grow his support has been immeasurable. At Isle Health we are a team made up of qualified exercise professionals who deliver our services (Jordon, Laura, Samantha, Hannah & Olivia) all of whom are fantastic. Jordon has been on the team since just before becoming incorporated and he's also been an extremely valuable member of the team.
You organise regular healthy walks in Guernsey. Who can join and how many people do you usually get?
We have Walking Wednesday which we're revamping to #walkwith to encourage anyone anywhere in the world to tag us in their walks on any day not just Wednesday. Walking is an under-appreciated method of improving health status, and attending a walk alone or with others has health benefits.
Our group walks contribute to improving physical health by physically moving, emotional health because you are engaging with others and talking or listening and being in nature. And finally your social health because you are engaging with other people.
Anyone is welcome to join providing they are able to walk on uneven surfaces unaided for 1 hour. Numbers vary but providing there are 2 people the walk will go ahead, our numbers vary between 10 and 30 people and it's completely hit or miss with no rhyme or reason why numbers are higher or lower. We're just a constant and want people to know we'll be there to support them build their health while we can.
What other sporting activities does Isle Health offer? 
Isle Health does not offer any activities related to sport as such, we are more gym based exercise, physical activity or outside exercise. We offer a 1:1 Exercise Referral Service which is our most popular service. This is where you can exercise with one of our coaches on a 1:1 basis for a 12 week period to improve your quality of life through the use of physical activity and movement with the guidance of a qualified consultant to achieve your results and gain confidence!
Our 8 week weight management program is also really popular – weight gain and maintenance is not spoken about enough it's always about weight loss but actually the other two areas are also really important so our 'Weight Management' program aims to support any weight gain and maintenance also! Finally, we are all qualified Personal Trainers so we can and do offer personal training despite not advertising for it… (cue emails!)
Your aim is to improve people's quality of life. In your opinion, how many hours per week should one exercise in order to feel fit? 
Exactly that, research suggests that an adult in order to achieve and be in good health should complete 150 minutes of moderate to vigorous activity per week. As well as, more recently, two strength based sessions. During exercise you should be able to sustain a conversation but not be able to sign, this is the easiest way to work out if you're working hard enough!
Can you please share with us what your typical working day looks like?
Ok, I'm not sure you are ready, I'll give it to you in a timeline:
6am wake up & breakfast
7am deliver a class
8am shower and head to my full time job..
08:30-17:00 work (full time job, not Isle Health)
17:30-19:30 often I see clients or deliver a class 3 days a week
19:30-21:00 I play rugby on a Tuesday & Thursday
21:30 Eat, shower and repeat!
At the moment, I'm working a lot but with support (thankfully) but as a startup business this is something you need to do to get it off the ground! Because I am based in Guernsey and you have to have a license to live here, I'm unable to work for Isle Health without holding another job that comes with a license to live and work here so I do have full time job too which is in a similar field, which I enjoy.
What do you enjoy the most about being a personal coach?
I love it when an Isle Health client gets a win, no matter what the win is. I love that feeling, it means as a team we're really helping people, so we're winning. A client win equals a coaches win …as a team we really do celebrate any kind of win! Because progress looks different on every single person, I think that's what I love too, that everyone is so different but we can achieve much more than we think with the right guidance and support!
What are your favourite sporting activities? 
My Favourite sports… I love Rugby, Basketball and Handball. Physical Activities: I really enjoy the gym and pilates more recently!
Let's say I would like to join Isle Health but have a medical barrier to exercise. How do I join? 
You simply contact us through our social media channels or contact number (+447951 723922). We can then talk you through all of your options. Your GP (if in Guernsey) can refer you to us also (at this time we are a private service, but are in talks with a number of insurers as we are a quality assured service that is covered under private health insurance in other crown dependant states).
What is the local food you can't live without?
I can't live without a feta salad, but i'm not sure that's classed as local haha… but it'd have to be fish and chips on a west coast beach with a view of the sunset!
If your friend was visiting Guernsey for the first time, what food / drink / coffee spots would you recommend? 
I'd recommend:
Food
La Valette Bathing Pools: for a hot drink and sea dip
Beetons: for fish & chips
Red, Christies and Nineteen: anything on the menu, continually good food
Drink
Little Big Brew Co: for the island's locally brewed low alcohol beer (called Alfie)
Hook  /Balthazar: Mocktails (or cocktails if that's your thing!)
Coffee
Tough.. me and the team love our coffee.. Woodies, Tailors & More recently Mocca!
If you would like to join the healthy walks programme with Isle Health or exercise 1:1 with a personal coach, then you can do so via Facebook, Instagram or the Isle Health website.