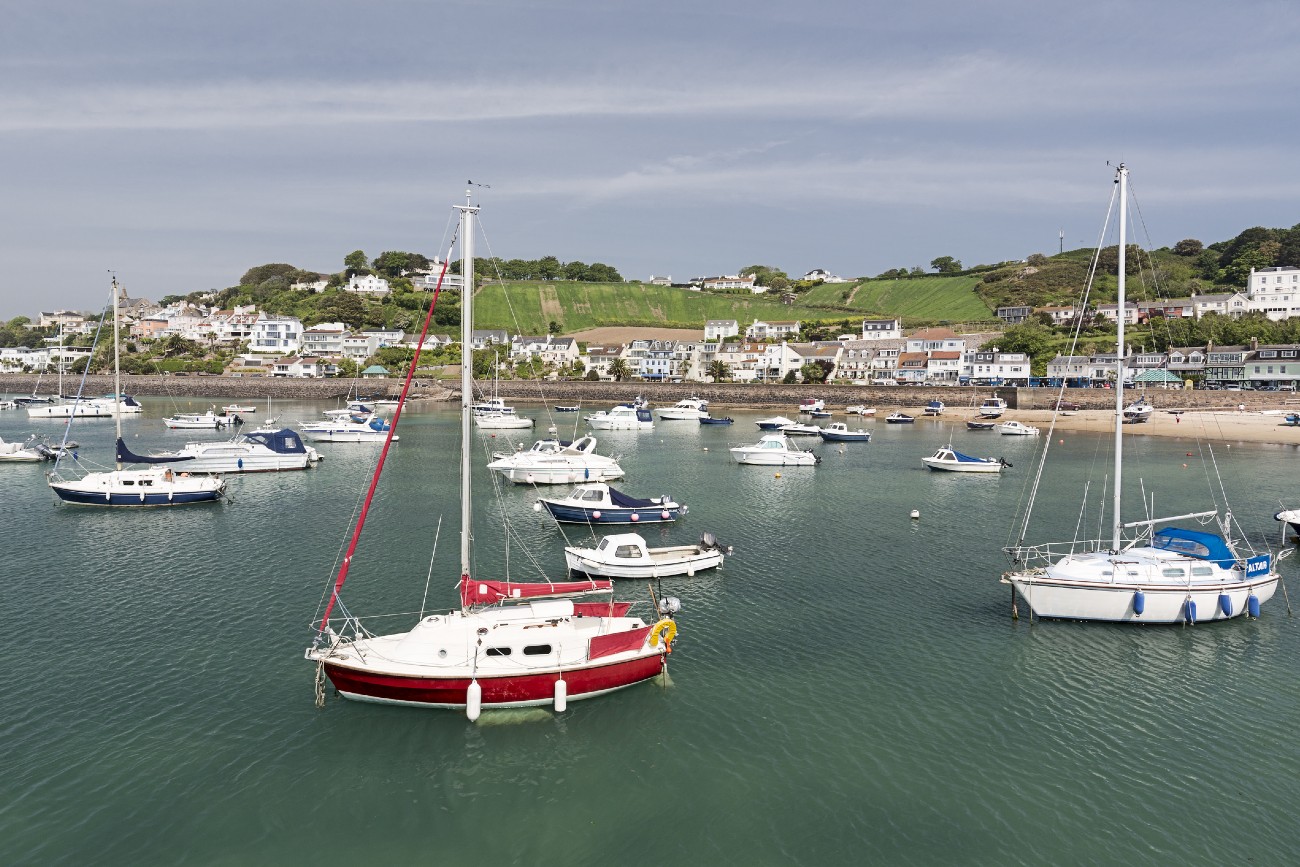 Jersey is the largest of the Channel Islands and the most southern. The Bailiwick of Jersey is approximately 10 miles long and 5 miles wide, being a total of 45.5 square miles (118 square meters) in area. It's around 100 miles from the south coast of England and just 12 miles from France.
Financial Services
Jersey is best known as a major financial hub and player in global economies. A tax haven that grew and grew from the 1950s when Jersey lawyers spotted and took advantage of a loophole regarding the movements of money. Following the depression of the 1930s, most governments had brought in tighter controls regarding finances to avoid the same thing happening again, and taxes were high.
Born mainly from the 80% inheritance tax of £1M plus inheritance in Britain, Jersey seized the chance to take advantage of the complete lack of any inheritance tax on the island. Wealthy Brits could invest their money in Jersey, and the British tax office could not touch their money.
Wealthy individuals were soon flocking to Jersey to invest their money and where they led banking institutions soon followed. Literally, millionaires and bankers moved to Jersey. By the end of the 1960s Jersey banks had deposits of close to £300m and in 1970 deposits increased by 45%.
Buoyed by the political stability and the fact that foreign businesses registering in Jersey paid no tax, the money going into Jersey just kept on coming. Such was the financial success; the powers that be on Jersey put all their eggs into the financial services basket.
The island that had previously enjoyed a three-legged economy based on Tourism, Agriculture and of course finance became reliant almost entirely on financial services. It's easy with hindsight to say that the government shouldn't have done so, but the whole time the money was rolling in it would have been a heady, sexy experience as the island prospered.
New schools, hospitals, roads, harbour and marina, were all built. Income tax was only 20%, and there was no inheritance tax, no capital gains tax, no VAT, no tax at all on corporate profits if your business was outside of Jersey. Unemployment was low, barely reaching 2%.
Then in the mid- 20-teens, the bubble burst and Jersey was close to bankruptcy, it was as though they were suddenly facing a problem, they couldn't afford to pay teachers, road sweepers or to repair the roads.
It's against this backdrop that Jersey now finds itself needing to compete for the tourist trade and to increase visitors to the previous high numbers that the island enjoyed. What that means for potential visitors is that now is a great time to discover Jersey as the island rediscovers itself.
There are plenty of reasons to visit Jersey: There's the Zoo started by Gerald Durrell, The war tunnels, a vineyard and Cider Farm, Botanic Gardens, castles to explore, adventure parks and museums. Tours of the occupation buildings, historical tours and more.
Visiting Jersey
Jersey offers plenty of opportunities for fun lovers with things like water safaris and coasteering, kayaking and jet skiing and other water sports.
Jersey has many fine pubs, some that have long opening hours, and most offer food of excellent quality. One not to be missed is the Smugglers Inn, previously two fishermen's cottages knocked into one and now a pretty pub. I like to come here at the weekends for late lunch.
St Helier is the main town and is known to the islanders simply as "town". King Street is the place to go for gift shops, jewellery shops. As you walk around the shopping area, you will recognise many familiar British shops. As is to be expected for a tax haven, the standards are high, and there are plenty of opportunities to spend, spend, spend!
Enjoy a walk around Royal Square and do make a visit to the indoor markets and the shops around them, the architecture is stunning. The markets offering fruit and vegetables and fish are a great place to grab some lunch or something to take home. There are fresh flowers and tourist junk shops in the area too.
Something that must be tried whilst on Jersey is the cake known as Jersey Wonders they are a speciality to Jersey and are like a cross between a cake, a pastry and a doughnut.
Then there's the stunning countryside and seascapes to enjoy.
A 1981 act confers British Citizenship on all those who have close connections with the UK. This means that the islands have adopted the common format passport and the UK Lieutenant Governor remains the passport-issuing authority in the islands. Also, the UK, Jersey, Guernsey, the Isle of Man and the Republic of Ireland comprise of a Common Travel Area. There is no immigration control between the UK and the islands or between the islands themselves.
However, UK legislation rarely extends to the Crown Dependencies and would not be extended without consultation with the authorities of the islands and obtaining their consent.
Geography
Most of the island is a plateau with cliffs reaching as high as 485 feet (148 metres). The climate is not as maritime as Guernsey; Jersey gets more sunshine, and the mean temperature works out at around 11oC.  Frost, while rare, is not unheard of.
Jersey has lots of natural bays and sloping cliffs; these natural bays create surprises as you walk along the coastline and a view around every corner. In places, the cliffs seem to almost ripple, and the purple flowering heather adds dimension to the views. The north coast offers the most spectacular cliff views.
Notable places to visit include St Ouen's Bay for its long stretch of sandy beach. There are also, many fortifications there as it makes an ideal spot for invaders to come ashore.
History
Prehistoric remains form the Palaeolithic period have been found at La Cotte de St Brelade, and there is also evidence of Neolithic and Bronze Age human habitation. The Romans called the island Caesara, after Caesar and the name Jersey is said to be a corruption of the Roman name.
During the 17th and 18th Centuries, the island was a hotbed of pirates bringing in French Brandy.
During World War II, Jersey was under the occupation of 11,000 Nazi troops for five years. Because they were never attacked the German fortifications and bunkers are in remarkably good shape. It is possible to visit many of them as well as the older ones from the Napoleonic wars they took over.
They built tunnels including an underground railway to bring materials for defences from one side of the island to the other. Many of the German fortifications were built by Russian POW's who were sent to Jersey for hard labour. Take a walk along the long promenade at St Ouen's bay, and you'd not guess it was part of the German defences.
Jersey has miles of roads that criss-cross the island, many being narrow and bordered by walls, so care is taken when driving. Talking of driving a visit to Jersey bucks the trend of the other islands and it is recommended to bring or hire a car to get about the island and really see all the best that Jersey has to offer. There are also extensive footpaths and green lanes and many beautiful walks.
Locals also recommend a visit to the very pretty, charming fishing port Roselle and grab a bite to eat from The Hungry Man Kiosk there.
There are cafes and restaurants to suit every taste and budget, and other eateries will offer the island's specialities of Lobster and the brown Shanka Crab. Several of the restaurants are owned by celebrity chefs and have Michelin stars.
Bully Bay is a good place to go rod fishing from the shore, and in several locations around the island, there are small boat owners who will take you out fishing too.
There are plenty of slipways for launching boats into the sea. Maybe, a sign of Jersey's millionaire's playground status.
Living in Jersey
It is not easy to set up residency in Jersey, and there are several categories that you may fall into. If you are reading this then most likely two are as a Registered. Employers need special permission to employ a registered person.
Another option is as a self-employed person or someone who is moving a business to or setting up a business in Jersey. You will need a license from the business licensing team before you can trade. However, except for cases where the business would have significant economic or social value to Jersey, you will need to be resident there for five years before trading.
If you plan to move to Jersey, the best option is to rent housing to start with to decide exactly where you want to live on the island. For most people buying a home in Jersey is only allowed after you have lived there for five years or more or have a spouse from Jersey. Of course, if you are a millionaire, you will be able to buy a home there.
Jersey has ultra-fast fibre broadband and good Wi-Fi.
Sailing
Jersey is a great place to learn the ropes of sailing, and the Jersey sailing school offers several options, including Royal Yacht Association courses. Jersey is also a location where yachts pick up crew before travelling further afield. There are also yachts to charter with crew.
Sailing into Jersey
In common with the other Channel Islands Jersey has a rich maritime heritage and is a great place to sail to. Jersey Marinas offer top-quality facilities, and there are two main marinas at St Hellier. Access is available three hours either side of high tide. Elizabeth Marina is the quieter of the two and where visitors are most likely to find a spot if not already booked in advance.
Many boat owners permanently berth at Jersey and many bays are suitable to anchor in safely overnight.
Learn more about other interesting places Jersey has to offer: Orchid Fields – La Mielle De Morville