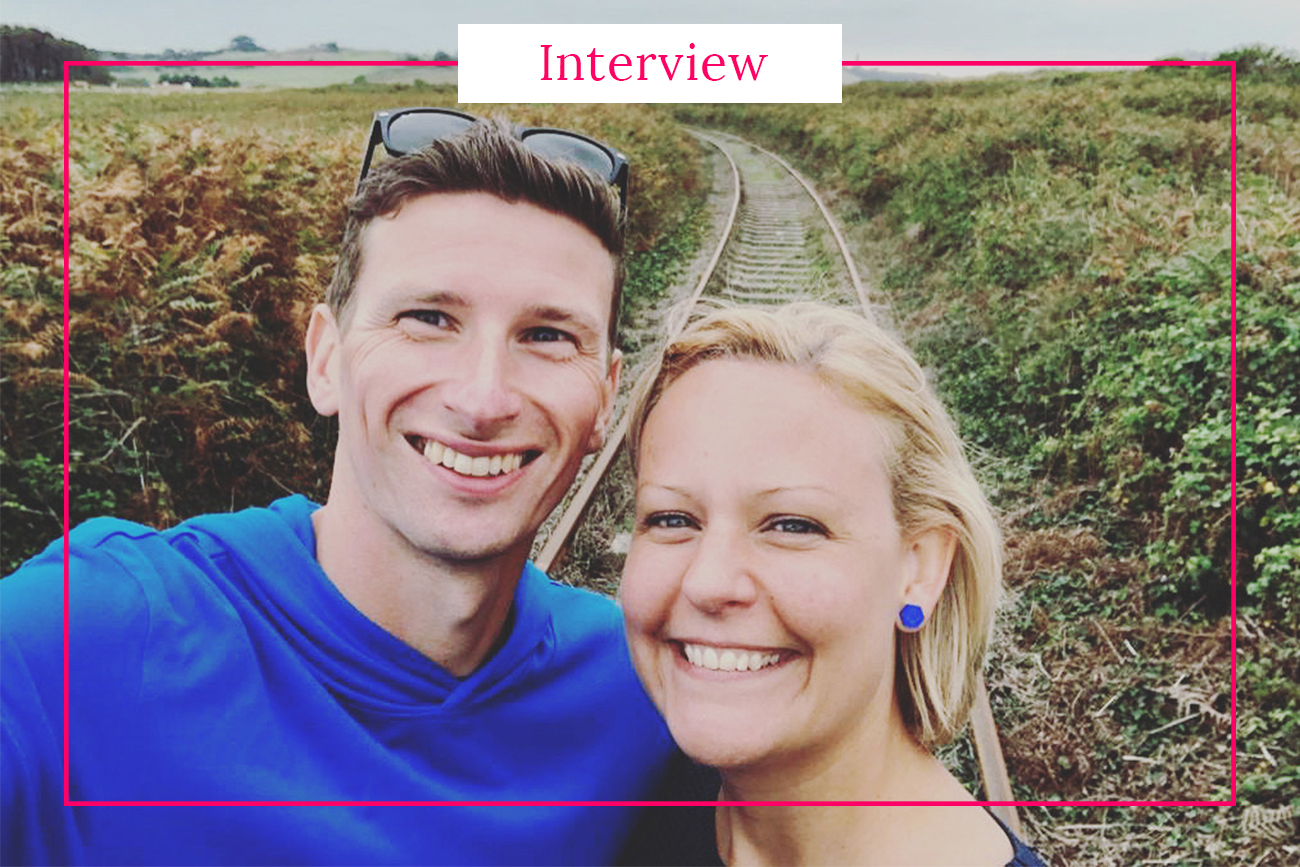 In this interview we asked Catherine Woodhouse a few questions about her fragrance business Island Aura and why she fell in love with Alderney.
Catherine is a full-time graphic designer living in Surrey (UK) with her husband Giles. They spend as much time as they can in their apartment in Alderney!
Over the last 18 months, as well as setting up their business, they've been renovating their little apartment in St. Anne. If you ever fancy a trip to Alderney it's now available for rent! 
Catherine, please can you tell us about your business?
Island Aura is a small business making home fragrances inspired by the Channel Islands.
We want you to experience its wonders with us, be that a dramatic cliff top walk, a sunny, sandy beach or a wildflower-lined footpath.
All our wax melts are hand poured in small batches using 100% natural coconut and rapeseed wax, a sprinkling of dried botanicals, and the finest quality fragrances that will fill your home with fresh, uplifting aromas.
What led you to become a business owner?
Our business was born during the height of the pandemic. Being furloughed during lockdown inevitably gave me unexpected free time. I wanted to learn a new skill, and I was also massively missing travel to our favourite place – Alderney. Creating the products and fragrances for Island Aura gave me that skill, and enabled me to celebrate Alderney, and bring the island aromas into my own home and yours!
Your products are inspired by Alderney. Please can you share with us what the process behind creating them was and how you came up with their names?
That's easy to answer! Alderney is packed full of memories for us, created over many years. Giles spent his childhood holidays in Alderney and I fell in love with the island as soon as I arrived! We even got married there and had our reception on Braye Beach a few years ago.
In developing the range of fragrances, we chose places that had special, evocative memories attached to them, and most of our products carry either the names of these places – from beautiful beaches like Longis, to experiences like walking the coastal path or rock pooling at Clonque.
What's the first scent you think of when you hear the word Alderney?
A rejuvenating, salty sea breeze.
Your home studio is in Surrey. How would you compare life on the British mainland with the life on a small island like Alderney?
It is like having two completely different lives. One that is relatively hectic with the daily grind of long work days and commuting, and the other with a totally opposite pace of life – with the option of lunch breaks on the beach and a stroll up around the cliffs to watch the gannets in the eve­ning. Life on Alderney is relaxed, sociable and unfailingly friendly. We know which one we prefer!
What places and activities would you recommend to your friends visiting Alderney for the first time?
In between sampling plenty of the delicious local food, I'd have to recommend a boat trip around the island. The Alderney Wildlife Trust run regular trips round the island to see the resident puffins and gannets, which is one of those things you'll never forget. As well as that, I'd suggest a walk down the iconic breakwater at Braye, snorkelling or kayaking at Longis, and hiring bikes to get about and see as much as you can!
What was your first impression of Alderney?
My first impression of Alderney was "Gosh that's a very small plane!". On my first glimpse of the island as we approached, I was struck by two things – it's tiny size and its beauty. From the air you can see its rugged cliffs and golden beaches in the sweep of an eye. Only an hour or so later I was sitting on one of those beaches –  Corblets – thrilled at what a unique place I had been introduced to!
Where would you go for lunch and a coffee in Alderney?
On a sunny day, there's nothing better than a cappuccino on the terrace at Jacks at the bottom of Victoria Street. It's the perfect spot to watch the world go by while soaking up some rays and getting your caffeine fix from one of Julian's delicious coffees. There are so many fabulous places to choose for lunch – but my pick in summer would be a chilled lunch in the garden at The Georgian House, it never fails to deliver!
How would you spend your perfect weekend in the Channel Islands?
For me, a perfect weekend in the Channel Islands involves exploring Alderney's coastline and finding a sheltered spot for a good picnic. A dip in the cool water at Saye is a must before reading a good book in the sun. As the evening draws in, make your way over to Clonque for sunset and pastel-coloured skies. To complete the weekend, tag on a trip to St Peter Port in Guernsey for a spot of shopping, or continue island hopping and visit Herm or Sark by boat.
What are your business goals for this year?
Next on the list for this year will be expanding our ranges to the other Channel Islands, starting with Herm and then Guernsey. Exciting times.
Please follow Catherine and Island Aura and discover the inspiration behind their fragrances on Instagram and Facebook.