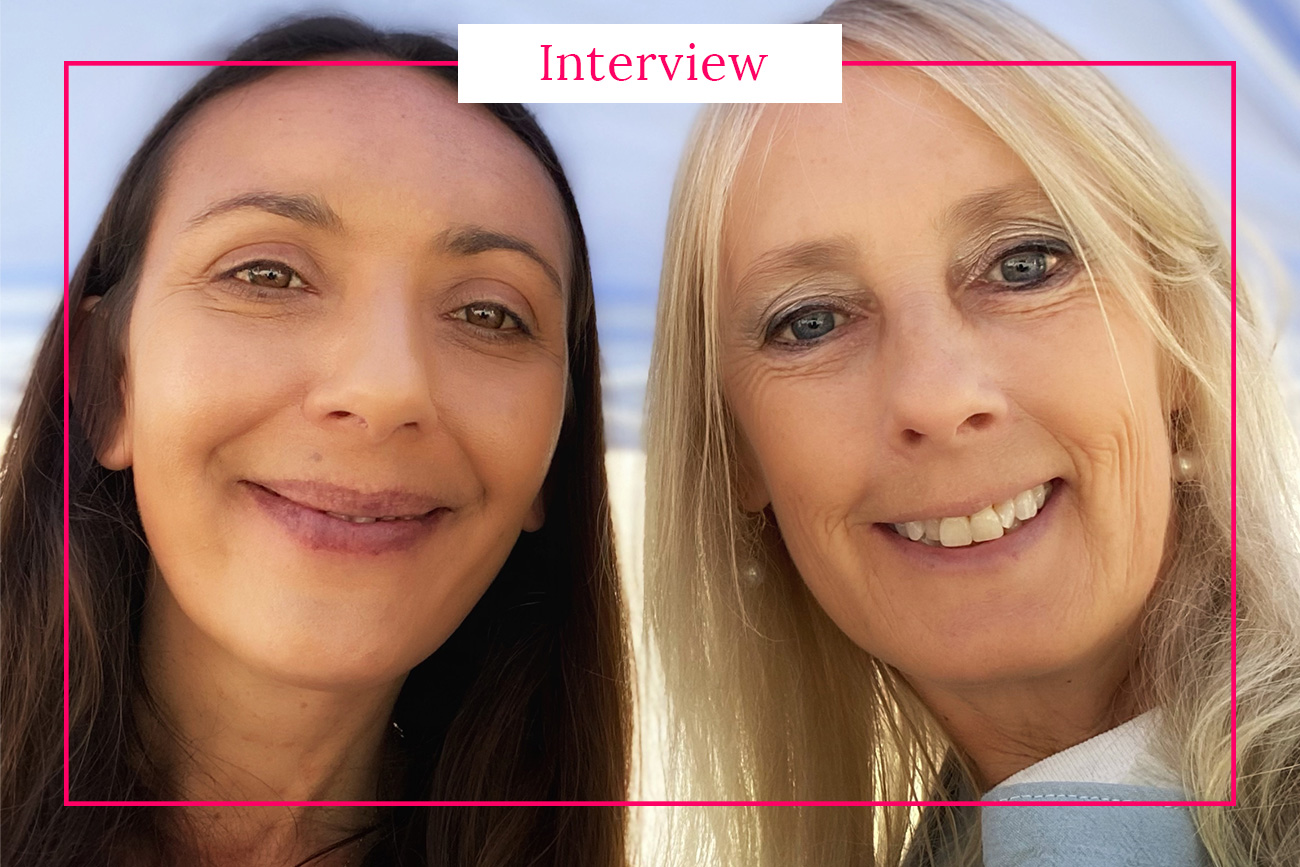 Sara and Chantelle are a couple of "authentic donkeys" (as they describe themselves), both Guernsey born and bred. They met as they homeschooled their children and they share their love for the outdoor life that Guernsey provides.
Together, they set up an online store called Lulu Sera that sells all kinds of lovely teas. We asked them a few questions about their business, their teas and what their idea of a perfect cup of tea is.
Hello, please can you tell us the story behind Lulu Sera and what made you get started?
I've always had an interest in holistic health, and have treated the family with herbs, tonics and good nutrition for as long as I can remember. I was lucky enough to have parents myself who understood the benefits of decent food and fresh air, and using what nature has provided to be the basis of good health.
Ten years ago, I decided to invest my time in learning about herbalism and to extend my present knowledge and entertaining the idea of becoming a clinical herbalist. Around this time Sara and I met due to the children both being home educated, we would often talk about the things going on in our lives over a good cup of tea. Sometimes the classic builders brew, but more often we would natter over a herbal tea.
During one of these occasions we managed to split one of the bags making a huge mess, but what actually came from this was an idea! We had realised that the tea bags that provide the herbal equivalent were generally powdered not much leaf/herb or fruit was seen, so we started to mix our own, we experimented with botanicals from the garden seasonal fruit and other things we could find, we soon realised that other people were also starting to really enjoy our REAL herbal blends that was the start of the business.
Where did your love for natural oils, herbs and environment in general come from?
Sara has a love for flowers, her house is always full of dried beautiful blooms and she has a magic way of just making everything look fabulous. Her mother was also an avid flower lover so it was no wonder it would rub off! I, on the other hand, have always been interested in the magic of plants, you see there is a plant for everything!
When you spend time in nature you can see how the natural world works symbiotically with each other and we have forgotten over time that we too can live in the same way benefiting from all the health benefits that plants can give us. Plus any good gardener will tell you the importance of companion planting!
We are also both very much into cooking so working with spices and flowers was always in our skill set, so adding a few more to the mix seemed natural. Also how can you not be inspired by nature and all it has to offer on our beautiful rock. Ultimately, we wanted to provide delicious herbal brews that taste nice but also have health benefits for the mind, body and soul.
Can you share with us where you source the ingredients for your teas? 
We source from a variety of places and it all depends on the season and what has been successful. Sara grows a lot of the flowers in her wild garden which has been amazing to watch over the seasons. Spring and summer is lovely as it gets covered in cornflowers, marigolds, pansies to name a few.
We also have a ferocious patch of nettles that are a nightmare to any gardener but a medicine cabinet for us. Cleavers and plantain also grow in abundance and a lot of the fruits we use we have to import from a company in Europe. They provide us with organic dried fruits which we use to blend with our home grown herbs. Obviously we would love to grow everything locally but many can't due to our climate and space. This company also provide us with our whole leaf teas such as our green Sencha and our delicious delicate white teas, and of course our good old fashioned black tea for the builders classic.
Let's say I am a regular "English breakfast tea with a dash of milk drinker" but would like a change. What kind of tea would you recommend to me?
Perhaps start by changing from the classic tea we find in the store to a whole leaf black tea. It's not as strong but full of flavour and can be enjoyed as your morning cuppa, then perhaps look at a latte alternative with spices, or my favourite which is nettle that my daughter loves. It remind us of black tea with no milk.
The first question we would ask would be what are you trying to get from your brew? Do you need something to perk you up? Or something to help you relax, or perhaps you want to use your brew to support your immune system to keep coughs and colds at bay? We really do have a tea for everything!
How would you describe "the perfect cup of tea"?
Well, that depends on my mood and what time of day it is. Ultimately, I enjoy a black tea at breakfast, then I will follow it up with a herbal blend. This time of year I suffer with the cold so to help boost circulation I infuse ginger with spices, and normally pop some calendula and nettle too just to kick the lymphatic system. The ultimate perfect cuppa ultimately is down to the individual, and comes down to with milk or without, and infusion time.
In your opinion, what are the main health benefits of drinking tea?
Where to begin! Firstly, it encourages water intake! But mainly our teas can be antiviral, anti microbial, hormone balancing, sleeping inducing, energy releasing…you name it. But on top of the myriad of health benefits drinking tea allows you to stop. We've become such a busy society that we have forgotten how important it is to stop and eat and drink properly. The process of infusing your own brew forces you to stop and wait and breathe, and doing this with friends and family is lovely to share.
What does a typical day in your tea business look like?
A little frantic! We start with stock take and do a check on the businesses and their orders. All our tea is made fresh and done by hand so we collect the ingredients and start blending. We print all our own labels so it's a printing marathon then. It's bagging and sealing, during the spring and summer we are planting and harvesting and drying and putting things into storage, plus the markets, so it's busy busy. We also change the recipes from season to season so there is a lot of experimentation and tea drinking!
What is a local dish you can't live without?
Oooo, not necessarily local but made with local tomatoes! My favourite dish is Guernsey peppers and tomatoes roasted and turned into a soup with fresh basil. But ultimately, it's not a bonfire night without a decent Bean Jar and it has to be my mum's!
Please, can you share with us your favourite places for dinner and coffee in Guernsey?
My favourite restaurant is Piazza. I love the fact that it hasn't changed in all these years, the courtyard evokes feelings of being in the south of France and the service is always genuine. La Creperie is a nice place to enjoy a tea or coffee, which we supply! Sara's favourite haunt is La Reunion down at the Rockie, you can't beat those west coast sunsets, and we both love the kiosks! Nothing better than a cuppa and cake in your flip flops with toes full of sand.
Imagine your friends are visiting the Channel Islands for the first time, what activities would you recommend to them?
Easy, south coast cliffs for our breathtaking views. Kayaking and paddle boarding, down the west coast or Bordeaux. I love a good bit of Guernsey's folklore so would encourage everyone to go on one of the fantastic walks with a guide and explore our history. Then day trips to the islands, but the thing we enjoy the most when friends come over is a simple blanket and a bag of chips on the beach bliss!
Sara and Chantelle from Lulu Sera sell their teas internationally and are currently in the process of entering the US market. If you would like to order directly from them, then check out their website Lulu Sera or their Instagram profile.