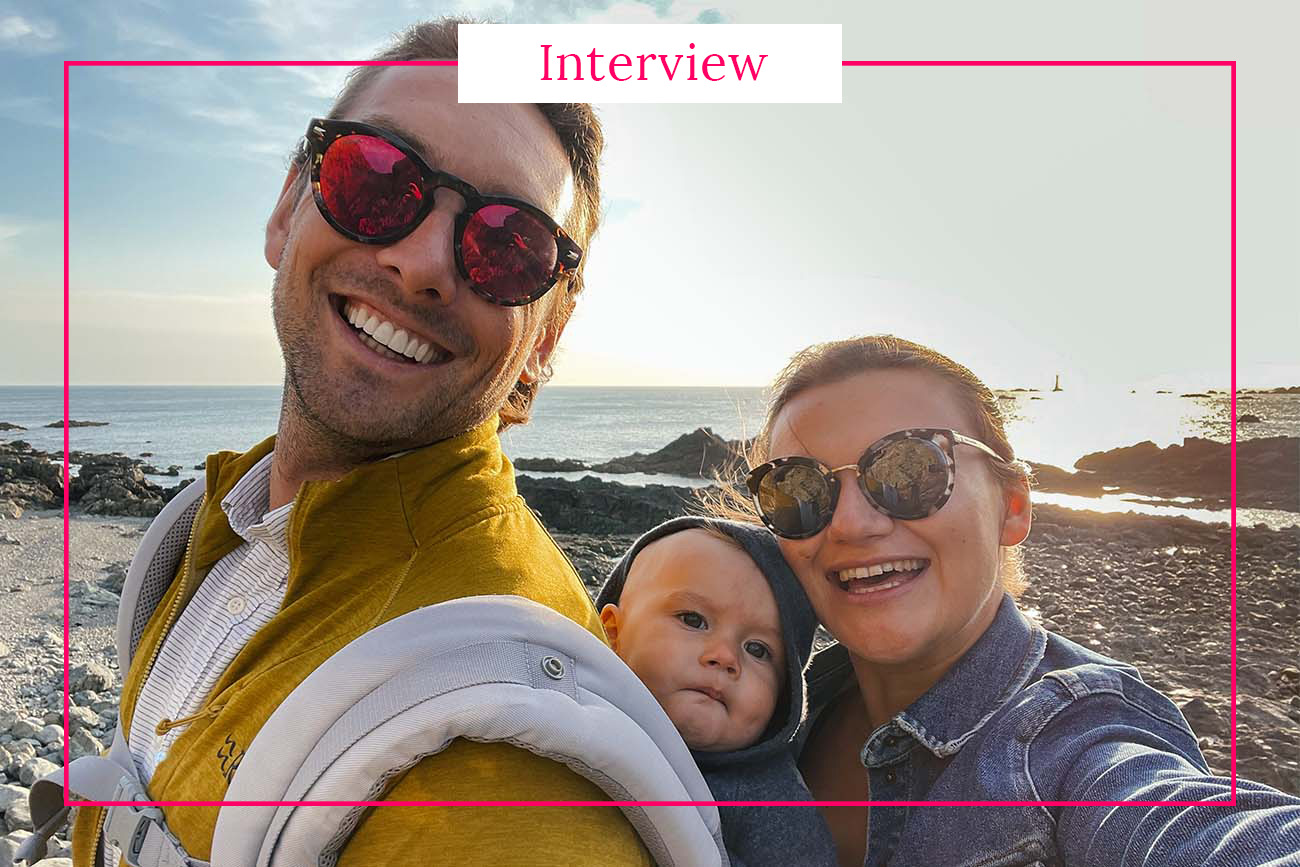 Interview with Agnes Liberte – Photographer from the Czech Republic who found her home in Guernsey
A
gnes (or Anežka in Czech) comes from Prague, Czech Republic. She has been travelling for most of her life, has lived outside of her home country and she loves being a nomad.
She's been a creative person her whole life, always experimenting in different fields. Agnes has worked in fashion, media, theatre and photography, currently working as a theatre translator and a lifestyle photographer (and a full-time mother). When she got pregnant in 2020 and started to plan a future with her partner, she knew she didn't want to stay in Prague.
Her partner Dan was always raving about his favourite place, Guernsey, where he spent part of his childhood. When she saw photos of Guernsey, it was immediately decided (Agnes actually made a leap of faith and moved here before even visiting the place! That's how convincing the photos were). They've been in Guernsey over a year now and she feels very grateful for that decision.
Agnes already feels settled and, as her daughter grows up, she's getting back to work and finds it very exciting because there are so many beautiful places, interesting businesses and people on the island that she'd love to capture. So, if you need a photographer, Agnes is happy to meet for a coffee!
During our conversation Agnes discussed her love for living in Guernsey, emphasizing the stark differences it holds compared to a life in Central Europe. She also shared her inspiring journey into photography.
Agnes, please can you share with us how you got into photography? Was it always something you wanted to do, and what led you to choose it as a career?
I come from an artistic family so I've been always drawn to art and as I mentioned before, I've always been a creative person. As cheesy as it may sound, creativity is my oxygen. Photography started as a hobby when I moved to Paris about 12 years ago. Back then my work shift ended at 4 o'clock in the afternoon, so I had plenty of free time and I was very inspired by the place I lived in.
As you know, Paris is a very picturesque city, so it kind of impels you to capture the beauty of it. I took a one day crash photography class which helped me understand lights, angles and how a DSLR camera works – all the basics done well – and since then I've spent years honing my skills.
As a career it happened very randomly. A few years later I started to work in a PR company and once showed my photos to my superior, who then challenged me to do it more frequently as a part of my job. I received such encouraging feedback from my first clients and the transition to becoming a professional photographer happened very naturally.
I started as a fashion, portrait, event and a product photographer, then I moved to design, interior design and food, where I really found my niche. I also had a great experience as the lead photographer of one of Prague's online lifestyle magazines, where I had up to 3 photoshoots a day, each with next day delivery, which taught me how to work extreme under pressure but without compromising standards. However, I really do prefer to have less time pressure and more fun with my post-production!
In your opinion, what skills and qualities are necessary for success in this field?
When I look at the photos of the greatest photographers who inspire me, their photos have an atmosphere which is so striking you cannot take your eyes of them. So I guess the main skill would be to capture the moment in the best possible atmosphere, making the photos irresistible and moving.
I think that overproduction is a killer, so a really good photographer finds the sweet spot between a raw and an overly edited photo – the line between the two is very thin. You can edit as much as you want but the end result must always look as authentic as possible, that's how I spot a good photographer.
How would you describe your photography style and what inspires you?
In my opinion, all good photos have to make you feel something. They can capture happy moments, raw moments, sad moments, or just a nice setting. But it's all about the vibes. My brand is called "Good Vibes Photography" as I'm trying to promote a bright and positive lifestyle.
The photos showcase naturally radiant people you want to meet, cosy places you want to visit and food you cannot wait to try; these are the kinds of objects I like to capture (or retouch to get there if needed). I'm a positive person and I'm seeking what makes people feel good and that's the message I'm trying to capture through my lenses and selling as my tone of voice.
Please can you tell us a bit more about your approach to working with clients and making them feel comfortable in front of the camera?
Taking good photos of people is the hardest job and I personally find it easier and more satisfying taking photos of food! People often don't feel comfortable and confident when being photographed, maybe because they think the photographer cannot capture them the way they like themselves, or how they want to be presented.
Empathy and understanding is a great connection between a photographer and their object, which helps to achieve some beautiful results; making small talk, asking questions and being personal. I like to behave silly to break the ice! My tip for a nice authentic portrait is to let your client speak about things they like or make them laugh while taking photos because their allure changes immediately.
What would be the most important advice you could give to someone starting out in photography?
Understand the technical basics. Be observant to details. Before you find your tone of voice, inspire yourself from others, but also never compare yourself to them. Be brave and challenge yourself. Take hundreds of photos to get the right one. Make Lightroom/Photoshop your good friend, but be careful of over retouching. And most importantly, know the story you want to tell and tell in such a way that everyone can tell from your photos that YOU are their narrator.
You come from Prague, Czech Republic, please can you share with us the similarities and differences you've noticed between life in Prague and living on Guernsey Island?
It's very different. Prague is the capital city of the Czech Republic and as any other capital, it has a fast pace of life and busy city vibes. Yet there's a historic pattern we share with the Channel Islands – Czech Republic was also a conquest of different countries which had a huge impact on its people and definitively shaped their culture. Otherwise, Prague and Guernsey has not much in common, as Guernsey because of its environment has a slow and calm community lifestyle, which is for me a healthier approach to life.
What challenges have you faced while adapting to the new culture and environment?
I've been always deeply fascinated by different cultures and languages, so I always tried to learn as much as possible from the language of the country I visited or lived in. I think that once you understand the language you can understand the culture and its people. My two most spoken languages (besides my mother tongue) are French and English. Guernsey's culture and mentality is a very interesting mix based on its history of both French and British influences, yet my personal struggle is to see all the French names of people and streets and hear it pronounced in an English way, which is still very confusing for me!
When you need to unwind in Guernsey, where do you go? What are your favourite spots on the island?
There are so many! But to name a few, I absolutely love Petit Bot, Saints Bay and the Fairy Ring. These are my most favourite places to go to and watch the waves and all the shades of blue water. And because of my daughter, I also appreciate Candie Gardens as our everyday spot where we go to admire flowers and to say hello to the koi fish.
What was your first impression of the Channel Islands when you visited for the first time?
If I speak about Guernsey, it has a very big place in my heart. To me this place is one of the rarest places on Earth where people care. They care about each other, they care about nature and a clean environment, all accompanied by actions.
I remember when I went for one of my first walks on the island and met strangers who were smiling at me and saying hello, polite young kids who let me pass with a pram, saw honesty boxes with flowers and fresh food which surprised me in the most pleasant way, all proof of how much people here trust each other and want to make Guernsey a better place.
I am a big fan of recycling and up-cycling, so imagine my delight when I was introduced to food scrape recycling boxes! I also feel absolutely safe here, which I'll never take for granted. There are so many elements I appreciated on Guernsey from the very first moment. It kind of restored my faith in humanity because, as I said, the people here actually care.
What piece of advice would you give to someone considering moving to the Channel lslands?
For at least a few weeks you'd be very sleepy as the sea air is intoxicating. Get used to the wind because it never stops, so don't fight it – make it your friend. Slow down and enjoy the little things. Also the ocean is cold so get used to swimming in a thick wetsuit!
Agnes, is there anything else you would like to share with our readers?
As I'm slowly getting back to work as much as my daughter allows me to (she's the boss after all), I'm currently extending my client portfolio in Guernsey. So for anyone who would like a photographer, here's a link to my website – www.agnesliberte.com.
I do everything from portraits, events, food and interiors. I have cooperated with many businesses, restaurants and hotels over the last 12 years and this kind of work is my absolute favourite because from this experience I know exactly what people want to see.
I'm also thinking of starting a basic photography course to help people get the most from any type of camera, even their smart phones. So, if you need a photographer or you're interested in learning more about this amazing and inspiring activity, please don't hesitate to get in touch via my website or directly at agnes.liberte@gmail.com.