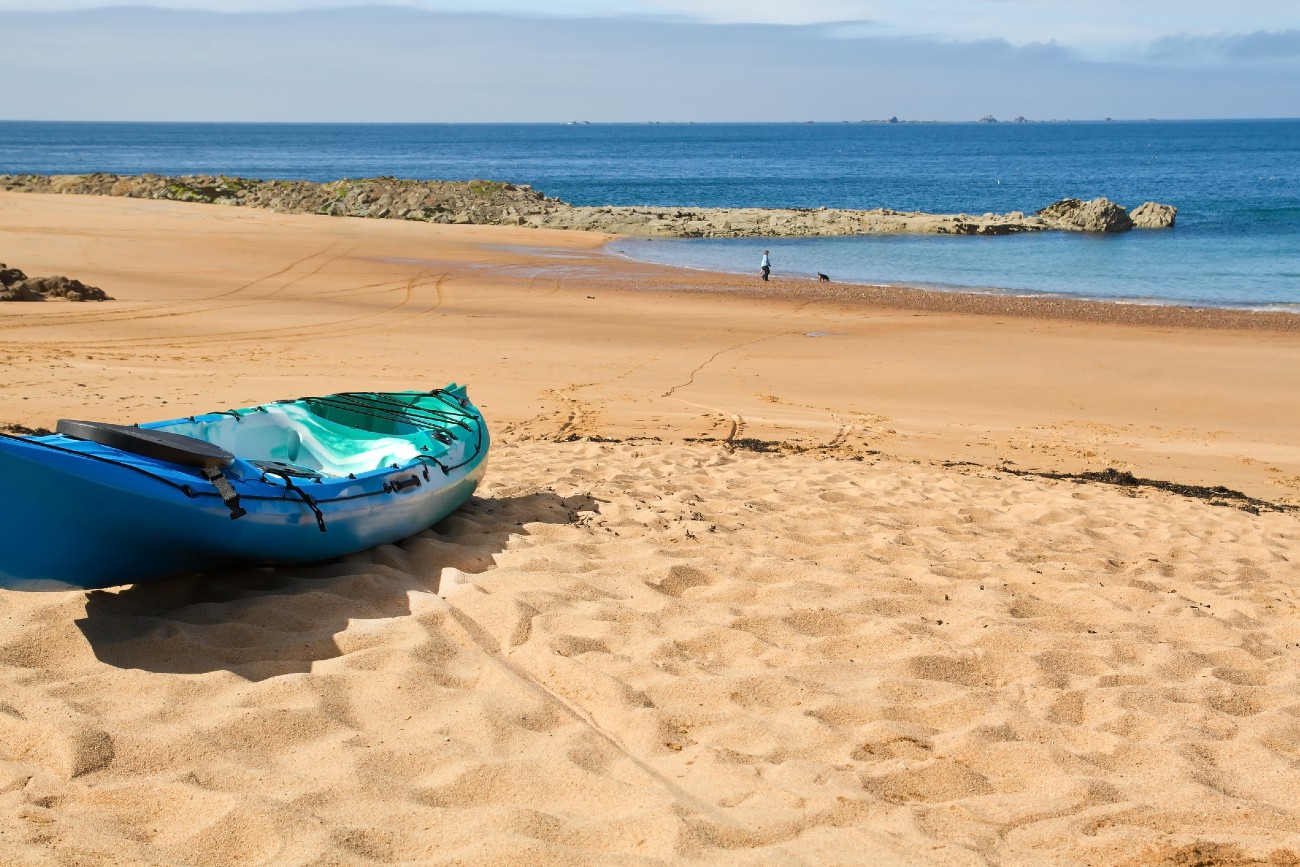 The Channel Island of Jersey – one thoroughly shaped by the sea – has some of the most spectacular stretches of coastline in the British Isles. There is an incredible number of bays, beaches and coves to discover on the island, with kayaking one of the best ways to do so. Not only is it a great way to view the scenery, it also gives you opportunities to see some of Jersey's unique coastal wildlife.
It's no surprise then that kayaking is a popular pursuit on the island, both among tourists and residents, including me. Many local companies provide kayak tours or rental services, with two of the best known being Jersey Kayak Adventures or Jersey Adventures.
There are 70 km of coastline to explore in Jersey, meaning there is always somewhere new to be discovered. And since the island has a warmer average climate than elsewhere in the British Isles, it's the perfect place to be out on the water.
Sheltered Bays
Jersey has a multitude of small bays, where it's possible to get away from the more crowded beaches and enjoy the sounds of the seabirds wheeling overhead and the waves lapping at the coast. On the island's north-east corner, the region just north of Gorey is perfect for this. Here, you can kayak around the base of Mont Orgueil Castle, providing you with a unique perspective of this impressive structure.
Moving north from here, a series of small bays can be found leading towards St. Catherine's Breakwater. The lovely beach at Archirondel is a real highlight, together with its distinctive tower, but there are a number of places which can only be seen from the water and this might lead you to some surprises.
North of the breakwater, the coastline turns slightly rockier, but there is another beautiful bay at La Coupe. The beach here is seldom busy, as it is tucked away down narrow backroads. This makes it a great place to stop and give your arms a rest from paddling for a while, as you take in the white sand and sea views.
North Coast Caves
On Jersey's northern coast you can find Grève de Lecq Beach, a sweeping sandy bay with crystal clear waters. For kayaking, it is not the beach that catches the attention, but rather the cliffs either side. The rocky terrain meets the sea, where endless battering from the waves has resulted in the formation of many cave systems. If you're feeling brave, it can be an exhilarating experience to kayak into them, with the hollow sounds and dingy light making it seem like entering an entirely separate world.
Entering the caves here can be dangerous, so it is advisable to stay away from them when the tide is rising or when there is a large swell. Going with an experienced guide can often be the best idea. To the east of Grève de Lecq, it is possible to land on a tiny bay at L'île Agois, where there are caves and sea arches to explore on foot.
Noirmont Headland
Another great little bay to visit is that of Belcroute, at the beginnings of Noirmont Headland. This secluded beach is a popular spot for kayaking and paddle boarding. While Belcroute Bay itself is lovely, there a number of other small coves to be found, where you might spot some ancient diving platforms.
If you fancy something a little more adventurous, you can continue on around Noirmont Headland, where the forest reaches right down to the water's edge in places, giving it a rather remote feel when out on the water. The tides here can be strong at times, so it's important to keep this in mind, but if you're careful you will be rewarded with a view of the Tour de Vinde – a Martello Tower at Noirmont Point.
After this, a sea arch can be seen at Île Percée and there is a little sandy beach a few metres further on, just before you reach the spectacular Portelet Bay. This can be a great place to stop for some sunbathing or a bite to eat at the beachside cafe.
After a day of kayaking you might be interested in learning more about the local food. You can find all the details in the following article: Discovering the mouthwatering delights of Jersey, Channel Islands