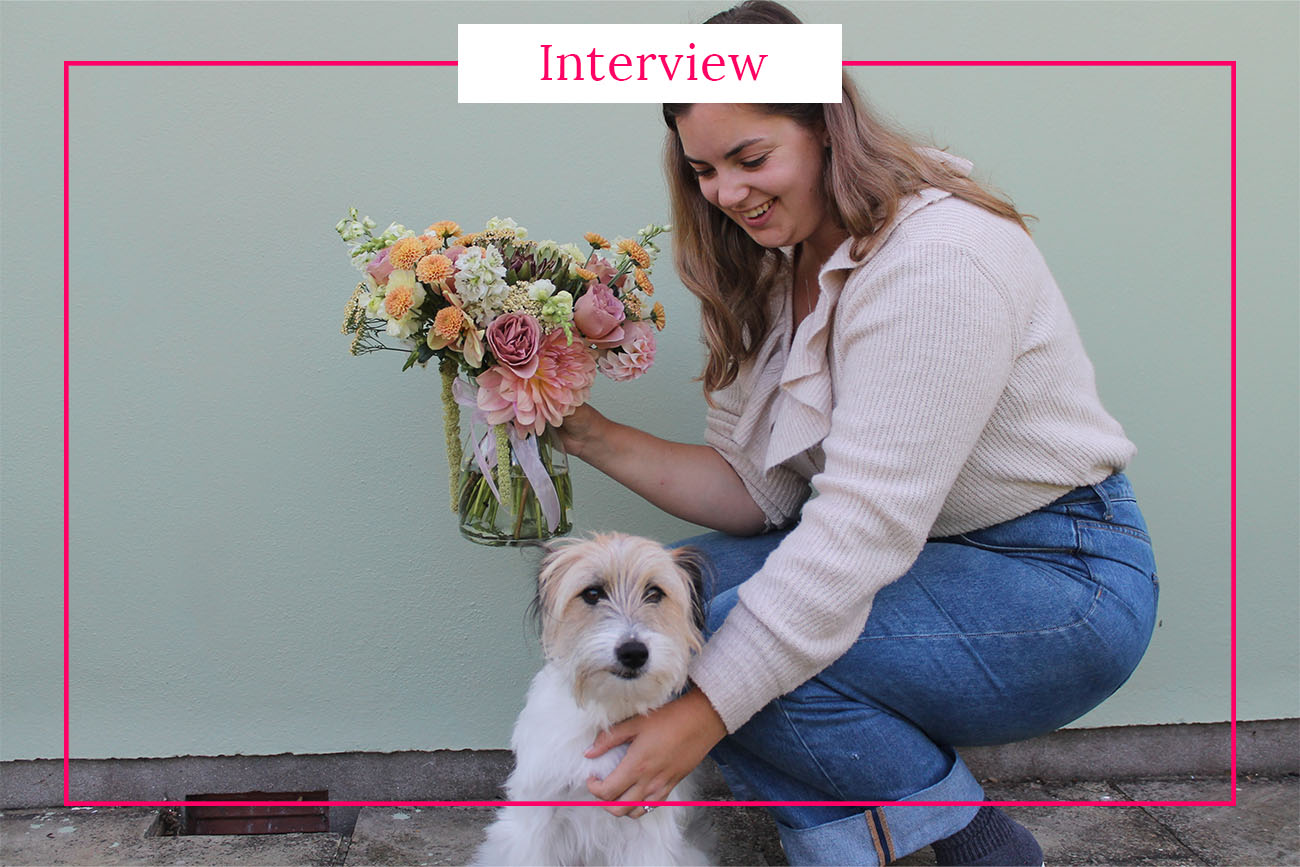 L
ara Todd is a florist and the owner of
Fille à Flleur.
The term "Fille à Flleur" is in Patois or Guernsey French, explaining the unique spelling of "fleur" for flower girl.
Lara has been a resident of Guernsey since the age of eleven, and it is undoubtedly her home. She is deeply rooted in the island, sharing her life with her fiancé and two rescue dogs. Consequently, it was significant for her to integrate her affection for the island into her company's name.
During our conversation, we asked Lara about the flowers and arrangements in which she specializes, discussed upcoming florist trends, and sought her recommendations for anyone planning to start a business in the Channel Islands.
Lara, can you please tell us how you got started as a florist and what led you to choose this industry?
After finishing my degree in International Business Management and then working in marketing at a local company for a few years I craved a more creative, slower paced lifestyle.
I decided to dedicate some time to my love of interior design and started an online course. During this time I started working for a local florist part time and my love of floristry grew. I've always loved flowers but had never really considered it as a career, now I can't imagine a life without flowers at the center!
I recently went on a course in Devon, which is where I spend my early childhood and have family so it was lovely to be back there. The course was with the wonderful Roberta from The Good Florist and is called "The Floral Retreat", it definitely lived up to its name! I spent the week with some other lovely ladies learning all the tips and tricks to starting your own florist and also some floristry skills that are great for event floristry.
What types of flowers and arrangements do you specialize in?
We love romantic, whimsical florals and are heavily influenced by some of the amazing Australian florists as well as florists in the UK and the States.
We pride ourselves on not using any floral foam in our arrangements and using environmentally conscious packaging. At Fille à Flleur we have a range of homewares and gifts as well as dried flowers which are available on our website for UK wide delivery.
We also sell fresh flowers in Guernsey including weekly deliveries Wednesday – Saturday and some smaller posies on our hedge stall.
As well as this we also do events and weddings and we're taking bookings for 2024 and 2025. (Although 2024 is filling up fast!) Fille à Flleur means flower girl and we hope that we can be your flower girl for any occasion!
Do you source your flowers locally, or do you import them from other countries?
We import the majority of our flowers at the moment to enable us to provide flowers year round. As well as this we love to use locally grown flowers where possible (shoutout to Ola at the Yellow Wheelbarrow for her beautiful dahlias!). We also have plans to grow some of our own flowers in the future but we're taking it one step at a time!
We are curious to know, what are your favorite flowers?
The hardest question by far! I love so many flowers it's so hard to pick a favourite. I've been loving dahlias recently, there's so many beautiful varieties! I also love ranunculus, some of the more unusual tulips and garden roses. I could keep going forever so I'll have to stop there!
How does your typical working day look like?
I spend Mondays and Tuesdays getting admin done and having any meetings and planning for the week ahead. I also create dried flower bouquets on these days.
Wednesday is the big day as this is when I get my flower delivery. I usually start pretty early at around 7 on this day as the flowers arrive on my doorstep first thing and I'm always eager to unpack them all! I then condition the flowers and put them in vases and buckets ready to make orders.
The rest of the week from Thursday to Saturday is spent making orders up and delivering them around the island (probably the hardest part for me as it can be so hard to find places!) If I have an event then things get even busier but I wouldn't have it any other way, it makes me so happy to share my flowers!
What occasions or events do you typically provide floral arrangements for?
We can provide florals for anything from a birthday bouquet, wedding florals and also celebration of life florals. We're very happy to help in any way we can so we will always do our best to meet your needs whatever they may be. We know how it can be a daunting world if you don't know much about floristry so we like to be approachable and keep things simple for you.
Please can you share with us what do you enjoy the most about being a florist and working with flowers?
I've always been creative and floristry has been and is the most amazing outlet for me, I love to be able to constantly learn as I go from other industry experts. I've often found when creating something, whether that be baking something or drawing something that it's hard to recreate the image that's in my head. However, with floristry it can be quite forgiving and I'm able to experiment and have fun with it!
What are your favorite colors and color combinations when it comes to flower arrangements?
As much as I try to shy away from it I'm a very girly girl so I love pinks and pastel colours. I typically don't use a lot of greenery in my arrangements unless the client specifically wants it as I like to let the flowers shine. I do like to experiment with colours and adapt to the seasons but my favourite time of year for colours is probably spring/ summer as I love how much the flowers that time of year can lift your mood.
What piece of advice would you give to someone considering starting a business in the Channel lslands?
Go for it! I'm not sure if there's ever a right time to start on your own and it can be very daunting but you never know how it will go unless you try. Sometimes it's important to put yourself and your own needs first and if you really love something and put yourself out there then hopefully your passion will shine through. (Can you tell I've been reading a lot of positive affirmations recently?!)
Are there any upcoming trends in the floral industry that customers should be aware of?
I think that you can have a lot of fun with different colours, while I think white wedding florals can be beautiful colour really lets your personality come through and I think bold, flower heavy arrangements are becoming really popular.
Where do you go in Guernsey when you need to unwind? 
We live near Le Gouffre so I love to walk our two rescue dogs along the cliffs and also let them run around the beach at Petit Bot. In the summer I looove to sea swim but it's getting a bit too cold for me now!
If you are planning a party, wedding, or simply wish to delight your loved ones, do not hesitate to reach out to Lara and her florist business. You can learn more on her website, Fille à Flleur, or through her Instagram account @filleaflleur.