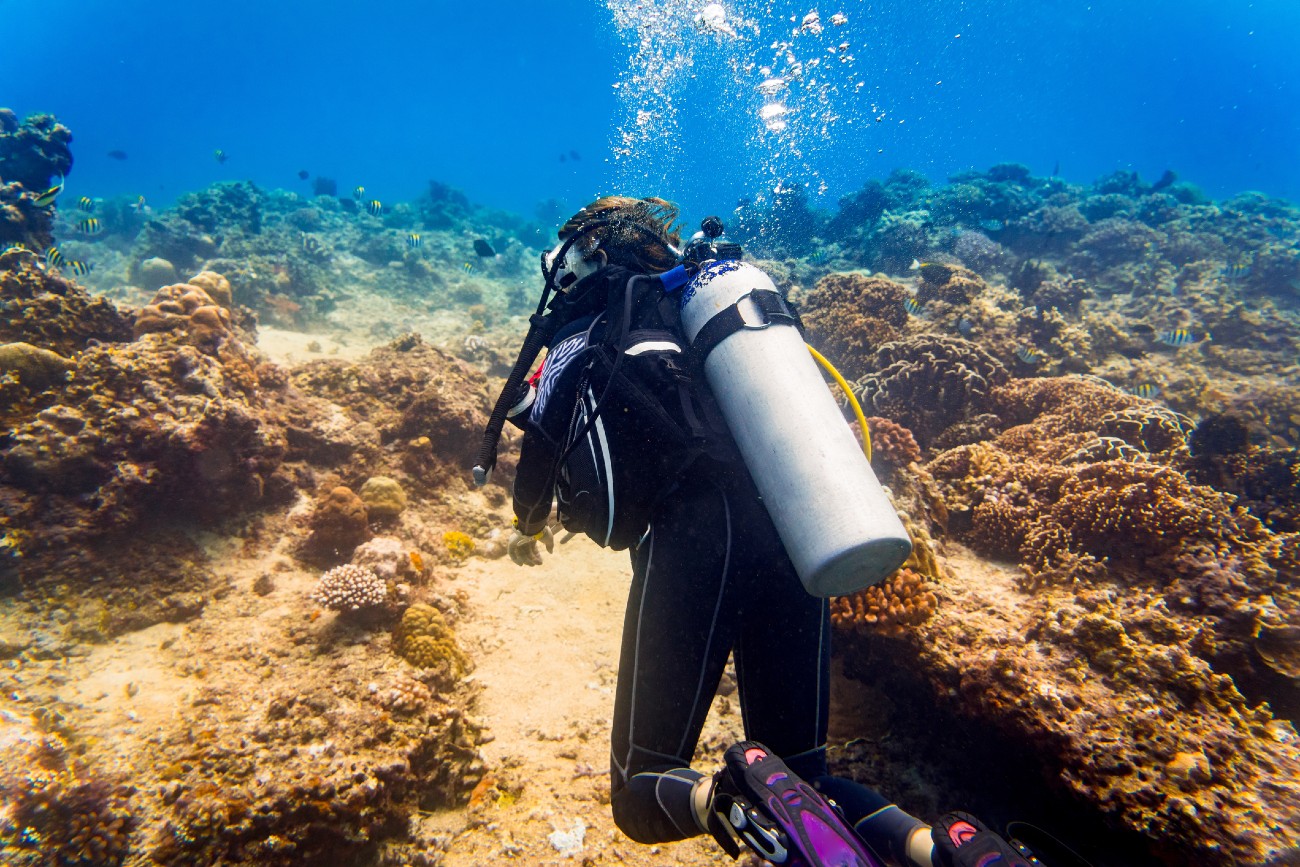 Guernsey's varied and rugged coastline is popular for outdoor activities of all sorts, whether it be walking, kayaking or beaching. But some of the most incredible sights it has on offer can only be seen when you get beneath the waves. Opportunities for scuba diving around the island are rich, and a number of companies are there to provide PADI courses, guided dives or equipment rental. Two of the best known are Donkey Divers and Dive Guernsey.
Guernsey is a great place to dive for those of all experience levels, with a number of shallow sheltered bays for beginners, as well as more challenging, deeper dives around the island's many wrecks. The waters during the summer months are generally mild and if you're out exploring Guernsey's reefs with their colourful marine life, you might for a moment forget you're still in the English Channel.
Shore Diving
There are countless places to dive close to shore in Guernsey, with the island having many sheltered bays and beaches. Tidal streams around the island can be strong however, and the currents can change in a matter of minutes. For this reason, it's always important to be cautious or be accompanied by someone experienced where possible.
The most popular shore dive site in Guernsey can be found at Havelet Bay, located just to the south of St. Peter Port Harbour on the eastern coast. Provided the wind isn't from the south-east, this spot is very sheltered and offers consistently safe conditions, making it a good place for beginners. The bay has a diverse range of habitat types, with areas of sand, gravel, reef and boulders. As such, a great variety of marine life can be found, including lumpsuckers, spider crabs and flatfish. The areas good for diving range to about 15 m deep.
Another place to try shore diving is at Saint's Bay, on Guernsey's rocky southern coast. This lovely bay has relatively stable tides on most days, although visibility can be poor during a swell. Catch it on a nice summer day however and you'll be rewarded with a great variety of marine life.
WWII Wrecks
Guernsey's waters have seen heavy boat traffic for thousands of years, with smugglers, pirates, warships and freighters all passing through at varying points in time. The jagged rocks and unpredictable tides in the region have got the better of over 800 vessels in total, which now lie on the seabed and provide some exciting diving opportunities.
A great wreck to dive on is the Cement Wreck, formed of the Oost Vlaanderen – a Dutch ship which was captured by the Nazis during WWII and then sunk by the RAF. The wreck sits at about 33 m below the surface, south-east of St. Peter Port. Conger eels and lobsters both hide out within the ship, which has remained relatively intact and is a generally safe wreck to visit, despite its depth.
A second wreck located just outside St. Peter Port harbour is the DR Rudolph Wahrendorf – a German vessel and another casualty of WWII, which lies 33 m below the surface. This wreck has a very different feel to the Cement Wreck and is much more sinister, with darker waters confounded by a muddy seabed. It is generally more suitable for experienced wreck divers as a result.
Reef Diving
Guernsey is also a good place for reef diving, with hundreds of dive sites surrounding the island. An incredible diversity of species can be found on Guernsey's reefs and you will never know what to expect, with different species appearing each time. Wrasse, dragonets and pipefish may all be seen, along with hundreds of other fish and invertebrates.
An excellent reef dive can be found at the Peastacks, on the island's southern coastline. The water here starts out shallow and the currents are usually weak, making it a good spot for beginners. A large sloping wall descends to around 35 m, harbouring a great number of species and being one of the few places where free-swimming conger eels have been sighted.
For a more remote reef dive, consider travelling a few miles off the western coast to a site known as Boue Blondel. This large pinnacle is a seabass spawning ground and has steep rock faces, around which almost anything can appear.
Would you like to explore more water activities around Guernsey? Then don't miss the following article: Sailing around Guernsey and Herm