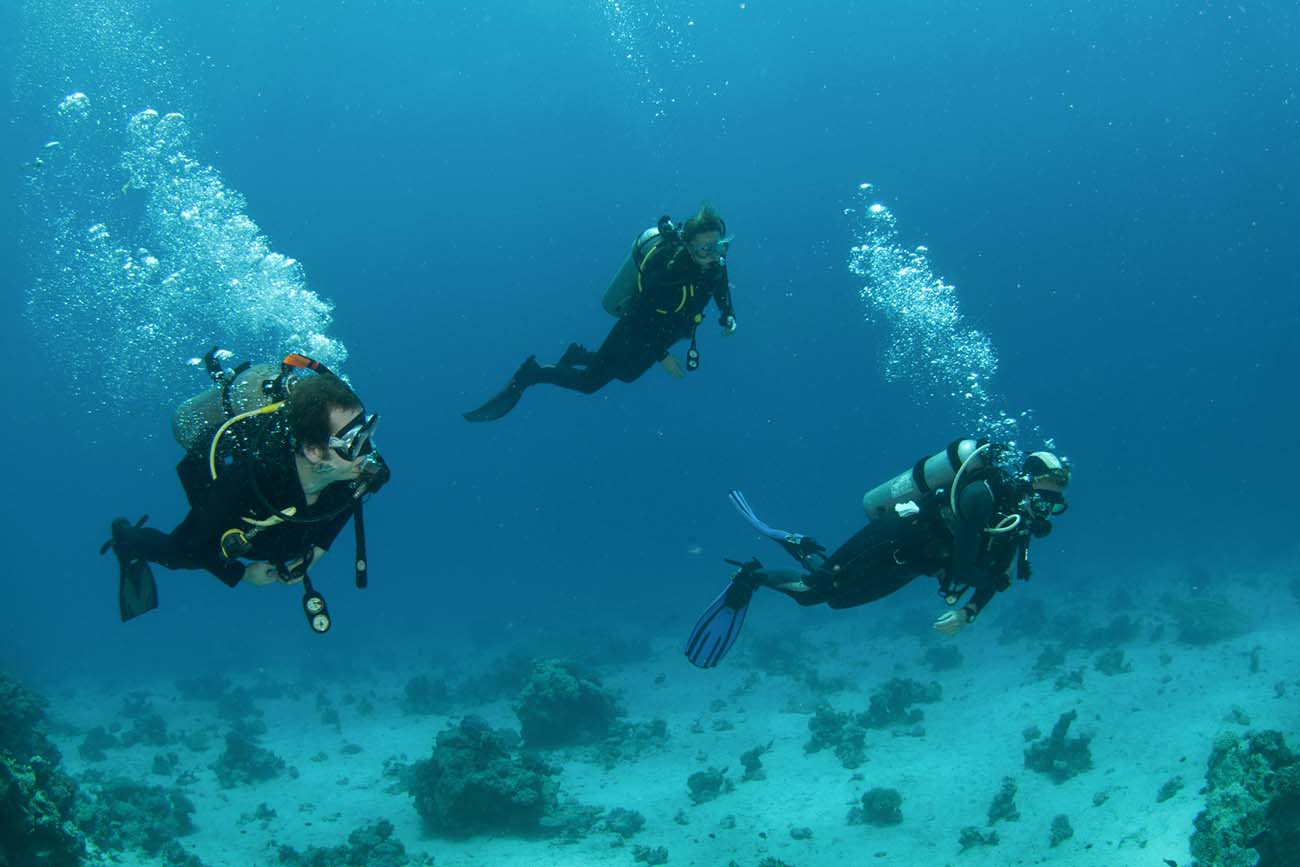 Hi, I'm Nicole, and I'm here to tell you about the top ten scuba diving sites in the UK Channel Islands, marine protected areas thriving with an abundance of sea life.
We have hundreds of beautiful dive sites suitable for advanced and beginner divers with stunning cold-water corals, amazing marine animals like dolphins, whales, and seals, and numerous mysterious shipwrecks to explore. But what makes our scuba sites the best in the Uk is our crystal clear blue water with stunning visibility, especially during summer.
Read my brief guide to learn about the conditions and underwater life in the north Channel Isles – and let's take the plunge together!
Diving in Jersey, Guernsey, and the Smaller Islands
The UK Channel Islands are an archipelago in the English Channel off the coast of France, with a total land area of about 194 square kilometres. Jersey is the largest island, followed by Guernsey and its archipelago of smaller islands, Alderney, Sark, Herm, and Jethou.
The water temperature in the Channel Islands varies throughout the year; temperatures range from 15 to 20°C during the summer months (April to October) to 6-15°C during the winter months (November to March). The visibility of the water is affected by seasonal changes and typically averages around 10 metres but can extend up to 20 metres or more with the right conditions.
Underwater Life in the English Channel Islands
The underwater world around the Channel Islands is mostly a protected marine reserve, teeming with thriving sea animals, plants, and birds. There are vibrant corals, steep walls, rocky underwater cliffs, caves, soft sea fans, colourful sea anemones, multi-hued nudibranchs, and waving forests of kelp.
Dolphins and whales often cruise the waters around the Channel Islands, particularly in the summertime. Scuba divers may chance up common dolphins, bottlenose dolphins, Risso's dolphins, minke whales, and the occasional humpback whale. Playful seals, harmless basking sharks, and the gigantic moon-shaped sunfish may also appear on the scene to divert and delight divers.
Scuba adventurers can also encounter a variety of fish species, including ballan wrasse, conger eels, john dory, triggerfish, and more. The clear waters around the Channel Islands offer excellent visibility, allowing divers to fully appreciate the beauty and diversity of the marine life below.
Diving into the Past: 4 Shipwrecks in the UK Channel Isles
Scuba divers have numerous options for exploring wrecks on the islands, where many ships have met their demise over centuries of maritime and military history. However, diving on wrecks can be thrilling and risky, requiring proper training and reliable equipment. Divers should avoid touching underwater artefacts and give marine animals plenty of space to ensure a safe and responsible dive.
If you're interested in exploring the inside of a sunken vessel, it's vital to do so with an experienced guide, such as a local dive master or instructor. Without proper guidance, you might get lost in the dark depths of the wreck, run out of air, or become trapped. If you're ready to explore, here are some of the top wreck dives to consider.

The Top 10 Dive Sites in the UK Channel Islands
Before you plan a dive trip anywhere in the English Channel isles, take note of the scuba certification level and ability needed for the dive. The best dive sites in Jersey and Guernsey and their outlying islands are often deep dives in areas affected by strong tides and currents, considered unsafe for beginners.
Here's a list of some of my favourite beginner dive sites –  and a few sites suited to advanced or NITROX-qualified scuba lovers. (Remember, if you haven't been certified, you can always book a course online and complete the theory before you travel.)
1. Havelet Bay, Guernsey: Beginners
Havelet Bay is a well-known spot for shore diving on the eastern coast of Guernsey, south of St. Peter Port Harbour. It's sheltered and safe, making it an excellent place for beginners to dive. The area has diverse habitat types, ranging from sand, gravel, and rocky reefs to boulders and plenty of curious marine life, like lumpsuckers, spider crabs, and flatfish. Diving depths range from about 15 metres.
2. Saint's Bay, Guernsey: Beginners to Intermediate
Located on the rocky southern coast of Guernsey, Saint's Bay is a lovely and safe spot for shore diving. While tides are relatively stable (unless it is Spring tide), visibility can be poor during a swell. However, when the wind is calm and the sun shines, scuba divers are guaranteed clear blue water and beautiful conditions.
3. Les Hanois Lighthouse, Guernsey: Advanced and NITROX
A deep dive from 30 to 50 metres (this depth is for Advanced and NITROX divers only.) It's challenging, with strong currents, but the exhilaration makes it worth it. The site is home to conger eels, lobsters, and crabs, but the real excitement lies in the possibility of sighting some of the bigger pelagics and cetaceans like dolphins, whales, and sharks.
4. Ecrillais Wall, Sark: Advanced and NITROX
Ecrillais Wall is a popular dive site on Sark's coastline, offering steep rocks and gullies that go as deep as 50 metres below the surface. The canyon walls here are teeming with marine life, and divers can spot lobsters, sea squirts, and various fish species. Additionally, the wall features fan corals and jewel anemones, adding to the underwater spectacle.
5. Les Vingt Clos Wall, Sark
Les Vingt Clos Wall, located off the eastern coast of Sark, is a fantastic and diverse dive site. A sloping rock wall bordered by reefs and gullies, Les Vingt Clos Wall is famous for its abundant soft corals and other marine invertebrates. With diving depths between 10 and 40 metres and excellent visibility, it is a perfect location for underwater photography.
6. The Pierheads, Jersey
The Pierheads is a shallow dive site with a colourful reef, thronging with schools of wrasse, bream, and bass and an easy access point. Many schools hold PADI 'Introduction to Scuba' and 'Open Water' dives here because it's conveniently close to the bustling town centre, shops, hotels, and restaurants.
7. Burhou Island, Alderney
Burhou Island is a small island located northeast of Alderney, famous for its puffin and seal colonies and surrounded by a beautiful and thriving reed.
8. Renonquet Reef, Alderney
Located northwest of Burhou Island, this dive site is exposed, and there is little shelter from the waves, making the tidal streams dangerous at times. The reef is rocky with gullies and vertical walls up to 10m high. The steep walls are adorned with colourful sponges, sea squirts, and waving sea fans and plunge from the mysterious kelp forests in the shallows hiding seahorses, crustaceans, and much more.
9. Ortac Reef, Alderney
Ortac Reef is a diving location at the far western edge of the Alderney group of islands with steep vertical walls, large boulders, and patches of sand amidst the rocky terrain. The reef is dominated by pipe hydroids, with sponges and kelp that support several fish species.
10. The SS Stella, Alderney
Alderney's most famous wreck, affectionately known as Stella or "The Titanic of the Channel Islands, sank during the 16th century. It's the only excavated vessel from the Elizabethan period in British waters, with the forward three-quarters remaining intact at 46m below the surface.
Best Accommodation for Scuba Divers in the Channel Islands
There are many fabulous places for scuba travellers; luxurious hotels, cosy bed and breakfasts, self-catering apartments, and stunning campsites.
Many hotels and B&Bs  are conveniently near dive centres, but if you are with a group of divers, consider renting a self-catering apartment. They offer more space than a hotel room, which can be beneficial if you have lots of diving equipment. And they are self-catering, which is convenient for those pre-dawn meals before morning dives – or late-night snacks after your PADI Advanced course (or similar certification) night dives.
Popular Hotels Near Dive Locations:
This luxury hotel is in the bustling heart of St. Helier, Jersey, near the high street shops, cafes, and restaurants. It has spacious rooms, a spa, and a lovely pool and is only a short walk from the central dive shops.
A boutique hotel perfect for scuba divers looking for a unique experience. The hotel, constructed in a pyramid shape, has stunning sea views.
This charming hotel on the island of Sark offers cosy rooms, a restaurant, and a bar. The hotel is just a short walk from the dive centre and the beach.
4. Les Rocquettes Hotel, Guernsey
Les Rocquettes Hotel is family-friendly and in a quiet part of Guernsey with comfortable rooms, a restaurant, and a pool, just a short drive from the dive centres.
Scuba Diving in the UK Channel Islands is the Best!
Scuba diving in the UK Channel Islands is a must-do experience for any diving enthusiast. With its stunning rock formations, colourful reefs, and abundant marine life, the underwater world of the UK Channel Islands is gorgeous to behold. Whether you are a beginner or an experienced diver, the UK Channel Islands offer something for everyone. So come and explore the natural beauty of the UK Channel Islands both above and below the water's surface!
Would you like to try another type of sport in the Channel Islands? Then don't miss our latest article: How to get into running in the Channel Islands (and not hate it)