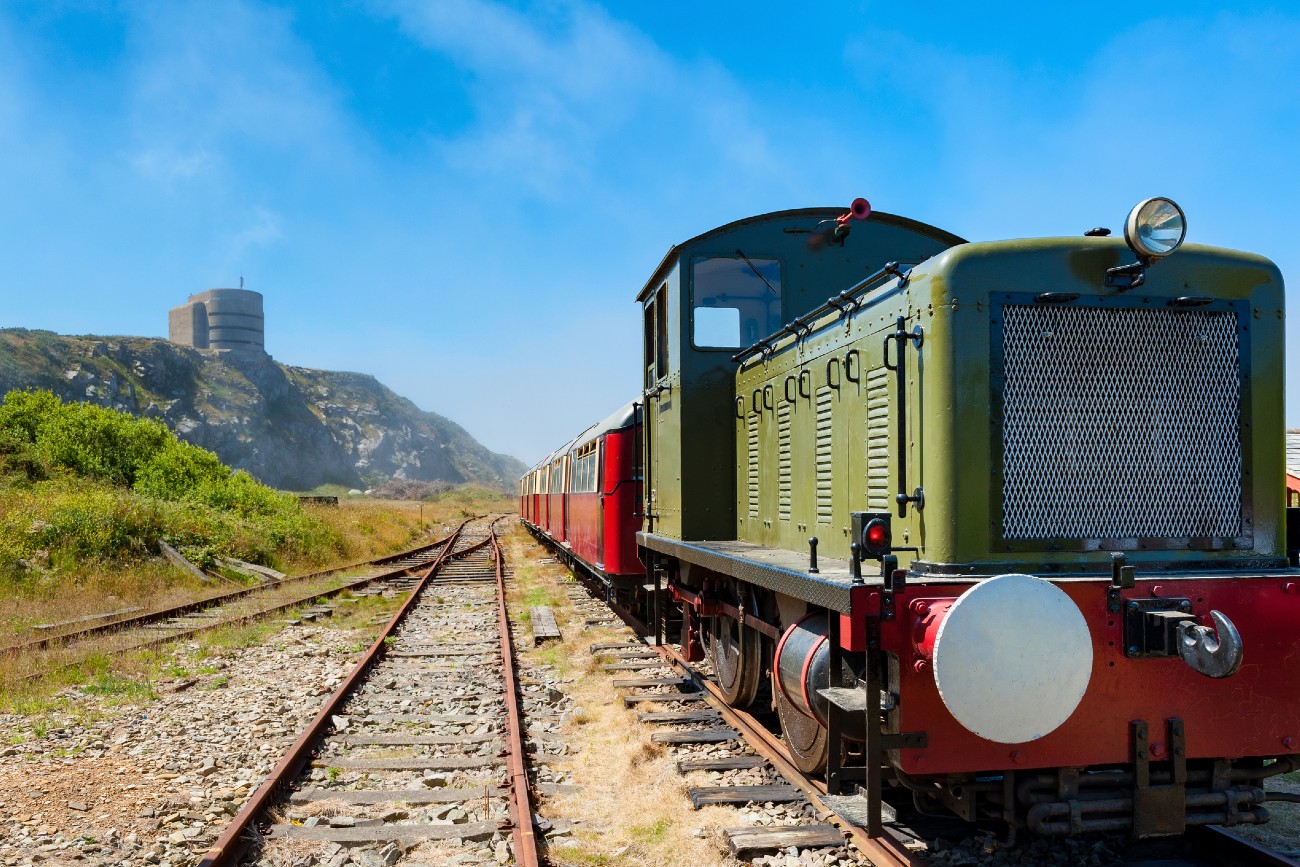 For at least 250,000 years, people have been a part of the rich history of the Channel Islands off the coast of France. Once a part of continental Europe, these islands have witnessed some significant aspects of humanity's history, from our Iron Age ancestors to Roman traders, 6th-century Christian missionaries, and 9th-century Norse invaders to the occupation of the German army in WWII and the now peaceful residents of today.
These islands offer a variety of adventures, some modernly inspired, others rooted in the rich history of the people who have inhabited these islands over the millennia. While there are many similarities amongst the land masses in this chain, each island has its unique character to explore. A fun and inviting destination for families, the Channel Islands can be a magical playground for children young and old.
Bailiwick of Guernsey
Alderney, Sark, Herm, and Guerney are the main islands that comprise the Bailiwick of Guernsey. Each island offers something special for the adventurer in your family.
On Alderney, to the north, your family can wander back in time at the Nunnery Heritage Site, home to the best preserved Roman small fort in Britain, built in the 4th century. Romans weren't the only ones to inhabit this space. Walk with your child through a bit of Alderney history involving the Romans, the Tudors, and occupying German soldiers.
Continue to the Alderney Museum to see more local history, some dating back to the 8th century. Share the creative resourcefulness of furry, long-nosed burrowing creatures by visiting the Womble exhibit in the museum. Perhaps your child will find inspiration and comfort in the tales of these historic creatures. If your child is into trains, like many are, you'll want to visit the Alderney Railway and ride on the historic railroad for a scenic 3-kilometer stretch. Just enough time to catch your breath and relax from all the adventuring.
Children may feel less-than-inspired to visit a site of historical interest, but the lure of ancient history can be enticing even to the youngest family member.
One can feel the magnetic power of history and our ancestors in the stone circles and burial chambers that scatter the island of Guernsey.
Dehus Dolma, residing beneath a now grassy mound ringed by standing stones, grants visitors access to the large, multi-chambered tomb. Head to the back of the tomb and see if your child can find the faint image of a bearded face carved into the stone. If the vestiges of early humans call to your child, visit the stones of Les Fouaillages to walk the site of one of the oldest European monuments at around 6,000 years old. Or make a side trip to see the famous Le Gran'mère Du Chimquière, Grandmother of the Cemetery. This carved standing stone, dating back to around 4,000 years ago, resides outside St. Martin's Church.
For a relaxing transition to slightly more modern sites, visit the La Vallette Bathing Pools, built in 1865. These pools offer a safe, contained area to enjoy the pleasure of saltwater swimming without the dangers of the open water. Take an afternoon trip to the Rousse Headland, where the kids can explore a Napoleonic loop-holed tower or spend some time playing on the beach.
Oakland's Village is the place to go when your family has had their fill of archaeological sites and outdoor activities. There you'll find shops and restaurants to appease tired adults, but what awaits the kids is an array of entertainment! Oaty and Joey's Playbarn is bursting with fun activities. With trampolines, electric cars, mini-golf, and more, your kids might forget that their ancestors had rocks and sticks to play with.
Guernsey also boasts a skate park and 12 holes of mini golf at the pirate-themed Pirate Bay Adventure Golf. Between ancient relics and modern excitement, your kids will surely enjoy their time on the island.
Herm is a small, picturesque island not too far from Guernsey. This island is an outdoor-adventure lover's dream, and your kids will likely revel in the buffet of choices. RIBs (rigid inflatable boats) are common throughout the Channel Islands. On Herm, they are available for tours to beautiful natural sites, expansive beaches, rocky cliffs, puffins, seals, dolphins, and more. For your family's five and older members, kayaking trips are also available!
It's hard to resist the magical serenity of gliding on top of the sea, but include stunning scenery and a chance to see local wildlife like puffins, dolphins, and peregrines, and possibly a visit by the local seal colony, and your child will be hard pressed to forget the magic of this island.
Almost all children, and adults as well, love a good story. Imagine strolling through a long-inhabited place, the histories, legends, and ghostly sightings of the area narrated to you by an experienced guide. You can find this on Herm with Annette Henry's guided tours.
When you've finished smiling at the colony of playful seals and congregating puffins or circumnavigating the island in a kayak, there are still more kid-friendly activities for your child to enjoy. Archery is a fun pastime on the island, or the unique 'activiquiz' (a cross between a treasure hunt and a quiz), or simply grab a rod and head out to the beach or book a fishing charter.
Has your child seen the crispness of a clear, dark, starry night? Do they know what the Milky Way looks like from the view of earth? Have they tilted their head back to see the constellations scattering the sky, felt the connection to those who lived long ago and used the stars to guide the aspects of their lives? This is all possible on the island of Sark.
In 2011, Sark was designated an International Dark Sky Community. The island has earned this title due to its prohibition of motor vehicles and lighting in the lanes. While farm vehicles are still on the road, they do not produce the light that often obscures the stars from our view.
Sark's Observatory, built in 2015, allows visitors to come and explore the night sky through their 10-inch Meade telescope. Watch your child's imagination swell in awe and wonder as they take in the enormity of space and the night sky. Weave in the tales you've learned on the trip of prehistoric humans to help your child make connections between that moment and our ancient ancestors. Revel in the enormity of it all.
With no cars on the road, your family is safe to tour the island by bicycle. If you have little ones too small for a bike, with disabilities, or just unwilling to hop on and peddle, entice them into the seat of a horse-drawn carriage. If they're still not inspired to tour the island, perhaps you could interest them in a guided donkey walk. All are interesting and fun options.
Bailiwick of Jersey
As magical and fascinating as the islands of Guernsey can be, you'll eventually want to head south to the Bailiwick of Jersey. After all, vacations can't last forever, and there are so many fun things to do on the island of Jersey.
Jersey is the largest of the Channel Islands. While it has its ancient history as well, many of the activities have a decidedly more modern flare. The Jersey Zoo is a great place to visit as a family. They host a menagerie of endangered and wild animals, from lemurs, bears, and fruitbats, to gorillas, orangutans, and tortoises. With their open hearts and love for cuddly and unique creatures, kids will love to wander the enclosures greeting and observing the animals.
The aMaizin! Adventure Park is a draw for families for many reasons. One is the one entrance price, meaning once you pay to get in, all the activities are available to you and your family. Your kids may have difficulty deciding which activity to jump into first. Go-karts, mini golf, and a jumping pillow are just some of the choices. They also offer tractor rides and a maize maze in July and August. Follow your child as they wander amongst the tall corn stalks, winding through the pathways with a smile on their face. This park has included the entertainment of young kids with a safe indoor play area, free nappies in the changing area, and even a quiet place for a sleeping newborn. They've almost thought of everything!
If the aMaizin! Adventure Park isn't enough; if your kids haven't run out of energy, there's always Jumping Jersey, where they can bounce it out. This indoor activity centre is exploding with fun things for kids to do. They have a trampoline park and climbing walls for bigger kids. There is a soft play area for littles and, for everyone, activities like pottery painting and slime making.
Even the most energetic child needs a calming atmosphere at times, especially after all that bouncing and climbing. In typical Channel Island fashion, there are plenty of adventurous or mellow outdoor activities as well. Your family may want to rent bikes for a ride on the Railway Walk, a serenely beautiful 7 km path from one coast of the island to another. A great activity to get away from the bustle of town and enjoy wildflowers, greenery, and fresh air.
Being an island, there are, of course, water activities as well. Choose from a number of calm, beautiful beaches to visit and spend a relaxing afternoon. Bring a shovel and bucket for the kids and challenge them to build a replica of one of the islands' castles, like Mont Orguiel, with its staircases, secret rooms, and turrets. Or perhaps suggest something easier, like a sand sculpture of a mountain. For those children six and older, the Jersey Surf School offers lessons, another great way to spend time on the beach.
Something spectacular to witness is when a curious dolphin or two comes to check out the boats. Charter a boat for some dolphin watching and prepare to be wowed by the presence of these friendly creatures. Your kids will most assuredly cherish a dolphin encounter for the years to come.
Some people may tell you that you can't or shouldn't travel with children. The Channel Islands disagree. From the deeply rich archaeological history, inspiring thought-provoking reverence for our ancestors, stunning ocean views, relaxing beaches, and the awe-inspiring night sky to the excitement of modern amenities like trampoline parks and electric car tracks, traveling with your children is exactly what you are being called to do. 
Are you planning trip to Guernsey with your little ones? Then don't miss the following article: What to do with your kids in Guernsey