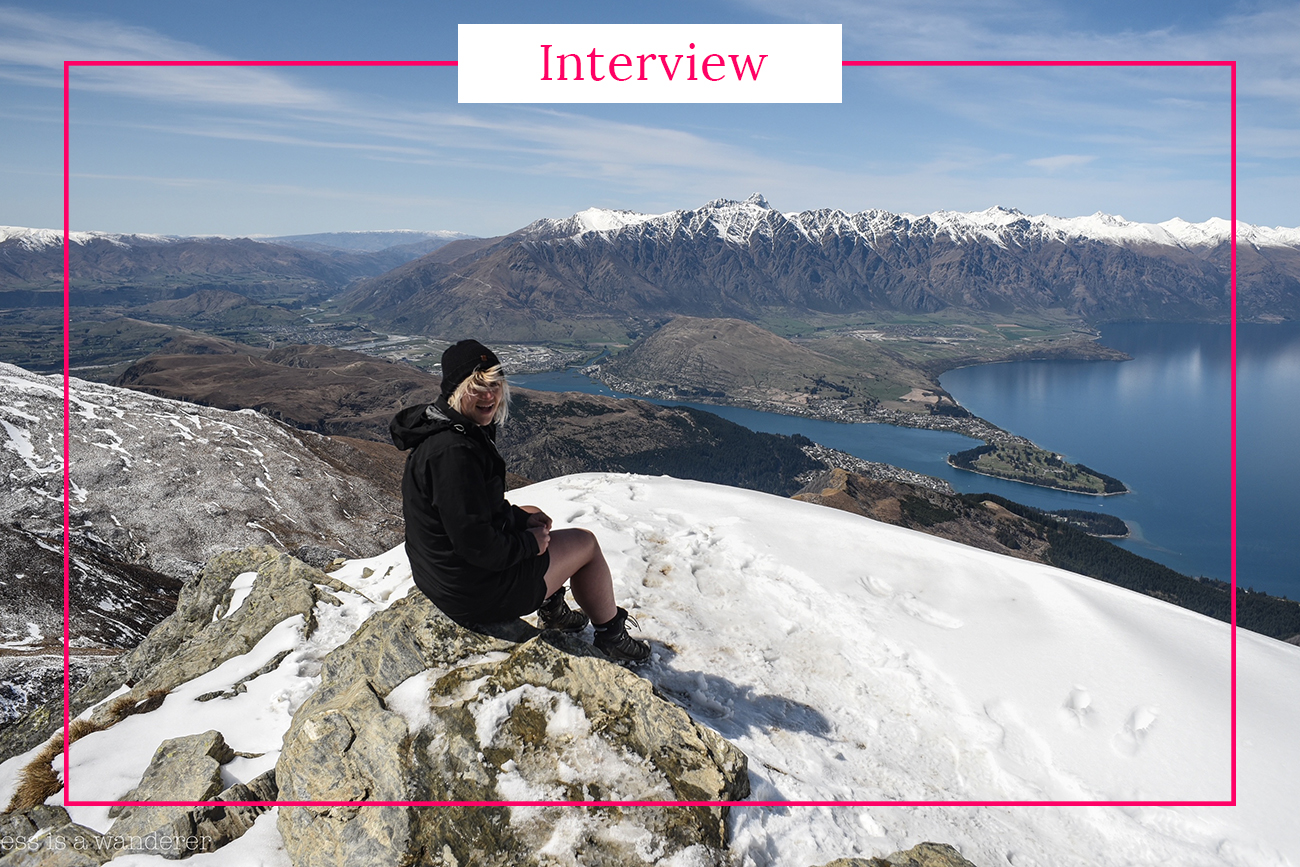 Jess moved to Guernsey from New Zealand in 2020. She feels like she arrived in Guernsey at the same time as Covid and, because of Covid, she is still here. Her original plan was to drop by for six months or so as she arrived in January and she thought by July, she'd be ready to move on. Originally from the UK, Jess wanted to be 'close to home but still feeling like being on holiday' and Guernsey seemed to tick all the boxes.
Jess is a photographer and passionate traveller who captures her stories and experiences on her travel blog Jess is a Wanderer. We asked her a few questions about her move to Guernsey, her favourite countries and what she would advise to others who are considering moving to the Channel Islands.
Jess, please can you tell us about what you do for living?
I'm a teacher. I trained in Wales and have since taught in Australia, Brazil, Egypt, New Zealand and now little old Guernsey. I never thought I'd be a teacher as I didn't get on too well at school and after three gap years post A-Levels, I wanted to live the rest of my life 'on holiday' so teaching seemed perfect with the year-round holidays.
Of course, now, I love inspiring children to go adventuring as well as having new adventures for myself during holiday times. I really hope the students I teach will see that they too can go around the world and that they don't need to worry about money or logistics, they just have to take the plunge and it'll all work out. And if it doesn't at first, it will in the end. At least, that's how I look at it anyway – my mantra has always been: you can always make more money but you can't make more time.
How did you get the travel bug?
I say that I got the travel bug 'literally' when I got malaria after being bitten by mosquitoes in Ghana, West Africa aged 17. I was very poorly with the disease but since recovering, I've had an unquenchable thirst for travel, adventure and general wandering. I always wanted to travel and I guess that's how I ended up – at 17 – in Ghana doing my Y12 work experience for a charity building a school in a coastal village called Brenu.
Photo credit: Jess is a wanderer – Lihou causeway
Photo credit: Jess is a wanderer – Observation Tower near Pleinmont
You have visited all seven continents and countless number of countries. Which was your favourite and why?
After my dramatic foray into travelling, my inner compass was then continually pointing towards adventure. After finishing my A-levels, I went to Australia for 2.5 years, then studied in Wales, taught in Brazil and Egypt. I had a year off at 30 and went to countless places having some of the most incredible experiences.
This is such a big question and I think I have to go with top three (in no particular order): I loved the Arctic. I loved how remote and vast and changeable it was. And the history of the place with the whaling industry and the airships and the fact that the whole place is now a living museum where every nut, bolt and screw has been left exactly where it is as part of the area's history. And of course, because of the climate, it's all preserved. And the wildlife: polar bears, whales, walruses – amazing to see but not everywhere (and I'll sound really spoilt here- in Antarctica, there was wildlife around every corner, all the time), in the Arctic it was the thrill of the chase – what would we see, if anything! I've gone on quite a bit for the Arctic and not mentioned the other two places so I'll say: Albania and NZ for the scenery and people.
Albania was totally not what I expected as – when you think of Albania – what do you expect? Certainly not incredible beaches, huge wilderness areas and the most beautiful mountains! And NZ – I had two glorious years in that country and tried to cover almost every corner (the maps I have tell some incredible stories) and the views are like nowhere else I've seen on earth. Couldn't choose between them. And Egypt too actually. But I could write books about why Egypt is so wonderful! I spent six years there and barely scraped the surface with everything the place has to offer. And now I've mentioned four places instead of one!!
You spent the last two years living in the Channel Islands and just shared with us that you bought a house there, what motivated you to stay in the islands?
I came here, on a bit of a whim, wanting to be closer to home. My brothers both started families and NZ was just too far away. Guernsey was meant to be a stepping stone between NZ and 'home' but, actually, it turned out that Guernsey had everything I needed for it to become 'home'.
Weather, beaches, cliff paths, Sark (I love Sark so much, I think I could have bought my own boat with the amount of tickets I've purchased to go there!!!). There's something about Guernsey that's just magical that I've experienced in very few other places around the world. Isn't that mad? This tiny corner of the globe and yet it offers so much.
So yes, I bought my house because I couldn't afford to rent but I didn't want to leave. And I always leave places in search of the next adventure so that goes to show that Guernsey really is a special place. And if I wasn't living here, I feel like I'd be living in Sark! Guernsey's people, outdoor lifestyle, sea swimming and general Guernsey-ness… it's all… captivating. I think that's the best word I can find to explain it.
Photo credit: Jess is a wanderer – Fort Tourgis, Alderney
Having grown up in a small village in the Cotswolds in the UK, how would you compare life there with life in the Channel Islands?
Growing up in the Cotswolds was the 'worst thing ever because there was nothing to do and it was boring'. Parallels I hear students saying in Guernsey all the time. Except, now that I'm older, it wasn't the 'worst place ever' and I'm so grateful to have grown up in such a lovely place with beautiful scenery and a carefree attitude towards pretty much anything – very similar to life here.
There are definitely similarities with the size of the place and everyone knowing everyone else and not being able to get up to no good because your auntie or cousin or someone would always find out! But I think that adds to the charm of both the Cotswolds and the Channel Islands.
When you travel, do you follow any routines? What does your typical day look like?
When I travel, I love to sit and watch and get a feel for the place. I always have my notebook with me and sometimes I'll write what I see, sometimes I'll write what happens to me and sometimes I'll write about what I think people are doing or where they are going.
I love to walk and turn left and right and left and right without having an actual definitive route and I love talking to locals. There is always so much more to learn about a place than what is printed on the tourist information signs and leaflets and often, heading a local's opinion is fascinating.
I also love taking photos and always scout out locations that I think will look particularly good at sunrise/sunset/nighttime so that I can return and attempt 'the shot'. I probably spend too much time imagining pictures but it's always worth it when I get the chance to take the picture.
And food. Of course food. If something is famous somewhere, I'll try it. In fact, I'll even travel for it!
A typical day will involve waking up – before sunrise – to get some 'starry pics' and then to capture the exact moment that the first signs of the day arrive with first light. Then I'll snap sunrise. Then go for breakfast. Then the rest of the day will either be exploring with no plan (usually if somewhere urban) or if I'm in the wilderness, I'll be doing a predetermined walk or hike somewhere. If the walk is a suggested time, I won't be rushing to beat that time, I'll be going slowly and making the effort to notice everything. I'll stop and talk to people. I'll take photos. I'll sit and soak in the moment. I'll write as I go.
I love being somewhere and fully being there. Then the day will finish with dinner and talking to people. People are very central to my travels and my motivation. They're interesting, honest, full of ideas, tips, recommendations, opinions and stories. I love to hear what they have to say and they often make suggestions I hadn't thought about or heard about so it's definitely an integral part of my travel routine to make time for people.
What is a local dish (from the Channel Islands) you can't live without?
Oh my goodness, Guernsey ice-cream. The worst thing about having Covid – for me – was not being able to go to a kiosk for a Guernsey ice-cream. Is that terrible? Or crab sandwiches. I'd never had crab before moving here and now I'm obsessed.
What are your favourite places on the Channel Islands?
Sark. Everywhere on Sark. I think I've walked every corner of the island clockwise and anti-clockwise. It's the place I go when I need to recharge, getaway, refresh, clear my head, reflect etc. Sark is simply good for the soul. I love the Coupée, Rouge Terrier, Creux Harbour, Pomme de Cien campsite, Port Gorey and Eperquerie Landing. I seriously can't get enough of the place!
Alderney is also amazing and I'm actually writing this from Alderney (my third visit!) – the work that the Alderney Wildlife Trust is doing is amazing and they've always got things going on. There's so much wildlife to spot and bike riding galore.
And also the south coast cliff paths of Guernsey, all of them from St Peter Port to Pleinmont. They're like no place I've ever been and with… 15? 18? miles of them, you're spoilt for choice about which sections to do/see. And there are plenty of places of interest along the way: restaurants, caves, viewpoints etc. Also, the bathing pools because no matter the time of day, you can always go for a dip and going for a dip always makes everything better. I say this as someone who never swam in the sea before moving here.
Photo credit: Jess is a wanderer – La Coupee, Sark
Photo credit: Jess is a wanderer – St Peter Port by night
Photo credit: Jess is a wanderer – Seagulls off Jethou
What piece of advice would you give to someone considering moving to the Channel lslands?
If you're considering moving to the Channel Islands, be prepared for an entire lifestyle change. If you embrace what all these islands have to offer, you'll be outside on the beach, walking on the cliffs, swimming in the sea, scrambling on the rocks, exchanging knife and fork meals for outdoor picnics, packing up a tent and hopping on the ferry at 5:30pm on a Friday to a neighbouring island for some spontaneous camping, snorkelling in a gazillion coves and bays, bbq-ing on the beach, watching countless sunsets and sunrises, sitting in the sunshine at a Seafront Sunday, enjoying ALL of the entertainment there is: Castle Nights, Rocquaine Regatta, Sark Fest, Guernsey Together. It's actually insane how much goes on here and how much you can embrace life and be so busy that it takes you six months to answer these questions!!!
Photo credit: Jess is a wanderer – Liberation Day 2021
Photo credit: Jess is a wanderer – Liberation Day Fireworks 2022
Do you have any travel plans for this year? Any new countries you would like to visit?
I was in Amsterdam over Easter which was fantastic as I love photography but sometimes get complacent with it so going somewhere new forced me to get my camera out. I was pretty pleased with the results too: tulips and nighttime canal reflections and windmills galore. I loved it all!
Having not been able to have visitors for a while, I actually love love loved hosting family in February, May and July this year. I'm thoroughly enjoying showing off Guernsey to them and every time new people visit, I'm all the more grateful for being based here.
August sees me camping and adventuring in the Peak District along with visits to Sark and Alderney. I'm desperate to get to Georgia and surrounding places so fingers crossed I can make that happen in 2023. I'm also wanting to tick more of the UK off my bucket list as I've been all around the world but my UK visits are minimal at best!
If you are looking for some travel inspiration or interesting travel stories, don't hesitate to visit Jess's Instagram profile or travel blog Jessisawanderer.com.