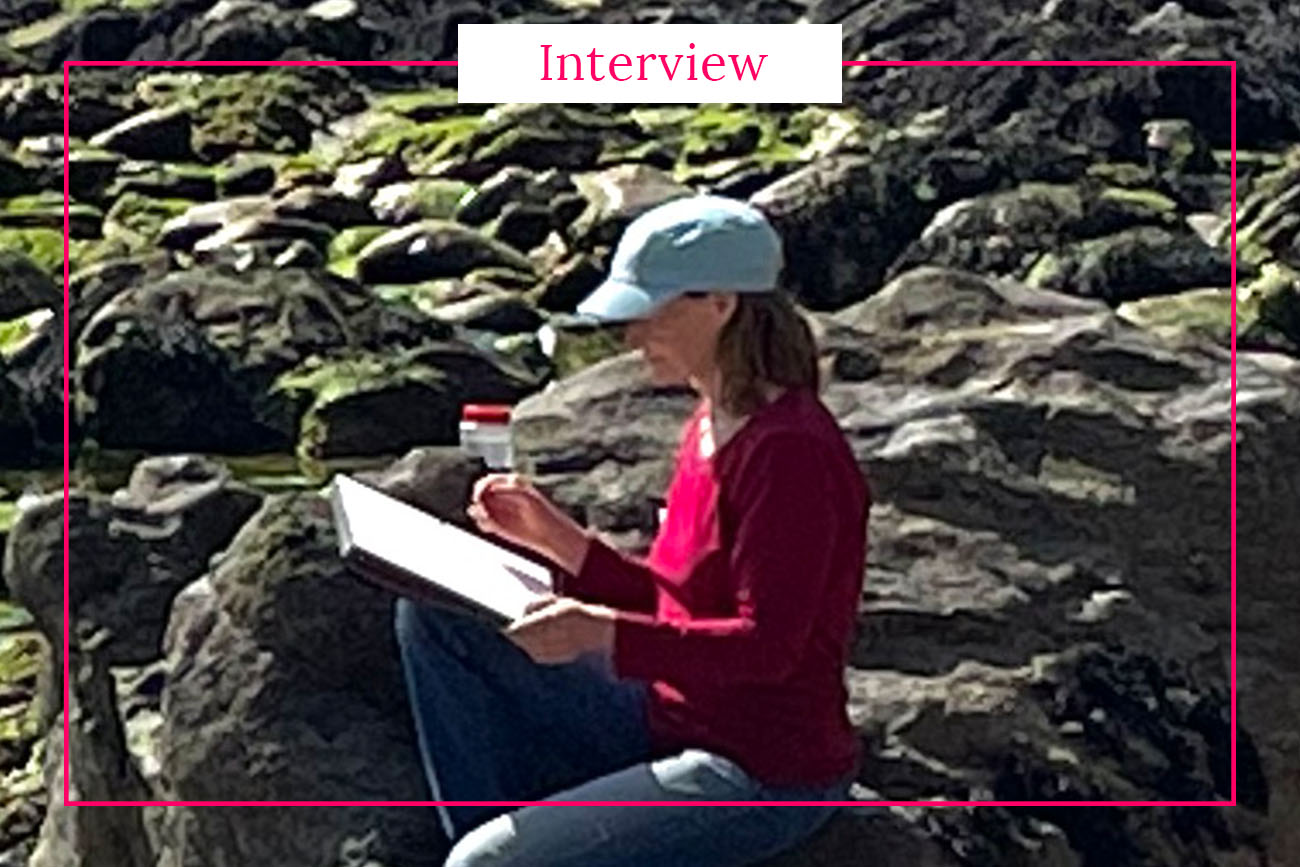 Interview with Louise Hill – Artist living in Sark
L
ouise Hill, although of British in origin, has spent a significant portion of her life in Africa. She was born in Kenya and raised in Zimbabwe.
She also lived in England for a long time, on the South West coast and in London. Louise gained a BA Hons in Illustration, then spent 8 happy years in London doing book illustration and enjoying all that London has to offer. Becoming older, and looking for a different life, she moved to Tanzania, where she spent 26 fulfilling years, painting Tanzania's stunning landscapes, people and wildlife.
In 2021 she moved with her husband and children to Sark, to be close to her ageing parents, and because living in Tanzania was no longer workable. Louise and her family always loved Sark and are very happy to have moved here. This has brought her exciting new challenges, that she is thoroughly enjoying, through efforts to capture the light and colours of her new surroundings, which are so very different to the landscapes and peoples of Tanzania.
During our conversation, we delved into her sources of motivation and inspiration when faced with creative challenges, Louise's favorite dining spots on Sark, and the most rewarding moments of her artistic journey.
Please can you tell us about your artistic journey? How did you get started?
I wanted to be an artist since I was about 6 years old, I have always been happiest when painting; drawing and crafting things. One of my aunts is an artist; I adore her and felt inspired, as a child, to follow in her footsteps; she was an unwitting mentor really.
I like to paint figuratively; it emerges more naturally from me than abstract; my sketchbooks are full of drawings of people; animals and landscapes. I do try, where possible, to pop a figure or animal into a scene, and enjoy portraiture.
Watercolour has always been my favourite medium; I love its freshness; its immediacy, and I like to use it with vibrant contrast and colour, not too pale. But I also enjoy trying new techniques and mediums, especially now, in my new surroundings.
Lately I have been making collages; tearing up magazine pictures and forming them into scenes. I love the vibrancy of the results; there's so much movement, and the way that the magazine cuttings force me to be relaxed about detail.
We are curious to know how growing up in Zimbabwe influenced and shaped your artistic interests and perspectives.
Africa is colourful, alive and bright, and African art, architecture and clothing reflects that vibrancy. When I was in Zimbabwe the outside walls of the houses were decorated with patterns; poems and words. Art in Africa is colourful and big; it's proud and says "look at me!"
Zimbabweans are amazingly artistic and musical. Being surrounded by so much colour was inspiring and exciting for me. My paintings are more European in style, reflecting my ethnic background, but I like to use watercolour with more colour & contrast than is traditional, exaggerating the natural tones to add spice.
What role does art play in your life beyond being a profession? How do you engage with art in your personal time?
Producing art is one of the main ways that I relax. If a busy life prevents me from painting or drawing I become unhappy; I feel that I need those long periods of quiet and silence, where I'm focussing intently, to feel grounded and content. Whether going across to Guernsey for an appointments day, or going on holiday, I'll always have a sketchbook in my bag, or a painting kit in my suitcase for holidays.
I enjoy sketching people, but strangers don't always want to be sketched, so sometimes I have to be surreptitious about it. I also love painting landscapes outdoors 'en plein air', whenever I get the chance.
How do you find motivation and inspiration during times when creativity seems to be elusive?
It's very rare that I'm not feeling inspired. My life is so busy with mundane chores that finding time to paint is sometimes hard, and I'll enthusiastically grab whatever opportunity I can to get into the studio or go outdoors painting.
However, when I am feeling a little blank I have solutions that I turn to, such as playing music, to bring my focus in. Or, if a blank canvas or paper is daunting me I'll do some scribbles and preparatory colour/tone splashes in my sketchbook or on scrap paper, like a warm up; that usually gets the juices flowing.
Pleases can you share with us your most rewarding or fulfilling moment in your artistic career so far?
I find solo exhibitions the most rewarding; where I get to enjoy a fun opening party; meet lots of people; get lots of feedback. But aside from that, if I were to choose – that which I found most fulfilling was exhibiting my paintings of African wildlife, along with other international wildlife artists, in the Natural History Museum in New York, which was to raise money for wildlife conservation in Tanzania (The Cullman Hurt wildlife fund.)
Our exhibition was in the African wildlife section, which gave us the most amazing backdrop, and it was wonderful to meet other wildlife artists from all over Africa, as well as conservationists, and hearing all about their work.
What does your typical working day look like?
I often don't get into the art studio till around 11.00 am, as I exercise; do household chores and check through emails, when I arise, so that all the boring dutiful stuff is out of the way and I can concentrate on being creative for the rest of the day. Once I'm in the studio I happily work till around 6.00 or 7.00pm, with a break for a sandwich around midday. Sometimes, instead of going into my studio I'll go out painting and sketching outdoors, or collecting photographic references.
As you've lived in Zimbabwe, London, Tanzania, and now Sark, we're intrigued to learn which of these places has resonated with you the most and why?
Up till now I suppose that, in regard to producing artwork, Tanzania has resonated with me the most, simply because I lived there the longest and was able to do so much work there. I was used to the landscapes and people, and never short of ideas. But it's hugely inspiring to have a change – in Sark I am, likewise, never short of inspiration, and I am steadily finding my flow. It's a challenge that I am thoroughly enjoying.
What piece of advice would you give to someone considering moving to the Channel lslands?
My advice to someone considering moving to the Channel Islands is, enter gently; respect those that have lived here forever, don't try to impose your points of view; listen; learn the history. Have huge respect for the natural environment, and do your very best to help preserve it, as it is special and irreplaceable.
Can you share with us your personal favorite spots on the island for lunch and a cup of coffee? 
My favourite spot on Sark for lunch and a cup of coffee is, of course, Hathaway's restaurant! My husband has the lease so of course I'm biased. But, quite without bias, I genuinely find that it has the best coffee; the best location, and the best menu on Sark! Apart from Hathaway's, quite honestly, I very much prefer a homemade picnic on an isolated beach, to any restaurant.
Where can one find and view your art on Sark?
Most of my paintings are hanging in Hathaway's restaurant. If anybody wants to visit me in my studio at home they are most welcome. That is in the north east of the island.
If you're searching for a new piece of art to enhance your home, feel free to reach out to Louise or explore her website for further information.