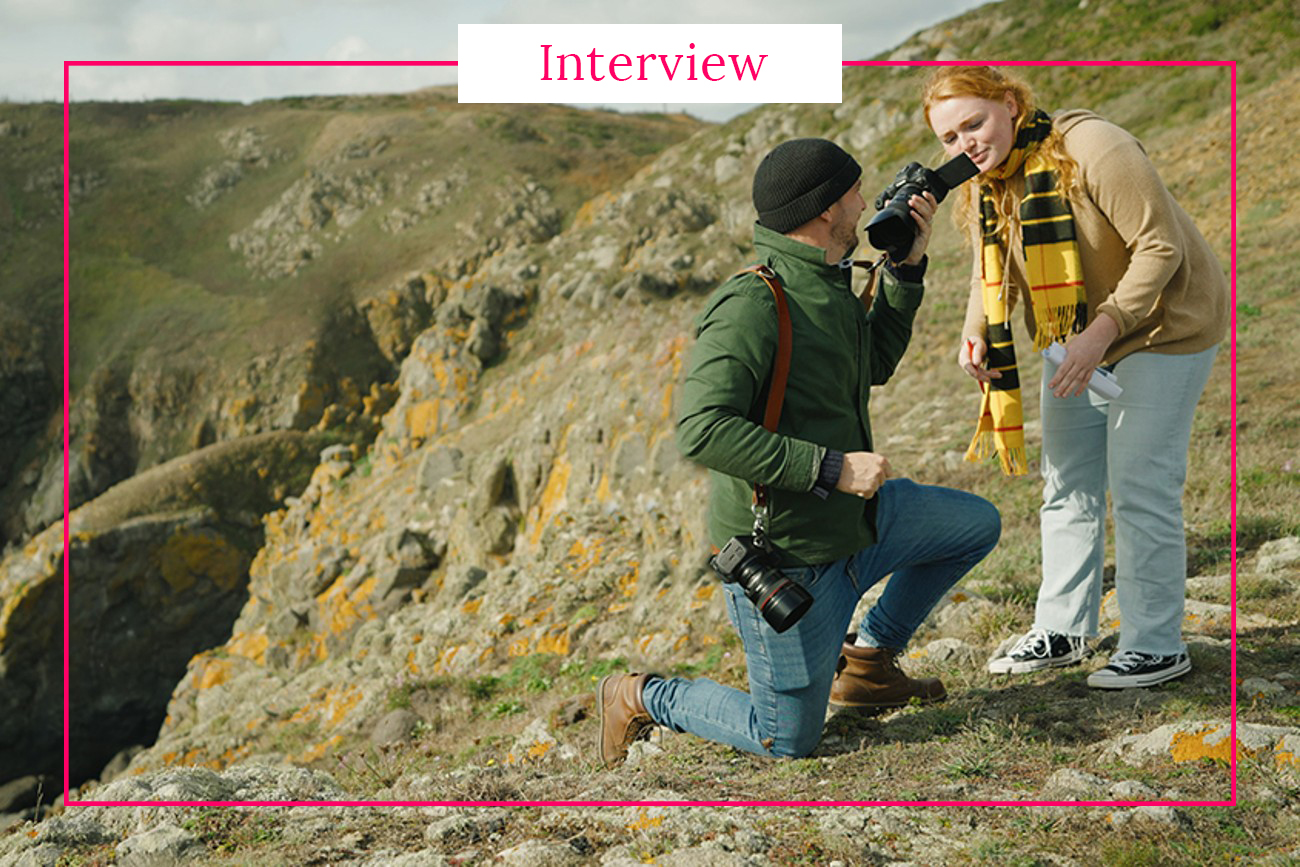 Etienne Laine has been a self-employed photographer for the past eleven years. He works with a variety of clients ranging from small startups, large agencies and private clients in print and digital. He is local to the Guernsey island and couldn't imagine living anywhere else.
We asked Etienne a few questions about his favourite spots on the island as well as about his photography business.
Etienne, please can you tell us about your business and the services you provide?
My business has a 50/50 split between wedding photography and portrait and lifestyle photography. I do shoot other genres too. To survive as a business on a small island you do need to be versatile and be able to wear several hats.
What led you to become a photographer?
I had an interest in photography from around 13 years old, I studied at a local college which was then called Grange House. The course was Art and Design and only touched on photography but in the second year you were able to specialise more into your own areas of interest. I don't credit the course with teaching me photography but I do think it was pivotal to me being self employed.
Please can you describe what does your typical day look like when you are shooting for a client?
My days are so varied, there really is no typical day. Going back to a previous phrase it is all about being able to wear lots of different hats. I have to be a photographer, a retoucher, a bookkeeper and so on.
What would be the most important advice you could give to someone starting out in photography?
Don't expect anything fast. Photography as a business is a long game. Learn about the Dunning–Kruger effect.
What is the most challenging part about being a photographer?
From a business point of view you have to be stubborn. I have seen so many photographers come and go over the years. Most of the time it is because they have either not been invested enough or not understood their value.
Please can you share with us some of your favourite places for taking photos in Guernsey?
I don't really have a favourite place to shoot but I do prefer the less typical places. When you have lived in Guernsey your entire life you do end up taking some of the views that visitors flock to see for granted.
What is the best place to try local food in Guernsey?
Some of my favourites are Octopus – Hook – Red – Le Petit Bistro – Tinto
How would you spend your perfect weekend in the Channel Islands?
I think if I was visiting for a short period then I would island hop around the bailiwick, they all have something different to offer. If you were asking me as a local I love the long summer evenings either at home in the garden, on the beach with a bbq or at a nice bar or restaurant.
Do you have any dream locations you would like to photograph? Could be anywhere in the world.
I'm more about people than places but it would be great to get work further afield but still call Guernsey home.
Imagine your friends are visiting Channel Islands for the first time, what activities would you recommend to them?
I enjoy clay shooting which you can do in Guernsey or in Herm and Sark. And then the restaurants in Guernsey are generally a very high standard, so maybe a long lunch somewhere nice. If I am honest I don't do that much on the weekends that I have free with the majority of them being dedicated to weddings through the summer.
If you are looking for a photographer and would like to contact Etienne for his services, please visit his website Etienne Laine or Etienne Laine Weddings.