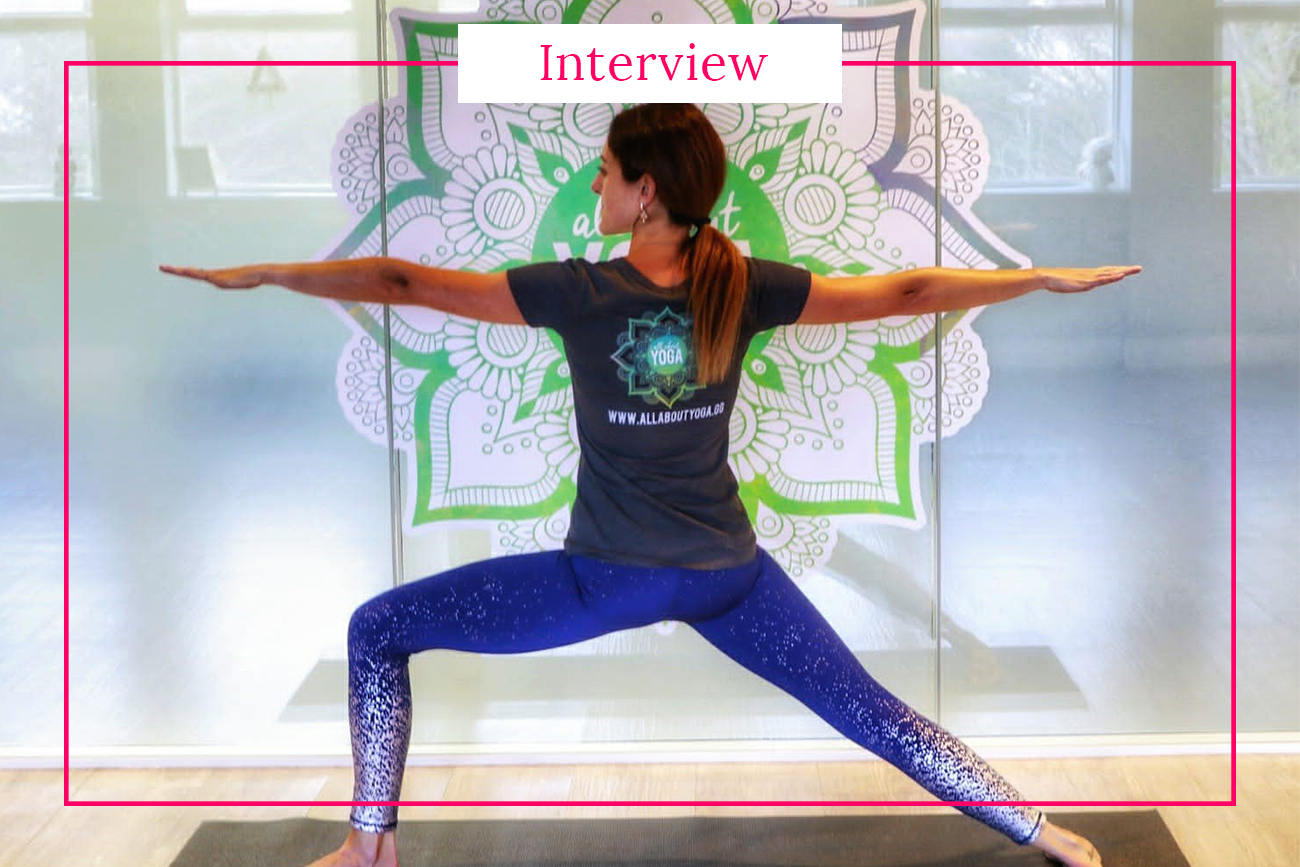 Megan is Guernsey born and bred and absolutely loves living on the island. She had a brief stint off-island for university but really did not enjoy living away from her family and the beautiful beaches and commons.
She has two jobs. She runs her own Yoga studio and teaches regular groups, private and corporate Yoga classes, and then she also works part-time as a Compliance Officer and MLCO (Money Laundering Compliance Officer) for a private equity administration company. However, her most important 'job' is being a mum to her toddler Penelope who will be two on April Fool's Day.
We asked Megan a few questions about her life in Guernsey.
Megan, can you please tell us about your business and the services you provide?
My business, which I run with my husband is All About Yoga Limited. We have a new studio in town where predominantly Yoga classes are held. However, there are also meditation, pilates, martial arts and other wellbeing classes held. Lots of teachers use the studio for their classes and there is a wonderful community feel to the space and with all the students we have practicing with us.
What motivated you to open a yoga studio in Guernsey?
I have been teaching Yoga for a number of years and was using various venues to hold my classes. This meant that I had to travel from venue to venue lugging all my equipment with me. It also meant that I was always at risk of not being able to use the space for whatever reason or because the venue was closed etc.
Sometimes the venue was not left in a suitable condition or just didn't feel quite right. My dream was to have my own studio which I could make my own, with all my equipment available to use. I wanted the space to have the right feel and energy about it for Yoga classes and so this is what we have tried to create with our previous studio and the studio we now have.
Why should people start practising yoga in your opinion?
Yoga is much more than a physical practice. Someone who is new to Yoga may come to a class because they feel tight and want a good stretch out. However, I guarantee that the more you practice, the more you become aware of the other huge benefits Yoga has on your body, your mind and on your life as a whole. The main reason I practice Yoga is for my mental health. The practice on the mat enables me to live a more balanced and stable life off the mat.
Apart from yoga, what other sports do you like?
I love boxing! I attend sessions with Jackal Boxfit every week and feel so much fitter and stronger from regularly training. It has helped me so much with de-stressing (along with Yoga!) during the renovation works for the new studio. We had a very short timeframe to get the studio refurbished and open, which was very hard work!
Imagine someone who is starting their own business in the Channel Islands. What would be the most important piece of advice you would give to them?
No matter what happens, do not give up on your dream. It WILL be hard work without a doubt and you will question why you are doing it multiple times over, but it will be worthwhile in the end!
When the weather allows, do you practise yoga outdoors? If so, what places are good for that in Guernsey?
YES! Yoga outdoors is amazing. I love to practice in my garden, but for group sessions I have used Delancey park which is lovely with the views over to Herm and Sark. The beach is also lovely if you can find a flat area and don't mind getting sandy feet 🙂
Where do you go in Guernsey when you need to unwind?
The studio of course! To attend a session with one of our many wonderful teachers!
How would you spend your perfect weekend in Guernsey?
On the beach with my family, where my daughter can run wild and splash in the sea. She is always so much happier when outdoors in the fresh air!
What's a local dish you can't live without?
A Guernsey crab sandwich! Yum!
What activities would you recommend to your friends who are visiting the islands for the first time?
A beach and/or cliff walk is a must to take in the amazing views. A day trip to Herm and Sark too. I love the islands as they are such a lovely escape to go somewhere with no traffic!
Megan also teaches postnatal yoga classes at Bright Beginnings Children's Centre where babies are cared for in the creche (which is free!) whilst mums get a relaxing yoga class. She has a 'quest' for 2022 to make Yoga available to those in Guernsey that may otherwise not be able to access it/afford it.
If you would like to take a class of yoga with Megan, book at her website All About Yoga.