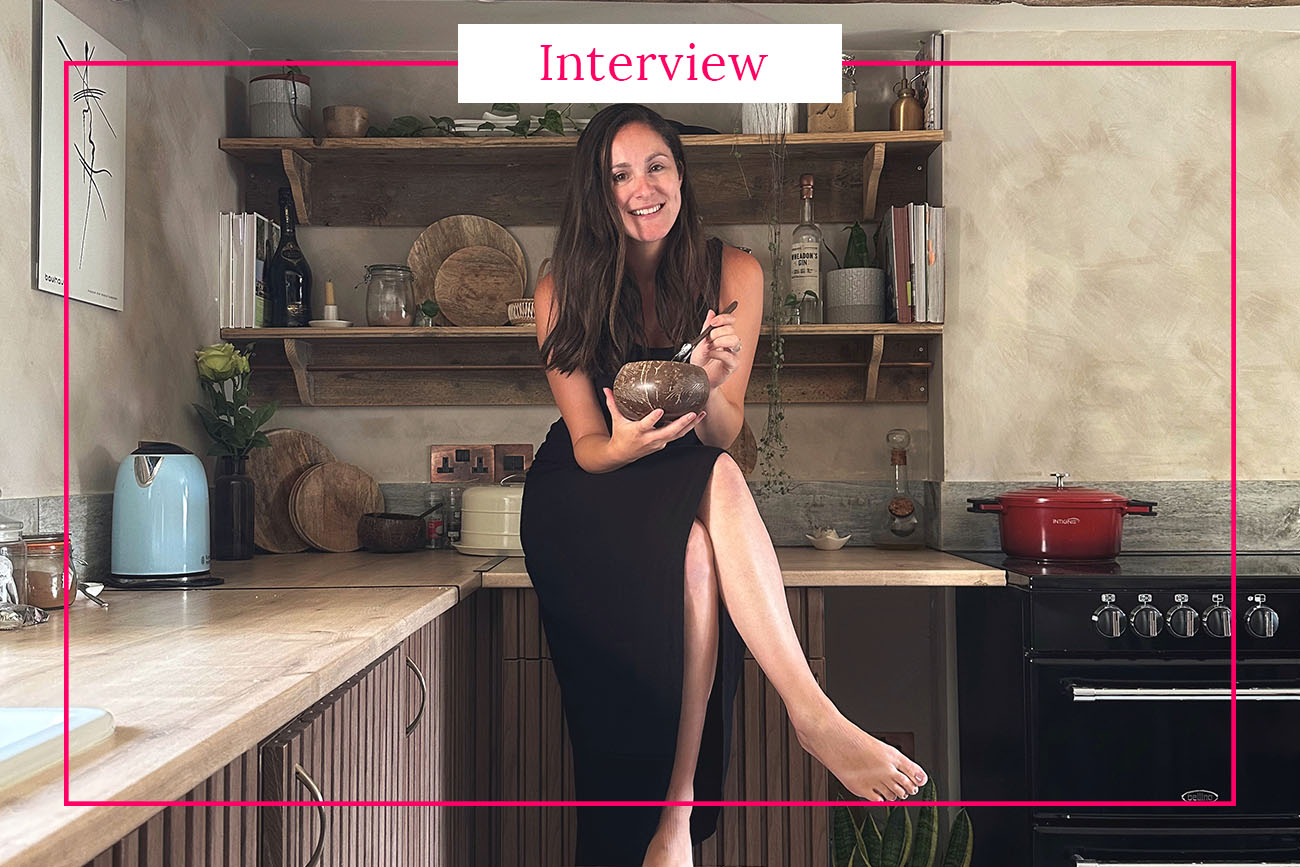 Interview with Kelly Priaulx – Interior Designer and Farmhouse Renovator in Guernsey
K
elly Priaulx, a Guernsey native, is working alongside her husband and three young children to renovate and restore a 17th-century traditional farmhouse
In 2015 Kelly left a career in Architecture and Interior Design to raise her children. In 2019, unable to leave the design world behind, she started her Instagram @fiveandafarmhouse to satisfy her creative cravings and give her an outlet that wasn't related to a pint sized human (or a very needy – but very cute – full sized one).
During our conversation, we explored Kelly's sources of inspiration, received updates on her renovation project, and gained insights into her Instagram account management.
Kelly, what inspired you to pursue a career in architecture and interior design?
From an early age I was fascinated with how furniture placement, clever design and colours can influence your emotions in a space. I was forever moving around the furniture in my childhood bedrooms to find the best solution to the space! I studied Spatial Design at University, which bridged Interiors and Architecture, and my career went from there!
Three years ago, you purchased a 17th-century farmhouse that you are renovating. We are curious to know how it's going?
Whilst I'd been in the building and design environment for several years, and seen buildings develop on site, I was naive to the process you undertake when it's your own home. It has been a lot more work – mentally and physically – than we'd first imagined. But we wouldn't change where we are for the world. We're only about half way through the renovation, but the excitement of the next stage keeps us going!
Have you preserved original architectural features, such as beams, fireplaces, or windows? And are there any historical preservation regulations or restrictions on the property?
Absolutely. Our home is one of many farmhouses on the island to be listed, which means that there are many internal and external features which need to remain untouched in the interest of preservation. All of our main beams are original, and we've painstakingly uncovered, restored and fixed them where appropriate. I can still feel the muscle burn in my arms from sanding the beams overhead! We're also incredibly lucky to have one of the few homes with a Wattle & Daub chimney still intact. We haven't yet approached this room for renovation – but it is incoming!
What piece of advice would you give to someone considering buying an old farmhouse for renovation purposes?
You have to be in it for the long-haul. It is not a quick or straightforward process. There will be a number of curveballs that you won't have foreseen (no matter how prepared or organised you are) so you'll need to be able to handle them. But, it is a rare opportunity to own a piece of traditional history, and with a great support system it is one most definitely worthwhile undertaking.
How would you describe your design style and philosophy?
I'm attracted to earthy, natural and organic design. I just go with what feels right and let the house tells its story. I follow the Japanese principle of Wabi-Sabi, where I embrace the imperfect (which suits an old house nicely!). I think your home needs to reflect you and your style. There's little point trying to replicate another's style!
You also run an Instagram profile, @fiveandafarmhouse, where you create content about renovation and interior design. Do you have a content calendar or any posting strategy?
I have a general strategy behind posting, with regards to what time, days and the type of content. But most of the time I just follow my instincts and post what I love and what my follows enjoy seeing. Instagram is a very curated form of social media, but it shows if a creator posts something off-kilter from their niche, or something they aren't particularly passionate about. I'd rather see raw, honest content than perfectly polished disingenuous content. That's the approach I strive for!
What does your typical day look like?
It's pretty hectic! For 3 days of the week I have all 3 of my children at school, so those are the days I take time to restore order in my home, get meals prepped, go for a walk or workout to clear the cobwebs, and work on filming content. I've been lucky to work with some incredible brands, but finding the time to do it with tiny humans around is impossible (though it does lead to some funny outtakes!). When we're in the midst of a project I do what I can whilst my husband is at work!
Where do you find inspiration for your creative work?
Pinterest is a fantastic source of inspiration, as is Instagram, but you run the risk of replicating what another creator has already thought to do. So I always prefer to follow my instincts and use them as a moodboard only! The great thing about creating content is you're constantly being challenged to create something new and exciting, so your creative juices are always flowing!
How would you describe Guernsey to somebody who has never been?  
Oh, Guernsey has my whole heart. It's like a giant hug. In autumn you can't beat wind-blown cliff walks to make you feel human and content, and in summer the island truly comes in to its own with the beach and its neighbouring islands on your doorstep!
Where do you go in Guernsey when you need to unwind and why?
The cliffs, 100%. I spend most of my life stimulated, whether that's by my children or social media. So a complete break from everything but nature and fresh air is what I need when my soul needs a little restoring.
If you have a passion for architecture, design, or simply seek inspiration for your own home, don't hesitate to follow Kelly on Instagram @fiveandafarmhouse and her blog www.fiveandafarmhouse.co.uk