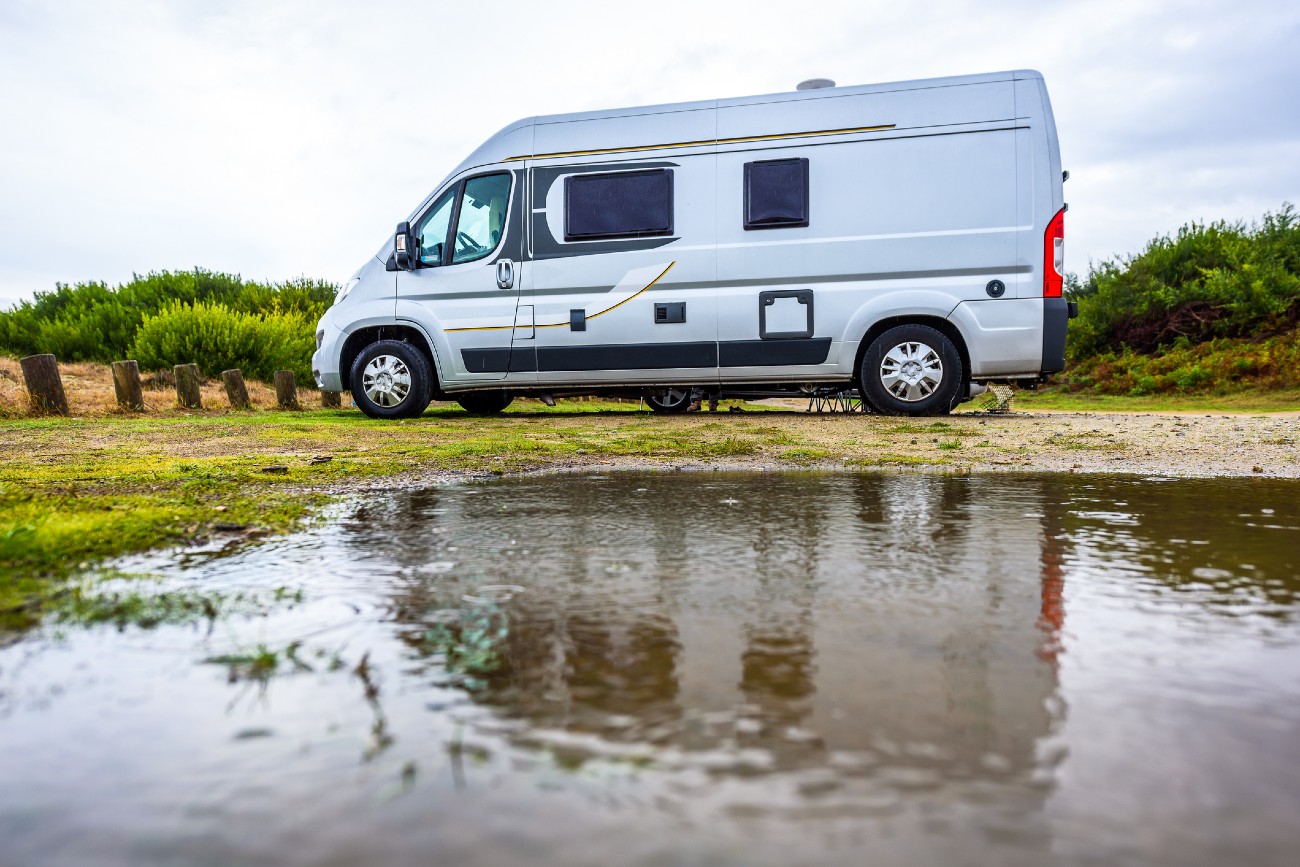 If you're looking for well-hidden sea-bound wonderlands to explore in Europe, then bring your campervan to the Channel Islands. Smack dab between Britain and France, this epic van life destination boasts long beautiful beaches, rolling hills, breathtaking cliff paths, fascinating history, awesome seafood, a mild maritime climate, as well as a French-flavoured culture.
With so many things to discover, it can be tough to know where to start when visiting the Channel Islands in a campervan. In this guide, we have highlighted everything you need to know before embarking on the trip, from the history of the Islands, the best time to visit, how to get there, major attractions to the best places to camp.
Let's get started!
What's the Best Time to Visit the Channel Islands in a Van?
Late April to early October is a good time to campervan on the islands. In these months, the temperatures are warmer, and most attraction sites are open. At the start of September, you'll experience longer hours of daylight and pleasantly mild days.
For those who prefer peace and tranquility, plan your trip around Autumn or Spring to avoid the peak summer crowds. Still, there are untold outdoor activities to enjoy all year round.
If you're ready to brave the cold weather, you'll love the deserted beaches and coastal trails.
Many events across all the islands take place on 9 May to commemorate the liberation of the Islands from German occupation. In addition, travelling in May will allow you to experience the Jersey Boat Show in St Helier and the Jersey Food Festival. Another of Jersey's largest and most colourful carnivals is the Battle of Flowers, and it takes place in August.
How to Get to the Channel Islands in a Campervan?
One of the questions most asked is if you can you take your campervan to the Channel Islands?
It's totally possible to bring your own van to the Channel Islands, but only to Jersey, Guernsey.
Now, how do you bring a motorhome in Jersey and Guernsey?
You'll need to obtain a motorhome entry permit from Jersey or the Guernsey government website, depending on which one you plan to visit. If you want to explore both, you'll need two separate permits.
Here are other conditions that must be met before you're allowed on the islands:
You must book a registered campsite
You must return to the booked campsite each night
The maximum permissible length of your van or motorhome is 9.45m if visiting Guernsey and if visiting Jersey 9.3m
The maximum permissible width of your van is 2.3m on both islands
Your visit should last no more than 31 days
You must always display the permit sticker on your van's windshield
Put simply, you'll need to contact the campsite to check available spots and then make a provisional booking. Preferably, book a few months in advance.
Next, visit the Guernsey or Jersey website to get two copies of your motorhome permit (one for you and the other for the ferry operator). Finally, you'll need to produce your permit at the port of departure and on arrival on the island.
Registered campsites can also organise a motorhome entry permit for you.
If you're in the UK mainland, Condor Ferries is the only ferry service that sails to Guernsey and Jersey. The crossing takes approximately 5 hours onboard the swift Condor Voyager, and around 11 hours if you set sail from Portsmouth Port onboard the conventional ferry Commodore Clipper. Pets are allowed on all ferries.
There's also a Condor ferry that connects France with the Channel Islands. It sails from St Malo to Jersey in less than one and a half hours. Note that there's no wiggle room when it comes to the specified motorhome dimensions since Condor Ferries itself insists on exact measurements when you book. The maximum height is 3.1m, and the weight is 4.5 tonnes.
Providing misleading details will disqualify you from travel! For motorhomes that exceed the specifications, call Condor Ferries directly on+44 (0)345 609 1024.
An alternative way to explore the Channel Islands is to book a campsite, hire a van in Jersey or Guernsey, take a flight, pick up your van, and kick off your Channel Islands Van Life 😊
What to See and Do with your van in the Channel Islands
If you have been reading some of the other articles on my blog, you will know that each island offers its own distinctive appeal. In this section, we will highlight the major attractions in each of the main Channel Islands that are easy to get to with your van.
Jersey Attractions
Jersey Zoo – Only 15 minutes away from Jersey's main town St Helier, this 32-acre sanctuary breeds some of the world's rarest creatures, such as Andean bears, orangutans, lowland gorillas, and the critically endangered ploughshare tortoise. They also reintroduce some into the wild.
Jersey War Tunnels – The Channel Islands were the only British territory to come under Nazi occupation. This is the best place to get a glimpse of the occupation. You'll discover over 1km of tunnels, dug deep into the island's hillside by the slave labourers as well as exhibits in an interactive museum.
Corbière Lighthouse – Tucked away in the extreme southwestern point of Jersey, this towering lighthouse instantly draws the eye. Close by, you'll find rock pools teeming with the unique sea life.
Maritime Museum – This museum tells the story of the Island's unique maritime environment and celebrated seafaring past and also allows you to see the historic boats on the water.
Elizabeth Castle – Built on a rocky islet, Elizabeth Castle has been at the forefront of Jersey's defenses for over 400 years. It's surrounded by sea, but you can reach it during low tide.
Guernsey Attractions
Castle Cornet – This castle has stood guard for 800 years and boasts 4 different museums, 4 gardens, and a refectory.
Guernsey Museum and Art Gallery – This is a nice place to learn about the cultural history of Guernsey, including its original language.
Cobo Bay – Just 3 miles away from St Peter Port, the capital, you'll find gorgeous white sands and crystal blue waters to play in.
German Occupation Museum – Nestled in a forest, this museum offers you an opportunity to relive the wartime experience of Guernsey people after Nazi forces invaded the island.
Déhus Dolmen – This large and complex Neolithic grave was built around 5000 years ago and contains tomb art, human bones, and vases.
Lihou Island – In low tide, walk to this bird sanctuary, just off Guernsey's west coast. It's also home to Neolithic ruins.
Note that the following islands cannot be explored in a motorhome. So, you'll need to hop on a boat or a local plane to see and access them.
Alderney Attractions (not with your van)
The remotest of the Channel Islands, Alderney was heavily militarised by the Nazis and is a great place to see fortifications.
Nature lovers will also appreciate the 10-mile coastal footpath that allows you to soak in the beauty of its beaches. It's also known for its traditional lifestyle, flora and fauna, and antique subway cars.
Sark Attractions (not with your van)
Sark feels like a step back in time. It's a sanctuary from noise and light pollution, and there are only 600 inhabitants. In addition, it has no airport, and cars are banned from the roads. Take a horse-drawn carriage or bike to explore its unpaved country lanes, stunning cliffs, and charming bays.
Herm Attractions (not with your van)
This tiny and tranquil hilly island is car-free and can be experienced on foot in just a couple of hours. Make sure you head to the stunning Shell Beach fortress, observe puffins, and see Neolithic tombs at its northern end.
Best Campsites in the Channel Islands
The registered motorhome campsites in Jersey are:
Beuvelande Campsite – Set amidst the narrow, tree-lined lanes of northwest Jersey, this campsite has plenty of amenities and is just a few miles from the stunning Mont Orgueil Castle.
Rozel Camping Park – It's situated in the parish of St Martin, in the northeast of the island, and has a heated swimming pool, playground, and games room. It's also near Jersey Zoo.
Daisy Cottage Retreat – Tucked in the northwest of Jersey, this campsite is just a few miles away from Plemont Beach, which is a popular spot for those who want to splash around.
Hideaway Stopover – This is a tiny site in a country setting. It only offers electricity and water supplies, but it's near a beach, shops, and restaurants, as well as cycling and walking tracks.
Jersey Accommodation And Activity Centre – Resting in rural St. Martin on the East Coast, this retreat has a restaurant, shared lounge, garden, playing field, and free WiFi.
The registered motorhome campsites in Guernsey are:
Le Vaugrat Campsite – Set amongst the grounds of an 18th century Guernsey farmhouse, this getaway offers large family-friendly fields and power hookups, and is near the undiscovered Port Grat Beach.
Beaucette Marina Campsite – Located on the island's northern end, this place can accommodate eight campervans. Visitors will appreciate the picnic area, electricity, clean water, grey water disposal, shower block, laundry, and access to the marina facilities.
Fauxquets Valley Campsite – Park your van here and enjoy amenities like electric hookups, showers, clean toilets, a heated pool, a children's play area, internet access, a TV room, table tennis, and cycling.
La Bailloterie Camping – This 10-acre campsite has a mix of shady trees and grassy meadows and offers facilities like showers, toilets, laundry facilities, a shop, and a children's play area.
FAQS
Here are some frequently asked questions regarding van camping in the Channel Islands.
Is it Legal to Wild Camp in the Channel Islands?
Wild camping in the Channel Islands is illegal! Furthermore, you are not allowed to move between campsites during your stay and must return to your booked campsite each night.
What Kind of Van Do You Need When Travelling to the Channel Islands?
A smaller van is a better option since many roads in Guernsey and Jersey are narrow and may have limited access. Also, the cost of the ferry, toll, and parking is lower for smaller campervans.
Can You Hire a Campervan in the Channel Islands?
If you don't own a van or you can't bring yours, some of the campsites in Jersey and Guernsey offer van hires in the Channel Islands. Book your campsite alongside the motorhome, fly into the island, and start your adventure.
Van Life in the Channel Islands is Possible
One of the best ways to explore the Channel Islands is in a small van. These small adventure vehicles will fit the narrow roads, park easily and meet most of the size conditions placed by the authorities. They are the perfect companion when you need to hop from a historic site to a hidden beach or from a walking path to a seafood restaurant.
Enjoy more adventures in the Channel Islands! Do you prefer cycling? Then don't miss the following article: Hiring a bicycle in the Channel Islands