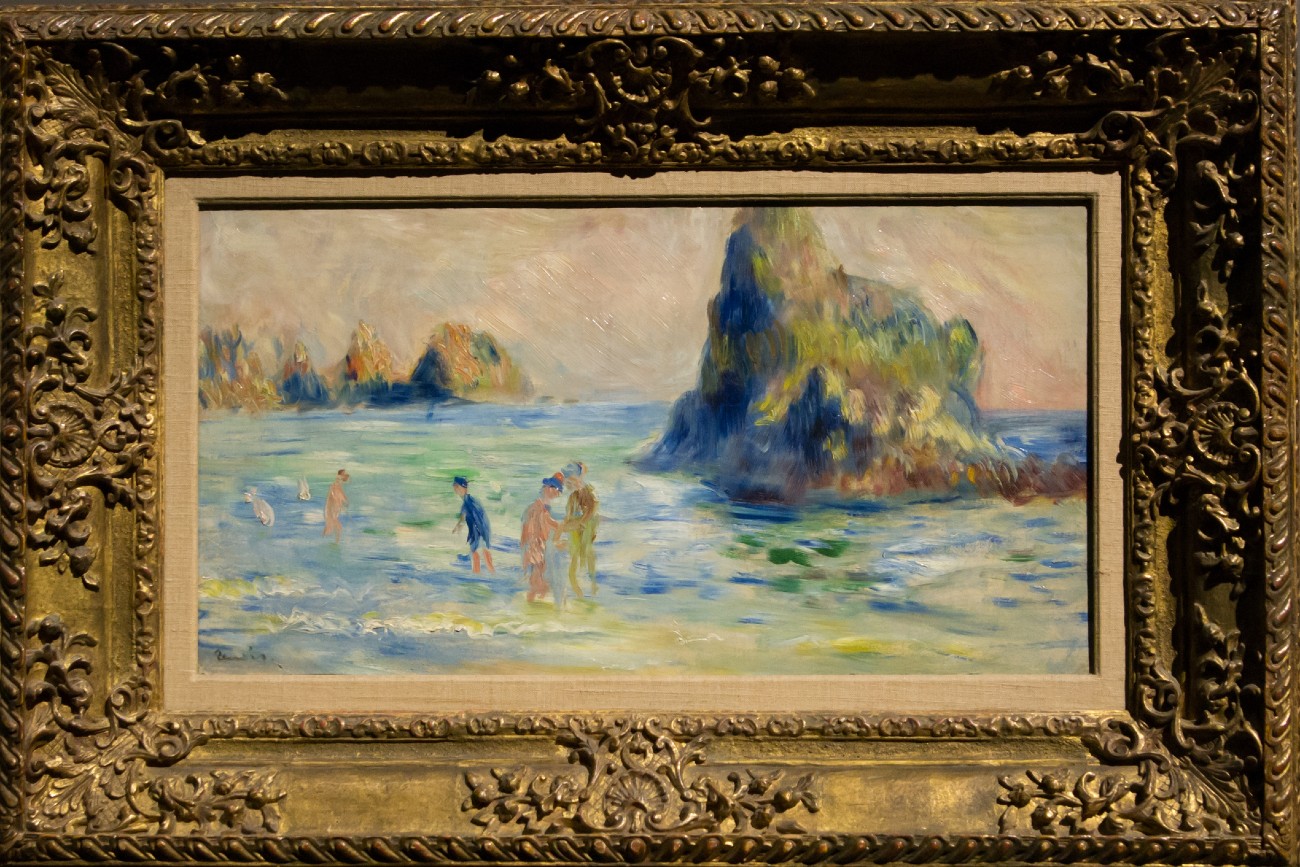 Guernsey may well be best known for beach resorts such as that of Cobo Bay or the wonderfully scenic coastline which stretches around the entire island, but it's also a place rich in culture. With a distinctive culinary style, its own breed of cow and a diverse range of local customs and festivals, the island is certainly a unique one. This in turn has a great influence on the art.
Some of the most famous paintings featuring Guernsey come from the French impressionist painter Pierre-Auguste Renoir, who visited the island in 1883 and painted several pictures of Moulin Huet Bay. You can follow in Renoir's footsteps on the Renoir Walk, however Guernsey also has some excellent art galleries just waiting to be explored. The Coach House Gallery and Quay Gallery in Guernsey are the best in which to spend a day trip or a rainy morning.
Guernsey Museum & Art Gallery
First up is the art gallery at Guernsey Museum, which is set within the beautiful grounds of Candie Gardens, a 19th century pleasure garden in the centre of the capital St. Peter Port. The museum has an extensive collection of artefacts which detail Guernsey's heritage, but it also has a lot to offer in the way of artistic interest. In total, the museum's art collection holds over 500 paintings, which reflect not only the landscapes of Guernsey but also the people of the island and their role in its history.
The main gallery within the building is the Rona Cole Art Gallery, named after the museum's first director. This permanent display includes many works by local artists, including Peter Le Vasseur, a Guernsey-born painter whose Tree of Life is very popular locally. There is also a large collection of marine oils and port pictures, as well as a comprehensive collection of photographs.
One of the most interesting areas of the gallery I found was one section featuring light-sensitive paintings, which are kept in pull-out drawers to protect them from damage. The gallery is well worth a visit and the associated museum sections are an added bonus.
Quay Gallery
Another of Guernsey's art galleries, the Quay Gallery is also located in St. Peter Port, in the town's old quarter. As you might have guessed from the name, the gallery is situated right on the harbour front, making it an ideal place for combining a visit with a walk along the quay. The gallery itself is surprisingly large, with an extensive collection which is very interesting to walk through.
All manner of artworks can be found here, including many traditional works as well as more modern, quirky ones. There is a great selection of paintings, but you'll also see etchings and prints by local artists, along with posters and photographs. The gallery also has an associated framing service too, so you can bring along any pictures you wish to have framed while you browse. The owner of the gallery is very friendly and interesting to talk to as well, making it a very nice place to visit if you're interested in any form of art. It opens every day except Sunday, from 9 a.m. until 5 p.m.
The Coach House Gallery
The Coach House Gallery is a little further out of the way than the other two mentioned above, however it's no less interesting and is certainly worth stopping by if you're passing through or staying in the area. It is located in the parish of St. Pierre du Bois, on the main road from the airport to L'Eree.
The gallery holds a vast collection of artworks of all forms, including paintings, glassware and pottery. There is much more besides, but the paintings really caught my eye when I was visiting. They are created by local and international artists and take the form of different styles depending on the exhibition. There are pastels, watercolours, traditional oil paintings and many that are created with more modern styles. A number of exhibitions are held throughout the year, so it's worth keeping an eye on what's upcoming.
The building complex itself is also very nice, having once been a group of old farmhouses and cottages before it was restored. The gallery is set over two floors and is bright and well-lit, ideal for viewing the art. Like the Quay Gallery, the Coach House has an associated framing service, but it also has a nice little gift shop where you can purchase all the art essentials for your own projects.
Explore other beautiful sights of Guernsey in the following article: Visit Hauteville House and Pleinmont Observation Tower in Guernsey