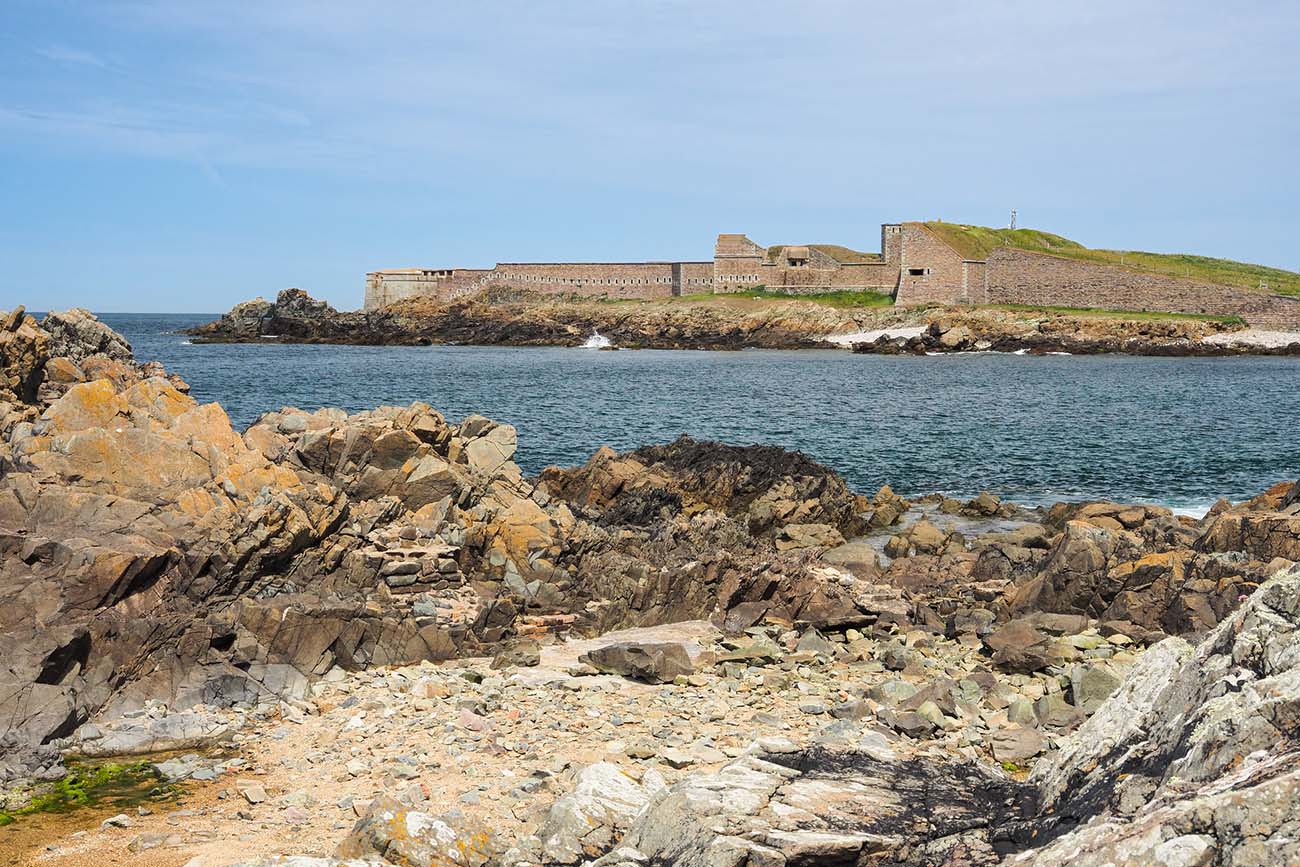 There is no better way to soak in the charm of a place than by walking it. And who can resist breathtaking coastal paths?
The best part about Alderney is that it has a 10-mile coastal path that will take you along its beaches and ridges so you can take in all the different sights this gorgeous island has to offer.
You'll be able to witness how different one coast is from the other. From secret coves, and sandy beaches to imposing rocky cliffs. And of course, the endless amount of forts that line the beachfront along the way.
Did I mention there's an official Coastal Path Challenge?
Ask about it in any tourist shop you come across and they'll hand you a pamphlet with the map of the path with an answer section to fill in the different path markers along the way. And, if you complete it, you get a certificate!
We didn't do it the official way because we set off as soon as we had arrived. But we saw a couple with the map along the way and after stopping to chat to them for a bit they told us all about it. I wish we had heard of it before we took off. It makes for a lovely activity and an even better souvenir. Guess we'll have to go back and make sure to do it then!
If you don't consider yourself the best hiker, don't worry about missing out on this experience. Some paths can break up the 10-mile walk into segments so you can pick a side of the island you want to explore and stick to a smaller walk!
The 10-mile walk takes a little under 3 hours. Factoring in a snack break and stopping to gawk at the stunning views. Luckily there are also plenty of toilet facilities along the way, so we managed to avoid having to duck behind a hedge.
We set off our walk right where the ferry left us. After spending a bit of time walking along Braye Beach we started walking towards Fort Tourgis.
I have to say this has been one of my favourite walks on the Channel Islands.
We saw endless beaches, each one more stunning than the one before. My friends were fascinated by all the WWII and Roman forts we came across along the way, stopping to read the information boards and take all the history in.
It was such a lovely walk. We stopped off at The Old Barn to enjoy a much-deserved drink in their lovely garden. Before ending the walk at Saye Beach with a much-needed dip in the sea to cool off.
All in all, I loved this walk, it was long and we finished the day knackered but it was so worth it. There is no better way to explore Alderney than by walking its coasts.
Make sure to bring loads of water, because one bottle is not enough. You'll want to pack plenty of sun cream as well and we brought extra clothes to change into after the walk!
Fancy doing something more adventurous? Then don't miss the following article: Kayaking in Alderney