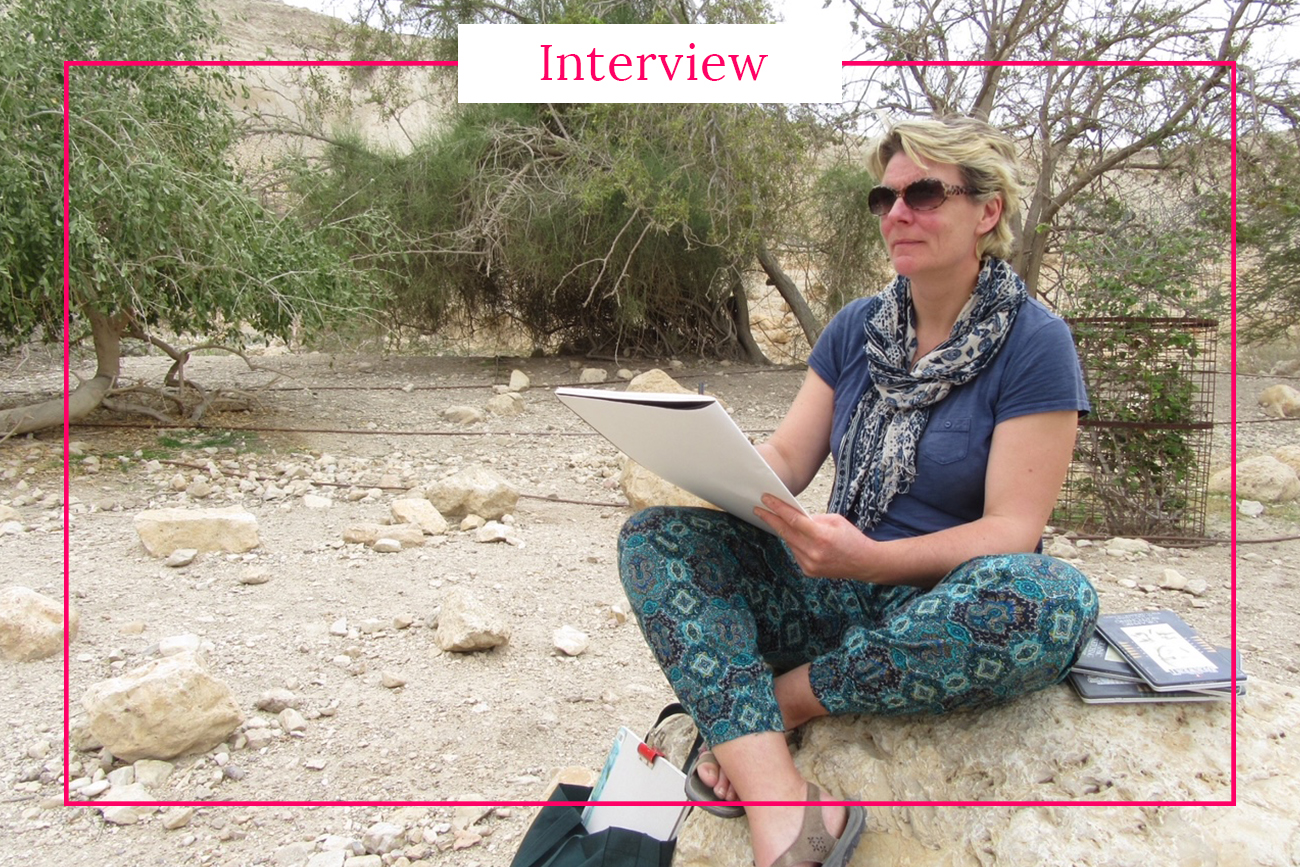 Rosanne Guille, or Rosie as most people call her, is a full time professional artist. She grew up on the magical, tiny, car-free island of Sark and has two teenage children who also grew up there.
In this interview we asked about her life in Sark and the journey of her artistic career.
Rosie, what led you to become an artist?
I think that my upbringing in Sark is the reason I became an artist. I loved drawing and painting from a very young age, and the stunning coastline and natural history always fascinated me. My parents who still live there, encouraged my talent and my sister and I were always outdoors either walking, boating or fishing. It was pretty idyllic.
Where do you find inspiration for your paintings?
The inspiration for my paintings comes from being out in nature. Now that I'm living on Guernsey, I am spoilt for choice with beautiful painting locations right on my doorstep. We live out on the west coast where the seas can be very dramatic and the sunsets to die for! I also look at other artist's work online and locally, and I am a member of the Guernsey Art Network.
You have traveled and painted around the whole world. What place did you find the most magical?
It has to be the Galápagos Islands. They are just so incredible for wildlife. The birds in particular are so unusual and the great thing was being able to get so close to them to draw. Marine Iguanas were everywhere, and the colours were different depending on which island they were on. I filled sketchbooks while I was there over the 3 weeks and then exhibited work at the Society of Wildlife Artists exhibition at the Mall Galleries in London.
What does your typical working day look like?
I get up early, so sometimes in the summer when the light is good I'm up and out painting by 5am! I love painting outdoors (en plein air) and so there are lots of factors which affect my work, not least the weather. I also have a studio at home, which at the moment is in a swimming pool (empty!).
I am not good at keeping to a routine, I tend to paint in bursts, so I might start at 9 or 10 in the morning after I've got the kids off to school and walked the dog, then I knuckle down. If I've got commissions on, and a deadline then I am much more focused.
What is "the one" place in Sark everyone should visit?
It has to be La Coupée. I love seeing people's faces when they see it for the first time. For those who don't know, it's a narrow roadway which links Big Sark to Little Sark, on top of 260 ft high cliffs! It does have railings so is safe but can be interesting in a gale!
Please can you tell us about one of your favourite places on the Channel Islands?
Moulin Huet. It is where Renoir painted when he visited Guernsey in 1883. The little path down to the bay winds through a wooded valley, past old cottages and a tea room and the views are just stunning. I have painted there many times since moving to Guernsey three years ago and I think some of my best work has been done around that area.
How would you describe the islands to somebody who has never been?
Rugged and beautiful with a charm all of their own.
You grew up in Sark but you are currently in Guernsey. How different are these islands in your opinion?
The two islands are very different, except for the cliffs and beaches at the south coast of Guernsey. For one, Sark is car free and I think that makes such a difference. You can get everywhere on foot, by bicycle or horse carriage in Sark which makes it feel at a much slower pace. I think Guernsey has the most beautiful town and seafront which I love. The two islands aren't really comparable though as each has a very individual identity.
What piece of advice would you give to an artist who is suffering a creative block?
That's a good question, I struggle as I think every artist I know struggles. What works for me if I'm struggling with a particular painting is to leave it alone for a bit, start something new or work on something else you know you'll enjoy. In my own work I try challenging myself and this can be hard and lead to feeling unsure about what it is I'm trying to convey. Looking at art which gets me excited about painting helps too. If you're blocked, be kind to yourself and just re-evaluate why you paint and what you love about it.
What do you consider the biggest success in your artistic life?
I am very proud of the project I organised with the International non profit organization Artists for Nature Foundation back in 2012. I raised over £10,000 to bring 20 wildlife and landscape artists from around the world to paint and sculpt in Sark to raise awareness of the impact man was having on the Island. There were three major exhibitions in Sark, Guernsey & Jersey and a project book published called Art for the Love of Sark and even a film. It raised thousands for local charities and helped document the importance of protection for Sark.
If you would like to check out more of Rosie's artwork, please go directly to her website Rosanne Guille.