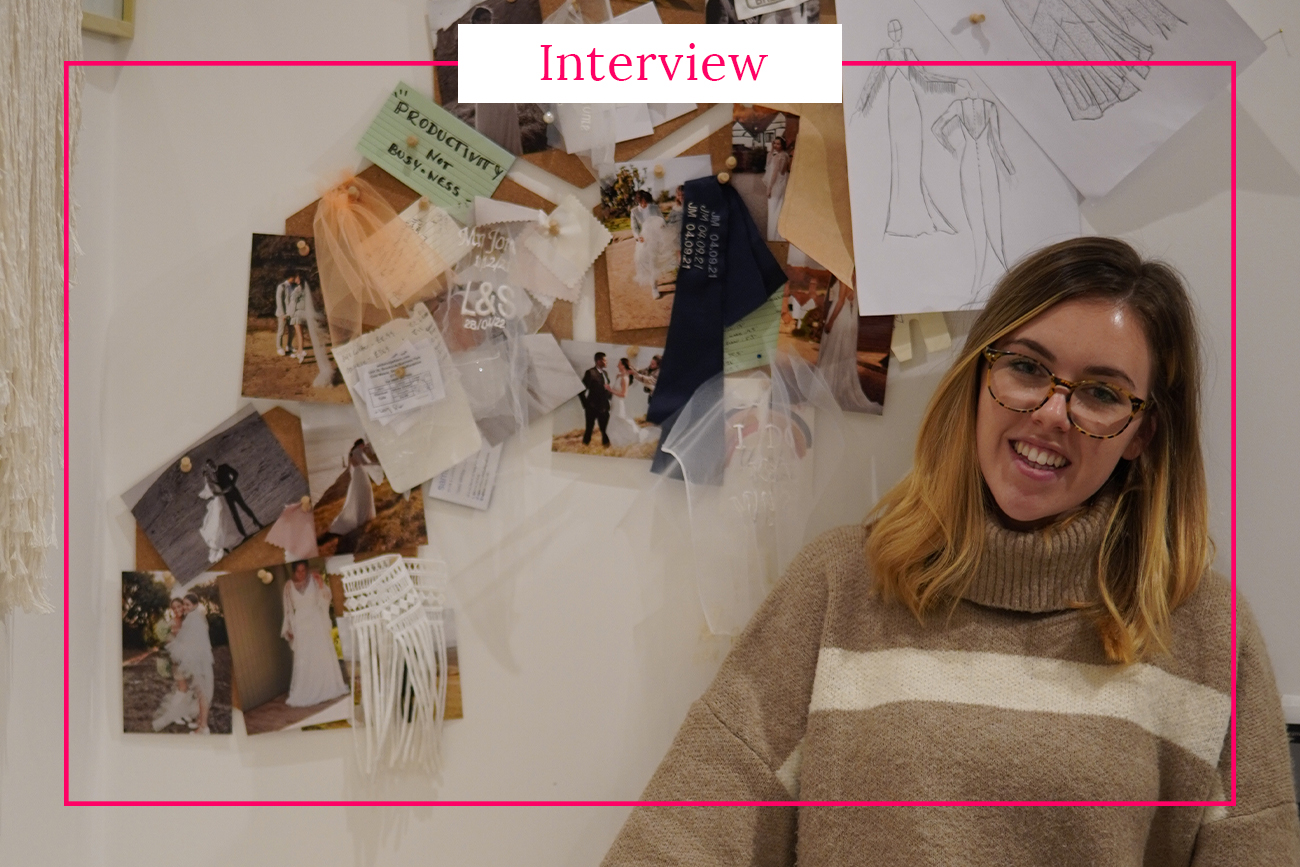 Kezia is a newbie to Guernsey (officially one year living on this beautiful island!!) and she runs both The Boho Bride and Sew Guernsey. She is from Kent, studied Costume Interpretation in Bournemouth, lived and worked in London for a couple of years. Then the pandemic happened and changed a few things for her, both with work and the way she felt about the work/life balance.
Now she is living her best life, by the beach, working for herself and running two little businesses.
Kezia, please can tell us about what you do for living?
So I'm lucky enough to run my little businesses full time. I started The Boho Bride whilst I was still in London as an online business, and since moving to Guernsey I still run that predominantly online but I am able to offer face to face consultations and fittings for Guernsey brides.
I also run Sew Guernsey, which I set up in May last year, specialising in bridal and fashion alterations. I offer mobile fittings so I drive around Guernsey, meeting gorgeous gorgeous people, fitting their wedding / bridesmaid / prom dresses and all sorts of other beautiful garments and then I bring the garments home to alter in my little home studio.
You have a degree in Costume Interpretation and have worked on shows such as Wicked and Harry Potter. What made you decide to make a change and start a bridal business?
Yes, I got my degree in Costume Interpretation at AUB, which is a costume degree specialising in costume construction. I absolutely loved my time at uni and would recommend the course to anyone and everyone, it was amazing and taught me so so much. Although I have learnt an insane amount since working in the real world of costume, you really do learn fast when you're thrown in the deep end!
I worked on various West End shows, got experience in all sorts of costume at amazing places like The Royal Opera House, and then got my job working as alterations seamstress for Harry Potter and the Cursed Child's London and international shows. When the pandemic hit I headed home, with suitcases of costumes prepared to work from home for a few weeks while it all blew over…
Unfortunately it took a little longer than expected and so I was eventually made redundant. Throughout the lockdowns though it really made me re-evaluate how I was living and that 11 hours out of the house each day for a commute and work day only to come home, eat, sleep and repeat wasn't much living!
I ended up spending 3 months in Guernsey that summer, with my boyfriend's family, escaping London and it suddenly became more of a reality that maybe I could live here. (I had previously sworn I would never move to Guernsey because of the lack of theatres!) So I went back to London, got some experience in bridal alterations, worked a couple of freelance days in TV costume and decided my love of bridal was definitely where I wanted to pivot my career.
You launched The Boho Bride during the pandemic. In hindsight, do you think that the process was more difficult as a result? How was the overal experience of starting a business in the Channel Islands?
Yeah, so I had actually begun to set up The Boho Bride in January of 2020, anticipating that it would take years to make samples and expand the business alongside my full time job but then because of the pandemic I had a lot more free time and needed a new focus, so all my attention went on The Boho Bride (alongside a lot of mask and scrubs making!!).
So I think the pandemic is in fact to thank for The Boho Brides existence. Moving the business over to Guernsey has been a little bit of a challenge, just because of postage differences, sourcing fabric, finding models etc but the support from other small business owners in Guernsey is amazing and I've met so many people who have encouraged my journey, shared my businesses and helped me to grow.
Also word of mouth in Guernsey is incredible!! I get so many customers coming to me, especially for Sew who have been recommended through aunties, friends, sisters, grandmas, it is so nice.
What does your typical working day look like?
My days really vary dependent on what work I currently have in. Some days are more The Boho Bride focussed and others are more based on Sew alterations and fittings. I like to get up reasonably early, make a coffee (always first on the to do list) and get a gym session in to start my day.
Then I'm in my little home studio by about 830-9am. I always have a to-do list on the go so I check that, get some music on and get working. Generally I check Etsy orders first, so I might have a veil or bow order that's recently come in so I'll make that, get it all packaged up, often order fabric stock and then check emails and messages.
Then it's lunchtime, in the summer I try and sit outside to get some vitamin D and maybe pop for a quick sea swim/ sunbathe if it is really nice. I might then have a wedding dress alteration to work on. And often have a few fittings scheduled in the afternoon / early evening. So I'll head out for my fittings and bring back the work ready for later that week.
Where do you find inspiration for your dress and veil designs?
I use lots of different ways to find inspiration. I love a good scroll on Pinterest to see what styles are popular, I also keep an eye on trend forecasting but try not to be swayed too much by that so that I don't steer away from my modern bohemian style, but there's always aspects that can be incorporated.
I love looking at fabrics for inspo too, if I see a lace that I love I often already have a style in mind and I get very excited, start drawing out some ideas and making notes. There is always a few designs swirling about in the back of my mind and I try and make as many come to life as possible, but it does take time.
Let's say I order a wedding dress at The Boho Bride. What are the next steps?
So the first step in the process would be to get in touch. I want to talk to you about your ideas, any inspiration images you might have, the general theme of your wedding, where it's going to be held etc. These things all help me understand you and your style. Then if there is one of the dresses that you like from my collection that you're 100% set on and you're a Guernsey bride I will book an appointment in with you to come and take your measurements and show you the fabric samples.
If you're not in Guernsey I'll send you over the measurement guide and form so that you can get your bestie or mother of the bride to help take your measurements for you. If there is a design from my collection that you want to make some changes to or you have a completely bespoke idea, I would first get some sketches drawn up and discuss all the options to finalise a design idea before heading to the measurement stage.
Guernsey brides could also have a face to face consultation at this stage. And then it's the exciting part, I will make your dress! For brides in Guernsey we can have fittings at certain stages to create the perfect fit but for brides elsewhere I will complete the dress and get it to you around 3 months before the wedding so that minor alterations can be made if necessary by a local seamstress.
Where do you believe is the most beautiful location for a wedding in the Channel Islands and why?
I think a cliff top tee pee wedding would be gorgeous! Although you have to think about battling the elements. I think the Guernsey coastline is just breathtaking and would create the perfect back drop for a modern bohemian wedding. Also, something one of my Guernsey brides did (I did her alterations and made her veil) was to take an hour out of the day to head to the beach or cliffs for some super romantic shots. Not only do you get beautiful memories to keep forever but also it makes you pause in your day and enjoy every second together.
How would you describe Guernsey to somebody who has never been?
Beautiful, calm and a breath of fresh air. I love the slower pace of life here, the cliff path walks, sandy beaches and being so close to everything and everyone that it makes socialising easy and stress free.
Where in Guernsey would you go for a cup of coffee and a tasty meal?
Otto! It's a relatively new Italian place that serves the most incredible pastries, bread and coffee in the day, I think the cinnamon swirl could be the best I've ever eaten…and then delicious pizza and pasta dishes in the evening, I love it, it's got such a relaxed sociable atmosphere that encourages meetings with friends and sharing food. Also, Tiger Lily (a florist) is just next door, they have some incredible bouquets, I am in love with everything that involves dried flowers at the moment!!
If you are getting married and need a dress or a veil, head to Kezia's website The Boho Bride or check out her work on her Instagram profile.