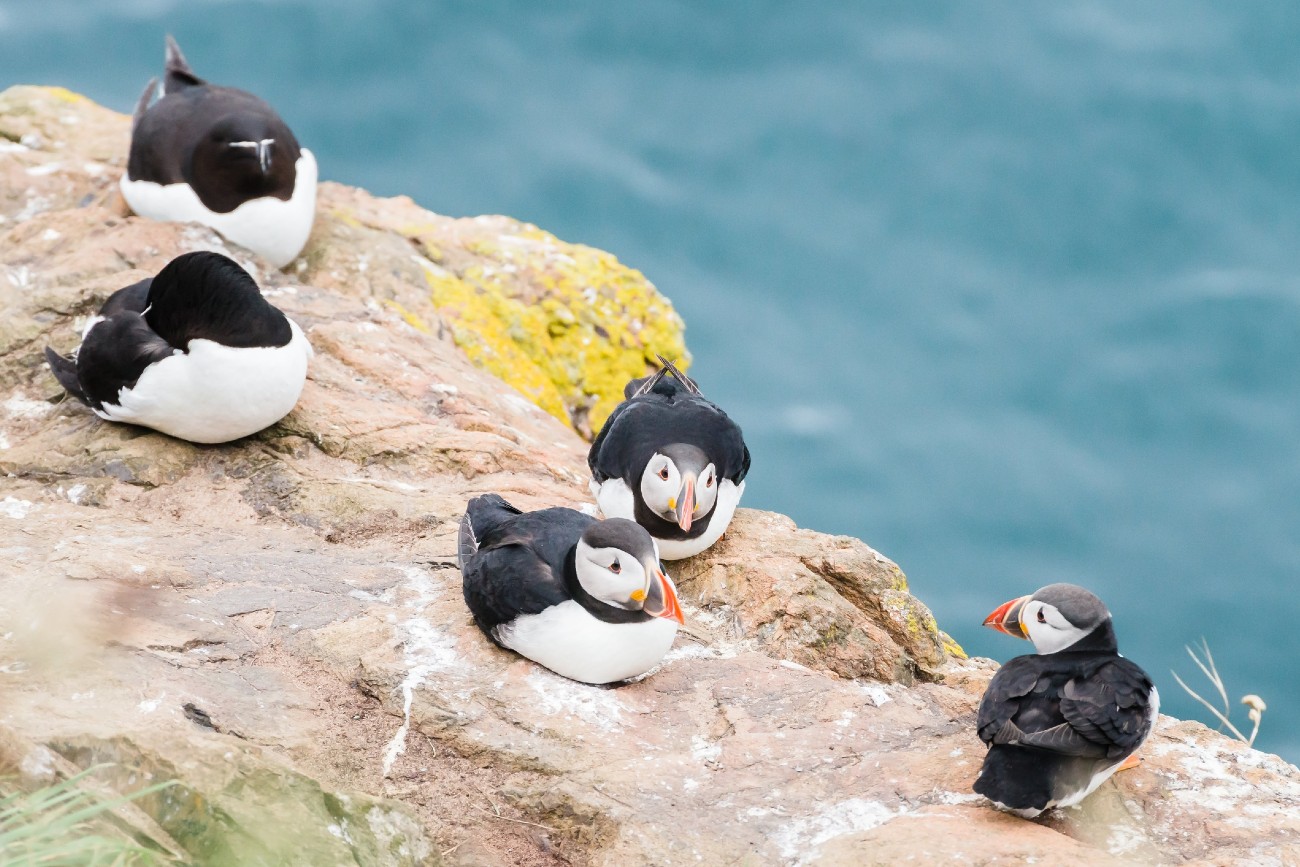 The Channel Islands are a birder's dream. The unique geographical position makes it a stopover for many migrating birds and a harbor for others. Equipped with a bit of knowledge and some thoughtful planning, your visit can include wonderful bird observations.
One of the most exciting things about viewing puffins is that you'll usually see many together at one time! Puffins nest in colonies, making simple scraped-out nests in the ground. Puffins often mate for life and share the chick-raising duties.
Colonies have been established in areas with cliffs, large boulders, and low vegetation for cover. Aside from Jersey and Guernsey, which have available sandy beaches, most other islands in the archipelago are rocky with surrounding strong currents.

When to See Puffins: April to August
Timing is critical for puffin viewing, since the squat black-and-white birds spend most of their lives out at sea in open water. They float atop waves to conserve energy between dives to hunt their preferred prey of herring, hake, and sand eels. In April each year, adult puffins return to established breeding colonies to kick-off the season of chick rearing. Feeding and raising chicks, called pufflings, lasts until about the month of August. This window of time is the best chance to observe and photograph puffins in the Channel Islands.
Identifying Atlantic Puffins
Although there are three distinct species of puffins in the world, visitors to the Channel Islands will have the special opportunity to view the Atlantic puffin. The other two species, the tufted and horned puffins, occupy a different niche in the North Pacific.
Puffins may be confused with penguins, but in actuality are very different. The two bird species are separated geographically – puffins inhabiting the northern hemisphere while penguins reside in the southern hemisphere – and puffins are excellent fliers, while penguins are restricted to land and sea.
Keep an eye out for the adult puffin's black-and-white tuxedo feathers, bright technicolor bills and orange feet (which are this bright only during the breeding season). Puffins often nest among other seabirds and thus colonies are typically noisy, as male puffins make low grunty-calls or quickening deep purrs.
Experiencing Puffins on Herm
Aside from spectacular ocean views and a seemingly untouched shoreline, Herm is also an excellent place to view puffins in the summer months. The southern edge of the island contains hilly, grassy expanses and high cliffs. Puffins have bred on the southeast coast cliff here. The eastern coast is a white sandy beach abutting turquoise sea water called Shell Bay. This is an excellent starting point to paddle via kayak toward Belvoir Bay and continue into Puffin Bay, aptly named, where the birds are often easily observed from the water.
When planning, keep in mind that the only way to access Herm and the smaller islands is via boat. Options include taking the three-mile passenger ferry from nearby Guernsey, or chartering a private vessel – of which there are several options in the area. The ferry from Saint Peter Port Harbour in Guernsey takes about fifteen minutes. If it's your first time in the Channel Islands, you may be interested in joining one of the area's puffin tours.
Burhou and Alderney
The island of Alderney measures about 2,000-miles and contains an array of distinct habitats. Just north of the popular points of Fort Tourgis, Fort Clonque and the Clonque Bay Beach is a rocky island that hosts seabirds. The island of Burhou is an active puffin colony as well as nesting place for gulls including herring, lesser black-backed, and great black-backed gulls which tend to be defensive and loud. It is an experience that floods all of your senses!
Once on Alderney, there are well-maintained footpaths that span the island for access to beaches and the rocky shoreline. In the summer months boat trips are available to circle the island and provide excellent views of the seabird colonies (inquire at the Visitor Information Centre for more information).
Sark and L'Etac
During the summer, the island of Sark has several passenger ferries that provide access. A peninsula off the island, known as Little Sark, is attached by a narrow isthmus to the rest of the island. Just south of Little Sark is a large rock known as L'Etac where puffins are known to breed. Beginning in April, Sark offers round-island boat trips that focus on bird watching or specifically on puffin viewing, depending on your preference. It's also a very popular area for paddlers.
Jersey's North Coast
It's possible to view puffins on Jersey's North Coast, between Greve de Lecq and Plemont. However, the number of nesting puffins has been continually declining over the last several decades, plummeting to as little as three remaining pairs in Jersey in 2019. It's unclear why this decline has occurred, but recent research has investigated changes in prey abundance in relation to a changing climate, among other factors.
Be sure to visit the giant puffins in Plemont! This four-meters-tall iconic puffin pair statue was constructed to both honour the species and draw attention to the current challenges to conserve the birds into the future. A talented group of artists and craftsman helped form the giant puffins, made of forged steel and willow. It's certainly worth a visit.
Join the Puffarazzi
Researchers launched an effort called "Puffarazzi" where observers were encouraged to submit photographs of puffins to aid in various conservation efforts. Although this particular effort has concluded as part of Project Puffin, over 3,000 photographs are now being analyzed by experts and 59 active puffin colonies were documented around the UK. Being good Puffarazzi includes leaving no trace as you travel and keeping a respectful distance from all seabirds.
Puffin trips allow for excellent photography opportunities and provide an unforgettable connection to the wild scenery offered by the Channel Islands. Check out our other guides for detailed information about getting around the island and valuable tips for first-time travelers.
Do you lover birds watching? Then don't miss the following article: A seabird haven – Western Alderney