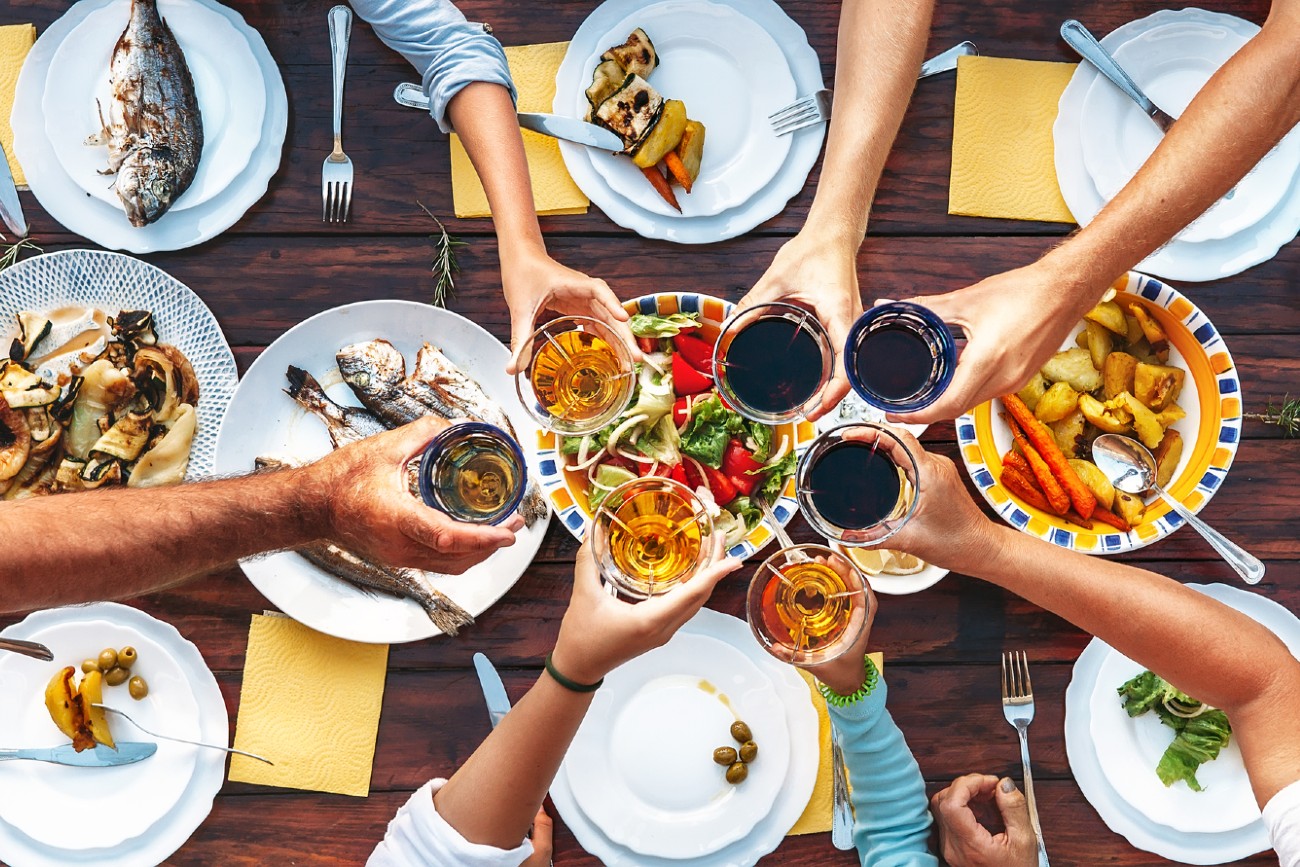 The first thing that comes to mind when we think of eating on an island are dishes prepared with fish, shellfish, fruits and typical species of the area. This is how we imagine delicacies made with care and dedication; works of art that sometimes you don't even want to touch so as not to ruin them.
This rule is no exception with the Channel Islands. Its privileged location allows you not only to experiment with the most diverse flavors of the sea, but it is also the opportunity to taste the best of both worlds (and even more), by setting the table with the best gastronomic delights of the United Kingdom, France and the rest of Europe.
I can guarantee that there is always a special treat for everyone at the Channel Islands. We can find from sophisticated restaurants, through the most modest places, to cheap beach bars with delicious dishes that you can enjoy by the beach shore.
Halkett Place Central Market
The building where the Halkett Place Central Market currently stands dates back to 1882 and covers an area of 33,600 square feet. It is built with iron structures, granite and glass roofs, and is ornamented by a water fountain in the center of the place that originally served to supply the vital liquid to local merchants. The name of the market is in honor of Sir Colin Halkett, hero of the Peninsular War and the Battle of Waterloo, and who later served as deputy governor of the island.
The market stands out for its shops where fruits, vegetables and legumes from different parts of the world are available, as well as butchers and fishmongers. There are also liquor stores and restaurants with a diverse gastronomy. It is one of my favorite places to buy fresh produce.
One of those places that you cannot miss during your visit to the market is La Bouche. It is an outdoor restaurant with a menu made with the best ingredients from Halkett Place itself, where its brunch-style dishes stand out, such as baked eggs with salmon or smoked herring toast. You also don't want to miss their desserts, especially the chocolate brownie or the lemon and almond cake.
At breakfast you can find something as simple as cakes and toast, as something a little more elaborate and complete to start the day, such as baked butter beans, sausage, fried eggs and toast.
For lunch, your first course could be a dish consisting of spiced parsnip soup, bhaji and cucumber raita, or a steak and porcini pie, sweetheart cabbage, chantenay and horseradish.
Eating barbecue in the middle of an island 
As we mentioned at the beginning, talking about an island is thinking about fish and seafood. However, in the case of Jersey, beef is an important part of their diet. If we add to that their taste for rural and country life, we find places like The Farm House, a family restaurant located in the town of St. John, a favourite among hikers and among those who like direct contact with nature.
It is located very close to a dairy farm and is an ideal place for those who want to be in contact with rural life, eat a simple sandwich, have afternoon tea or enjoy a pleasant time with friends in its Beer Garden.
But, without a doubt, the greatest attraction of The Farm House is its roasts. Their menu includes a wide variety of meats and vegetables.
The Big Draw: Seafood
We are going to delve into this part to talk a little about what is, without a doubt, the greatest gastronomic attraction on an island: seafood.
Obviously, due to its island status, Jersey offers a great variety of sites where not only eating is a pleasure, but the landscapes make the experience a unique added value. This is how you can find Green Island Restaurant, a place that, despite being on the shores of the English Channel, the feeling is that you are on the Mediterranean coast experiencing its warm waters and the most magical sunsets.
Among its high-level dishes, you can taste the flounder fillets with cockles and mussels marinara, which you can accompany with one of the most select Jersey wine lists.
Historically speaking, The Channel Islands were occupied by Nazi German troops during World War II, which is the reason why there are still vestiges of this occupation, such as, for example, some bunkers that today have been given a more friendly and enjoyable use than they originally were.
This is the case of Faulkner Fisheries, a place that, according to its webpage is an independently Family owned Group of Companies buying and selling Live, Fresh, Cooked, Smoked, Frozen, Dried and Preserved Seafood in Jersey, the other Channel Islands and France.
In Vivier, the name given to the old converted bunker, located in L'Etacq, Faulkner Fisheries installs a barbecue during the summer where they prepare the freshest seafood to be enjoyed in front of the sea and accompanied with Jersey potatoes with garlic butter, along with a locally grown wine or a cold beer.
Without a doubt, fish, crabs, lobsters and squid, all served on an aluminum tray, are enjoyed even more along with the sea breeze of this place where tables are located outdoors (so be careful with the rainy days).
A little bit of VIP
If you want to taste the best of the sea and also the best meats, Jersey also offers slightly more exclusive options for those who want a more welcoming, comfortable and luxurious place. Such is the case with the Tides Restaurant, a fine dining establishment in a Victorian manor house overlooking St. Aubin's harbor that offers an ideal setting in which to enjoy excellent modern British cuisine.
Tides Restaurant's menu includes beef, fish, shellfish, local cheeses, delicious and creamy Jersey ice cream, and even the opportunity to enjoy low-priced afternoon tea in a charming setting. But, without a doubt, its greatest attraction is its offer of lobsters, prepared in different ways.
With sea views 
What is the best way to enjoy typical food on an island? Overlooking the bay. Seafood is much more delicious when you have the opportunity to eat it looking out over the immensity of the coasts.
Mad Mary's Bouley Bay Beach Café is a good example of those places where you can taste not only typical English food, but it is also the opportunity to eat baked goods. Located on the north coast of the island of Jersey, facing Bouley Bay, they also offer ice cream and one of its biggest attractions: crab sandwiches or scones (the typical English rolls) which in my opinion are very delicious.
For those in the mood for an afternoon tea, Mad Mary's Bouley Bay Beach Café is said to serve the best pastries in Jersey to go with it.
If you want to go back in time, feel like you are in an old country inn and even experience the warmth of its old wood stove on the coldest nights, The Rozel Pub & Dining will work its magic and transport you to the past.
This place, overlooking the Bay of Rozel and the French mainland, has a local gastronomic offer, with dishes such as bream fillets and lamb shoulders to simpler pub food, such as hamburgers.
And since we are talking about pubs, we stay with the same concept, but this time we go to The Muddy Duck, a place overlooking the port of St. Aubin, with a bistro-style menu that receives the best comments and praise.
Meats are present in its extensive menu. But its main attraction is the seafood that can be shared with family or friends, as they are served on large trays full of prawns, squid, mussels, oysters, crab and lobsters.
If you are looking for typical English food, such as fish and chips and beef and onion pie, another pub that you cannot miss is Le Hocq Inn. It is located in the town of St. Clements in the southeastern tip of Jersey and on its menu you will also find traditional Mediterranean dishes such as thin crust pizza. Mussels are in great demand by attendees and there are also vegetarian options.
In Rozel Bay there is also a small place that can be the delight of the hungriest. This is The Hungry Man, a food stand that serves huge burgers, hearty breakfasts, homemade cakes and some vegetarian dishes, which means there is something for everyone.
If you are planning to spend a long day on a road trip and need to be loaded with a lot of energy , the most recommended option is the double-decker health wrecker sandwich. This is a full English breakfast between three slices of bread. A real challenge for people with small stomachs.
The most traditional of The Channel Islands
The Channel Islands also have a series of typical dishes that you must taste.
The ormer is a mollusk very similar to the oyster, but with a much milder, meat-like flavor, which is very common in this area. In Guernsey, the Ormer Casserole is very popular, a recipe that dates back to the 17th century and is prepared with this seafood, as well as carrots, shallots, pork belly and bay leaves.
The decrease in the number of ormers has meant that their collection is limited to only 24 days a year, so their demand is usually high. They can also be eaten stewed, rolled in flour, and fried until crisp, seasoned, or pickled.
Cabbage Loaf is a traditional bread in Jersey. After preparing the bread dough, it is wrapped in greased cabbage sheets, tied and baked. The result is a delicious bread that is available in many bakeries on the island. It's one of my favourites.
Jersey Wonders, also known as des mervelles, is a snack very similar to donuts, but with a twisted shape. Unlike donuts, these are neither filled nor sugar coated.
Another culinary wonder of The Channel Islands, specifically Guernsey, is the Guernsey gache. It is a sweet bread filled with nuts, which the locals like to eat with plenty of butter made on the island, while visitors prefer it toasted and with a cup of tea.
And speaking of butter, a typical Jersey delicacy is black butter or Nier beurre. It is prepared with peeled apples, licorice, cider, black treacle, brown sugar, and a variety of spices. Unfortunately, the laboriousness of its preparation has put its existence at risk and it could disappear.
There is a typical tuber from the island of Jersey that is used in salads or to prepare casseroles, chicken or fish. They are the Jersey Royal Potatoes. Its skin is yellow and its interior is smooth and creamy. Its flavor is rather sweet and with a touch similar to walnut. These potatoes should never be peeled, as the flavor comes out of their skin.
Let's now switch to a delicious dessert. Let's talk about Gache melée, a typical cake from the island of Guernsey, made, in addition to flour and sugar, with apples and tallow, replacing butter. It is recommended to accompany this delicious sweet with Guernsey cream or with a scoop of Guernsey Ice Cream.
The production of milk rich in fat, protein and with a high content of beta-carotene is very common in Guernsey and is used, among other things, to prepare Guernsey Ice Cream. Chocolate, coffee, chocolate with mint chips and honeycumb crunch are some of the most popular flavors and can be found in different places on the island.
Without a doubt, the most typical dish of Guernsey is the Guernsey Bean Jar. It is a delicacy prepared with pig's trotter, haricot beans, butter beans, bay leaves, onions, and carrots, although each family has its own way of varying the recipe to their liking. It is a main dish that is prepared the night before by soaking the beans and adding the rest of the ingredients with water or broth the next day.
The Channel Islands is a festival of flavors for all tastes. As we said at the beginning, it is the best of both worlds. But, honestly, I think we run short when we saw that so many flavors come together on such small islands that they make the gastronomy of this place the opportunity to taste something different every day.
Do you fancy a walk after all the eating? Read the following article: Hiking Through The Channel Islands During Winter